Have you decided you want to join the side hustle club and earn some easy cash on the side? Maybe you even have a basic business plan in place and some fantastic ideas. Where you may find yourself stuck is deciding what product to sell. All around you, people are selling all sorts of cute stuff, some essential consumer items, others more unique handmade ones with personal touches. With so much consumerism and online buying and selling going on these days, it's challenging to figure out what items will be a foolproof source of significant profits.
eCommerce websites and Instagram are loaded with various products for different consumer niches. As a viewer, you may enjoy window shopping all of them. When switching roles and thinking from a business perspective, remember that not all these items sell. When choosing a product that will bring in good profits, you must research the market to study consumer behaviour and market trends and figure out what people want right now.
Doing market research and getting into the buyer's mind can be challenging, as consumerism is a highly unpredictable and ever-changing phenomenon. A good place to tap into to understand customer behaviour is to observe social media and keep abreast of international trends. Global fads are often dictated by changing world circumstances and events. At the same time, social movements also influence trends and people's psyche.
The concept of 'trend' is tricky as it's a fluid, transitional, and dynamic idea. Depending on social circumstances, trends come and go. What people want one day may lose its appeal the next. If a trend becomes hot, everybody wants to buy it. In this way, we can understand how difficult it would be to determine what products to sell for your hustle, considering that the popularity of a certain item may be temporary, but your business is not.
So without further ado, let's dive into ways of searching for trending products and tips to succeed while selling them, followed by a list of the most in-demand products to sell.
How Do You Find Out What Products are Trending?
While doing market research to determine what products are high in demand and which ones are losing popularity, there are several techniques you can use. We'll talk about each one in detail. Consider combining these methods during your research process, as that will bring you closer to the whole picture than if you would focus on just one methodology.
When you employ two or more of these techniques, you're bound to identify a popular list of products across all segments of society and in different groups, rather than products exclusive to just one domain. Of course, some of you may be clear from the get-go about the kind of business you want to set up based on your interests. For instance, you may want to stick to the fashion apparel niche and sell workwear to women aged 20 to 50. But even then, getting into the demographics of what will sell for whom is essential. Thus well-done research through different research tools will help you understand consumer behaviour in depth.
Use Google Trends to Explore What's Trending
Google Trends is a blessing for business owners and market researchers, as it's an excellent resource for exploring global trends and identifying what items are hot at the moment. It should also be your go-to tool to assess the viability of a product and its demand.
This free online tool can quickly check what products are trending through its search volume trends data over time. This data in the form of a line graph tells you whether a product's demand is on the rise or decline, at what point the need has been high and when it's dipped. Such concise figures and statistics are pretty helpful in understanding consumer behaviour patterns and analyzing the reasons for their fluctuations. Through Google Trends, you can assess how and when people's interests change over time.
Search Online Marketplaces
Huge marketplaces, the eCommerce giants of the internet, such as Amazon, eBay, and Aliexpress, are another great place to tap into what's selling a little and what's selling like hotcakes.
Landing on eCommerce websites can be an overwhelming experience, especially when you're there as a seller and not a buyer. It's even more confusing when you're there to research and sift through many items to narrow down a list of the ones that are high in demand. The best place to start is their 'Best Sellers' section. Going through the 'Best Sellers' area will give you a good idea of popular products in different categories receiving the highest sales volume.
You can also explore the 'Movers and Shakers' area at Amazon. This section categorically gives you a list of Amazon products with the highest sales volume in the last 24 hours. The list is updated daily and is a great way to gauge current items flying off the shelves.
Most of these online marketplaces also have paid site-specific tools to help analyzers and researchers like you track trending products that are extremely profitable and high in demand. These tools have specialized search algorithms that work across the platform to bring you a condensed list of the best products in terms of sale value. Amazon's paid search tool is called 'Jungle Scouts,' For eBay, we have 'Watch Count.' 'Watch Count' tracks which items have attracted the maximum user interest. There is a 'watch' feature on the website for a product, and through the tool, you can check how many users 'watch' an item or have clicked the 'Add to Watch List.' The items with the highest number of watch counts are your guys. 
Follow Influencers to Identify Current Trends
Influencers are a group of people making a lot of bucks by endorsing products and brands. Due to their huge followers base and the monetary benefits of social media, these people have become celebrities in their own right. They are the dictators of trends and fads as they promote up-and-coming products and social trends through video or image posts on their Instagram, YouTube, or TikTok. Maybe their followers want to try the same products and look similar to their favourite influencer or YouTuber. Also, the influencers, in turn, are paid well by the brand they promote.
Influencers with the highest following are a potential source for you to tap into to identify current trends. These content creators are the wheelers and dealers of social trends and are responsible for the shifts in consumer behaviour, as whatever they promote or endorse becomes an overnight hit.
Explore YouTube for Trending Products
YouTube is a massive search engine. As we all know, along with Google, it's our go-to platform to search for anything and everything under the sun. Searching for something as simple and matter-of-fact as 'trending products to sell in 2022' will give you a range of websites filled with lists of popular and in-demand items.
YouTube does tend to bombard you with more information than you can handle. So we advise you to narrow your search to a specific niche or interest area instead of looking for general trends. The better idea is to go through 'unboxing' or 'product review' videos to understand what people buy the most. Products with the most reviews and videos and maximum views are usually the ones selling more than others.
Besides running a general search, check out YouTube's 'Culture & Trends' tool. This gathers useful data from YouTube to give you an idea of current trends on a global scale. The data is based on videos made by different creators with a huge following. Where the tool doesn't give you a specific list of items, it gives you a window into consumer behaviour.
Search for Trending Products on Pinterest
Pinterest is a social platform where people normally pool and collect their ideas, inspirational imagery, and interests. Users create different boards according to themes and categories, where they pin all of their favourite images. The number of times an idea or image has been pinned reflects its popularity. People use Pinterest all the time to make mood boards and research ideas related to their hobbies. This way, they also plan their product purchases.
Therefore, Pinterest is a good resource for gathering information on trending products and insight into what people are looking for and buying.
What Product Niches are Trending in 2022?
Niche is a trend that sells. We can translate a niche into a product category or interest area to categorize different products for our context. When researching popular products, remember to understand the concept of niche, as the popularity level of a product directly depends on the niche it belongs to. If the niche is trending, so will the product.
Exploring niches that are high in demand should be a crucial step in your research process and should be done before shortlisting specific items to sell.
Below, we'll look at the trending niches of 2022 and what each has to offer.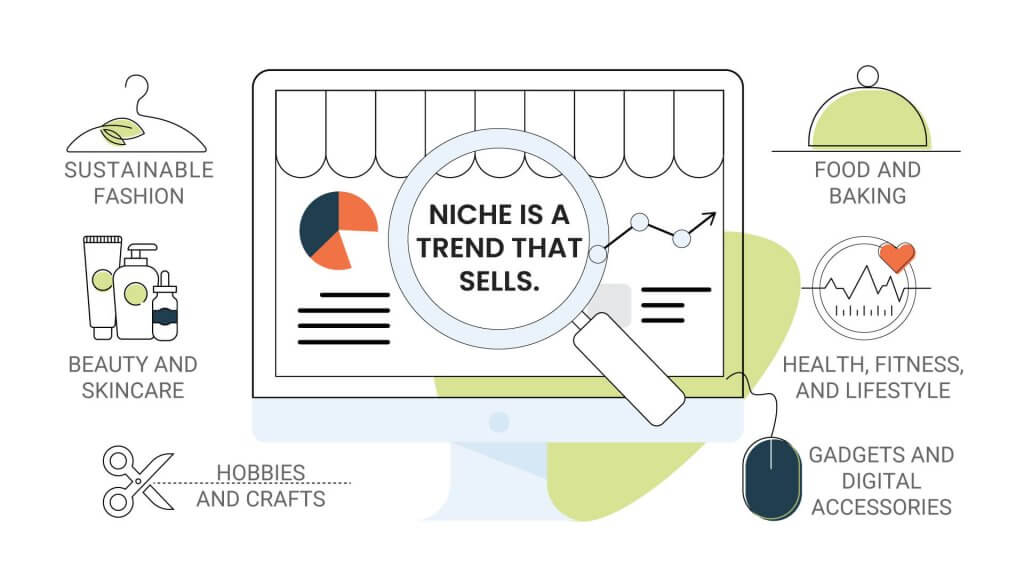 Beauty and Skincare
The beauty and skincare niche won't be disappearing anytime soon. The demand for cosmetics and skincare products has been there since these products were first invented and continues to grow at hyper speed each year. With new technology emerging constantly and innovations in the cosmetic industry, there's always increased demand for fresh products.
The pandemic may have seen a slight dip in beauty product sales. But the post-pandemic world has seen momentum in demand build up once again for beauty and skincare products. People again want to dress up, look good, and enhance their outlook as they feel good about themselves and life. Social interaction and stepping outdoors have increased the need for playing glam and looking good.
However, in recent times, the beauty industry has seen a shift in consumer behaviour due to the global, social, and environmental movements around living a simple and organic life. People now want vegan, chemical, and cruelty-free products that are also good for the environment. Therefore, organic and natural products are more in demand than ever within the beauty and skincare niche and are probably a great idea for your side hustle.
People are fed up with mass-produced products by big box brands and want simple and herbal alternatives. They no longer want anything with direct application like facial foam or moisturizer to contain harmful chemicals. This is a great opportunity for small-time business owners to step in and provide consumers with natural and organic products. The demand and the profit forecast for such items are promising in 2022. They will increase even more in the next year as these environmental protection movements become the driving force of many industries.
Sustainable Fashion
Clothing and apparel is an immensely popular product niche. Fashion trends, product reviews, and try-on hauls are the backbone of social media platforms like Instagram and YouTube. If you choose this niche and decide to sell apparel and accessories, you'll probably be successful more often than not.
However, on the downside, there's a lot of saturation in market supply. Everybody wants to get into the clothing business, and there are budding designers, retailers, and business owners of all levels in the market. Predicting what will sell and for how long isn't a safe bet in such a situation. Fashion trends are the quickest to come and go. When starting, one needs a stable market forecast and business plan to ensure they don't head straight to a loss in sales and profit.
Fashion has been heavily influenced by global events and social movements like other industries. It gets directly affected more than most. With the rising social consciousness toward sustainable living, there's been a global shift toward environmentally friendly manufacturing practices in the fashion industry. We now see the popularity of eco-friendly products like organic cotton and linen or repurposed and refurbished materials. Thrifting has resurfaced as a socially responsible effort toward sustainability in fashion production and consumption, and concepts like 'slow fashion' and 'handmade' have emerged.
Therefore, this year, this social movement will dictate people's choices. It's the perfect time to start a hustle selling vegan, sustainable and eco-friendly apparel and accessories.
Food and Baking
Will the appeal of good food and visually appealing cakes and muffins ever lessen? We believe people's love for food is a bankable objective for starting a side hustle. The demand for good food and new recipes has always been there, and with the internet allowing more people to access culinary offerings online, it'll only increase.
Where the pandemic brought so much devastation, grief, and helplessness to the world, it unknowingly forced people to spend their homebound time indulging in their favourite hobbies and interests. This allowed them to hone their gardening, painting, embroidery, cooking and baking skills. The two-year lockdown period saw a rise in several homegrown food and baking businesses mostly operated online. There was a splurge in experimental recipes, concoctions, and creations.
However, the trending products within the food niche are those that contribute to a healthy diet. As people have become more health-conscious, they want to incorporate organic food items into their lifestyle that are low in carbs, high in fibre and gluten-free. These items should be good for maintaining their overall well-being. Food businesses are simultaneously churning out such food items to match the rise in demand, and see a surplus variety in health foods and keto-friendly options.
Health, Fitness, and Lifestyle
With the changing global circumstances, consumers are forced to become more health-conscious and lead an active lifestyle. Their lifestyle choices are dictated by activities that promote good health, boost energy, and keep their weight in check. Sweating it out at the gym or the park has become a norm for most, and anything related to working out or maintaining one's health is sure to become a popular item.
For side hustlers and new business owners, this is the right time to cash in on this newfound craze of the people for a healthy lifestyle. If you choose this niche, you can sell trending items, including workout wear, sneakers, and fitness accessories like smartwatches and personalized yoga mats. Health foods and drinks are profitable as more people opt for plant-based beverages and zero-sugar and gluten-free options.
Hobbies and Crafts
If you're one of those potential side hustlers who don't want to focus on making money but sell unique meaningful products, then selecting the hobbies and crafts niche is a great option. This niche covers many items that overlap with other product categories like fashion, home decor, and jewellery.
If you're creative at heart and have always fancied the idea of sharpening your hobby or skills and making money creating something you enjoy, then you have many product options for your business. Hobbies can become stable sources of income if you channel and short-tune your skill into making great products people will love to buy.
Here again, the pandemic has forced people to stay indoors and look for practical ways to spend their time. This has proved instrumental in allowing them to sharpen their talents and interests and utilize these to side hustle. On the other side, the consumer trend has shifted toward handmade personalized DIY products instead of mass-produced items.
There are many options in the home-decor section that you can look at while choosing a list of trending products. Decorating their homes had been a favourite activity for people during the pandemic as they were forced to stay indoors and pay more attention to their personal spaces. There was an increased interest in making one's surroundings visually pleasing. Removable wallpaper, wall decals and personalized art, cushion covers, and candles became popular items overnight and continue to receive a high sales volume.
Besides home decor, other DIY items like stationery and paper crafts, handmade jewellery, and accessories are also high in demand. People now want personalized stuff. Therefore, exploring the hobbies and crafts niche will be a workable option if you'd rather make something yourself than source products from wholesalers.
Pets
Man's best friends and forever companions, don't we all love indulging our furry friends and paw buddies with some treats now and then? Pet-related items are always a welcome idea when shortlisting trending products to sell.
The good thing is that many homes have pets living in them, and pets need their accessories and necessities to thrive. So you won't be facing a loss in demand anytime soon if you decide to sell pet products. There's a range of product options in this category, such as shampoos, pet-safe bug sprays, edible toys, and accessories. The item that has experienced more sales volume recently are pet carriers, so perhaps you can take note of similar items of convenience and portability.
Gadgets and Digital Accessories
The gadgets and digital accessories niche covers all digital and electronic smart items of convenience. Technology has crept into everything we consume and occupy in today's world. Thanks to constant innovation, these items make our lives easy and compact and provide us with one-touch convenience. Thus smart digital devices like smartwatches, Bluetooth speakers and earphones, and wireless phone chargers are good examples of hot-selling products in this category.
Hot and Trending Products to Sell in 2022
Below, we've compiled a list of the top 60 items that have experienced a high sales volume in recent weeks. After much research across different trend platforms, we can give you a reliable list of product options you can choose from.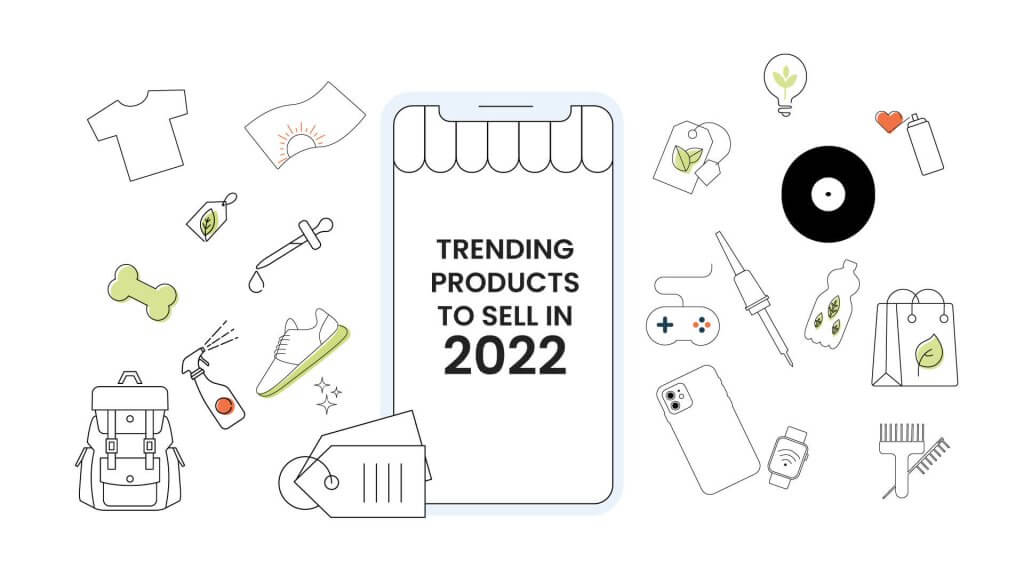 Hoodies and T-shirts
Hoodies and t-shirts are two wardrobe staples that are necessary for practically everyone. These two specific clothing articles are an all-time favourite because of their comfort, functionality, and versatility in wear.
That is why hoodies and T-shirts have made it to the top of our trending products list. The significant aspect of such items is that you can be as creative as you want while stylizing them. To make your products unique, you can paint them, get them screen-printed with cool graphics, indulge in creative arts like tie-dye and embroidery, or simply leave them plain in solid colours. The options are endless. However, what's essential is the quality of your fabric and adornments. Make sure you source premium fabrics as your brand's reputation heavily relies on the quality of your products.
Handmade Jewellery
The cool thing about small-scale home-based hustles is that you get to create and provide stuff to people that are unique and personal. With jewellery, if you have the skill and aesthetic, you can design all sorts of quirky, funky, or unique-looking pieces like earrings and necklaces that people would love to buy.
Handmade jewellery can be made from clay, polymer, resin, beads, threads, plastic wraps and even bottle caps. It's all about how creative you can get. Rare and individualistic-looking statement jewellery remains a popular search on Google Trends.
Vegan and Organic Beauty Products
As consumer behaviour shifts toward environmentally friendly beauty and skin items, the demand for natural and organic products has surpassed those for commercially produced big box brand items. Thus options like organic shampoos and facial cleansers, paraben-free eyeshadow palettes, and natural lip and cheek tints are all popular options to sell.
Kombucha Tea
With so many health issues prevalent, people have increased global consciousness toward a healthier lifestyle. Gut health is a common concern for many, which has made Kombucha Tea is everybody's favourite natural beverage these days. It does wonders for digestion and intestines, tastes excellent, and comes in many flavours.
Handmade Stationery and Cards
Since the pandemic, the concept of 'work from home' has become popular on a massive scale, especially as more and more companies have gone either fully remote or follow a hybrid work model. Online eCommerce platforms and Google shopping trends have shown an increased demand for unique or personalized office stationery.
As this need grows tenfold, so does the opportunity for people with a creative flair or aesthetic sense to design items like personalized or theme-based notepads, pens, and mouse pads while making good money online selling these.
Eco-Friendly Tote Bags
Preference for a sustainable lifestyle is enormous right now as social movements for environmental protection dominate the social-cultural and political discourse world over. These movements influence people's fashion and lifestyle choices, and thus, there is a focus on using recycled and refurbished materials.
Tote bags are a handy everyday essential that serve many functions, from carrying groceries to notebooks and laptops and carrying your basics as you run errands or step out for coffee. As people tilt more towards eco-friendly products, you can consider fusing the two elements; tote bags and sustainable fashion, by selling bags made from organic cotton or biodegradable materials.
Wall Art
People love decorating their spaces with visually appealing artworks. Yet not everyone can afford an original masterpiece. In fact, all sorts of art are appreciated and supported by art enthusiasts today. So if you're the artistic type who likes to create, then selling your own wall art pieces is a sure way of earning a good income. Art is a limitless field, and your options while choosing a medium are endless, from freehand painting with acrylics to digital artwork made on an art tablet to paperwork origami.
Athleisure Wear
Athleisure wear is a type of clothing versatile enough to wear casually and during workouts. Comfortable and functional clothing has become the new normal. Despite witnessing and appreciating fancy outfits on the catwalk and in fashion magazines, people now prefer to wear practical clothes that can be worn while lounging indoors or running errands outdoors and can also be worn to the gym. Comfort, above all else, is the new mantra, making athleisure wear items like track pants, jogger pants, t-shirts, and sports bras everyday essentials.
Phone Cases
Phone cases are a favourite item for many as these allow us to personalize our phone's outlook. Just like unique graphic t-shirts reflect our personalities, so do our phone cases. There is something for everybody with a huge variety of design options, from colour and themes to catchy quotes and graphics.
Pet Accessories
Pet accessories are a popular niche as every other household has a puppy, cat, or a talking parrot. And we do love indulging our pets in different treats. Popular items to sell in 2022 are portable pet carriers. However, the demand for other accessories like collars, combs, and shampoos is still very much there.
Vinyl LPs and CDs
Google trends witnessed an increased demand for CDs and Vinyl LPs last year, and the same rise is present currently. Despite Spotify and YouTube, the demand for music records still flourishes. While music connoisseurs love buying rare and vintage vinyl LPs to add to their collection, others prefer newly released album records.
Bakery Items
The pandemic and lockdown period gave rise to many small-scale home businesses selling cakes, banana breads, muffins and cupcakes. Surprisingly, bakery businesses have become overnight success stories. Many customers place advanced orders for personal recipes and unique flavours that they would not find at their local grocery store or bakery. Some bakery business owners have upped their scale as their businesses took off and took large quantity catering orders.
Portable Projector
Portable projectors are a popular item nowadays as these make it easy for people to view content from anywhere, home or office. All that's required is the projector and a blank wall to watch your favourite Netflix show or to share a presentation at work.
Smart Watches
Smartwatches are revolutionary items which have changed the concept of a traditional watch for the best of us. Equipped with a mechanism to monitor your entire day, from your step count to your calorie intake, to your heartbeat, these little miracles have become an essential everyday item in our efforts toward a healthy and active lifestyle.
Vegetable Choppers
Though there's nothing new and novel about these, the absolute necessity of vegetable choppers cannot be doubted. An automated chopper is our best friend at the end of a busy day when we want to fix ourselves a quick dinner and couldn't bother less about slicing and dicing those carrots and onions.
Car Phone Holder
Many of us use navigation or Google Maps for directions in the car. Our phone's enhanced technology makes it possible for us to use these features even if our car doesn't come equipped with its own navigation system. However, we can't be holding the phone in our hands when we are steering the wheel. Thus the car phone holder is an essential item to have in the car that allows you to fix your phone to the car and keep your hands free while driving.
Shapewear
Perhaps once a novelty and luxury, shapewear has become an everyday basic for many women worldwide. It does wonders to give us a nice, lean, and toned look. Shapewear enhances one's experience with an outfit and helps people fit in better into those bodycon dresses or pencil skirts. Although big brands have started selling shapewear, there's still a gap in the market when faced with high demand.
Laptop Accessories
Most of us have our whole lives packed into our laptops; from essential work files to memorable family albums, valued music collection to important data, we rely on our laptops for almost everything. Accessories that enhance our laptop usage experiences, like different cables, flexible stands, mouse pads, and skins, are always a welcome addition and experience a high sales volume year-round, year after year.
Posture Corrector
The posture corrector has recently gained popularity as more people have become consciously aware of correcting their postures. It's a special type of harness that, once you wear and buckle up, helps you stand tall and erect while supporting your spine. Though especially useful for a specific group of people who need posture correction or spinal support, the corrector is also a general favourite.
Electric Soldering Iron Gun
Electric soldering guns are a useful and often necessary item for people in metal and soldering work. Professionals and hobbyists agree that these babies make their lives simpler and more convenient. You can source these at wholesale rates from big eCommerce platforms like Aliexpress and sell them through dropshipping with a good profit margin.
Cat Massage Comb
A much-needed essential, cat owners agree they cannot do without these specialized combs on their cat's thick shaggy coat, especially after a bath. A massage comb is a special treat for cats who otherwise want to rub themselves all over the place and shed their hair. You can purchase combs and similar pet items at wholesale rates from large eCommerce platforms and sell them for a profit through dropshipping.
Waterproof Eyebrow Liner
In today's fast-paced, busy lifestyle, women prefer their cosmetics to be waterproof and hassle-free so that they don't have to worry about smudged blobs and tear streaks on their faces. Thus a waterproof eyebrow liner is a lifesaver along with other water-resistant varieties of cosmetics like waterproof mascara and waterproof eyeliner.
Mesh Running Shoes
Athletes and amateur fitness enthusiasts both prefer shoes made out of a breathable mesh fabric that allows better sweat absorption and provides ventilation and comfort to the feet. The solution comes in mesh running shoes, both for men and women. These shoes are perfect for running as well as your daily grind.
Beach Towels
Summers are incomplete without a supply of beach towels, a pair for each family member if we can have it our way. While packing for trips to the beach or poolside sessions, beach towels are the first thing we remember to put in our bags. Although it's a common commodity, finding premium good, quality towels isn't easy. Meanwhile, the demand for these hikes increases in the summer months. This is where you can cash in on this gap and source good-quality beach towels to sell at a reasonable price.
Portable Car Vacuum
Keeping our cars neat and tidy can be cumbersome, especially if we have kids who are fond of throwing half their food crumbs on the foot mats and the rest on the seat covers. Portable car vacuums are a handy item in such cases, as they make it easy and convenient to vacuum the car within minutes. Due to their compact sizes, they can be stashed away in the car's storage compartment.
Matcha Tea
Hailing from South East Asia, matcha tea is made from compressed matcha leaves and is an excellent alternative to regular tea. It's especially enjoyed in its chilled form due to its cooling qualities. The tea has recently gained immense popularity worldwide, although its supply has still not met its demand.
Hiking Backpacks
Enthusiasts and professionals are always on the lookout for sturdy weatherproof hiking backpacks that are easy to carry and high on functionality. Large wholesale platforms like Aliexpress are a good place to source such backpacks at minimal prices and sell them through dropshipping at a good profit margin.
Laser Hair Removal Machines
Laser hair removal machines have recently replaced conventional varieties, thanks to constant technological innovations. These devices enable the clients to get rid of unwanted hair in the comfort of their homes without paying salon charges each time. For those who cannot afford expensive brands, there are many cheaper options available in the market, which can be sourced at nominal rates and re-sold.
Phone Tripod
Extremely popular with content creators and social influencers, the phone tripod is a must-have little essential that can hold your phone at different angles and levels and provides stable support while you shoot. Users claim it is more valuable than the selfie stick, and hence a popular hot-selling product to include in your online business offerings.
Stationery
Since the home office became popular, so did the need for home-based office stationery. If the stationary is cute, unique, and personalized, all the better. People search massively online for notepads and diaries that can have their unique signature touches added to or those that are cool and reflect their identities. It's a great chance to hone your creative skills and design customized stationery sets. If you're familiar with paper crafts and can churn out handmade stationery, you 'll probably increase your profit margin as handmade stuff sells at higher prices, and it sells for sure.
Bluetooth Speaker
When we talk about all the portable digital gadgets that make life convenient, Bluetooth speakers are at the front and centre. With enhanced Bluetooth technology, several portable clean-looking speaker varieties are available at wholesale prices that you can purchase to resell online.
Drinkware
If there's one thing in tableware that people grow actual attachments to, it's their drinkware. Because of this, creating an entire business out of selling such articles is a great entrepreneurial idea. You can get as creative as you like by custom designing plain mugs and bottles with cute graphics, quotes, or designs, against a diverse colour palette. Printing companies can easily print your designs on ceramic and metal ware for reasonable prices. Recent online trends have seen a hike in demand for personal coffee mugs and water bottles, making this a lucrative business idea.
Hooded Raincoats
Raincoats are available at Walmart and other convenience stores or supermarkets. But you'd be surprised to know that the demand for hooded raincoats still exceeds its supply. Perhaps there is a lack of designs, colours, or quality; you can fill this gap by finding creative options in raincoats from wholesale retailers to sell online.
Eco-Friendly Products
People's lifestyle choices have shifted towards a more conscious preference for sustainable products. Consumers focus more on manufacturing methods and the materials of their favourite clothing items. There is a high demand for items made from recycled and biodegradable materials and organic and vegan fabrics. Therefore setting up an online store that solely focuses on eco-friendly products is a hot and profitable business idea. You can target selling items made from recycled plastic, organic cotton and linen, or vegan leather making your business an overnight success story.
LED Submersible Lights
LED submersible lights have gained sudden popularity since the pandemic. A plausible explanation for this could be that as people spend more time at home, they prefer adorning their personal spaces like pools or hot tubs with LED lights. It may pass off as a non-essential item, but LED submersible lights have been the most searched topic on Google Trends.
Eyelash Accessories
Lash extensions and false lash sets have been trending fashion accessories for a while. With innovations sprucing up older varieties, you have many options to choose from to sell online. Many people prefer applying extensions themselves rather than paying a hefty salon fee for the same. You can find a big market of customers if you decide to sell false lashes online.
Pet Carriers
Among all other pet accessories, pet carriers have experienced the highest search ratio and most significant sales volume in recent weeks. Pet carriers are useful items to take your pets with wherever you go, and different-sized carriers for dogs and cats are much in demand.
Household Cleaning Supplies
Sure, household cleaning supplies can be easily found in your local supermarket, making you wonder why we have these on our list of trending items to sell online. The truth is that people have developed a keen preference for purchasing everything online, household supplies included. So becoming a one-stop-shop for all household cleaning supplies for your customers can translate into a great business proposition. These items are so essential that you can be sure you'll never stop receiving orders.
DJ Systems
People nowadays are increasingly looking for affordable compact home DJ systems. Especially beginner DJing enthusiasts want cheaper options which they can use to learn and experiment. For the same reason, DJ systems are currently a top search topic in all search engines. A great idea would be to source some from prominent companies like Numark and Pioneer and re-sell them online.
Teeth Whiteners
Most of us wish there were more straightforward, less expensive ways of whitening our teeth than going to the dentist for a round of scaling sessions. A diet deficient in vitamins and calcium and prolonged tobacco use makes our teeth yellow naturally. People, therefore, are looking for cheaper alternatives to scaling in the form of whitening strips, bleaching kits, and charcoal powders.
Measuring Cups and Spoons
Ever since the world's love for baking re-surfaced, so did the sudden boom in demand for baking utensils. Measuring spoons and cups are the gurus of baking and cooking in general. Without good measuring spoons, you won't be able to make the cake as you see it online.
Sourcing these utensils at wholesale rates in bulk amounts from Amazon or Aliexpress and re-selling them at a good profit margin is an excellent idea for your online business.
Neck Massager
Super busy and hectic schedules of our current lives often leave us exhausted with muscles that ache every time we move. Neck massagers are people's best friends in such challenging times and, consequently, a great product to sell online. Sourcing these from Chinese eCommerce platforms like Aliexpress in bulk quantities at wholesale rates can do wonders for your business.
Dinnerware
Nice and elegant dinnerware can enhance your dining experience during dinner parties and spruce up your drab table otherwise. Various options are available, such as porcelain, ceramic, or bamboo wood. You can opt for particular dinnerware styles like rustic, classic, or modern or sell the whole spectrum on your online store.
Nail Polish
Nowadays, people prefer getting their nail polish supply online instead of going to the store to purchase some. Along with other cosmetics and beauty products like eyeliners and mascaras, nail polishes have also received a high search volume in the cosmetic category on Google Trends lately. To make your business a success, you can offer a range of colours and varieties like matte, shiny and glitter. Simultaneously you can source from several different brands that are customer favourites so that your store becomes a one-stop shop for people's nail polish needs.
Facial Cleansers
Facial cleansers have quickly become an essential skincare item for consumers. However, people want new options and varieties besides the giant box brand versions that offer the same goodness at a lesser cost. You can tap into this demand and explore good facial cleanser options to sell online.
Organic Shampoos
Since the demand for organic and natural products has recently gained prominence, following the global movement for a sustainable, eco-friendly lifestyle, people have ditched mass-produced chemical-containing versions of beauty and skincare products. They instead want options that are natural and safe to apply to themselves. Organic shampoo is a viable product option with a high demand due to the common concern of using a chemical-free formula that is safe for the hair.
Wireless Earbuds
Ever since Apple introduced the earpods in our lives, things have never been the same. Earpods gained so much popularity that all other wireless headphones saw a decline in sales, as more consumers wanted a pair that, if not an original, at least resembled an earpod. Luckily there are other cheaper alternatives available in the market. However, the challenge lies in sorting out better varieties among the lot. You can make life easier for your customers by sourcing good-quality wireless earbuds and selling them online.
BBQ Grill
BBQ grill received the highest search volume on Google Trends last week. There are many varieties of grills we see in the market today, from portable compact ones to larger units offering more features like multiple burners. With a massive supply of grills on Amazon, you may think it wouldn't be a viable option to sell these yourself. Perhaps there is a gap in the market because the graph of consumer demand for this product shows an upward movement. It's always wise to tap into such items experiencing a high search volume.
Septum Rings
Another product that has been quite popular recently and has shown a considerable search volume on Google Trends and Amazon is septum rings. Although plain septum rings can be easily found in jewellery stores, consumers are looking for unique rings that allow them to make a bold statement every time they wear one. Sourcing quirky, different-looking pieces for your customers will surely boost your sales.
Dresses
An all-year-round favourite but a summertime staple, long breezy dresses received the highest search volume in the clothing category on Google Trends in the past few weeks. No matter how many of these each brand churns out each season, the demand will always exceed the supply in the summer months.
Video Games
Another in-demand product receiving a high sales and search volume are video games. You can make a nice profit selling Playstation games, especially the latest Fortnite seasons and other popular titles.
Wireless Phone Chargers
Another useful essential, wireless phone chargers have suddenly become famous overnight due to their ease of comfort and convenience. However, most consumers complain of not being able to find a quality that lasts them beyond a few months. Perhaps sourcing premium quality wireless chargers at wholesale prices might be a good business proposition to fill this market gap. If it doesn't make sense to exclusively sell phone chargers, you can include them in your company's product inventory, which specializes in wireless accessories.
Specialized Clothing
There is great potential in selling clothing targeted at specific consumer groups like plus-sized women and people with health issues. Children's and infant clothing is another great option. Not many brands in the market specialize in specialized clothing, so you can cash in on this opportunity to make easy cash.
Rugs
Although we have many home stores around us, it is surprising that consumers still search for stylized unique-looking rugs for their homes. It would be an exciting business proposition to explore various types of rugs from different corners of the world and source these to sell online. Always consider providing your customers with stuff that is not readily available, but that is attractive enough to entice them into buying it.
Hair Wigs and Extensions
Hair extensions are popular as more people prefer enhancing their natural locks with additional add-ons. There is a great potential for selling all image enhancement products in the market, including hair wigs and extensions. It's wise to source these from Aliexpress at wholesale rates in bulk quantities. That way, once you sell an individual piece, you earn a nice profit.
Nail Extensions
False nails are just as popular as any other beauty product, as consumers look for cheaper options instead of costly salon sessions. Thus selling nail extensions and fake nail sets is a great business proposition, next to selling eyelashes and hair extensions.
Abdominal Crunch Straps
With a massive demand for fitness equipment and workout accessories, the abdominal crunch strap is popular among users for its ease of use and effective results. Generally, all equipment related to ab workouts is always in demand as losing stubborn tummy fat is the hardest.
The crunch strap is horseshoe-style support attached to a spring, allowing you to do your reach-ups more efficiently. Taking advantage of current fads to make money is always a good idea, and currently, the abdominal crunch straps are a hot trend in the fitness industry.
Temporary Tattoos
The next best thing to real tattoos, and much preferred by those who don't want something permanent on their bodies, temporary tattoos have become hot-selling products in recent weeks.
With a plethora of designs, you can offer your clients great options and deals like bundle packages or individual sets.
Reusable Bags
Since the ban on plastic, the market experienced a dip in producing alternative bag options. However, using bags that are eco-friendly and biodegradable is equally essential. People now prefer bags they can reuse instead of disposing of. You can make an entire business by selling different reusable bags, from fabric to recycled and refurbed materials.
Air Fryer
The air fryer is everybody's new best friend as it helps us reduce the use of oil and grease while still enjoying our favourite culinary treats like fried chicken and french fries. Anything that enables people to cut down on the calories and maintain their weight goals without compromising on good food is sure to be a massive success and sell like hot cakes. Similar is the case with this miracle invention; the air fryer.
The Next Step: How to Sell Online
Now that you've finally figured out what you want to sell, after exhaustive and intensive research across several platforms, you come to terms with even bigger questions like "how do I sell this product online?" and "what factors do I need to consider when setting up an online store?".
There are plenty of resources you can tap into to learn the basics about setting up your online store. From defining your business objective to working out a detailed financial and business plan, you'll have cover many steps before you can officially launch your eCommerce website.
The selection of trending products to sell is just the tip of the iceberg. To be successful in your entrepreneurial venture, there are several phases you must go through and many factors to consider and work out.
Product Considerations and Pricing
The product you eventually choose to sell should go through a couple of litmus test rounds;
Firstly, it should be unique or offer great value to its user. Depending on individual circumstances, your product should be different, personalized, and unique in appeal. If you choose to sell standard products instead, they should at least be of great value and use to your customers.
Second, your product should be quickly sold online through dropshipping. This means people are willing to buy the product without being too skeptical about seeing it in real life.
Your chosen product should offer a healthy markup. That means it should be priced according to dropship-friendly rates so that people can easily buy the items without worrying too much about spending a large amount of money on something they've only seen online.
Marketing Strategies
Your product may be cute, unique, or extremely useful. However, you need to let people know if you want it to sell well and bring in good profits. For this purpose, you should engage in effective marketing strategies, including but not limited to:
This includes paid ads across different social platforms like Facebook and Instagram, as well as engaging content on your business social media accounts.
A paid marketing tool on Google ensures the maximum number of people see your ad.
Your main online storefront and virtual presence is your business website. Therefore your website should be highly user-friendly and easy to navigate. It should provide a great UX to your customers by enhanced features like high page speed and an efficient browsing system.
Check out HostPapa's shared hosting services to ensure your company gets a sound and stable online presence that is essential for your business to thrive. A great website is fundamental to a successful online entrepreneurial venture. With HostPapa, you get everything you need for the smooth running of your website, including different hosting options like shared hosting, VPS Hosting, and Managed WordPress Hosting. Along with this, you get unlimited access to web space, enhanced server speed, website maintenance, and security. Besides, your business would also require a business email and a personal domain. You don't need to bother yourself with the technicalities when you let HostPapa handle your website for you.
All you need to do is create engaging content in optimized, high-quality product pictures and great product descriptions to attract your customers into buying your stuff.
Make a list of potential customers and influencers who would buy or endorse your products and have periodical emails sent out to them to introduce your business and describe your offerings.
How to Sell Online
All types of businesses typically follow a standard process of setup and execution. The following steps can be your guide to get your business on its feet and help it thrive.
Do detailed market research to identify what products are trendings and what people want to buy. Also, look at your competitors in the market to get an idea of their offerings and price points and any exciting marketing strategies they use.
Identify your target audience so that you can better offer products of value to them.
Set up your online store by building a great website and engaging the services of a credible web hosting provider.
Make a financial business plan to determine your investments, sales, and profit ratios.
Final Thoughts
Starting a new online business can be an exciting idea, but deciding what to sell can be daunting. In today's world, which is full of possibilities, we have several ways of tapping into market trends and studying consumer behaviour patterns.
Hopefully, our post will help you streamline your product selection process and guide you on how to go about shortlisting possible items you'd like to sell.