You probably know lots of people hustling to make easy cash on the side. It might make you wonder what the buzz around this term 'side hustle' is, when it suddenly became so popular, and whether it pays off and justifies the hype.
You may also look around at the surplus options and ideas for side hustling but only get overwhelmed, unsure which one is right for you. Worry not, as we'll answer all your queries about side hustling, why it's important in 2022, and what makes a particular hustle better than others. We also bring you a list of the best side hustles that have the potential to earn you good money without much investment or prior skill.
What's a Side Hustle?
A side hustle is typically a part-time job or gig that you do to make some extra cash outside of your regular income. It allows you to pursue a hobby or a passion and spend your spare time doing something productive.
How much you make through side hustling depends on how much you are willing to scale and how much time you invest besides your regular work hours. There are many success stories of side hustlers whose businesses flourished to the point where they could comfortably quit their regular 9-5 jobs and solely focus on expanding their hustles into a full-blown company.
Why Do You Need a Side Hustle?
Side hustles have several advantages, but mainly it's about the extra income these bring in. With this supplementary income, you get to do many things you've probably put away on your to-do list or made part of your future plans, which you're unsure how you will execute.
The extra cash you earn through a side hustle allows you to:
Pay off debts
Save money for bigger purchases or investments
Go on a vacation
Contribute to your retirement fund
Lessen the overall financial stress that inflation and life generally bring with it
Additionally, a side hustle also has the following benefits;
It lets you pursue your passion or interest
It enables you to do something different in an otherwise predictable life
You get to explore different fields of work
It adds volume to your resume
It teaches you life skills like earning money in case you don't have a fixed income source someday
It's a good combination of commerce (the financials) and your passion or interest
What's the Best Side Hustle For You?
There are over a hundred options for side hustling to earn extra cash. Different people do different things, and it works wonders for them. However, there are so many factors you need to consider before settling down on your business idea.
It may seem overwhelming to figure out which side hustle is right for you, given the choices. However, you can put your shortlisted ideas through a few considerations or litmus test points to decide if these are workable for you in the long haul.
A good side hustle will have all of the following;
At the end of the day, the side hustle should bring fruitful results in easy cash. For all the extra effort and time that you invest, you should be able to see the money come in. Indeed, income doesn't start flowing in the initial weeks or months on the realistic front. Still, you should see it coming eventually.
A side hustle will be great if it has the added benefit of expansion. If you succeed in it and want to grow the business one day, it should be workable and manageable to make that happen.
Side hustles are part-time gigs or side jobs; thus, they have to work around your regular 9-5 work hours. One that works for you will be the one that follows a flexible schedule and allows you to balance your time well without restricting you to a fixed schedule.
Something you enjoy doing
You should be able to enjoy what you do and love your work. Therefore side hustles that enable you to pursue your interests or passions in your spare time are the ones that work best for you.
List of the Best Side Hustles in 2022
With so many creative, innovative, and diverse possibilities and options for side hustling present today, we understand how challenging it can be to pick just one. You can lay your stress to rest as we give you a well-researched list of side hustle ideas that are financially viable, and most don't require much investment or prior skills.
The majority of these side hustles have the potential to earn you anywhere from $100 to $1000 plus each month. It depends on your effort, the extent to which you scale out, and the hours you put into making your business soar.
So without further ado, we bring you the list of the best side hustle ideas for 2022.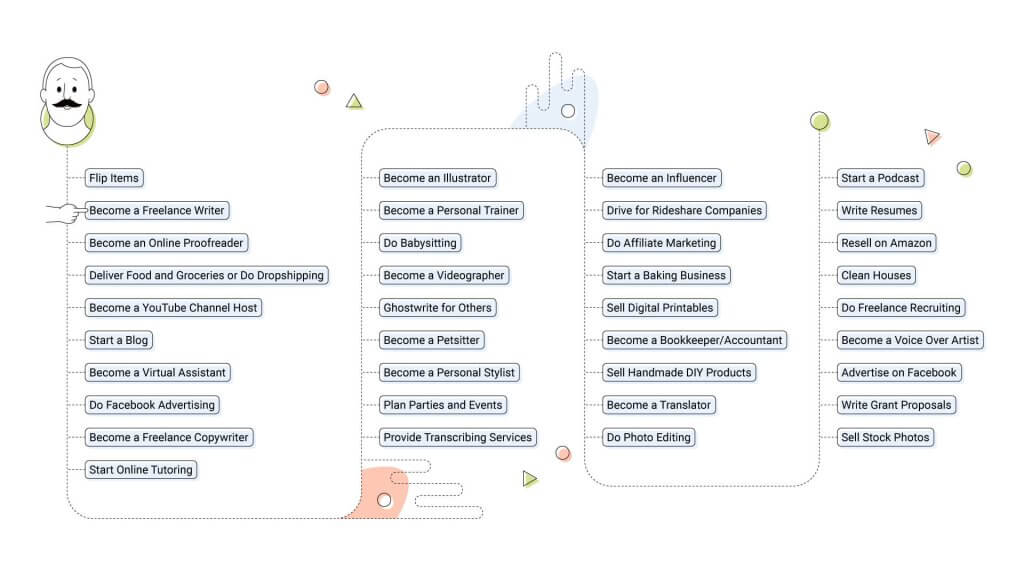 Flip Items
Flipping items are when you purchase a low price and re-sell it with a maximum profit margin. Thrifting is a typical example of flipping items, where you buy stuff in cartons at throw-away prices and earn significant profits selling items individually.
Successful flippers can make thousands of dollars each month by flipping items part-time. There isn't much expertise required in learning how to make a six-figure salary. The trick is to understand the business tactics in the flipping business. The secret lies in picking up cheap stuff that you can sell at 10 times its buying cost. Imagine what that will do for your cash flow.
Become a Freelance Writer
Effective and engaging content is one of a company's biggest assets and marketing tools. Large corporations and even smaller companies employ many writers to produce content for their websites and marketing platforms. Not all writers are in-house employees. Since writing is a skill, companies engage freelance writers worldwide to write for them and pay them up to $40 an hour.
There are many domains in writing where you can try your hands, such as blog writing, email writing, and website content writing.
Become an Online Proofreader
If you have a knack for picking up misspelt words or typo errors, you could do great work as a proofreader. These days, proofreaders pick up gigs on freelance platforms like Upwork and Fiverr and earn great money for one-off proofreading tasks.
You don't require special skills or training to classify as a proofreader. If you've always been strong at your written language skills at school, you can practice proofreading material you find online. With each practice and accomplished task, you will polish your skill further.
Deliver Food and Groceries or Do Dropshipping
Do you want to make easy money on the go without any special skills or investments? Becoming a delivery person for food ordering platforms may be your ticket to do so. You can make quick cash delivering food and groceries by teaming up with platforms like Instacart, Foodpanda, and DoorDash.
You can also partner with dropshipping services to deliver packages and parcels. Online shopping has become such a huge trend nowadays that dropshippers have become some of the busiest people in the world.
Success stories of food delivery gigs mention earning up to $10,000 in the first 6 months just by delivering stuff.
Become a YouTube Channel Host
We're all familiar with the monetary benefits of social media platforms like YouTube and TikTok. Successful YouTubers and Influencers make millions of dollars through their channels, and so can you. What do you need? Not much, other than great entertaining content that you can shoot. You may need to hire a videographer/editor if you cannot manage solo.
Although most YouTubers eventually learn to shoot their videos using tripods, selfie sticks, and a good camera. Moreover, there are several editing software that is easy to use. You can learn through tutorials how to edit your videos.
Once a channel gets popular and has many subscribers, YouTube monetizes your channel, and your regular income starts coming in.
Start a Blog
Do you enjoy reading blogs? Have you subscribed to several and devoured their content hungrily each day? How about starting one of your own to make some money?
If you didn't know, blogs could be monetized and become a good source of passive income. This is done by putting up affiliate links on your blog. For each link, the affiliates will pay you an amount. This is called affiliate marketing. In fact, affiliate marketing is a great side hustle on its own, and we will talk more about it below.
As with other businesses, building a follower base is hard starting out. The key is to keep at it and continue writing engaging and informative blog posts regularly on any topic of interest. Eventually, your subscribers will increase, and so will your affiliate partners.
Become a Virtual Assistant
The term 'assistant' has changed in the present times of digitization, automation, and companies operating and integrating through a location-free work model. Assistants no longer do menial office tasks for their line managers in a physical office. They operate virtually and are essential members of the driving force of a company.
People can offer different services from their homes, like customer support, bookkeeping, data entry, and email and social media management. Usually, big companies outsource such tasks as they do not have time to do these themselves. Virtual assistants can earn up to $25 to $30 an hour and follow a flexible work schedule.
Do Facebook Advertising
Facebook Ads are a social media marketing tool that helps small businesses advertise themselves and gain more customers. The deal is that writing ad copies and running ad campaigns requires time and attention. Business owners are so caught up with operational details that they prefer outsourcing the marketing side of the business to freelancers.
You can help such companies gain traffic and brand recognition by handling their Facebook ads and earning great money.
Become a Freelance Copywriter
Copywriters are special writers who can write persuasive and compelling content that forces the reader to take action. Slightly different from blog writing and long-form content, copywriters usually write short pieces that are especially handy for marketing and advertising campaigns and entice customers to buy a particular product or take action that is the company's intent.
If you have it in you to persuade others through your words, you can make a good side hustle business as a copywriter, earning up to $40 an hour.
Start Online Tutoring
If you were great at a specific subject in school, like maths or science, you could use your expertise to teach others. Many schools and college kids find a particular knowledge area challenging and require extra tutoring outside school to consolidate their concepts. 
Tutoring is not limited to academic areas. You can provide people with online coaching if you specialise in any skill, like cooking, embroidery, or painting. Language is another asset, and if you can speak one or more, cash in on the opportunity to teach people basic and conversational levels of a language. There is a lot of need to learn world languages like English, Spanish, and Mandarin for employment, immigration, or integration purposes. Also, based on your expertise and familiarity, you can prepare people for standardized tests like SAT, IELTS, or GRE.
Earning through online coaching is an excellent way to make great money. You can charge anywhere from $20 to $40 an hour and fix your hours while you are your own boss! It couldn't get better than this.
Become an Influencer
What could be better than living the dream life making inspiring content for others while having a blast and earning oodles of money for entertaining others? Especially when this entertainment pertains to trying new products, eating different foods, exploring new places, or simply covering a day in your life doing ordinary things.
That is precisely what social influencers do these days to earn a living. You, too, could get inspired and start your own social media channel. Getting popular and building a follower base might be a challenge in the initial months, but your popularity solely depends on your content's engagement. Once you have many followers, your channel will monetize, and brands will also pay you to endorse their products for marketing purposes. Who doesn't love free goodies and paid vacations?
Drive for Rideshare Companies
Another highly paid side hustle on our list is to become a driver for a rideshare company like Uber. If you can drive, have a car, or borrow a car, for that matter, register yourself with a rideshare company and earn money driving people around town.
Many people now prefer using rideshare companies to book a ride instead of calling a cab, as it's more economical and accessible. Depending on the mileage, drivers can make between $2 to $10 per ride and get some nice tips on the side.
Do Affiliate Marketing
Earning easy money through affiliate marketing is the hottest new trend. You need to learn how affiliate marketing works and have some channels you can use. Such channels are typically websites, blogs, or email lists.
Create an affiliate list with all the companies and brands you like or want to promote and put up their links on your channel for your users/followers to see. Each time they click on an affiliate's link and make a purchase, your affiliate pays you a commission.
Affiliate marketing is the primary source of income for many blogs and websites these days and can be a great income source for anybody starting out. You don't need any technical knowledge to get going, only some good networking skills.
Start a Baking Business
Baking scrumptious-looking cakes, cookies, and banana bread has become a popular hobby and income source for people since the pandemic. If you've earned many fans for your baking skills, it's time to monetize your talent and open up a baking business.
You can set up your online bakery through a website or an Instagram account where you display your products with ingredients and pricing information. The more visually appealing your product images will be, the faster the orders will come in.
Sell Digital Printables
Digital printables are a top-selling item online and can be an easy-breezy way to make extra cash. Such items include to-do lists, greeting cards, word games, and kids' activity sheets.
With a one-time effort of designing a printable, you can sell its re-prints each time a new order comes in. You can do an entire online business selling digital printables.
Become a Bookkeeper/Accountant
If you've always been good at maths or just love using numbers, you can become a bookkeeper for a company or offer freelance bookkeeping services.
Bookkeepers usually handle invoices and payments, bills, payrolls, and a business's financial entries and data. They are vital members of any business structure and help the company keep its financials on track. Thus, based on their experience, bookkeepers can make a nice income starting at $60-$80 an hour.
You don't have to be a trained accountant to become a bookkeeper. You're good to go with an aptitude for numbers and with the help of some basic bookkeeping courses.
Sell Handmade DIY Products
Handmade items carry a lot of personal and unique value. Their worth cannot be compared to products made on a mass scale and reproduced in batches. DIY stuff is one of a kind, perhaps a unique piece that can never be replicated or remade. This alone adds to its appeal and value. A large market of customers appreciates and endorses imperfect, one-of-a-kind handmade products.
The options to add to your online DIY store are endless, from customized accessories and apparel like hand-painted t-shirts and shoes, cut and sew skirts, and patchwork bags to home decor items like cushion covers and lampshades. There are so many niches where you can apply your creative skills and make something worthwhile that people would love to buy. If you enjoy making things yourself and love to get your creative juices flowing now and then, you can earn money selling your proud creations.
Become a Translator
Do you know more than one language? It's time to use this skill to make some extra cash. There is a huge demand for translators for different documents and business conversations in the market. Translators can easily make up to $35 an hour for translating business meetings of official content. If you're looking to start a side hustle managing confidential business documents, consider investing in virtual data room software to securely share and collaborate with clients.
Look up job listings online on freelancing platforms for translating jobs relevant to the languages you know, and start making money now.
Do Photo Editing
If you have some basic photo editing skills, you can turn these into a side hustle. Photo editors easily make between $20 – $30 an hour, or they can also charge per project.
You don't require expertise to start working as an editor. If you haven't already, just get some essential photo editing software like Photoshop, learn it through YouTube tutorials and their in-built knowledge base guides, and you're good to go.
Freelance platforms like Fiverr are great places to look for photo editing gigs.
Become an Illustrator
Is illustrating your passion or hidden talent that you didn't get an opportunity to explore much? Now you can use your hobby to earn money and turn it into a great side hustle.
Books, magazines, and websites always need talented illustrators and tend to hire freelancers instead of inducting in-house illustrators. So you have a great chance of utilizing your creativity to make great money.
Become a Personal Trainer
Are you a fitness freak who loves working out and staying in shape? Why not help others do the same? You can earn money doing so. You'd be surprised at the vast market potential of such a hustle, as more and more people want to train to get in shape but don't know where to start.
Becoming a personal trainer is no rocket science. You can start by using your workouts and diet intake as a reference for your customers. Eventually, once you get in the flow of things, you can learn more about being a trainer and guide your customers on different exercise routines and food intakes based on their needs. The best part? You can earn around $30 an hour helping people train and get an extra workout for yourself as well.
Do Babysitting
We did it once in school, and we can do it now as a proper side hustle. Offering childcare services in your local neighbourhood is a great way to make up to $20 an hour. You can start initially by word of mouth. Eventually, you can search for babysitting gigs online on Indeed and other job sites.
Become a Videographer
Videography is a hot and trending hustle in significant demand nowadays. Event managers, influencers, YouTubers, and everyone in between, are always looking for talented videographers to cover their events or provide them with important footage.
If you feel you have what it takes to grab your camera and record live footage, you can use this as a promising side hustle. On average, videographers charge between $30 – $40 an hour. All you require is a decent camera and video editing skills.
Ghostwrite for Others
Are you good at writing? Are you even better with grammar, syntax, and editing? More importantly, have you always wanted to write but were nervous about people's reactions to your work?
You can still utilize your talent to make good money and not display your name. Become a ghostwriter for people who lack what you have; writing skills! Let them use their name on your written pieces and pay you a hefty sum. We're talking about anywhere from $50 – $150 an hour.
Become a Petsitter
If you love being surrounded by cute furry paw buddies, sitting pets will be a promising side hustle for you. You can earn money by the hour for caring for a pet and have a blast doing so.
Dogs usually like to be taken for walks, and if you're sitting one, you can go for long dog walks, burn calories, and make up to $20 an hour.
Become a Personal Stylist
Have you always loved fashion and playing dress-up? Do you have a keen sense of aesthetics and a knack for putting things in harmony to create an appealing end project? A stylist does just that.
Become a personal stylist for people in need of looking and feeling their best by selecting their outfits and accessories for different occasions. Stylists also look at aspects like which accessory matches which hairstyle, what colour looks best on which complexion, and which event demands what sort of outfit.
Personal styling is so lucrative that you can charge as much as you like once you gain more experience and clients. Stylists charge anywhere from $20 to $2000 an hour, depending on their profile.
Plan Parties and Events
If you love putting up displays and organizing spaces, you can put your skills to use in planning events like birthday parties, weddings, baby showers, and brunches. This hustle will require a bit of social networking, as you'll have to connect with suppliers and manufacturers and advertise your services in your circle to get clients.
As your work takes off, you can expect to make big money for each project you do. Satisfied clients will also refer you to other people in their circle, which will do wonders for your marketing.
Provide Transcribing Services
If you have a keen ear for listening to auditory details and transcribing them into words on paper, you have great potential to earn as a transcriber. Many companies nowadays hire freelance transcribers to transcribe audio recordings like training modules and meetings. There are different niches in transcription, like medical and legal, and you can specialize in one.
Through transcribing, you can make around $25 to $30 an hour and make up to $1500 a month by just working 2 – 3 hours a day! Freelance platforms like Fiverr and Upwork are good places to look for freelance transcribing jobs.
Start a Podcast
Like a monetized blog, a podcast can be an excellent source of revenue. Once a podcast becomes popular and has a large number of followers, sponsorships of different companies start coming in. Alternatively, you can approach sponsors yourself once your podcast has a set number of followers.
Write Resumes
More people nowadays find writing their resumes a daunting task. Something as important as your resume, which affects your chances of getting your dream job, makes the best people sweat.
If you're good with grammar and format and ahead of the curve in professional writing, you can help such people by writing their resumes. Resume writers can make up to $20-$25 an hour.
Resell on Amazon
This has got to be the best idea for earning easy money while sitting at home and practically doing nothing. If you've got things around your house that you no longer want, think extra furniture, clothes, toys, gadgets and utensils sitting neglected in your basement, closet, or garage, you can start earning through them.
Register as a seller on Amazon and start selling all your unwanted items there. It's the modern version of a garage sale, but perhaps will bring you a wider audience and more earning potential. It's also a great way to declutter your space and make great money.
Once you're done selling things around the house, you can score thrift shops and garage sales in your neighbourhood to source more items to resell online.
Clean Houses
Surprisingly, cleaning houses is the most underrated side hustle but has one of the highest revenue potentials. Cleaning an entire house in an hour can easily make you between $70-$80 an hour. Imagine how much you could make daily cleaning 5 to 6 homes.
This kind of hustle is best for people skilled and efficient in house cleaning and can be a great way for stay-at-home moms to make money while their kids are at school. You can make an entire full-time job out of this once things take off for you. The more houses you clean, the more money you make. Advertising your services in your locality is a great starting point for finding potential customers. After that, word of mouth will be your greatest marketing tool.
Do Freelance Recruiting
Thanks to our changing times and technology that brings the world closer, many companies, big and small, have adopted the location-free work model. As busy professionals don't have the time to do new hiring, they employ freelance recruiters and talent acquisition specialists to do the work for them.
You can offer services as a freelance recruiter to such companies. The perks of such a hustle are to work your own hours and work from home. Freelance recruiters are on the higher end of revenue potential than other hustles on our list, where they can make over $30 an hour, which means over $4000 a month.
Become a Voice-Over Artist
Voice actors are everywhere around us, but we don't realize it. The commercials we watch on tv and hear on the radio, the voice of characters in animated shows and cartoons, and the voice we hear on the phone line when we call a universal business number are all contributed by voice artists.
If you feel confident about your intonation and speech, you can try doing voiceovers for different companies and projects and earn up to $35 an hour. Depending on what works best, you can use recording studios or set up your own studio at home. Voiceover as a full-time job has the potential to earn you thousands of dollars annually.
Advertise on Facebook
Some big businesses and companies want to use social media platforms like Facebook to increase their audience and advertise their products or services. The recent trend of the location free work model has made it possible for these companies to use freelance digital marketers who advertise their products on Facebook through Facebook Ads.
As with most other side hustles on our list, you are your own boss and can fix your own hours. Doing Facebook advertising for local companies for even a couple of hours a week can help you make around $1000 to $2000 a month.
Write Grant Proposals
If you're a good writer and can persuade others through your writing, you can try writing grant proposals for people. Grant proposal writing is often challenging, and people hire professional writers to do it for them.
Depending on your experience, you can charge $20 to $150 for writing a single proposal.
Sell Stock Photos
Are you good at photography? Why not sell your favourite photos on stock photography sites like Shutterstock and Adobe to make quick cash? On average, you can make $0.25 for each photo you sell on these sites. So the more photos you take and sell, the more you make.
Stock photography is a hot market where not only amateurs, collectors, and enthusiasts but big companies purchase stock photos for their businesses. Thus you can get customers if your pictures are great and of good quality.
How Do I Start a Side Hustle?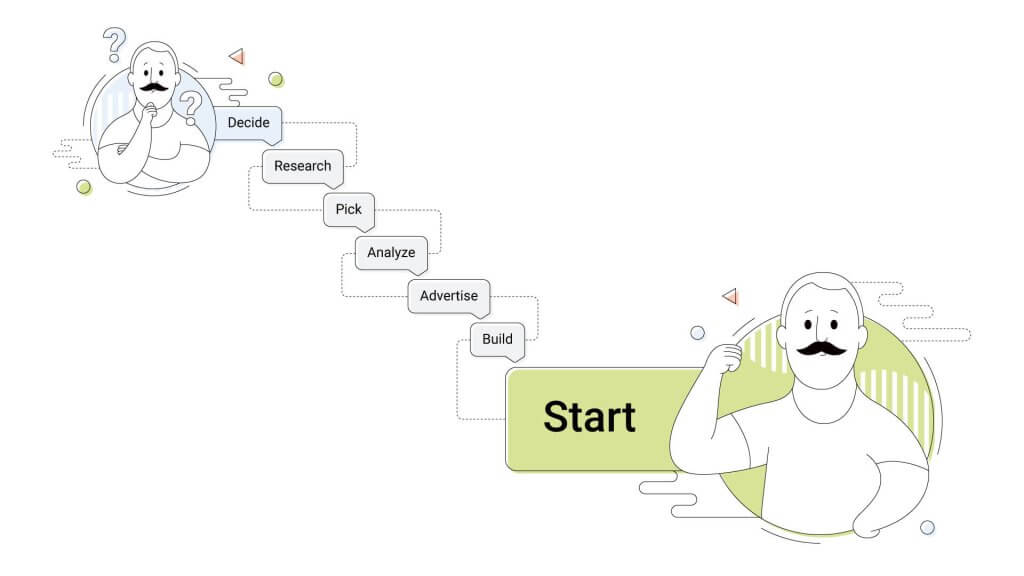 The first step in this exciting journey is to make up your mind that you want to side hustle. Decide that you want to make extra cash on the side to supplement your income, pay off your debts, or go on a vacation you've long dreamt of, and you are ready to work for it.
Once your motivation and initial goal are set, decide what side hustle you want to try. It can be anything that interests you or has been a long-time passion. Otherwise, research which side hustles are more financially viable and flexible than others. Take the help of our list above to pick one that makes sense for you.
After picking up a side hustle, analyze if it is workable for you. The hustle you settle on must be compatible with your daily schedule and be motivating and enjoyable enough for you to want to persist in it. These steps are all part of the pre-planning stage.
To start hustling, depending on your chosen job, advertise your profile and services on a freelance platform like Upwork and Fiverr. Alternatively, you can build your website, which does all your advertising for you. A good website will give your customers all the necessary details of your services and your charging fee schedule.
Check out HostPapa's complete online web solutions for small businesses and freelancers like yourself. HostPapa offers a range of web hosting services like shared hosting, managed WordPress hosting, and business email and private domains for your company. Don't let the idea of website security and issues like web space and server speed worry you. HostPapa takes care of all things website-related so that you can solely focus on selling your services and running your business.
Finally, it's time to take action and start hustling once you're through with setting up your website and advertising your services. Stay persistent and focused initially, as good things sometimes take a little time to come your way.
Final Word
Side hustling is an exciting opportunity to make money doing things you enjoy. Remember that nothing comes easy, and hustle means work. So treat your side hustle as work, and give it the same respect and commitment you would do to your regular job.
Whether you're looking to make passive income without any investments or physical work, or you want to scale out your hustle into a full-time job that can enable you to quit your 9-5 eventually, our comprehensive list of the best side hustle ideas for 2022 will help you choose one that is right for you.