The importance of creating a mobile-friendly website cannot be stressed enough. So today, we're going to talk about mobile websites and how important it is for your own business.
Did you know that around 80% of consumers say that if they go to a business website and it's not mobile-friendly, they leave right away and then go to a competitor's site?
Say you're a small business owner getting about a thousand visits every month. Half of those are more likely coming from mobile devices. People usually don't stay on a website for too long if it's not mobile-optimized, resulting in your business losing potential customers.
Let's look at the importance and benefits of making your business website mobile-friendly and the steps to provide a fantastic customer experience.
Is My Website Already Mobile-Friendly?
A simple Google search can answer this question. Also, why not look at your competitors to see a set of mobile-friendly website examples. Once you type in your business name on a mobile device, you'll see a "mobile-friendly" notice just under your business's URL listing.
Note that this will only appear on search listings done from a mobile device. They will not pop up on search results if you do it on a laptop or desktop computer. There are also free mobile-friendly tests out there to get you started. We'll talk about that in a bit.
Steps to Make Your Website Mobile-Friendly
Make Your Website Responsive
Start thinking of innovative ways to design a website for mobile and desktop. This means giving a high-quality user experience to those searching for content using their mobile devices. Such factors include having optimized pages with quick loading times. Have active links to relevant mobile pages. And finally, a dynamically scaled design depends on the screen size it's displayed on.
Make Information Easier to Find for People Searching Out
You can do this by adding a search bar on your website. Business owners can guess what their visitors and potential customers will search for on their website. So you use those to fill your sites with the most helpful content (videos, photos, blogs, pages, etc.).
Search bars help viewers quickly find what they're looking for. This accomplishes two crucial aspects. First, it makes your potential customers happy because they found exactly what they needed in seconds. It will keep users on your site longer, spending time using your search bar, navigating a couple of pages, and reviewing results.
So they're more likely to come back to your site the next time they need something from your field of expertise. Second, you've given them a great customer experience, which should be your number one goal!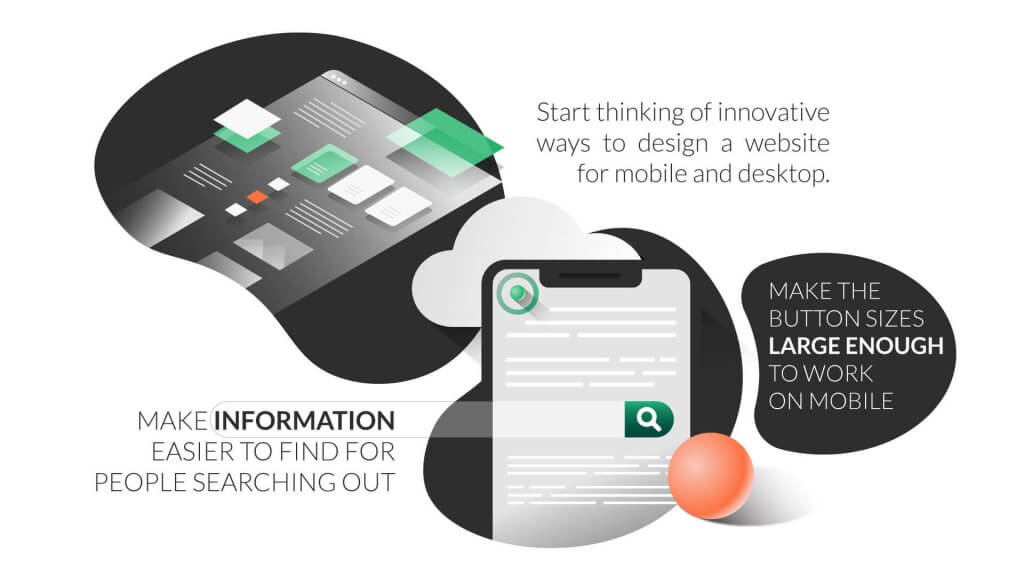 Avoid Text Blocking Ads and Pops
Do not use text-blocking ads and pop-ups for your business website because it will significantly affect your bounce rate. More often than not, users leave the site because of these ads, with you losing potential leads, even if the goal of your pop-ups is to generate them in the first place. Interrupting their sessions will just make you lose them faster. Its spammy nature will simply dwindle your customer's confidence.
Make Website Speed A Priority
AMP Compress Images and CSS
AMPs or Accelerated Mobile Pages is an open-source coding project Google created to help sites load faster while using mobile devices. It works by stripping business pages to their bare essentials and storing Google servers in their cached version, allowing it to deliver content instantaneously.
Check Your Web Hosting Plan
Knowing you have a good web host provider is equivalent to having the most secure server for your website. A reputable web host can fight hacking, online threats, and other various cyber-attacks.
And most importantly, they'll ensure your client's data is secure.
Keep Your Web Design Simple
It's tempting to make a super elaborate web design to impress your online visitors. Unfortunately, this will only serve as a distraction. It's better to keep it nice and simple because it will give them a better user experience, perform better on their mobile device, and load much quicker. This eventually leads to higher conversions which are every business owner's primary goal.
Make the Button Sizes Large Enough to Work on Mobile
Make your buttons larger for easy navigation, even if the user is moving or on the go. Because hitting a target with a smaller button has a higher tendency of missing while hitting another adjacent button. Thus, smaller buttons need more spacing than more significant controls.
Make Font Sizes Large
Your website's text should be readable at a glance. People visiting text-heavy pages are those who wish to learn something. So straining their eyes with tiny font sizes is the last thing you want to happen. 16px is the minimum size for these pages, and 18px would be your optimum size. A 16px font is usually the recommended size for your body text.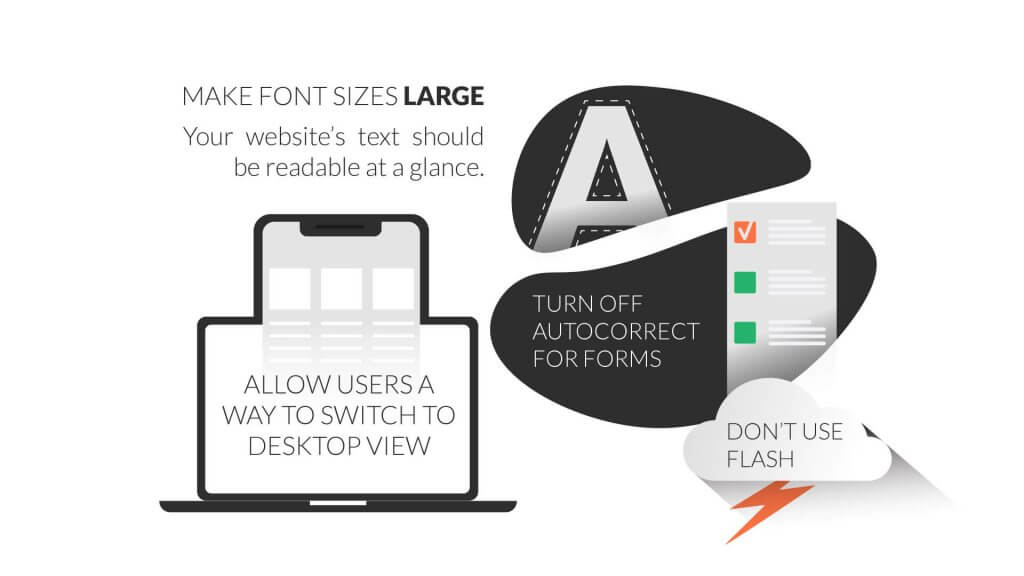 Don't Use Flash
Flash has suffered a long history of malware, bugs, and numerous security flaws. The most common are cross-site scripting, denial-of-service, overflow, and executable code.
Add Viewport Meta Tag
This allows you to tell your mobile browser the size needed for this virtual viewport. It's beneficial if no changes are made to your site's mobile design. It renders fully regardless of whether it's a small or sizable virtual viewport.
Turn Off Autocorrect for Forms
You can generate form field names on your server and use the hidden input fields in storing these names. When submitted to the server, your server-side code can utilize your generated names to access field values. This will prevent users from having the option of auto-populating the fields themselves.
Allow Users a Way to Switch to Desktop View
If the functionality you are going to provide online users on their mobile devices vastly differs from that of a laptop or desktop, you can use separate sites to be more practical. You can send different JavaScript, HTML, and CSS to mobile phones and PCs.
Conduct Regular Mobile Testing
Mobile testing is essential because your main goal is for people to use your application. This is impossible to do if you have a faulty app. Thus, regular testing of your mobile app is crucial. This fiercely competitive market is overflowing with these kinds of apps. So find a way to create a scalable, user-friendly, and high-quality application.
Find the Best List of Help Desk Software Tools You Can Afford
All the strategies above are great, but you will also need the best list of help desk software tools that best suit your needs. A great help desk app will give you the most flexible ticketing management, advanced reports, analytics, and multichannel support for your business. 
It should also have knowledge-based features which would allow you to build communities in your industry. This app must fit the needs of your small business but also can scale up as your business grows.
Don't Delay, Act Now
All the steps have been laid out. And now you have a pretty good idea of making a desktop-only site mobile-friendly. Now the final act is up to you. Your decision will either put your website at the top of your game or drag it to the bottom of the pit to be ignored and forgotten. Choose wisely.