A travel company website design should attract the user's attention from the first welcome page to purchasing the company's product, whether vouchers or tickets. The same applies to hotel booking websites.
For customers to be satisfied with the website's features, instant booking, ordering, and purchasing should be available. The world's tour operators strive for these features, and many have already implemented them on their online platforms.
It's crucial to understand how users feel about your site, what they like and do not like, and what features to add.
Texts shouldn't be neglected. Information blocks should engage the client and lead to a purchase. So, let's dive right into our article to find out more.
Why Authentic Design is Always Expensive
Good website design is more about thoughtfulness than appearance. You must understand where and what kind of people come from, how they interact with your travel or trekking website, what actions they should take, and what they'll do afterwards. The design should help the visitor to choose the path that is most beneficial to them.
You should always think about the potential profit from the specific page of your trekking or travel website. It makes no sense to make some cool design or specific functionality on the page "Contacts," "About Us," or in an article about "Visas in Australia." Most likely, such costs will never pay off.
A smart designer will even consider where the users visit the site. If a significant part of your audience comes during working hours, strict colours can be used instead of bright and motley design. This way, at least from afar, it doesn't catch the eye that people are planning a vacation instead of working.
Sometimes, even super minimalism is justified. For example, you can create the simplest pages, where you will collect links to all tours people need while travelling. It can be almost without styles, JavaScript, ads, and heavy analytics systems.
And then you can advertise it as an instant-loading collection of useful links for those with wildly lagging internet access at the airport/hotel.
Do you realize how deep a good designer should dive into your niche? They should understand what services are in demand and what accents are important for the audience. And at the same time, they should think about a million other little things.
How Much Does a Quality Design Cost for a Trekking or Travel Website?
On average, the unique design for a trekking or travel website costs $5,000 to $30,000, which, cost-wise, is in the neighbourhood of any professional website. Not bad, right?
You can order a unique design for $300. In quality, it'll be inferior to any paid theme, which you can buy for $40-50. The design is unique in many cases but looks like a nightmare born from the early noughties.
Another option is to hire a team to create a website for you. These do-it-for-me services are becoming increasingly popular and can provide significant benefits if you lack time or experience. And their results are exceptional, too.
The Path to a Travel or Trekking Company Website
Before creating a website, you must understand the client's behaviour on similar websites. This will help to customize the page of the trekking company in detail and organize the right interaction with the target audience.
Based on different research about travel websites:
Potential customers study and compare the cost of travel products on the official site and through an intermediary.
Users want to know detailed information about the place of rest provided. They need to see photos and videos of the hotel and familiarize themselves with guests' reviews.
They check the possibility of booking and check-in at certain time intervals.
Users trust hotel representatives more, coming into direct contact with them.
Based on the received data, trekking and travel companies implement these points on their websites.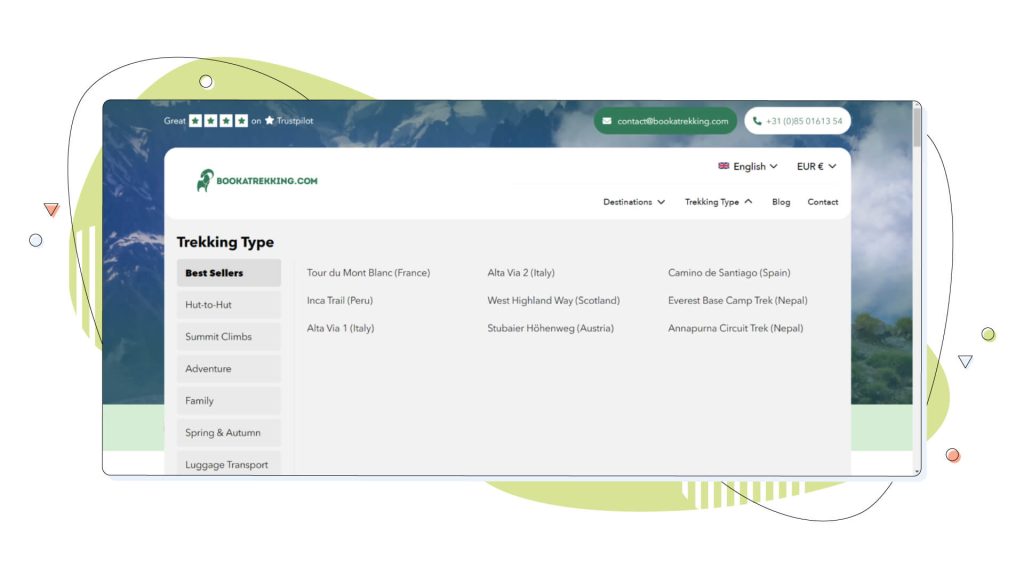 Chase Long-Term Trends
Fashion is fast-changing.
Look at the history of icons at Microsoft, for example. First, they were three-dimensional and coloured, then they became just coloured, without shadows and gradients.
Now, most icons are white and without volume. Or, as a designer would call them – flat! But news has already emerged that the new update will bring colour, shadow, and gradients again. It's all around, albeit with some minor changes.
Design trends are how big companies (with the resources to do so) try to stand out. The fashion for super bold fonts, acidic hues, emphasized minimalism, weird animations, shadows, and flat comes and goes. Chasing fashion is pointless if you make a site on your own money.
But there are some long-term trends. They sound trite and not as straightforward as "make headlines bold acid colour." But they don't get outdated so quickly. It's good if the site has nice typography and the text is easy to read. It's even better if it opens quickly and doesn't take up a lot of resources in memory.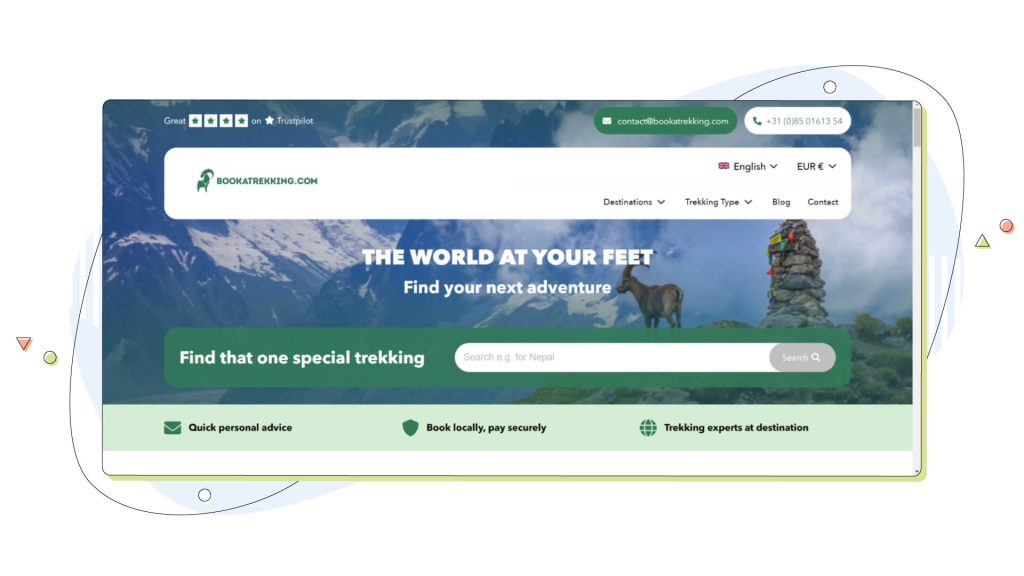 Bookatrekking.com is a great example of a website that doesn't chase short-term trends. This company offers people a wide variety of trekking opportunities. Working with qualified and independently reviewed partners worldwide, they offer the highest-ranking treks at the lowest pricing. 
They promise that everything is transparent and every booking is confirmed immediately. As a result, their customers can rest assured their trip is well taken care of and they can fully enjoy their experience.
Bookatrekking.com has a simple design with simple colours and readable fonts. A convenient menu helps visitors find everything they need, while bright images convey what awaits them. This simplicity differentiates it from other competitors and even makes it memorable.
Convenient Booking
Unfortunately, there's no clear guide on how to make a convenient booking form for everyone. However, adhering to general recommendations for creating a successful booking form is possible:
The booking form should be eye-catching. The tourist should not have to search through all the website pages for a way to make a reservation for the desired dates.
It'll be an advantage to have multiple options for booking on one page of the website. The tourist needs to understand what to choose from. Significant is the presence of photos and videos about the hotel and prices.
It's recommended to leave on the website, especially for the first time after the launch, a special form in which a person can leave their opinion about the site and indicate what exactly the user lacks.
Provide users with the ability to compare rooms or tours by type and price. This will help them decide on their choice faster. The designer's task is to help tourists decide and see the differences and similarities between services. Therefore, do not skimp on photos, detailed descriptions, visual effects, or even virtual mini-tours.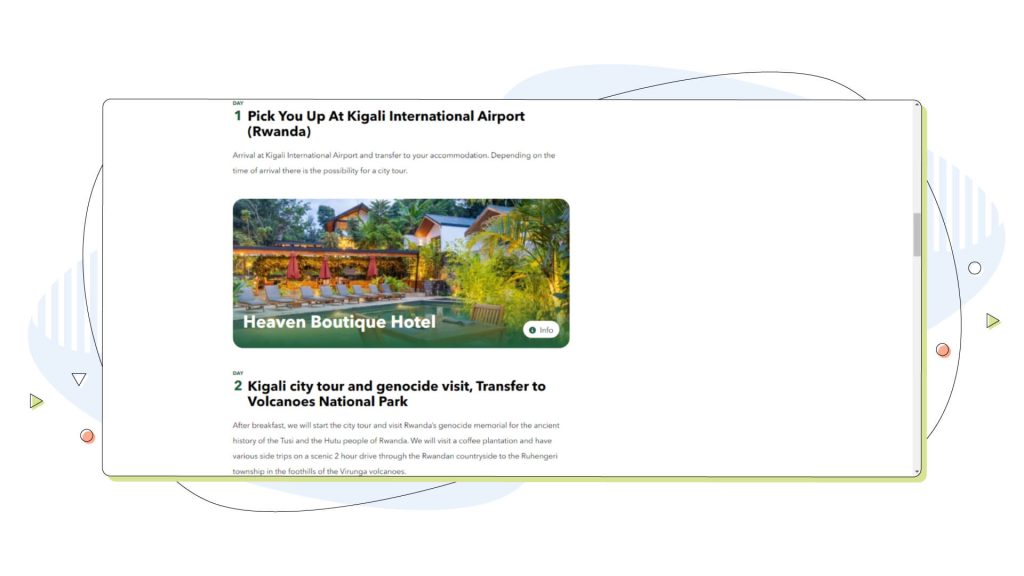 Typography
If suddenly the website gets very popular and it becomes profitable to make a unique design, typography is the most painful thing to redo.
To avoid being excruciatingly painful to review and correct each website's page, we recommend you initially give the choice of font and typography the most careful attention. Then, when redesigning the site, you can keep them almost unchanged.
We recommend the following for trekking and travel websites:
Content width: 600-850px. The longer the articles, the more complex the layout; the larger the font, the more you can make the width.
Main text font size: 15-21px. Depends on which font you choose. The same size of Arial and Georgia look very different.
Paragraph indentation: 20-30px.
Line spacing: 20-35px.
A good layout designer knows about relative measurement units and how to apply them.
Mobile Version
Most of the information people take from smartphone browsers. Therefore, it's mandatory to adapt the website for the screens of mobile devices. Moreover, initially, the site should be for the mobile version and only then designed for large-format screens of personal devices.
This approach is relevant for the travel industry. Reservations and ticket orders are made urgently and "on the go." Adaptation is important to avoid missing the client, even if it will not support some of the site's functionality.
So, a standard smartphone screen should accommodate:
Booking form
Basic information about tours
Feedback form
Hot offers
This makes it easier for tourists to study the product, make a choice, and make a reservation without leaving the page. The information should be supplemented with high-quality images.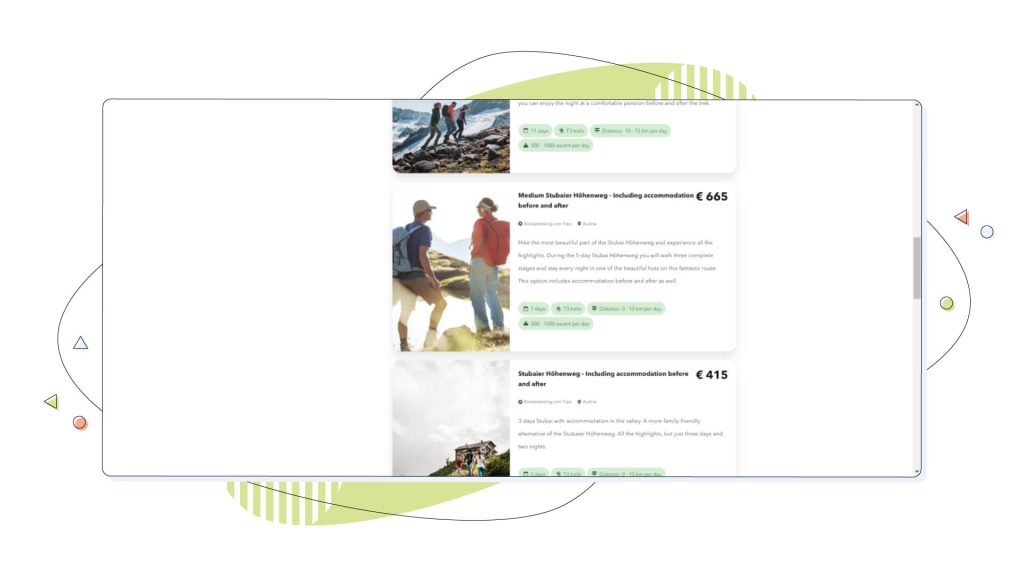 Visualization
Visualization is the backbone of a website. Tourists visiting a travel company's website want to see many photos and videos or a virtual hotel tour. They must consider every corner of the room, corridors and hallway, hotel territory, and restaurant. If the visual information is insufficient, the user will leave the website searching for better offers. After all, incorrect and scarce visualization prevents them from making a choice.
With virtual tours, the case is somewhat more complicated. On mobile devices, this visualization method takes a long time to load. Therefore, making a separate page with a video tour in the adapted version of the site is recommended.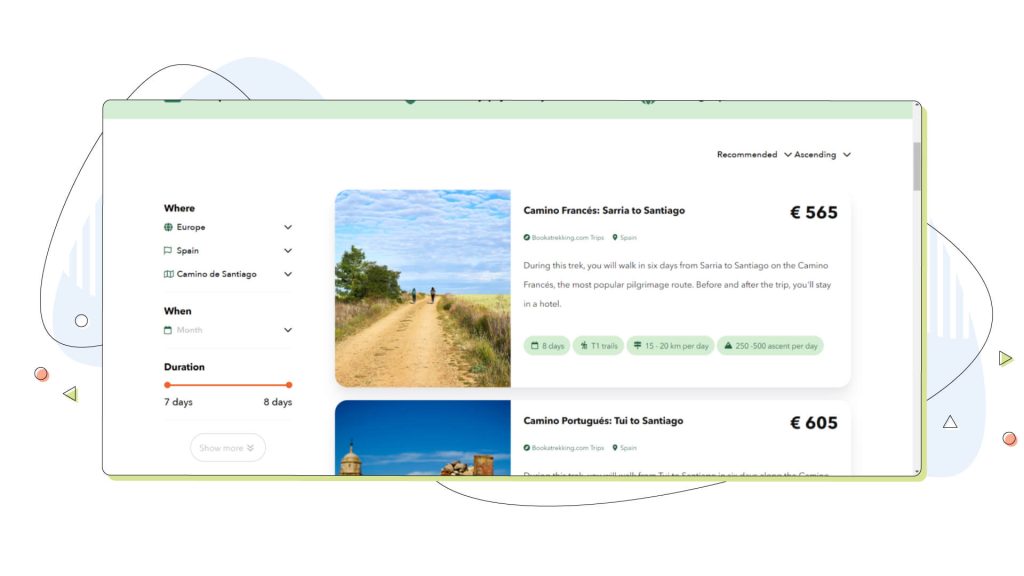 Animation and Different Cool Effects
You have to be very careful with animation. Imagine that you are walking down the street. You are thinking about something, and suddenly, a flock of pigeons takes off from the asphalt and flies straight into your face. It's unlikely that your first thought will be, "Cool, how did the authorities achieve this effect?".
It's the same with animation. It's not necessarily every picture and all elements of the site "throw" to users. When everything twitches, jumps, and flickers – it irritates. And on weak devices, such creativity is also wildly slow.
However, discreet animation makes the site better. There is one rule: animation should occur in response to user actions and be expected. Clicked on the picture – it can gently zoom in. Delicate animation on a timer or when scrolling the page can also be used.
Feedback
Feedback blocks are mandatory on the trekking or travel company website. For visitors, generalized information is given. But without interaction with other users or representatives, it's impossible to find more detailed data – for example, the view from this or that room, the presence of a balcony, etc. Therefore, the trekking or travel site should provide the contact information so that the visitor can clarify all the subtleties.
Authoritativeness
Reviews on the site should have value for new visitors. According to some research, users choose a hotel, then study the reviews, and only after that make a reservation. 
It's important to understand that it's not enough to write on the site a review from Alex from Lviv, who vacationed in the hotel "Hyatt Regency Cairo West," and he really liked it, especially the minibar.
No.
It's better to supplement the page with reviews to provide links to pages in social networks, where site visitors can study information from "real" visitors. Such reviews are authoritative and inspire confidence.
Conclusion
Thus, designing a travel or trekking company website is a complex process. It implies full satisfaction of users' requests. For this reason, you should try to develop several variants of the site, working together with marketers and clients.
The above recommendations are the basis for the designer. Each designer sees the work in his own way. But, even by studying the sites of reputable travel agencies, you can conclude that the site's structure is the same. The difference is only in the visualization of content, page design, and placement of details.
After studying different sites, it becomes clear which ones cover the requests and which ones are characterized by understatement. Here, visualization is already in the background. Functionality remains at the forefront.
Author Bio:
Vanessa Friedman is a content marketing professional who helps companies attract visitors, convert leads, and close customers. Previously, Vanessa worked as a marketing manager for a tech software startup company. In case of any inquiry or suggestion, kindly feel free to write to her on GuestPostingNinja@gmail.com.