Starting a travel blog is a great way to share your unique perspective on travel. You can build a following of fellow travel enthusiasts and help them plan their own adventures.
This article is for you if you want to know how to start a travel blog and make money. We'll go over how to choose a travel niche and discuss what goes into a travel blog, plus, we'll cover blog promotion strategies, monetization opportunities, and more.
What Is a Travel Blog?
A travel blog is a website with travel-related posts targeted at a specific audience. Even more than other niche internet content, blog-worthy travel insights are usually aimed at a well-defined group of people with similar interests.
You may think a travel blog's most defining feature is the part of the world it covers or the kinds of trips it describes, but its most distinguishing characteristic is a blog's audience. For example, two blogs might focus on island adventures, one targeting retirees and one seeking a younger readership. The sandy fun that seniors are after is quite different from island vacations that 20-somethings have in mind, so the content of those two blogs will be very different.
A great travel blog fully explores its niche, offering visitors answers to searched-for questions and drawing readers in to explore related posts. Through visitor engagement and promotion, a travel blog can gain a large number of loyal readers, and that can lead to monetization opportunities.
Why You Should Start a Travel Blog
As a travel enthusiast, you may be a travel blog reader yourself. There are plenty of incredible blogs, and some may be similar to what you have planned. Are you late to the party? Is it worth starting a travel blog?
If you've been reading travel blogs for a while, you know there's considerable mobility, with blogs regularly entering and leaving the niche. Some get promoted to a top spot while others fade away. There's always room for a new content creator who's passionate about travel and wants to share their experience and expertise with others. A travel blog allows you to explore the type of travel you're drawn to and make money doing what you love.
What Should a Travel Blog Include?
Your travel blog should contain informative and engaging posts with awesome photos. The content should consistently address topics that interest your audience. Are you wondering what to write in a travel blog? The travel subject you cover defines your blog's niche, and it's vitally important that you identify it early.
There's a simple way to choose a niche for your travel blog – find where popular travel subjects intersect with your interests. Consume the contents of successful travel blogs. You might have to narrow your focus if you're interested in many different kinds of travel. Targeted searches and a survey of popular travel blogs should cause a creative spark and help you decide on the right niche for your blog.
Your posts should reflect a unique voice and balance information, entertainment, and marketing. You'll need to post frequently and on a regular schedule. To effectively connect with your target audience, you should plan to update your blog at least once a week.
Write useful blog posts that inspire people to travel. Include advice based on your experiences, share travel stories, and showcase gorgeous photos.
Aside from your posts, a couple of other pages are required to complete your blog website. Your travel blog should have an About page, where visitors can learn about you and your connection to the travel niche you write about.
To maximize your About page's impact on reader engagement, include a brief bio that describes your unique outlook on travel, offers authentic details about yourself and links to your social media accounts. The information should feel personal, explain what got you interested in travel, and let readers know you're eager to engage.
Your blog also needs a Contact page. Your WordPress theme or a plugin will help you create a page encouraging visitors to provide their email addresses. On your contact page, readers can ask questions, offer thoughts about your blog, or subscribe to your newsletter.
When deciding what to write in your travel blog, consider the audience you want to attract. The best way to serve your readers is to provide a fresh perspective on the specific type of travel they're interested in.
How To Make Travel Content Without Traveling
While the majority of your blog content should reflect your recent travel experiences, there are ways you can create content without leaving home. Here are some examples:
Share general travel tips: Readers will find it helpful if you provide tips on what to pack for different types of trips, how to save money on hotels and transportation, where to go for high-end accommodations, etc.
Document a trip from long ago: A trip from your past, perhaps one you took as a child with your family, can be a fun blog post topic. If you have an interesting story to tell and photos that reflect the era, it could give readers insight into how you caught the travel bug.
Include your readers in trip planning: If your next big trip is in the planning stage, it's already a great subject for your travel blog. Readers will be interested in your research and planning steps, plus such a post creates an incredible sense of excitement and anticipation. Readers will be eager to follow your progress, knowing that your future posts will make your plan a reality.
Write about trips you want to take: If you are passionate about travel, you probably have a long list of places you want to visit. Writing about your travel dreams is relatable, and your readers would love to learn what draws you to your chosen destinations.
Considering the number of posts you'll have to write to hold your audience's attention, making all of them about a trip you've taken is unrealistic. Few of us have the time or resources to make that a practical goal. Covering travel-related topics like those listed above will add diversity to your content and help you express a unique travel viewpoint.
How Do I Create a Successful Travel Blog?
To create a travel blog, you need boundless enthusiasm for travel photography, deep love of travel writing, and a keen interest in promotion and marketing. You may possess these traits and still wonder, what makes a travel blog successful?
Bloggers rely on two factors to measure their blog's success: reader engagement and revenue. The most successful travel bloggers publish amazing content, promote it actively, and take a strategic approach to monetization.
Travel blogs live or die based on their ability to engage visitors. Travel bloggers can earn large, loyal followings and take advantage of countless monetization opportunities by providing useful content and connecting with their audience on social media.
Here are a few popular travel blogs that are doing everything right:
When readers search for information about a specific destination or type of travel, the SEO-focused content of your travel blog will ensure a top spot in search results. The more traffic your blog gets, the more money it will make. A percentage of visitors can be expected to interact with ads or purchase the products you promote.
Money-making travel bloggers seek niche-related advertisers and sell ad space. They focus equally on revenue and connecting with followers, consistently publishing content that exceeds readers' expectations, and then capitalize on the resulting engagement.
Setting Up Your Travel Blog
The numerous popular blogging platforms and affordable web hosting make it easy to set up a fashion blog. The following sections describe the necessary steps.
Pick Your Blogging Platform
There's a wide range of blogging platforms available. Most offer a feature set that includes a content editor, design templates or support for themes, SEO tools, and ways to extend your blog's features with third-party apps. Some blogging platforms are better than others because they provide those basic features while keeping rates low and adding value through support and training.
The solutions that provide the most handholding usually include hosting and offering cookie-cutter site designs. A solution like that may seem attractive, but it's not cost-effective, and your blog site will look like many other travel blogs.
The platform option that gives bloggers flexibility, simplicity, and low cost is WordPress.org. This solution doesn't include hosting or a domain, but the wide availability of WordPress web hosting makes that a nonissue. WordPress is the world's most popular content management system (CMS), providing a simple framework to design, publish, and manage a website. It supports thousands of professionally created themes designed specifically for blog sites.
You'll frequently post from the road when you run a travel blog. As a web-based CMS, WordPress allows you to manage your travel blog from anywhere. WordPress is the perfect platform for travel bloggers, and it's great for users with any level of web design experience. It offers a variety of site-building options, with sophisticated drag-and-drop tools that require no coding experience, plus numerous plugins and integration options.
Choose a Web Hosting Provider
While some blogging platforms include web hosting, the best choice, WordPress.org, requires self-hosting. Many hosting providers have full-featured service offerings built around WordPress.
HostPapa, for example, offers low-priced hosting plans that feature a one-click WordPress setup and include free domain registration, a free standard SSL certificate, unmetered bandwidth, and ample resources. Plans also include world-class support, free training, and features that make creating and managing your travel blog easy.
Choose Your Hosting Plan
The web hosting market is populated by competitive providers offering low-cost plans in the shared hosting category, where one computer runs many websites. Shared hosting is the most affordable type of hosting and is ideal for your blog.
The best shared hosting plans are built around WordPress, with low pricing and great feature sets. Low introductory rates are limited to the first year only, as are free domain and SSL certificate offers.
When searching for a hosting plan, look for one that's initially under $5 per month and renews for between $10 and $15 per month. Your plan should include free domain registration, a free SSL certificate, and substantial web space and bandwidth allotments. In a market populated by good WordPress hosting providers, HostPapa stands out as exceptional, with low-cost plans that include everything described above, plus world-class support and free training.
Buy a Domain Name for Your Travel Blog
Choosing the right domain name is important for creating a memorable image for your travel blog. To establish the most unified brand identity, your domain name should be the same as your blog name. If you've come up with a short, impactful name for your travel blog, you should use that name, in some form, as your domain name.
The easiest way to register your domain name is through your hosting provider. You'll probably be offered the first year of domain registration for free, but there's an annual fee you'll have to pay to keep your domain name. Expect to pay between $10 and $15 a year.
Select Your Travel Blog Theme
Due to WordPress's popularity, professional designers have been hard at work creating a massive library of themes to meet the needs of every type of website. There are many blog-focused WordPress themes, and some are made specifically for travel blogs. Check out the travel blog themes featured on WordPress.org, many of which are free. You can also find great, affordable blog themes on the ThemeForest website.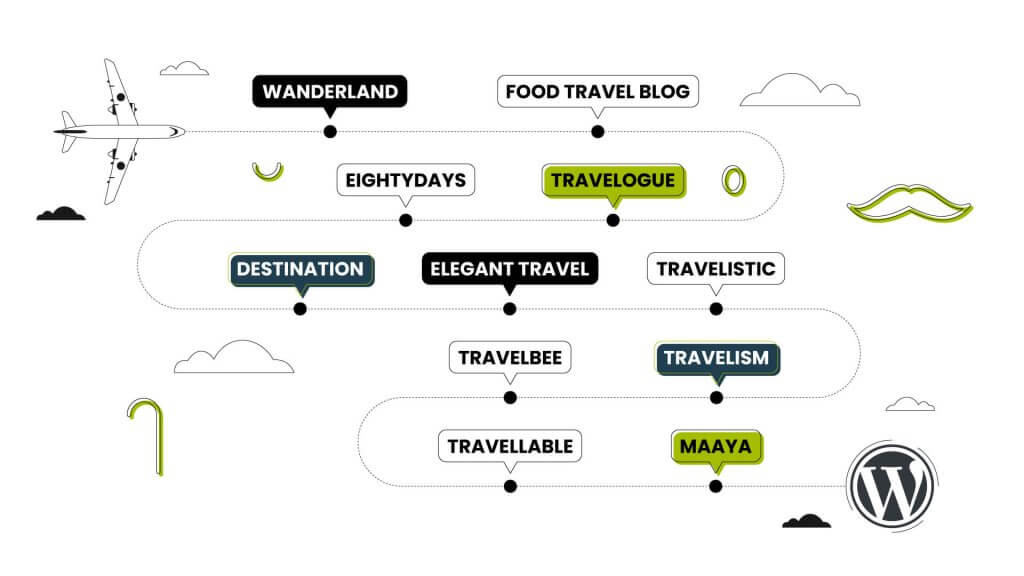 The Wanderland theme, licensed at $69, has a photo-friendly layout that will bring your content to life. It includes customizable layouts and multiple blog page templates. This theme's responsive design means your pages will have a pleasing appearance on any device.
The Food Travel Blog theme has a flexible, multipurpose design that's perfect for food-focused travel bloggers. There's a great free version and a pro version that cost $49. This versatile theme lets bloggers showcase their travel photos and stories while offering features that make sharing restaurant reviews and trip-related recipes easy.
The $59 Travelogue theme has an elegant design that highlights your travel content beautifully. From its gorgeous layout to its slick page transition effects, this theme has a unique feel that your readers will love.
The EightyDays theme, licensed at $49, is an adaptable travel blog theme that excels at presenting high-resolution images and features eye-pleasing typography. It's designed to optimize the user experience and give you the freedom to create a unique-looking blog.
Licensed at an affordable $39, the Destination theme is a travel blogger's dream, allowing limitless customization and offering numerous helpful layout templates. There are social sharing features, and with its lightweight design, the Destination theme will help boost your site's SEO.
The Elegant Travel theme is free and packed with great features for travel blogs. Its mobile-friendly design ensures your pages load fast and look great on any device. You can customize your blog's look and feel with unlimited colours and 1000+ Google fonts.
The free Travelistic theme looks awesome, responsive, and SEO-friendly to help you rank high in search results. The Travelistic theme has a perfect layout for a travel blog, with carefully positioned ad space that's noticeable but won't distract from your content
The Travelism theme is free, and there's a pro version that costs $59. It features an easy-to-navigate layout readers love, page templates that allow extensive customization, and support for the popular travel blog plug-in, WP Travel.
The Travelbee theme is free and was designed to help bloggers share their travel stories. It has great features to support email and social media marketing. Travelbee is mobile-friendly and SEO optimized, and you can customize your site with unlimited colour options and over a thousand fonts.
The Maaya Travel Blog theme costs $59 and enables bloggers to present travel photos and stories in an easy-to-navigate style. It includes popular layout options and was designed for high performance to please visitors and satisfy search engines.
Travellable is a free theme that will make your travel blog look amazing. It's responsive and customizable, with a modern style that's highly functional. This theme helps you craft posts with travel-focused details, like trip type, destination specifics, and trip highlights.
Launch Your Travel Blog on WordPress
Working with the right hosting provider will make it easy to launch your blog. Using the top provider HostPapa as an example, here's how simple it can be to start your travel blog:
Select your hosting plan. When you access the HostPapa website, you'll see a range of competitively priced hosting plans. The Starter plan lets users run a single website and comes with free domain registration, a free standard SSL certificate, and 100 GB of storage. That's a perfect hosting plan for travel bloggers.
Enter the domain you decided on. You'll have to specify your domain name early in the signup process. You'll get to verify that the domain name is available and see the price.
Enter personal information and billing details. You'll see the total price for the selected service period, plus what you'll pay for domain registration, an SSL certificate, and any selected add-ons, as applicable.
Access WordPress. HostPapa's Starter plan offers a one-click WordPress setup, so getting your WordPress workspace up and running is incredibly easy.
Install your WordPress theme. When you install the theme you decided on, you'll see your travel blog come to life. You can add your static content, start exploring how to create and manage posts, and begin adjusting the layout, so your blog looks exactly how you want it to.
Install WordPress plugins. Extend the functionality of your blog with WordPress plugins like Yoast SEO to improve your ranking in search results. Jetpack enables social media sharing and provides site performance statistics. There's also Contact Form 7, which makes it easy to create a form that encourages visitors to become followers.
Set up Google tools. Google Analytics Dashboard tracks useful site statistics, and the Google Search Console is a must-have tool for keyword research.
Publish content and promote your travel blog. With your website ready for content, you can publish your initial posts to inform the world about your new travel blog.
Setting up your website will be incredibly easy when you choose a great hosting provider. There are some decisions you'll need to make beforehand, but if you plan thoroughly, the day you launch your blog should be productive and stress-free.
Create a Content Plan for Your Travel Blog
Posting regularly is crucial for travel blogs, and you must post often. If your posts are infrequent or sporadic, repeat visits to your site will be rare, and you'll have trouble gaining loyal readers.
Your post frequency can be somewhat lower than that of other types of blogs. For example, a news blog needs to post multiple times a day. A style blog may need to post two or three times weekly to stay current and keep readers' attention. Posts about travel have a longer shelf-life than other blog posts, so you can shoot for the attainable goal of posting once per week.
Maintaining a consistent publishing schedule and planning great posts requires foresight. Here are some tips for creating a solid content plan for your travel blog.
Set a publishing schedule: Your readers will appreciate seeing a new post from you on the same day each week. A predictable flow of content will engage your readers and cause them to anticipate your next post eagerly.
Blend your blog and travel planning: Plan trips and associated content simultaneously a couple of months out. A travel/writing schedule that forecasts one or two months of activity will keep you aware of all the new content you have to create and help you stay ahead of the game.
Plan for required images and video: All your posts will require photos, video, or both. Having pictures and videos ready on the day you want to publish requires forethought, so capturing those requirements for all planned posts is smart.
Stay laser-focused on your niche: Always be gathering information about travel trends within your niche, as those are the topics that will be most popular among your readers. Use that information to develop new post ideas and decide on upcoming travel destinations.
Get inspiration from other travel blogs: If you follow travel blogs like yours, they can inspire you to create unique content for your blog. The topics covered in popular travel blogs can reveal a lot about travel trends in your niche.
Plan social media posts: Post on social media at least twice as often as you update your blog, and for every new post you add to your content schedule, you should plan at least one related social media post per platform.
A content plan will help you stick to a publishing schedule and remind you to consider what your readers will want to see in the coming months.
Set Up Google Tools
Google Analytics and Google Search Console can help to ensure your travel blog delivers an incredible user experience and attracts as many people as possible.
Use Google Analytics to track blog traffic. You can see which of your posts has the most views, find out the average amount of time readers spend on your pages and get access to data about how many people came to a page from outside of your site. You can use the information from Google Analytics to adjust your content plan to publish the kind of content readers are most interested in.
Use Google Search Console to monitor and maintain your blog site's presence in Google Search results. This tool can verify that Google can find your site and crawl its contents. Search Console helps troubleshoot responsive design issues and fix indexing problems that can hurt your SEO. It provides valuable traffic data and alerts you when your website has a problem.
You must use Google Analytics and Search Console when running a travel blog. These tools help optimize several aspects of your site and attract more new visitors to your blog.
Promote Your Travel Blog
Social media and SEO will be your most valuable promotion tools. You should consider your readers and social media followers as the same group and promote your travel blog through an active social media presence. Use SEO to ensure visitors who search for your content find it, encouraging them to explore other parts of your blog.
In this section, we'll cover social media, SEO, and other great ways to promote your travel blog.
Social media: Post frequently, with the dual goal of enticing current followers and luring new readers. Your social media posts should look like your blog posts, reflecting your blog's aesthetic. Manage an account on Twitter, Facebook, Instagram, and Pinterest, representing your travel blog. If you post often and respond to all comments, the resulting engagement will give your blog a strong online identity and help foster a sense of community among your readers.

SEO: Search engine optimization ensures that when people search using keywords related to your content, their search results will include a link to your blog. Your post titles and headings should contain keywords that aren't too generic. People searching for "skiing destinations" will get many search results, and your blog might not be one of them. However, if your keywords are "pet friendly ski resorts Colorado," your post will show up for everyone with that specific interest. People who click the link will be thrilled to find an awesome blog with the information they're looking for.

Share buttons: The people who regularly read your blog will be a valuable resource in word-of-mouth marketing. Make it easy for readers to share your posts. If you prominently display a share button with each post, you'll encourage visitors to share your content, and in the process, they'll promote your travel blog to potential new followers.

Email outreach: A monthly email newsletter is a great way to connect with your readers. You should make your emails as engaging as your blog posts—subscribers who love your blog will appreciate your content in email form, and less enthusiastic followers will be reminded that they should regularly check in with your blog.
YouTube channel: There's no better way to show what a gorgeous vacation spot is like than through video. You can create a series of engaging travelogues covering how you got there, what you did while visiting, how much it cost, and other details your audience would find helpful or interesting. Creating a YouTube channel and regularly posting new videos can boost your travel blog's visibility and generate income through ads.
Guest blog posts: Reach out to another travel blogger and suggest swapping guest posts. That can benefit both bloggers, exposing their content to a new audience. Plus, the followers of both blogs will get a fresh perspective on niche-related topics. Search carefully for the right blog to partner with—your guest-post collaboration should be complementary, not competitive. Swap guest posts with a blogger with a large audience who occupies a travel niche related to yours but is not a perfect match.
By actively engaging your target audience, you can participate in a community of like-minded travel enthusiasts, attracting new readers and prompting current followers to stay tuned for more great content. Your readership will skyrocket if you also focus on SEO, email marketing, and encouraging readers to share your posts.
How Do You Monetize a Travel Blog?
Do you want to make money with your travel blog? There are several ways to do it.
Sell ad space: Google AdSense lets you identify ads that are related to your content or will interest your audience and display them in your blog's ad space. This can be a great source of passive income.

Get into affiliate marketing: You can earn referral commissions by including links in your posts to promote travel gear, photography equipment, tours, accommodation, insurance, etc. You'll make money for every new customer you help the affiliate get. Amazon Associates is an excellent place to start, and you can seek niche-specific travel products and brands with an affiliate program.

Partner with a travel agent: For most people, getting tickets and reservations has long been a self-service travel step, but travel agencies still exist, and partnering with one could be lucrative. Research a potential partner company and learn about their approach, then suggest a fee-based agreement in which you publish content that promotes the agency's services.

Work with a tour company: If a business sells package trips to the places you blog about, they may be open to a partnership that will increase your blog's profitability. Send them a post you wrote about one of their travel package destinations and suggest a mutually beneficial arrangement for paid promotion.

Get paid for product mentions: Reach out to retailers who will benefit from your content, perhaps a manufacturer of the camera gear or luggage you use. Publish a post highlighting their products and, in an email pitch, link to it. Provide details about the audience you reach through social media and your travel blog.

Use your email list: Any monetization strategy will benefit from a large audience that's reachable through multiple channels. Sending a monthly newsletter gives you a recurring opportunity to promote your blog and target a subset of your readers who are most likely to respond to your promotions.
Because it takes a while to gain a large readership, there's a reasonably long ramp-up time before you start making money with your travel blog. After your blog has some momentum, it can become a steady source of income.
Start Your Travel Blog Today!
Starting a travel blog requires a moderate amount of effort and a lot of enthusiasm, but if you love photographing and writing about the places you visit, it can be an excellent creative outlet.
You'll need to carefully consider your travel blog's niche, focus on promotion immediately, and plan monetization strategies. Those steps may be challenging, but the technical side of getting your blog on the internet won't be. It'll be easy with a superior hosting provider or reliable WordPress hosting!
If travelling brings you joy, pay it forward. You can enrich people's lives by sharing stories and tips that encourage readers to experience their own travel adventures. Start your travel blog today!