If you've ever considered buying or renting a house, you know that location is often the top priority. You want a place your friends can find, not one in the middle of nowhere.
A website without a domain name is similar to that. It's like having a home in the middle of nowhere. Potential visitors will only be able to find it if it has a familiar name – an address for someone to visit it.
This is why it's essential to get a domain name for your website and why a domain name is also commonly called a web address. It's what people use to find your site.
There are two ways to buy a domain name for your website.
You can buy it brand new. Buying a new domain name is simple. You just visit a hosting provider like HostPapa, enter the domain name you want, and, if it's available, buy it.
You can buy a pre-owned one. If the domain name you want is already owned by someone else, that doesn't mean it's unavailable for purchase.
In this article, we'll focus on how to buy a pre-owned domain name. But first, we'll briefly discuss whether a free domain name is a good idea, and we'll provide a few domain shopping tips that you may find helpful.
Let's get started!
Can a Domain Name Be Free?
Domain names, especially those with popular extensions like .com or .net, are never free. In fact, it isn't even possible to actually buy a domain.
Domain names can only be rented and only for a specified period of time. This means when you buy a pre-owned domain name, you only buy the rights to use that domain name for the period of time you accepted on the contract.
Some services claim to offer free domains, but, in reality, they're offering a subdomain, not an original domain.
For example, www.wordpress.com is a complete domain.
But something like www.headphonereviews.wordpress.com is a subdomain of wordpress.com.
The difference between a subdomain and a domain is that a domain is a whole house, while a subdomain is a room within that house.
The owner of a domain owns all the subdomains under it. That's why building your website on a subdomain isn't a good idea.
But what if you find a company that offers you a free, top-level domain? Should you go for that?
Here are a few reasons why we don't recommend using free domains and subdomains:
It doesn't look professional. A website that ends with .blogspot.com or .tk doesn't look very professional or trustworthy to your visitors. If you use a domain like that, chances are people won't take your site seriously, and you'll have a hard time generating traffic.
A shady company may control your website. A company that offers you a domain for free may be up to something. As you move forward, you might find there's a catch.
Maybe your website will load really slowly, or you'll get severely limited storage space. Perhaps the company will abruptly shut down your site. As the saying goes, you get what you pay for.
You don't really control your domain ownership. Using a free domain or subdomain means the company whose domain you're using has the power to take it away from you at any time.
Domain Name Shopping Tips
Before considering buying a domain name, you must research to get the best possible option at a fair price. These tips apply to all the available web hosting services, but you can also use them for any domain name owner that we'll discuss later.
Below are three tips you can use when shopping for a domain name.
Do keyword research and find trendy topics. If you haven't decided on a name yet, doing keyword research for the most popular keywords in your industry is a good idea. It will provide you with fresh ideas about the domain name you want, and having a catchy keyword in your domain name can significantly increase your traffic potential.
Don't be afraid of unique extensions and subdomains. Your domain name doesn't have to start with www. and end with .com. Instead, you can replace them with something unique and trendy, opting for a domain name like shop.mydomain.com or www.mydomain.store. This will make your domain more memorable and unique so give these options a try from your domain name control panel.
If possible, purchase common typos of your domain: Did you know that people commonly misspell amazon.com as amazn.com? Or google.com as gogle.com? But it doesn't matter because both companies have bought those incorrectly spelled domains and set them up to redirect to their correct domain. You can do that too. It's a small investment that may bring in valuable traffic.
Now, let's look at how you can buy a pre-owned domain name.
Three Ways To Buy A Pre-Owned Domain Name
When you shop for a domain, there's no guarantee that the one you want will be available.
In this section, we'll show you how to determine if a domain is up for grabs and offer tips on making a purchase.
Keep in mind, in some cases, no matter what you do, a stubborn domain owner will refuse to sell the domain name you want. In this case, your best option will be to try for another domain name.
This chapter will cover how you can buy a domain name directly from an owner, from a marketplace, or through a backorder, meaning that you're going to get on a waiting list for that "perfect domain."
Buying Directly from Domain Owners
The first step in buying a domain name already owned is to contact the owner and ask them if they want to sell it to you. But before sending emails here and there, ensure that the domain name is unused. If there's a website on it, then it's unlikely that the domain owner will want to sell it. On the other hand, if there's placeholder information, you can contact the domain's owner.
Then, you'll need to agree on a price, and finally, you'll need to pay for the domain name.
Here's a breakdown of those steps.
Step 1: Find the owner's contact information. The easiest way to do that is to look it up in the WHOIS directory. Just as the name of a property owner is listed with a local governing body, the name of a domain owner is listed in this directory. A simple Whois lookup will reveal the owner's contact information.
However, when buying a domain name, owners have the ability to decline a WHOIS directory listing. If the domain you want isn't listed, you'll have to visit the domain and find the owner's contact info there. Checking out the site's Contact Us page would be a great place to start, but if there's placeholder information like in the image right below, you can directly contact the owner to express your interest.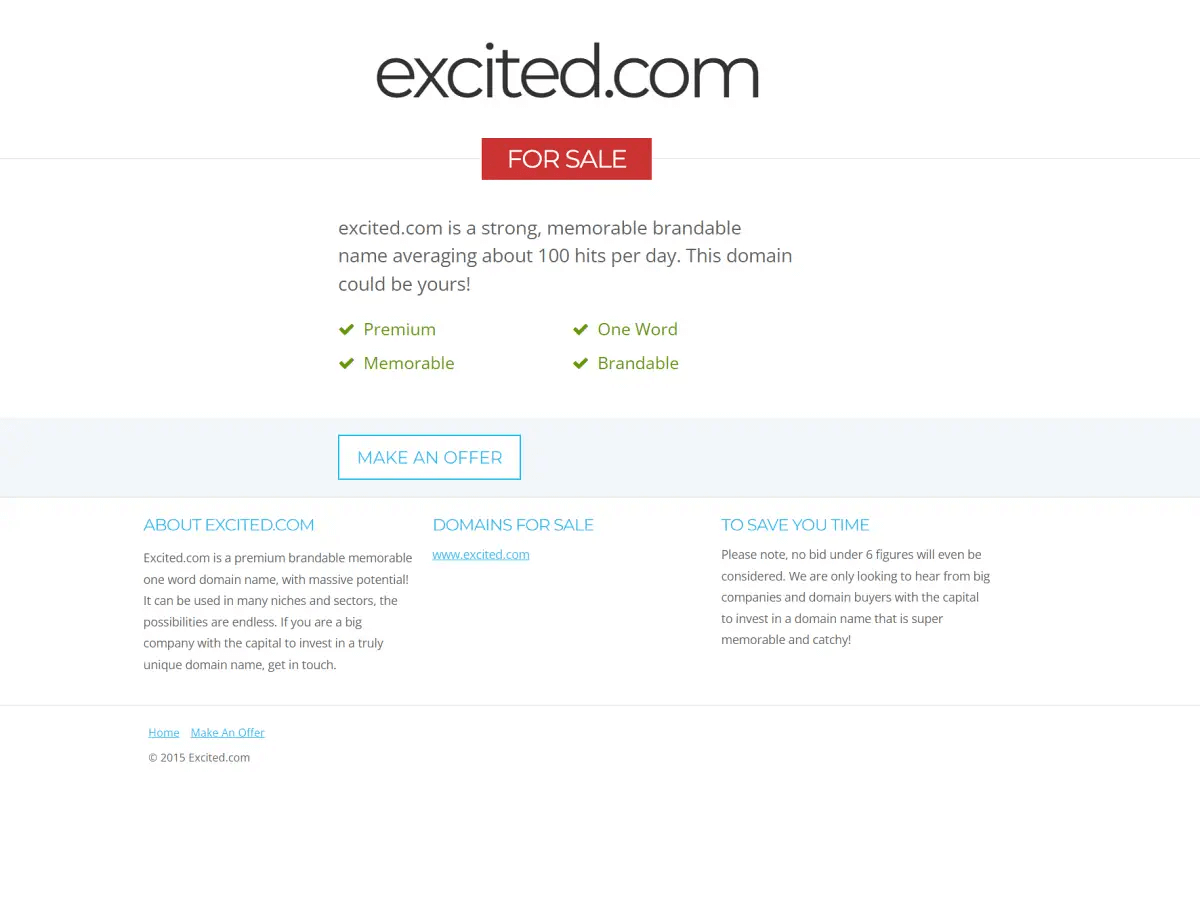 Step 2: Negotiate a fair price. When buying a pre-owned domain name, there are two things you have to keep in mind regarding the cost:
No one will sell you a domain for peanuts. You'll have to prepare yourself to make a reasonable offer, but not without researching the market first.
You'll need to learn how to negotiate. Most domain name owners who are willing to sell will try to get the highest price they can at first, so make sure you put your "negotiator boots" on and ask for a lower price.
You can make your case for a lower price by looking up the value of similar domains in the marketplace. It's also possible to hire a broker to make the deal for you, but you'll have to pay a commission if you do that.
Step 3: Use an escrow service to pay. Wire transfers are not a good idea when it comes to paying for domain names, except when done via a reliable web host. There's always a chance that the seller will take the money and run.
To ensure that doesn't happen, you should use an escrow service. It's how you can ensure that your domain is in perfect order and exactly as described before you release payment to the seller. Of course, escrow services come with a fee, but avoiding risk makes it worth the added cost.
Buying from a Marketplace
Buying a pre-owned domain name from a marketplace is a safer option than buying from an individual person. There's less risk that the seller will scam you and run away with your money as there are unique mechanisms by the marketplace to prevent such activity.
Here's how you can buy a domain from a marketplace in three simple steps:
Step 1: Visit a domain marketplace. There are many domain marketplaces you can use to find your perfect domain. A couple of popular ones are Flippa and Sedo.
Step 2: Make your offer. Once you find a domain name you like, make the company an offer. You can also see what the current bid is for the domain you're after. If the seller likes your offer, they'll contact you for further negotiations.
Step 3: Complete the purchase. If your negotiations are successful, you simply pay for the domain and become the new owner. If you don't know how to negotiate, again, you can hire a broker to negotiate for you.
With marketplaces, there are none of the complications that come with buying from an individual. You simply choose a domain, place a bid, and, if the bid is accepted, you buy the domain.
Buying Through a Backorder
What if you make a great offer and negotiate like a pro, and the domain owner still won't sell?
As a last resort, you can place a backorder for the domain.
Thousands of perfectly good domains expire daily because their owners have stopped paying for them. When that happens, the domains move back into the marketplace, where other people can buy them.
You can place a backorder for the domain name you want. It's not a sure thing that you'll ever get the domain, but if it expires, you'll be notified instantly, and then you'll be able to buy it.
Keep in mind; however, a domain stays with the owner for 90 days after they stop paying for it. You might wait quite a while before you receive a notification that the domain ownership has expired.
Again, this method should be the last resort. If you do it, you may need to settle for your second choice while you wait for the domain name you back-ordered.
Some Final Advice
You can never be too careful in life or when buying domain names. That's why, before we end this article, we have some final pieces of advice that you may find helpful when buying a domain.
You can estimate your domain's value by looking at the price of similarly worded domains in the marketplace.
Before finalizing your domain name, check to see if it is or has ever been blacklisted by Google. This is the most common catch in many domain name sales that seem "too good to be true."
See if the domain name you want to buy is available with some other extension. Maybe you'll find it cheaper.
Armed with this advice, you are now much better equipped to buy a domain.
Have you ever bought a pre-owned domain?