No matter what you envision for your church website, you can achieve it using free church WordPress themes. Over 2500 WordPress themes are available, and installing one will improve your website's appearance and optimize its performance and search ranking.
We've put together this guide explaining the how's and why's of using WordPress church themes, as well as a list of our 7 favourite free church themes available right now.
Why Churches Should Use WordPress
It's estimated that over 75 million websites are currently using WordPress. The platform is renowned for its website building and hosting capabilities, both of which are especially advantageous for church websites.
WordPress offers lots of functionality tools that can simplify and optimize your church site's creation and maintenance. Here are some examples of how using WordPress can benefit your church website:
Free to download
Incredibly easy to use – anyone who can use Microsoft Word should be able to operate WordPress with no difficulty
Fully customizable
Thousands of templates
Dedicated church WordPress themes
Over 40,000 free plugins to enhance your site's functionality
Built-in management system
SEO-friendly
Developed to be safe and secure
Quick and easy media uploader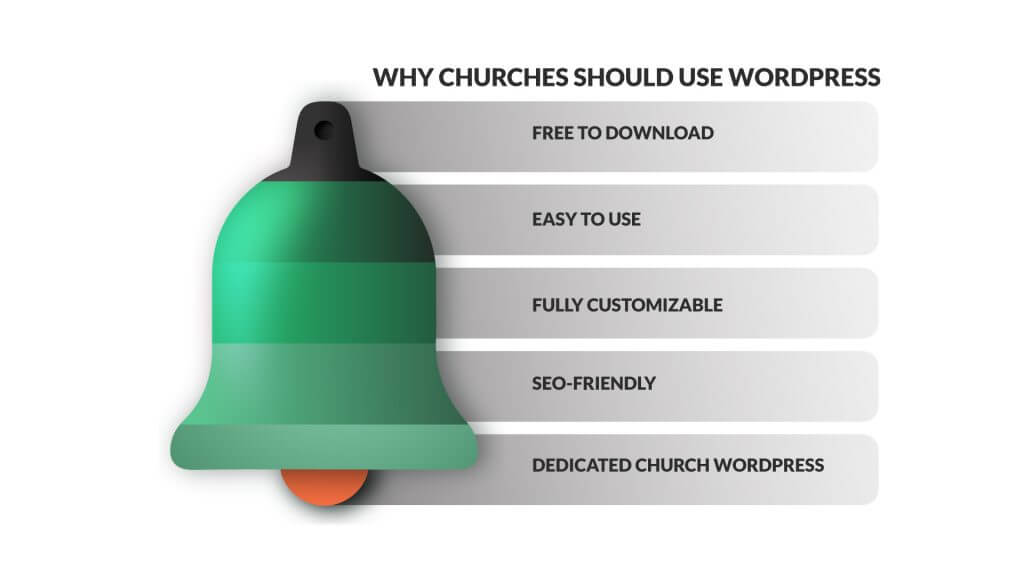 WordPress Hosting
WordPress hosting is another thing to consider when creating your church website. WordPress hosts are a type of web host designed specifically for WordPress websites and are experts in enhancing your site's functionality and speed.
If you use WordPress to create your church website, using a WordPress host can make the set-up, running, and maintenance of your site much more straightforward. A WordPress host will optimize your website's performance, and many offer perks such as 24/7 customer support, security, faster speeds, and guaranteed uptimes.
WordPress hosting is easy to use and is ideal for those who don't have much experience in web design or are limited on time.
How to Install Church WordPress Themes
WordPress has a lot to offer your church website, not least an abundance of themes and customizations.
You don't need to be a tech expert to install church WordPress themes on your website. It can be done in 5 quick steps using the WordPress.org themes directory:
1. Sign in to your WordPress admin area and click on the Appearance section.
2. From here, select Themes and click the option to Add New.
3. You'll now be given the option to search for your theme. If you're looking for a specific theme, you can enter its name into the themes directory. If you're looking for inspiration, you can use the Feature Filter to bring up themes based on your criteria, or you can browse through the popular and latest WordPress themes.
4. Once you've chosen a theme, hover over its icon, and you'll be presented with Preview, Details, and Install buttons. When you're ready, hit the Install option and click the Activate link when your download is complete.
5. Your theme should now be applied to your website, and you can check out how it looks!
Free Church WordPress Themes
1. Astra
Now that you know how to install a WordPress theme, let's look at some of the platform's different themes. We've rounded up 7 of the best free church WordPress themes to use on your church's website:
The Astra Charity template is everything you want from a free WordPress theme. It's well designed, easy to use, fast to load and delivers the professional look you want from a theme.
While not specifically for churches, it has all the ingredients a church website needs. Astra is fully compatible with leading page builders so you can customize the template to fit your exact needs. You don't even need to know anything about websites to do it!
Astra comes with all the tools you need to launch a website. It is SEO-friendly, fully responsive and provides access to a range of professional standard templates. All for free!
2. Faith 
It's no surprise that Faith consistently ranks as the number 1 website theme for churches, as this WordPress theme was specifically designed with churches in mind.
Faith creates a fully functional and sleek template for your site and includes church-specific features such as sermon pages, church news sections, and event planners to ensure your website has everything it needs. Faith makes the church web design process easy, and there's even a "donate" button integrated into the theme's header to make sure your website is optimized for every purpose.
Faith is perfect for churches or non-profits working with limited time and expenses. You can add up to 10 pages on your homepage using this free WordPress theme, and the easy-to-use Options Panel allows you to customize and edit your website every step of the way.
3. The Church Lite
WordPress has several different themes built for religious websites, and The Church Lite is another premium theme that's free to use and optimized for use on a church website. The Church Lite is expertly designed and feature-rich, and you can add many handy tools and components to your site at no extra cost.
One main advantage of this WordPress theme is its abundance of features. The theme supports a wide range of features such as Yoast SEO, WPForms, and Contact Forms 7, which are quick and simple to install and can boost your website's traffic.
The Church Lite also has a handy feature called the Live Customizer Preview, which you can use to set up, preview, and configure every aspect of your website in real-time. This allows you to have full control and customization over your site's tiniest details.
4. Church
This aptly named WordPress theme is another excellent choice for your church website. If you're looking for a theme that has loads of personalization options, as well as a straightforward, easy-to-use design and layout, Church is the perfect theme for you.
Church is a responsive HTML5 Omega child theme for WordPress, favoured by churches for its vast range of customizations. Using the theme's built-in WordPress Customizer, you can customize every aspect of your website, from your logo to your widgets.
If you're looking to create a personalized church website that showcases who you are and what you do, Church is a simple but sophisticated option that allows you to add unique personalization to every inch of your webpages.
5. SKT Charity
A lot of churches and nonprofits opt for charity themes for their websites. If you're hoping to collect donations through your church website or promote the charity work your church does, SKT Charity is a highly rated WordPress charity theme designed and enhanced for donations and fundraising.
WordPress' SKT Charity is incredibly user-friendly, and every feature is designed to be fully flexible and adaptable. The theme is compatible with donation plugins and is integrated with NextGen Gallery features to captivate your website visitors. Contact Form 7 makes it easy for you to create forms so they can get in touch.
SKT Charity is a popular theme among churches because it's designed with accessibility in mind. The theme is multilingual, translation-ready, and mobile-friendly, making it an ideal choice for creating a website that caters to site visitors' needs.
6. Virtue 
Virtue is one of WordPress' most popular themes, with over 60,000 organizations, businesses, and churches currently using it on their website. If you're looking for a fully responsive theme covering all bases – including social media integration and mobile optimization – Virtue is a modern and incredibly versatile theme that can be used to create a unique church website.
Virtue boasts a polished, modern design that can be embellished as much or as little as you like, using a wide selection of customization features, imports, and plugins. You can edit your homepage layout, change your site's typography, and use the new WordPress block editor without writing a single piece of code.
Virtue is the perfect choice if you're looking for a professional, reliable church website. The theme uses a powerful Bootstrap responsive framework, allowing your website to be mobile-friendly, and giving it optimized speed.
7. Unconditional 
You should choose your theme based on your website's style and purpose. If your church site is a hub for information and is designed to attract new parishioners and create a community for existing ones, Unconditional might be the theme for you.
Unconditional is a multi-purpose WordPress theme with lots of premium features, like Jetpack portfolio support, an integrated blog page and blog feed, and multiple sidebars for optimized site navigation. These features are perfect if you're trying to create a community feel on your church website, as you can add webpages, portfolios, and blogs, as well as upload lots of different content for your parishioners to access.
A unique feature of the Unconditional theme is it's "Call to Action" Section. This purpose-designed space allows you to add a message summating your church's goals or beliefs on your website's homepage, which is a great way to summarise what your church is all about to potential new congresspeople.
Improve Your Website With a Theme
Budget is often a determining factor when creating a church website. But low budget doesn't have to mean low-quality; you can use any of these 7 free church WordPress themes (or choose another from the WordPress directory) to design a fast, integrated, and optimized site. 
Simply pick your theme, install it in 5 simple steps, and then be sure to update and maintain your theme regularly. And if you need any additional assistance, a WordPress host can help you every step of the way.