Finding the perfect theme for your WordPress website can be difficult.
You have to choose a theme that:
looks beautiful,

doesn't have bugs,

is completely secure,

and gets frequent updates.
Finding a theme that ticks all four of those boxes isn't easy.
But, today's your lucky day, because we've found two high-quality WordPress themes that have all those bases covered and more.
One is called Newspaper, and the other is Newsmag. Both themes are made by a company called tagDiv.
In this article, we'll review these themes and show you why they're perfect if you want to create a news, blog, magazine, or any content publication website.
Let's get started.
What Kind of Company Is tagDiv?
Before you choose a theme for your WordPress website, it's important to know who its developers are.
Why?
Because, in some instances, theme developers abandon their themes. When this happens, the people using the themes won't get any more updates. That means future compatibility will suffer, and there will be no more security fixes.
As a result, you're left with a theme that has no protection from hackers and doesn't work with new WordPress releases. That's a theme you can consider useless and unsafe.
But what about tagDiv, the developers behind the two themes we'll be discussing in this article?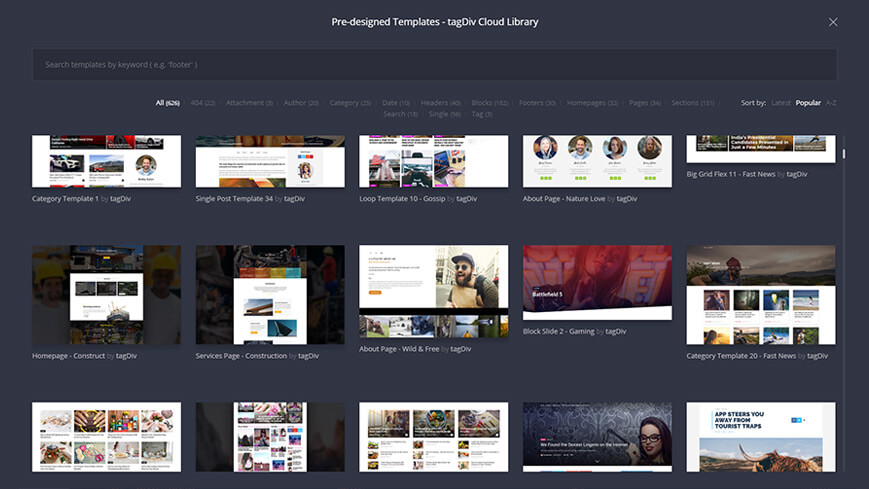 Here's a brief introduction to tagDiv, and a few reasons why you should use the themes they develop:
tagDiv is a team of professional web developers who have been creating WordPress themes for many years. They're experts at what they do.

With more than 90,000 customers worldwide, tagDiv it's a top selling and trustworthy author on the Envato market.

They don't just develop themes. They also create tools that make their themes more powerful. For example, they've got an awesome tool called the tagDiv Cloud Library that lets you import & customize each and every element of your theme. It includes over 100 website elements to work with, and over 620 templates.

tagDiv has a history of supporting the themes they create. For example, they released the Newspaper theme in September 2013. They've been supporting it ever since, and they just released an update in March 2019. It's no wonder companies like Uber and Rackspace use tagDiv's themes!

Their themes are compatible with WMPL, a plugin that enables websites to be displayed in multiple languages.
That should give you a pretty good idea of how well-supported the Newspaper and Newsmag themes are, and how well-respected tagDiv is.
Now, let's jump into our first review, with a look at the Newspaper theme.
Newspaper: The Ultimate Content Publisher's Theme
Newspaper theme is a perfect choice if you want to create a news site, a blog, or any other kind of website.
Let's get into some of the reasons the Newspaper theme has become so popular.
Newspaper Theme Highlights
The Newspaper theme is extremely intuitive. You'll find that it cleanly lays out content using a combination of grids and columns.
The resulting web pages encourage exploration, drawing visitors in with beautiful images, and using attractive headings to guide readers in discovering your content.
Here are some of the things that make the Newspaper theme so great:
Newspaper is really a collection of themes.

There are approximately

70

variations of the Newspaper theme, all designed for a specific industry or purpose. For example, if you're creating a crypto-based news site, a law firm site, or a dental practice site, Newspaper includes a demo design for you.

You get a frontend drag-and-drop builder that allows advanced customizations.

The tagDiv Composer, Newspaper theme's drag-and-drop builder will let you control every element of your website. You can add, move, duplicate, and delete images, text, videos, and other elements. This allows you to make every article unique, you can change the layout of your homepage, about page, posts, and more.

Newspaper includes many highly useful custom widgets.

Do you need to display your Instagram feed, social media share buttons, weather data, a custom gallery, or a video playlist? The widgets included with the Newspaper theme will help you with all those things. You can use the provided widgets to add all sorts of extra functionality to your website.
This brief summary of the Newspaper theme's features clearly shows that design flexibility is its greatest asset. Customizable to its core, Newspaper gives you complete control over the look and feel of your site.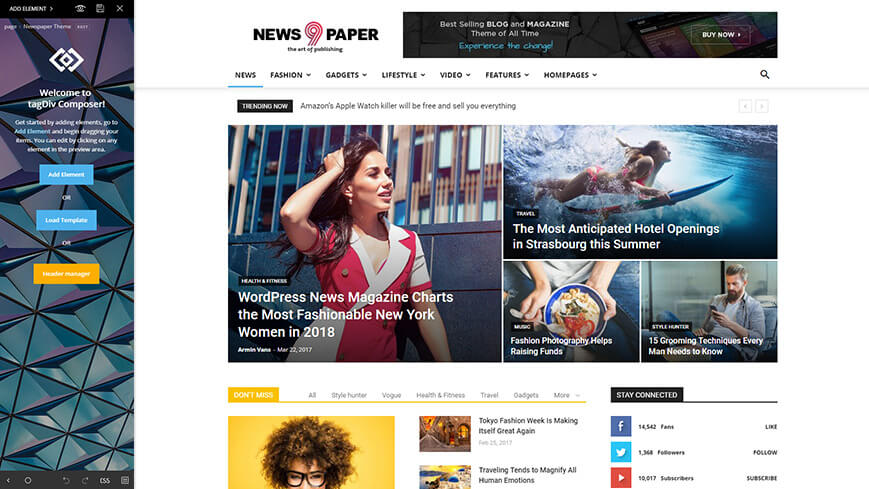 Hot Off the Presses—Newspaper's Recent Update
As we've mentioned before, the creators' support of Newspaper is going strong. The theme was released in 2013, and, as of March 2019, it just got a new update.
What enhancements does this update include?
The most important thing you'll get from this update is that it makes the Newspaper theme compatible with WordPress 5.0 and the new Gutenberg editor.
Here are some additional compatibility and optimization enhancements that are included in the latest update:
Webpages are AMP ready.

Accelerated Mobile Pages (AMP) is a technology from Google that enables websites to load articles much faster on mobile devices. The webpages you create using the Newspaper theme are AMP ready, which means they load instantly on mobile.

Websites are mobile responsive.

The Newspaper theme is optimized for mobile. This means it will display properly on a phone or tablet, and you won't have to do anything to make that happen.

Header Builder tool.

The team designed this tool to give you even more versatility. With the Newspaper Header Builder, you can design the perfect header for every page of your website. Style the main menu, categories list, logos, and more elements.
In addition, the theme is compatible with WooCommerce and other popular WordPress plugin integrations. If you run ads on your site, you'll be able to take advantage of the Newspaper theme's compatibility with Google AdSense and other ad networks.
Newsmag: The Ideal Theme for News Websites
Unlike the Newspaper theme, which can be used for any purpose, the Newsmag theme is specifically made for creating news sites and online magazines. This means, if you want to create a BuzzFeed-type website or a news site that looks as good as the New York Times website, this theme is the right one to pick.
What it lacks in universality, it makes up for with a design that's tailor-made for magazine-style layouts.
Let's move on to some of the ways Newsmag makes news and magazine sites look so amazing!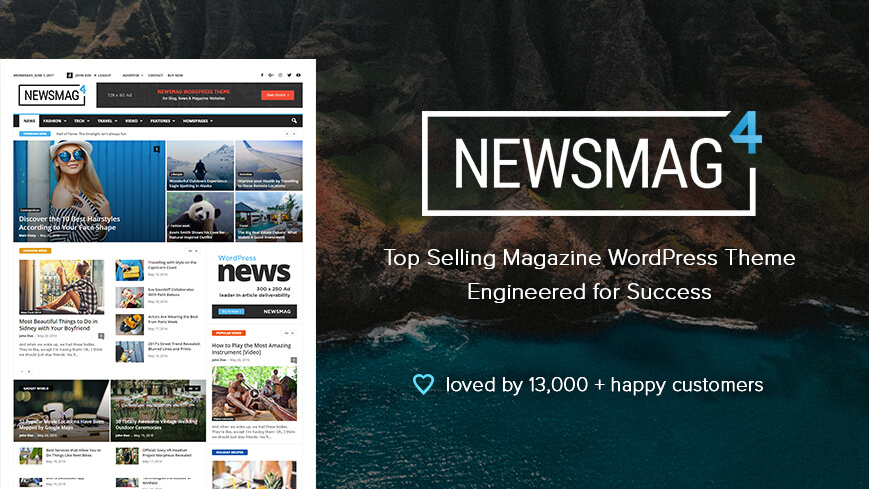 Newsmag Theme Highlights
The Newsmag theme, like Newspaper, makes good use of grids. The interface is divided into boxes, with each box having its own assortment of articles.
Newsmag does a great job presenting your images as well, further increasing the overall beauty of your website.
The ability to customize the Newsmag theme is one of its greatest strengths. Here are some of the ways this theme helps make your site look exactly the way you want it to:
You get 14 demo designs to choose from.

There are many awesome variations of the Newsmag theme available, which means your site can reflect your niche, whether it's tech-focused news, the latest food trends, or fashion.

Newsmag's layout is highly flexible.

With the Newsmag theme, you're not stuck with the default layout. You can easily make changes to create a design that's perfect for the type of content you're publishing.

You can customize Newsmag with tagDiv Composer.

You get the same powerful drag-and-drop builder that's provided with the Newspaper theme. It allows you to easily add, delete, and move the images, text, buttons, and videos that appear on your site.
With Newsmag, you get control over every inch of your website. To understand how this theme can offer such power, we'll need to look at some of its functionality.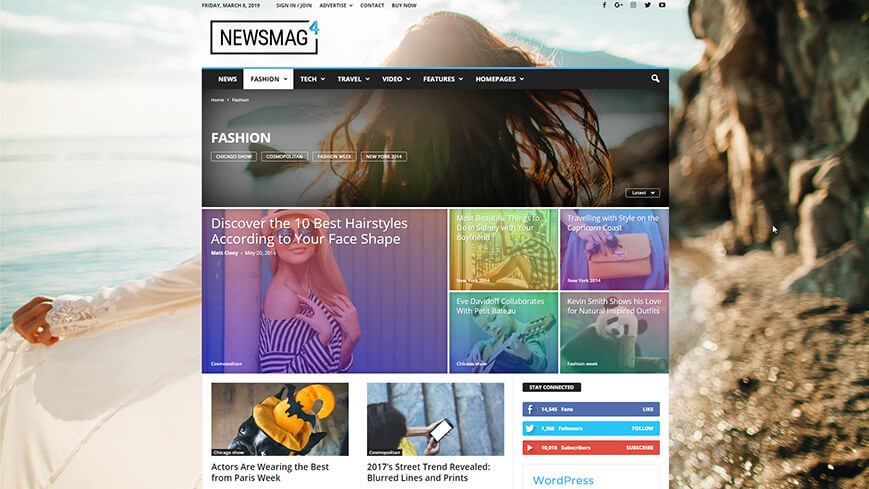 Functionality Features of Newsmag
Newsmag includes powerful add-ons that will help you enhance your site. Here are some of the many highly-usable features you get from the Newsmag theme:
Lightbox Images.

If your site has high-quality images, Newsmag's lightbox functionality can make them look gorgeous. It draws attention to your images, letting other content fade into the background.

Smart Lists.

If you want your website to have slideshows, also called

smart lists

, the Newsmag theme can make it easy. It automatically detects

listicles

(list-based articles) on your website and turns them into smart lists. With this feature, your site can look just as good as the big news sites like National Geographic.

Premium Widgets:

Newsmag includes a collection of very useful widgets. There's an Instagram widget, a popular categories widget, an author box, social media share buttons, and more.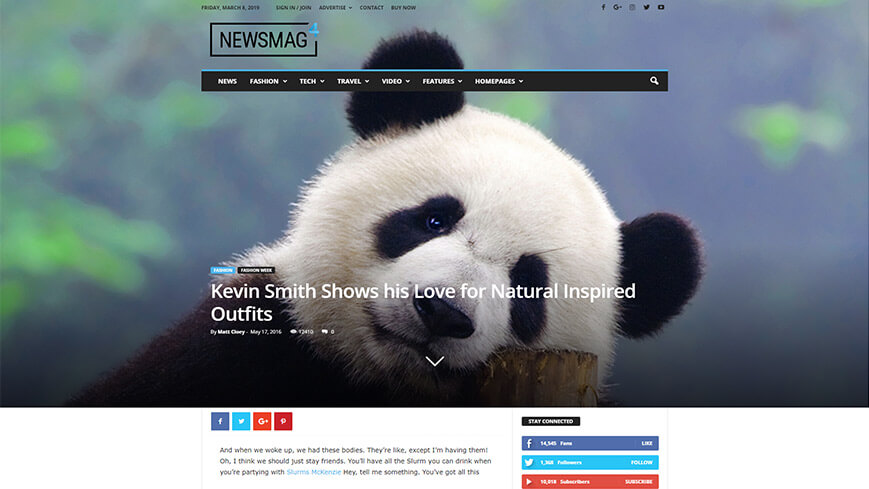 One feature that deserves special attention is Newsmag's free integration with a newsletter subscription plugin. It makes it easy to create a field that will let your visitors subscribe to your email list.
Finally, like the Newspaper theme, Newsmag is optimized for AMP, is GDPR-compliant, looks great on mobile devices, and supports ads. And, of course, it supports the latest version of WordPress.
Two Great Themes, a Million Possibilities
We've looked at two fantastic WordPress themes, one extremely flexible, and the other perfectly specialized.
If you plan to build a news- or magazine-style website, go with Newsmag, but it's really not the best theme for any other site style.
On the other hand, the Newspaper theme hasyou covered for any type of site, whether that's a company website, a blog site, or almost anything you can think of.
What's great is, with either theme, you can be sure that the developers at tagDiv will provide support for their products.
To truly see what's possible with these two themes, you'll have to experience it for yourself. Give one of them a try—thousands of businesses have had great success with these themes, and hopefully, you will too!