If you're an online retailer, you know eCommerce marketing requires creativity and constant effort, all geared toward increasing website traffic and ensuring that, when a user visits your online store, they're there to buy. Instagram is an extremely effective marketing platform for online sellers, but getting the most out of it comes with some challenges.
Compared to other marketing channels, including other social platforms, Instagram is unique in that it limits your ability to direct users to your online store via a link (so you won't be able to add links to your organic posts). Nevertheless, due to Instagram's focus on visual content, it has become one of the most useful marketing platforms for small businesses.
With eye-catching imagery presented in thoughtful, timely posts, sellers, and especially online retailers, can significantly boost sales through increased and improved customer interest and engagement.
In this article, we'll start with a more in-depth look at what makes Instagram such a great marketing platform and then present six tips to help you use the Instagram platform to boost your search traffic and eCommerce traffic in general.
Instagram: A Marketing Powerhouse
Instagram has become one of the top platforms for marketing in the social media landscape, and some eye-opening stats speak to that. For example, there are 2.3 billion monthly active Instagram users, and they spend an average of 53 minutes per day on the platform.
Friends and families; bloggers, brands, and boasters; small, medium, and large businesses; influencers and the influenced—Instagram is home to all these groups, and one or all of them could play a big role in your marketing approach. There's a good chance that a major segment of your audience uses "the 'Gram," so including it in your marketing strategy makes sense.
For many businesses, Instagram has become their primary method of visually showcasing their products.
In the US, 71% of businesses use Instagram.
They share the platform with their favourite group of people, their customers: 50% of Instagram users follow at least one business!
Instagram creates unlimited opportunities for customer engagement. When you optimize it as a marketing platform for your online store, you'll see more traffic and sales, and the boost will be sustainable for as long as you leverage Instagram in your campaigns.
Tips for Getting More Traffic with Instagram
With so many consumers' eyes on one platform, Instagram should probably be part of your eCommerce marketing strategy. In this section, you'll find six tips for using Instagram to increase traffic to your online store.
1. Create Insightful and Actionable Instagram Stories
There are many ways people can find your content on Instagram. One of the best is when you share it with them, and the best way to do that is with Instagram Stories.
Every day, 500 million Instagram accounts use Instagram Stories. It's a feature that lets you curate a collection of posts to share; they'll be presented together in a slideshow format, giving you a chance to showcase your products in ways that a single post could never do.
If you make your Instagram Stories engaging for your target audience and keep a laser focus on funnelling them from your Story to your landing page (via your bio link), you can expect a major uptick in eCommerce revenue.
With every post in your Instagram Story, you have a 1080×1080-pixel opportunity to catch the eye of prospective buyers, and you can craft a 2,200-character caption that not only sells the product, but steers users to your link.
If your eCommerce site sells multiple products or a product that can be used in various ways, you'll have a lot of Instagram content to post. Be careful, though. One common pitfall is posting Stories that include only product photos, or product pages, which can seem like a high-pressure sales tactic. Make sure your Stories include photos that show the product in use, emphasizing the user and how it improves their life, instead of the product itself.
Another trap that business owners often fall into is sharing Stories with too many photos. Creating a flood of content is a desperate approach that hurts conversions. If your online store sells a large number of products, by planning and scheduling the Instagram Stories you'll share, you can cycle through your entire catalogue, showcasing one or two products at a time, and you'll avoid overloading your followers with too much content.
Marketing whiz Neil Patel has some great advice about how to generate eCommerce sales from Instagram. He stresses the importance of tailoring your content to your audience and planning content in advance and explains how important it is that your Instagram Stories are actionable.
In planning, track the user's experience as they navigate from your Story to your bio and onto your landing page. Images should show the product in the best possible way. Your captions should contain a CTA that guides people to the link in your bio. When the user reaches your customized landing page (which should be optimized for mobile), there should be a seamless transition that doesn't send them hunting for the product they saw in the picture.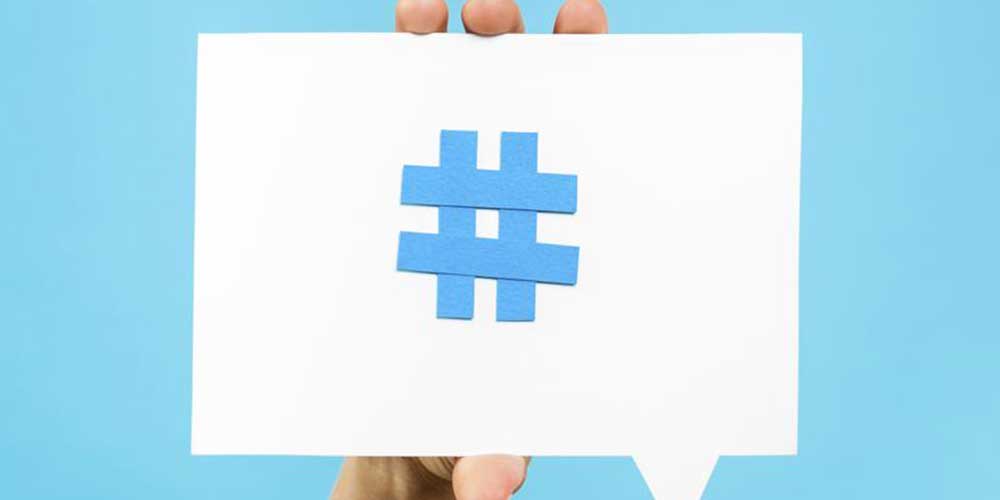 2. Use Hashtags to Increase Visibility
The user's journey from your Instagram Story/post to your bio and then from your bio to your website often begins with a search. Hashtags make your posts appear in prospects' search results, so it's important to optimize your use of them.
A hashtag on Instagram starts with the # symbol and can include letters, numbers, and emojis. The two most important things about hashtags are: they're searchable and clickable.
When you use a hashtag, your post will be included in search results for that hashtag. When people click or follow the hashtag, they'll see the same list of search results.
To maximize traffic to your eCommerce site, every image you post on Instagram must be supported by relevant hashtags. An Instagram post can have up to 30 hashtags, and a Story can have 10. Don't shoot for the max—two to five is usually the right number.
Remember to use hashtags in your post comments as well. You can augment your posts with tag-optimized comments and encourage followers to use your hashtags in their comments too.
Businesses use hangtags to make their products stand out. The right hashtags can get your posts seen by a wider group of people, and if you conduct careful hashtag research, you can target specific groups.
With a tool like Instagram Hashtag Generator, you can upload a photo and define a keyword. The tool will then generate ten to twenty potential hashtags, with data related to each keyword's popularity.
Another great tool for Instagram hashtag research is All Hashtag. It'll spit out the top 30 hashtags based on the keyword you enter, plus there are filter options to help you drill down to the right hashtags for your product.
Refrain from using only high-traffic hashtags—if you do, your brand will be hard to find in a sea of posts with the same hashtag.
You can use a product hashtag, one with a keyword that describes your products (like #kitchenware) or a niche hashtag that refers to a product-related topic (like #airfrying). You can employ event-based hashtags, which might reference seasonal keywords (think #summercookout) or a location hashtag, which directly references the target audience's location (like #seattlehomechefs).
One type of hashtag you should not omit is the branded hashtag. By including #yourbrandname in every post, you create brand awareness and give people a handy way to recommend your brand to their friends.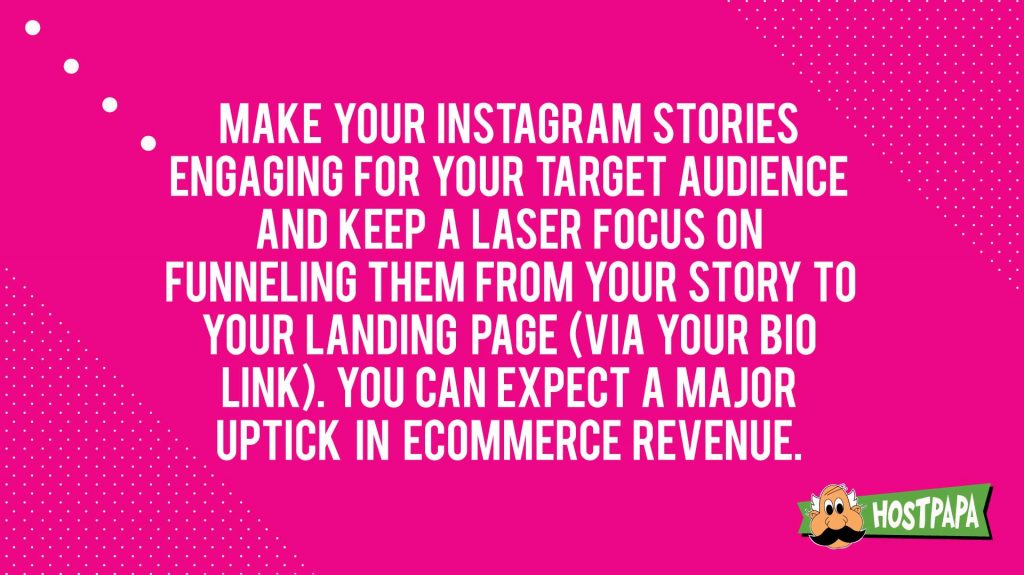 3. Optimize Your "Link in Bio"
For 80% of Instagram users, the platform helps with decisions about buying products. 68% of Instagram users regularly engage with brands. This social platform has created a fertile marketing landscape that no small businesses should ignore.
There's a downside, though. Instagram doesn't make it easy for marketers and business owners to promote products – as you can't link to your eCommerce site from a post! Clearly, Facebook, which owns Instagram, wants it to be a sharing platform instead of a shopping platform.
Nice try, Facebook! If a marketing channel exists, business owners will exploit it. Marketers and savvy business owners have found that, by directing people to check out the link in the Instagram bio, which is easily accomplished in post captions, you can create a relatively straight path from your product image to your landing page and hopefully to the shopping cart.
Don't waste your one link by sending people to a generic homepage. While it may require you to frequently update the link in your bio, make sure it always points to a page that corresponds with what's featured in your most recent posts.
To optimize the way you steer people to your bio link, you may want to check out Linkin.bio. It helps you tag products in your posts, so they're a more seamless transition to your link. It also provides analytics about the clicks, page views, and sales tied to each post.
4. Add Links to Your IGTV Video Descriptions and Bio
With Instagram giving you just one semi-hidden place to link to your eCommerce site, the fact that you get two additional link opportunities with IGTV is noteworthy. You can include a link to your site from your IGTV video description and your IGTV bio.
IGTV is a video platform that can be used on Instagram or on its own. A user can set up an IGTV channel and share video content that's up to an hour long. IGTV can be associated with your Instagram business account, creating a smooth transition between your IGTV channel and your Instagram Stories.
One IGTV feature that makes it ideal for eCommerce marketing is the ability to create a "series." You can organize IGTV videos into groups that align with your marketing approach, compile videos based on the products they showcase, or perhaps create a how-to series that helps convince viewers to buy. ⁠
If creating video content for marketing purposes has not been on your radar; it should be. The opportunity to include links from your IGTV channel to your eCommerce site could lead to a healthy increase in traffic.
5. Showcase Top-Converting Stories in Instagram Stories Highlights
Unlike Instagram Stories, which disappear after 24 hours, Instagram Stories Highlights are there all the time, as part of your profile. Visitors can access them via icons that appear between your bio and your feed, so it's prime real estate you can use to direct followers to your top-converting Stories.
Instagram Stories Highlights are easy to define. You simply choose content to include from your Instagram Stories Archive, specify a caption, and select an image for the icon. You have the opportunity to create eye-catching, branded highlights that showcase a wide range of your content.
As with choosing hashtags, when you define your Instagram Stories Highlights, focus on your target audience's interests. Commonly, businesses use Highlights to draw attention to a specific product or set of products, update users on trends related to their niche, offer tutorial content, promote an active campaign, and steer people to reviews and testimonials.
6. Make the Most of Instagram Ads
Pay-per-click (PPC) ads are one of the most effective ways eCommerce business owners can increase traffic. They can be pricey, and there are other ways to generate traffic and revenue, but PPC ads typically have a favourable ROI. They're a good option for a new business trying to gain initial momentum or an established online retailer that needs a limited ad run to support a specific campaign.
Instagram ads can be created in a wide variety of formats, sizes, and styles. If you've used Facebook's advertising platform, Instagram's will seem familiar to you. They're both easy to use, giving you control over how your ads appear and who sees them. Scalable pricing, reporting you can use, and razor-sharp audience targeting are among the features that made Instagram ads so famous for small businesses seeking increased revenue.
Each of the available Instagram ad types can be highly effective for online retailers, with Photo Ads to showcase individual products and Collections or Carousel Ads that will help users browse your featured items. Video Ads and Stories Ads let you create compelling content that provides in-depth product detail and focuses more effectively on Instagram messaging geared toward conversion.
With each type of Instagram ad, there are pitfalls to avoid and opportunities to optimize your ads:
When creating Photo ads, don't be tempted to use stock photos. They have a generic look that shoppers can spot from a mile away.
The Carousel ad format gives you control over the direction people swipe to flip through the content. This is your chance to break users out of the mindless down-scrolling that can occur after a few minutes on Instagram. Set up your Carousel ad so users swipe right.
In Video ads, you have about 3 seconds to interest the viewer. It's been proven: if you don't capture the user's attention that fast, they'll click away from your video. Start with a shocking statistic, an attention-grabbing product detail, a discount, or a joke—use whatever your target audience is most likely to respond to.
In any type of ad, ensure your CTA is front and center. It should relate directly to the ad content and drive people to your landing page.
Put Instagram at the Core of Your eCommerce Marketing Strategy
For online retailers, ignoring any of the popular social platforms is a marketing mistake. With a planned approach, a moderate amount of creativity, and an in-depth knowledge of your target audience, you can use Instagram to better engage with your customers. Increased and high-quality engagement will lead to more traffic on your eCommerce site, resulting in higher revenue.
Using Instagram to increase site traffic is a repeatable process. Once you have a few well-crafted posts under your belt, you'll be able to establish an Instagram marketing strategy that will consistently drive people to your site. You'll enjoy an ongoing increase in sales as a result of your efforts.
We hope this look at Instagram marketing has been helpful and that you follow up on our tips to boost eCommerce website traffic for your business!