Nowadays, brands are eagerly leaping onto new visual strategies for all the perks they bring. Statistics reveal that this type of content plays a significant role in digital marketing success. According to MarketingDigiBook, 80% of marketers use visuals in their social media campaigns. It benefits them with more traction and improves the conversion rate than plain text-based content.
This article will discuss visual content marketing, followed by facts and trends you should know to make it successful. Let's get started.
What is Visual Content Marketing?
Adding visuals in the marketing approach involves using visual components to advertise or convey a particular impression to the audience. This is done by using photos, videos, and other graphics to portray the worth of your product/service.
As per SAG IPL, 70% of people remember what they hear and see. Facts like these are the main reason behind the exponential adoption of visual content marketing. Brands use them according to their convenience and marketing needs. Some prefer videos and animations, while others opt for images, including infographics.
Visuals are becoming increasingly essential in the digital landscape because they create a powerful impression that sticks longer in people's minds. It is, therefore, crucial to get an adept team on board. You need visual experts who know how to apply visual marketing techniques. They should know the market trends and use them in their creative strategies efficiently.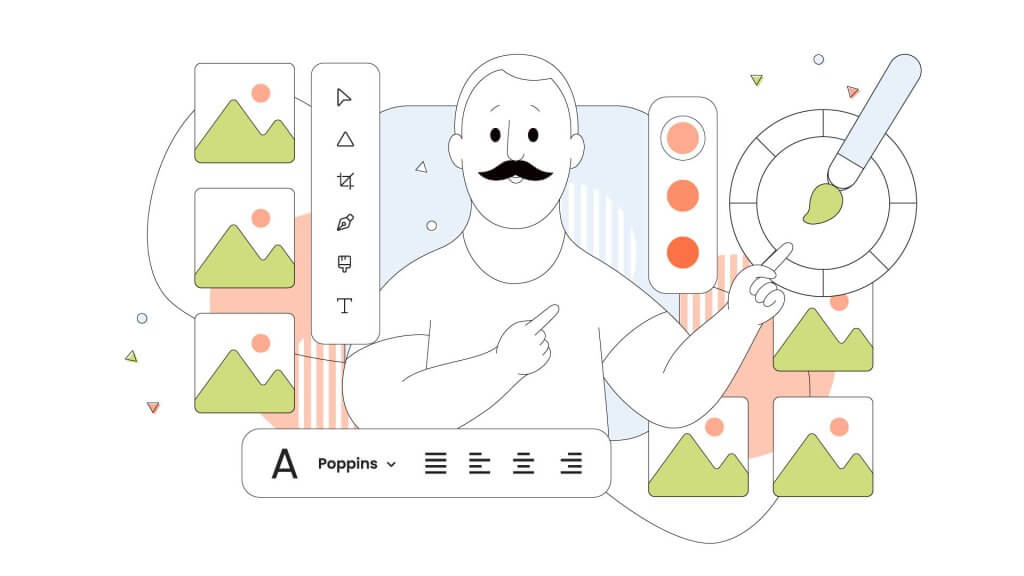 How to Benefit from Visual Content Marketing
Marketers have debated the importance of visual content marketing for a long time. The increasing number of social media platforms is one of the primary reasons behind their massive adoption. In fact, brands may have no social media presence on websites like Instagram and Pinterest if they lack a visual strategy.
Entrepreneurs need to improve the aesthetics of their digital marketing plan. This is what they need to maintain a competitive edge in the market. According to Venngage, 19% of marketers spend 5 to 10 hours generating visuals. Meanwhile, around 17% spend 10 to 20 hours per week designing their visual content marketing plan.
Here are the tips you should follow to gain the most benefit from your visual content marketing:
1. Set Clear Goals and Objectives
Knowing the goals of a visual marketing strategy is a primary requirement for creating a robust plan. You should determine the overall objectives of your brand and how you can use visuals to achieve those.
These could be short-term goals or long-term goals, or both. So, start by making a list.
For example, to increase leads and conversions through your new website, you should work on effective visual CTAs, shareable PowerPoint templates, infographics, and eBooks. Enriching these visuals with information and establishing mastery of the subject is easy.
The visuals and theme of a campaign may change according to the targets you want to achieve. Let's say your objective is to improve your brand awareness in the market. In that case, you might work on creating animations, banners, and some compelling videos.
2. Customize the Content
The competition in the digital marketplace is growing with each passing day. Brands with an obsolete and generic marketing strategy cannot survive for long. The companies must direct their content toward a particular group of prospects.
When a brand tailors the visual content for a specific audience, it helps them stand out. Knowing your prospects' age, interests, and locations is advisable before designing your digital marketing plan. For instance, customers who belong to a specific country or culture may find your images repulsive. Or, they may be unable to decipher the metaphors or icons you add to your images.
Customizing the visuals for your audience so they believe you are speaking to them is key. When your visuals grab their eyeballs, they are more likely to be curious and convert later.
Land Rover is an automotive brand we are all familiar with. The company gained a top spot in the industry for its premium products and deep understanding of market requirements. They add a unique blend of luxury and ease to their website to let their exclusive customers feel special.
3. Choose Easy-to-Understand Photos
Photos are a superb way to flaunt your products or services to potential customers. They are memorable and easy to share. Also, they help viewers understand how the product looks and enable decision-making.
It is essential to add images that are easy to understand, so they trigger the desired actions. Seek the assistance of professional photographers who will take your images to the next level. Or you can also purchase high-quality visuals from stock image libraries. Find a website with a broad range of royalty-free images and choose the most relevant ones for your content.
Ensure that every image you add across your website is suitable and precise. This will create a lasting impression on the audience. Addictions Design sets an incredible example in this regard. It displays background images, among which some are layered, full-body, and featured in unique sliders. These high-quality photos portray their professionals' craft and inspire the audience to explore more designs.
4. Adhere to the Copyright Laws
Copyrights often protect visuals. The site users must abide by the copyright laws as this will help to maintain their credibility. The penalty for the illegal distribution of images can be costly and lead you to trouble.
Sharing copyrighted images is equal to stealing creative property, whether you have done it intentionally or unknowingly. Again, stock image websites are your best bet at avoiding such mishaps. Get a license from the website, and then you can use all their images without any worries.
5. Decide Your Preferred Marketing Channels
Another way to increase the chances of success of your visual content plan is to use relevant marketing channels. You can promote the visuals on blogs, videos, or social media. Each domain asks for a little tweak in the visuals. For example, YouTube promotion asks for inspiring and unique videos, while you must find high-quality visuals for your Instagram business page.
Conduct thorough research to prioritize your marketing channels.
6. Add Inbound Links
Increasing organic traffic is essential to maintain the high ranks of a website. Once you have visual content in order, it is time to gain links from credible sources.
Also, if you create meaningful content in videos, infographics, or graphs, other websites will share your content and link it back to your platform. This is a massive step in creating a loyal fanbase which paves the path for achieving more inbound links.
Guest blogging is a great way to promote your brand and achieve white-hat links. Most media outlets allow people to submit articles on topics related to their subscribers. You should identify their readership and curate blogs to establish your expertise in the field. Add valuable images to these blogs to guide the audience.
7. Optimize Visuals for SEO
Search engine optimization methods have significantly evolved over the past few years. Simultaneously, the search for visual content has also accelerated by 27%. Website developers must follow all the steps to improve their ranks on search grids.
Following are some ways to let your platform optimize for visual search and grab more leads:
Add multiple images
Multiple images ensure your prospects get a clear vision of the product. It helps to sort their expectations and enables them to make an informed decision. Generally, adding more visuals to the content makes it more appealing and helps to get the point across.
Conduct keyword research
Keywords will allow you to provide a better description of your product or service. Adding relevant keywords to the file name, alt tags, and captions will help you to hook the right prospects. Ensure that it reflects the content of the image to capture visitors' attention.
Add alternative text
When you upload images on the website, add an alt tag or alternative text with them. This will be a great place to input information about your image. Alt text also helps the search engine to understand your image context and allows valuable leads to find your website.
Include captions
Captions allow the audience to understand images better. Captions are the best way to tell what is happening in the photos. People can also find your images through visual research, increasing traffic on your website.
8. Use Slideshare As a Social Media Platform
Slideshare is a wonderful platform to promote your brand and services. It uses a combination of text and images to provide thorough information regarding your products or services.
The presentations are informative yet engaging. However, it is crucial to learn how you can hook your audience with them. Understand the demands and interests of the prospects and then motivate them to share these on their social media profiles. And lastly, don't forget to add a call-to-action (CTA) at the end to lead visitors on the right track.
Creating a visual content marketing strategy encompasses stages from pre-production to evaluating outcomes. Entrepreneurs interested in enhancing the visuals of their digital marketing plan should stay in the learning loop to understand the ins and outs of the industry. You can benefit from your visual marketing plan if you follow a well-rounded plan and upgrade it regularly.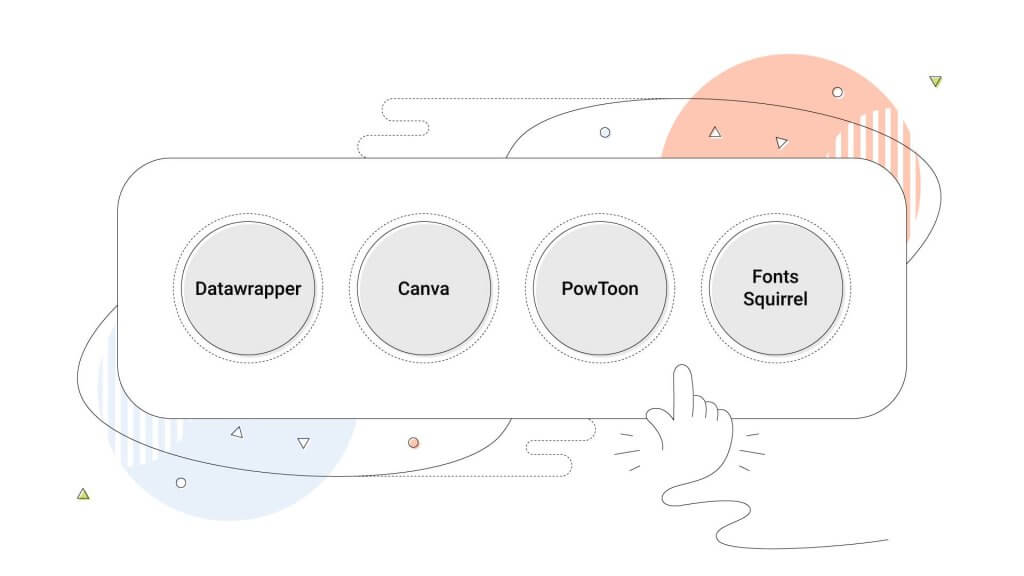 Tools to Create An Inspiring Visual Content Marketing Plan
Apart from adopting the trends, accessing the right resources is essential. No matter how powerful it appears, any visual content plan may fall flat without the proper tools to make it happen.
Some resources that might help you create a solid visual content marketing plan are:
Datawrapper
Datawrapper focuses on producing powerful charts for your infographics and social media posts. This tool is mainly used when a site wants to demonstrate some numbers.
It is a straightforward software used by marketers that offers a broad spectrum of charts and plot formats. All you have to do is copy and paste your data from the spreadsheet onto the Datawrapper application. It produces accurate charts and infographics that you can integrate into your website and impress your audience.
Canva
Canva is the ultimate graphic design tool for creating website and social media graphics. Even professionals vouch for this application for its catchy images and versatile design portfolio.
It offers posters, flyers, mood boards, reports, and more templates. The colours and images could be edited so they reflect your brand image. The templates are decent, but you should get a high-end graphic design app or contact a professional if you want unique images. This is because most designs on Canva are generic, and many brands use them.
PowToon
Consider working on PowToon if you want visuals that are vibrant and unconventional. This website allows you to make animated presentations or cartoon films that you can easily embed on your digital platforms.
You can work with pre-existing templates and storyboards and create visuals that strike the right chords. It allows you to record your narration as the story or presentation moves.
Fonts Squirrel
Text is sometimes necessary to let images convey the right messages. Using the right fonts to complement the image and help get your message across is essential. Font Squirrel is the best application for getting unique font styles. You can find fonts using tags and classification.
The aim is to enhance the overall appeal of your visuals. Using the best font type will help you do so without exerting much effort.
Parting Thoughts
Customers are more likely to retain images than text. Gone are the days when prospects would undertake the pains of reading an entire booklet to know what a brand offers. Visual content marketing is the best method to get your brand message across and tell prospects what your brand stands for.
According to Venngage, producing visual content regularly (at 34.8%) is the top challenge for marketers. This could eventually lead to failure in the digital marketplace. Now is the right time to acknowledge the importance of visual content marketing and adopt the best ways to curate a perfect plan.
Accessing the correct information and resources is the first step in this journey. So, how do you plan to go about it? Share your ideas with us!