Social media marketing has become the most influential platform for modern business marketing. This highly popular channel has a broad range of applications, and while anyone can use it to market their products and services, real success requires both creativity and strategy.
One way to achieve great results is by using well-designed graphics to reach and attract large numbers of target customers. The majority of people are visual learners, and they will remember a brand more easily if they see rather than hear or read about it. That's why having attractive graphics will help you strengthen your brand and increase customer trust.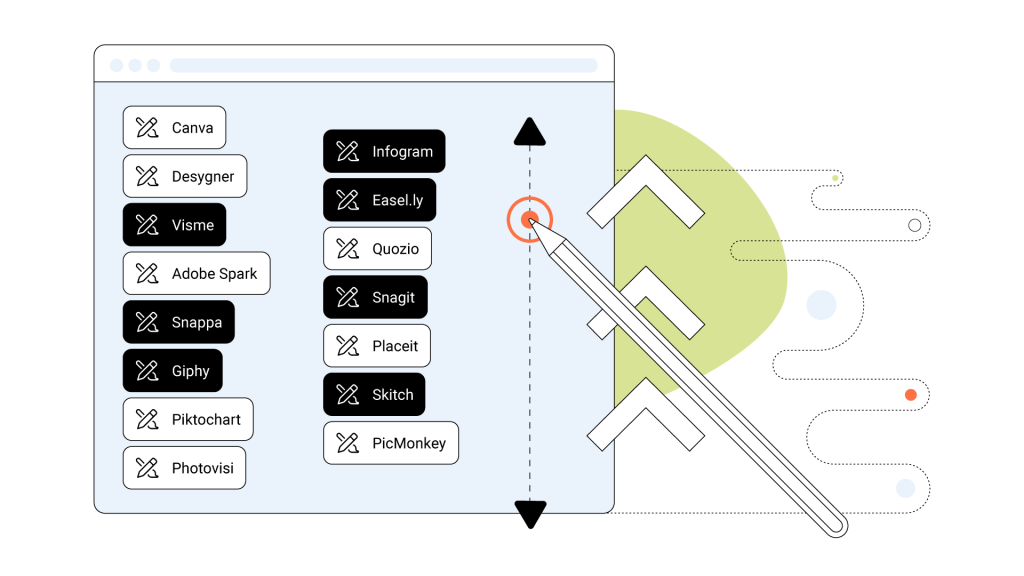 But, creating great visuals is easier said than done since many tools come with a long learning curve. If you're new to graphic design, you want to choose a tool that will allow you to create stunning graphics with ease.
With that said, here are the best graphic design tools for creating social media graphics that demand attention.
1. Canva
A Comprehensive Graphic Design Program Ideal for Non-Designers (Free plan, then $119.99/user/year).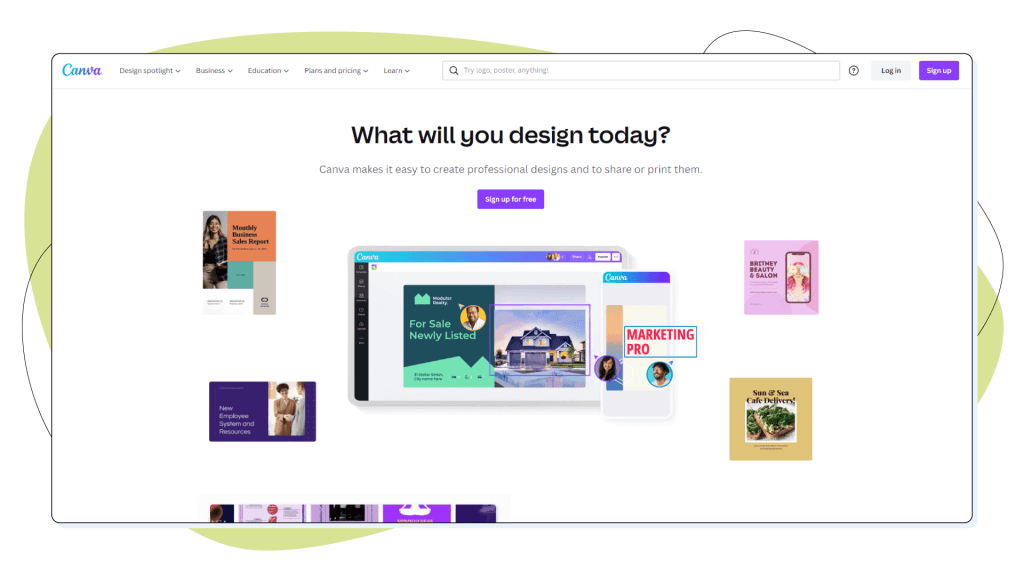 Canva is a popular graphic design tool that makes image creation easy. It's perfect for non-designers and comes with a ton of premade templates to cater to every image creation need. You can find brandable names by leveraging a social media name checker tool and simply plug into Canva to auto-generate cool logo ideas that match your brand's design style and colour palette.
You also get custom image sizes for different social media platforms, and there's a drag-and-drop interface that you can use to customize fonts, colours, styles, and more.
There are also cool animations and millions of stock photos to choose from. All in all, this is one of the best free graphic design tools for creating social media graphics.
2. Desygner
Best Graphic Design Software for Creating Infographics (Free plan, then $4.95/month).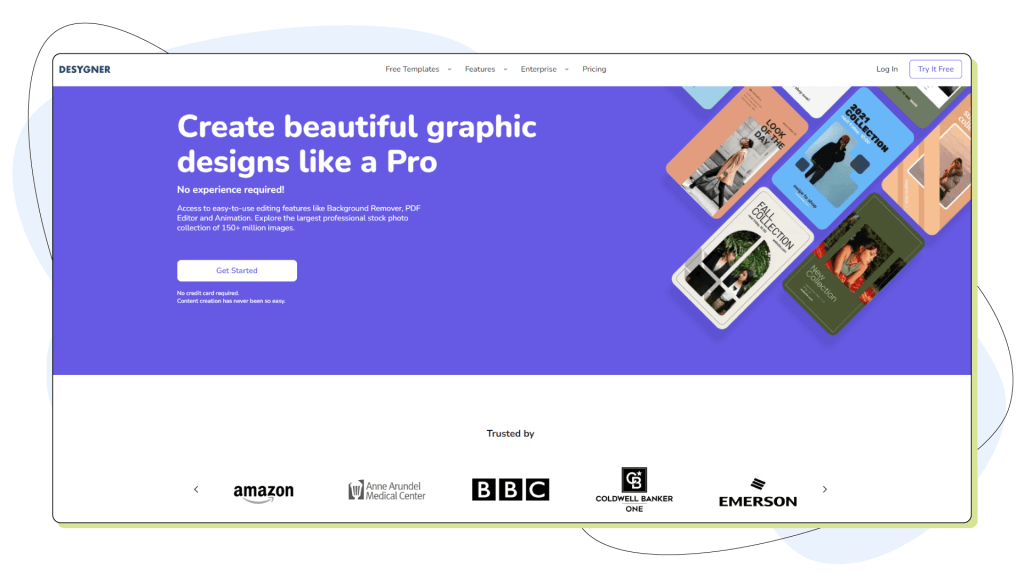 Desygner comes with everything required to create outstanding social media graphics, including professional templates, copyright-free images, and a simple yet powerful drag-and-drop designer.
With this platform, you'll never run out of images, ideas, or inspiration. Perfect for web, Android, and iOS, this tool has an automatic resizing feature that allows you to create images for different social media platforms with a single click.
You can also upload and edit PDF files, making this perfect for anyone who wants to upload PDFs on LinkedIn and other platforms.
3. Visme
Best for Designing Powerful Charts and Animations (Free plan, then $12.25/month).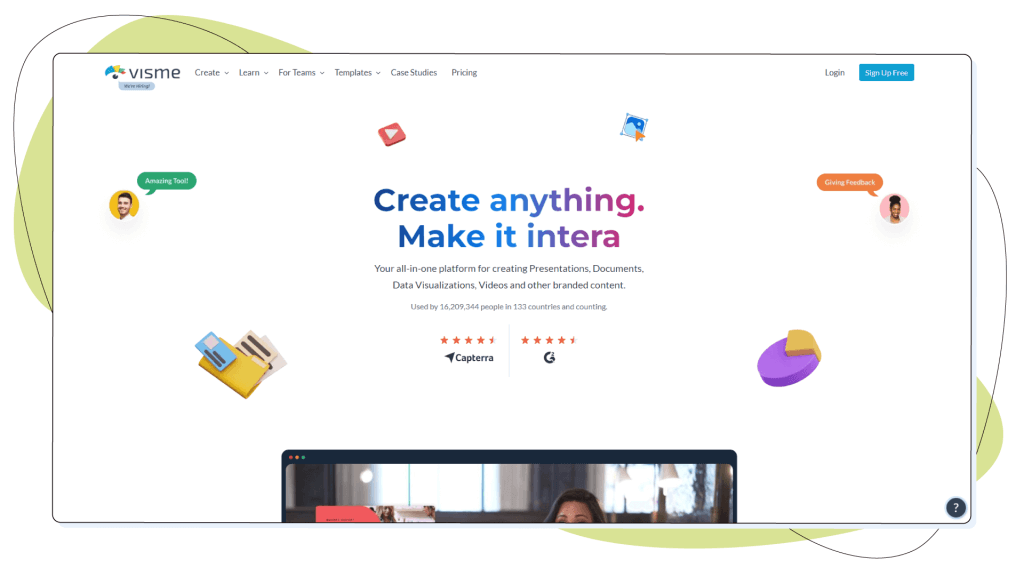 Built for the web, Visme is a powerful design tool that you can use to design infographics, charts, animations, and more. Not only will you be able to create visually appealing social media posts, but you'll also have the ability to develop impactful presentations, which can be helpful if you regularly host webinars.
The charts feature has a wide variety of pre-designed chart templates that you can use to simplify your work. From pie charts to maps, you can create an entire range of charts on this platform.
You can even create animated social media posts that arrest the attention of users. This feature is particularly useful for those in the B2B space, and the best part is that you can get started using it for free.
4. Adobe Spark
Best for Collaborative Social Media Graphic Design (Free plan, then $9.99/month).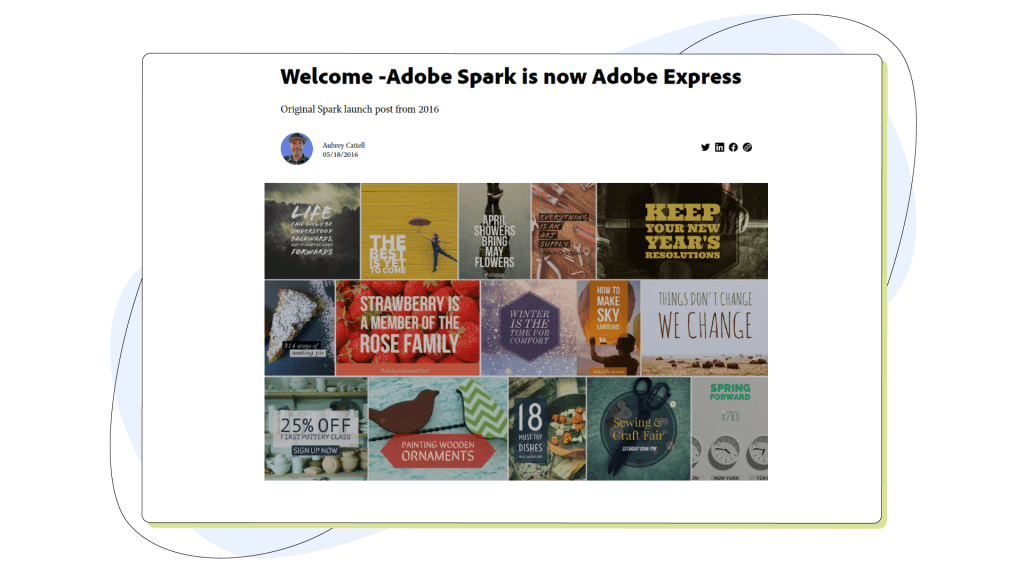 One of this platform's biggest selling points is the ability to blur backgrounds so you can shine the spotlight on the important parts of your image – whether it's people, logos, or products.
You can use this feature on Adobe Spark for free. Simply sign up and choose an image from stock photos, your library, or one of the premade templates. Select the blur menu, and you can blur the image as much as you like and add animation, texts, borders, or filters to the picture to make it more unique.
Adobe Spark is a handy tool for creating effective social media graphics thanks to additional features like typography designs, iconic images, and easy sharing.
5. Snappa
Best Tool for Removing Image Backgrounds Easily (Free plan, then $10/month).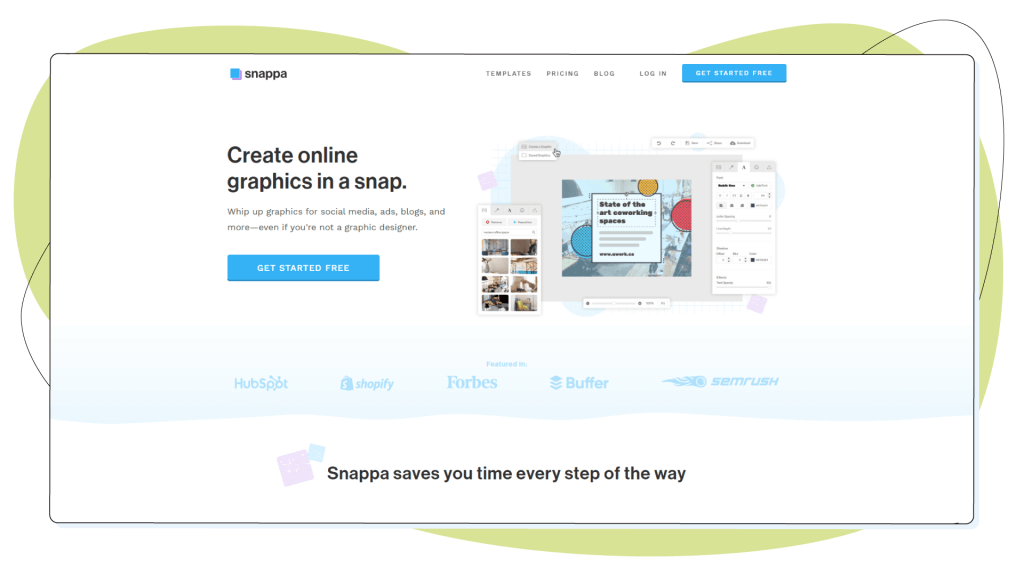 Snappa is a simple yet powerful snap tool for designing excellent social media graphics. It comes with hundreds of templates for expertly crafted designs suitable for a variety of social media platforms.
You'll be able to create stunning images quickly, even if you have no experience in graphic design. Simply choose a template, customize colours and fonts, or add text and other graphics to your post.
You can use the software for free, but if you want the ability to remove background images in one click, then you have to upgrade to the paid version. Also, the tool lets you resize your posts and easily integrate them with any social media account for quick sharing.
6. Giphy
Best Graphic Design Tool for Creating GIFs (Free plan available).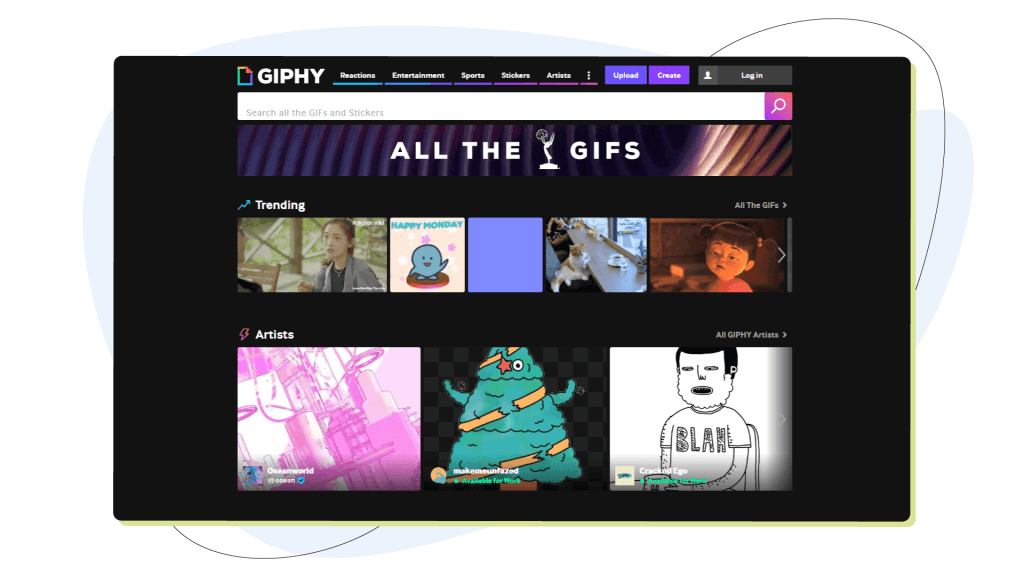 Keep your social media followers engaged as they're scrolling down your timeline. Give them a good laugh or put a smile on their faces with a GIF from Giphy.
GIFs are among the most powerful tools for boosting engagement online, and you can use them to help people remember your brand.
Choose animated GIFs that are full of dynamism or go with ones that are slow and smooth.
Regardless of your industry, you're sure to find some eye-catching GIFs to help you tell a story, explain a process, or simply entertain your audience.
7. Piktochart
Best Graphic Design Tool to Simplify Information Design (Free plan, then $14/month).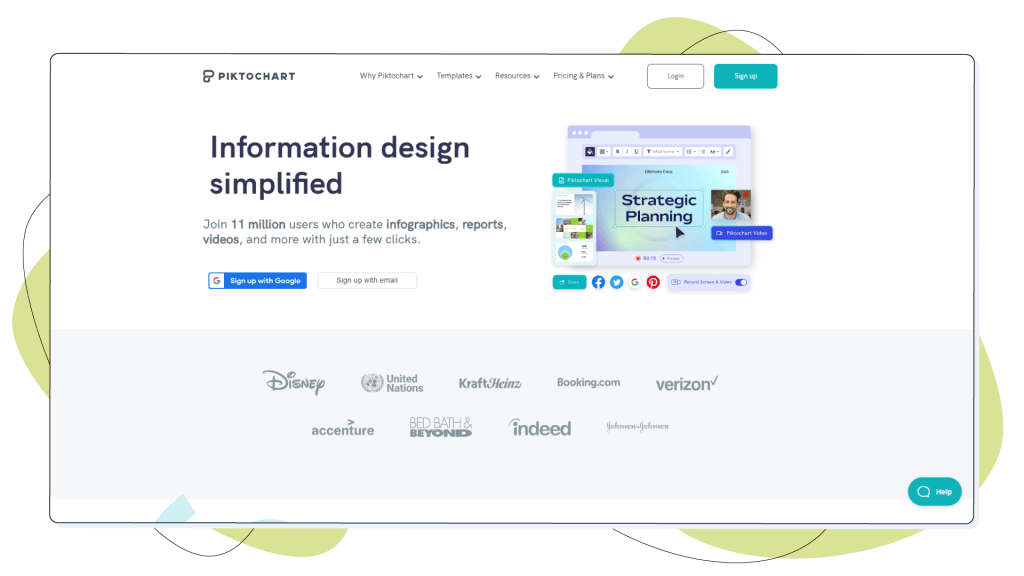 Piktochart is a comprehensive all-in-one visual content creator. With it, you can quickly create all types of optimized graphics for social media, including infographics, flyers, presentations, charts, and reports.
The platform has thousands of pre-made templates to make your work easier, and you'll be able to create stunning visuals within minutes, even if you have no prior graphic design experience.
Another interesting feature of this design tool is that you can create graphics with your brand colour in just seconds.
Simply drag and drop your brand logo or a screenshot of your website. The AI-powered tool will extract your brand colours and create graphics that you can then modify according to your needs.
8. Photovisi
Best Graphic Design Tool to Create Beautiful Collages (Free plan, then $4.99/month).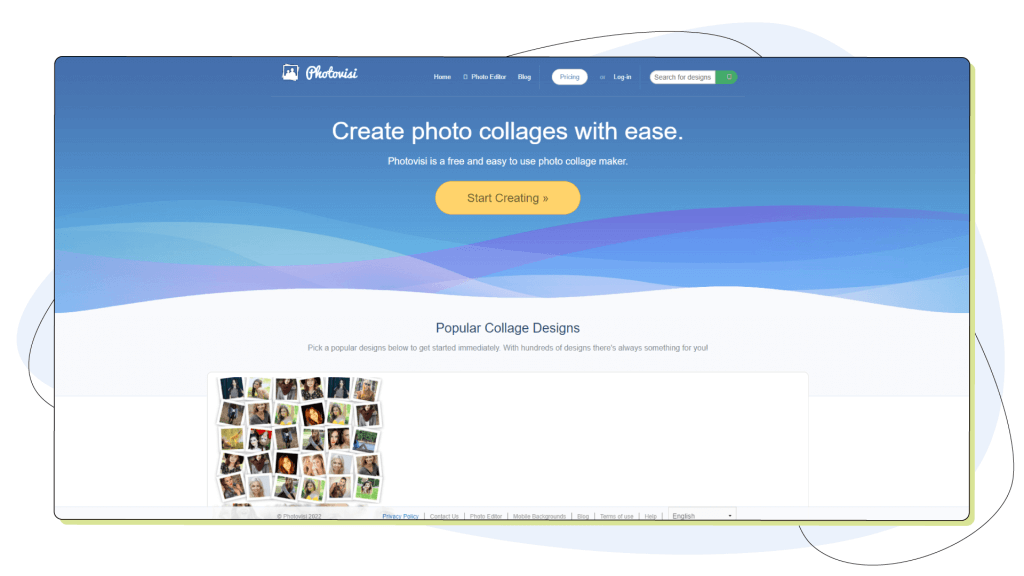 Image collages are perfect for social media. Twitter and Facebook have built-in collage features, but if you want to use these powerful marketing tools on Instagram and other social networks, then you need to use a platform like Photovisi.
Sign up for free and choose from dozens of expertly designed templates that you can customize by changing photos, text, colours, backgrounds, and any other elements you wish to add to the collage.
All this is done using a drag-and-drop editor, which means no coding or graphic design knowledge is required.
9. Infogram
Best Graphics Designer for Social Media Charts and Graphs (Starts from free).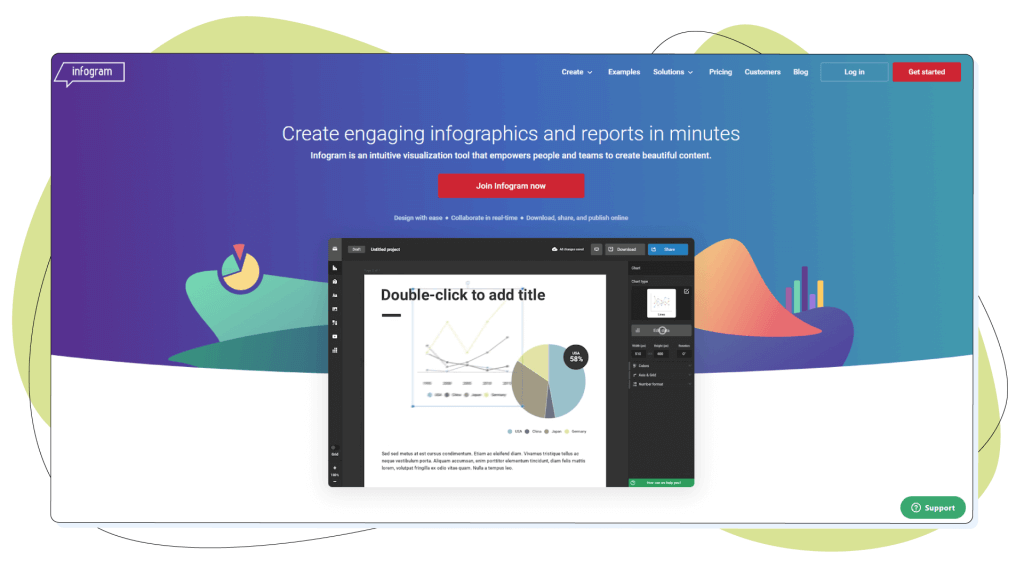 Infogram is an intuitive graphic design tool that will help you create engaging reports and infographics in minutes.
You'll be able to save time and money while staying on brand with a collection of designer templates on the platform. All of the perfectly polished templates are ready to use and optimized to drive engagement with your audience.
This tool is particularly useful for anyone who shares data-dense or research-backed articles on social media. You'll be able to share your data as an image to make it easier for your followers to consume and understand the content.
While this is helpful for social media if you've started a blog on your website, keep in mind that charts and graphs are some of the most likely elements to earn you backlinks from others.
10. Easel.ly
Best for Drag and Drop Infographic and Report Creation (Free plan, then $4/month).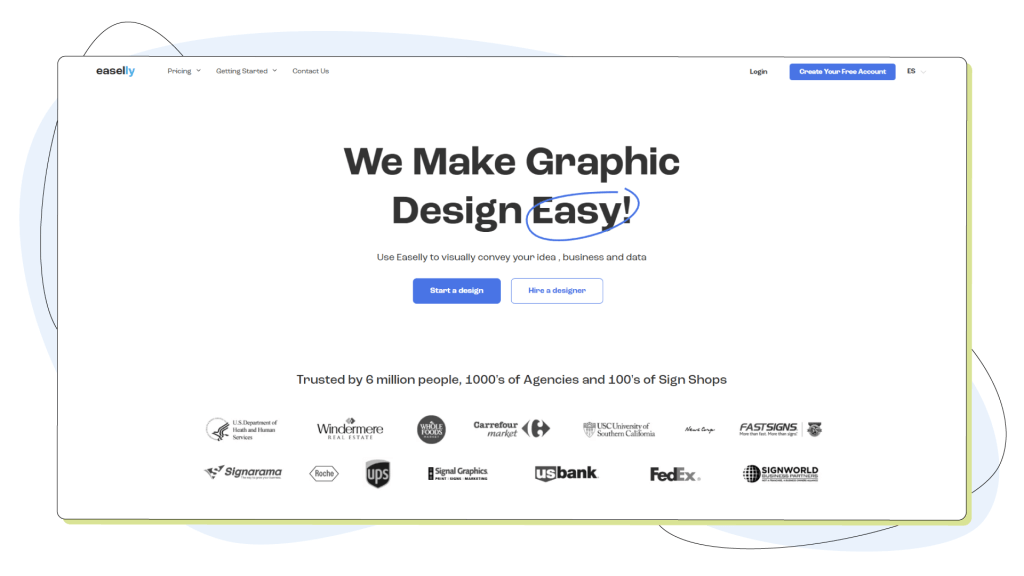 This platform's interactive layouts let you embed charts, photos, and various other elements onto your social media graphics.
To get started, choose a pre-built template from the dozens of options available. You can then proceed to customize any of the elements to match your preferences.
Alternatively, you can go bare-bones and create the entire report or infographic whichever way you see fit. There's a huge number of shapes, icons, and objects to integrate into your design using the simple drag-and-drop graphic design editor.
11. Quozio
Best Graphic Design Tool for Making Quotes (Free to use).
Another type of graphic that works exceptionally well on social media is quotes. You can create beautiful quotes using a platform like Quozio. These are perfect for sharing motivation, tips, or just wise share-worthy sayings that you come across online.
Simply sign up for free, enter your quote, and click "Create my quote". For inspiration, you can try some random quotes on the platform to see how other people do it.
This is the quickest way to create, save, and share quotes and all the templates are fully customizable so you can design unique quote-based images for your social media campaigns.
12. Snagit
Best Screen Capture Software for Windows (Free plan, $62.99/year).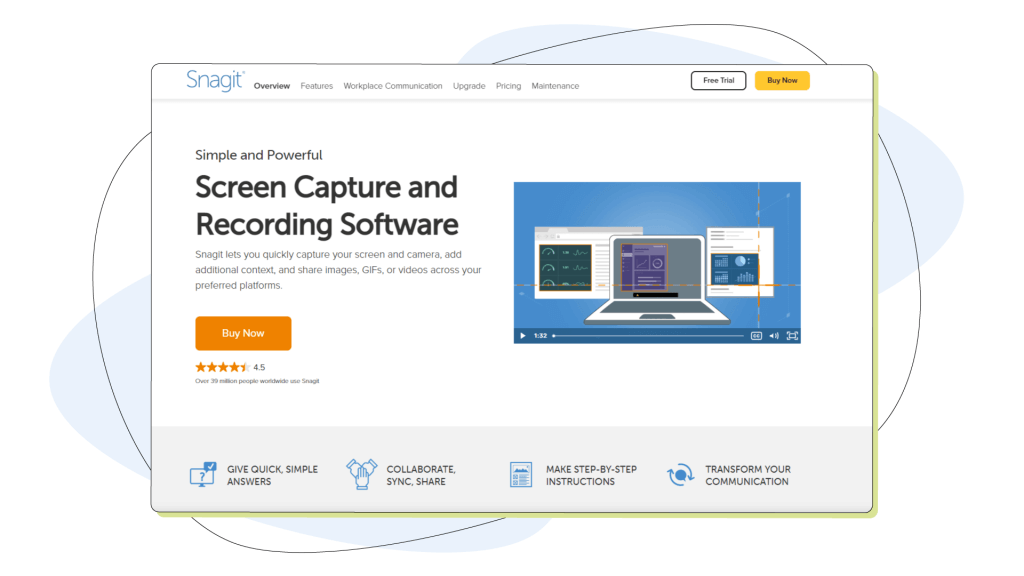 Snagit by TechSmith is a popular screen capture and recording tool. Although originally designed for Windows users, it also works with Mac.
The platform has a desktop app that lets you capture and edit images easily. Capture the entire screen or just part of it. You can even scroll down to capture chat history or a long webpage.
Include text to annotate screenshots or add shapes like lines, arrows, and callouts. You can also replace any of the words or change the color, font, and size of the text in any screenshot without having to redo the entire image.
13. Placeit
Integrate Your App or Website Inside Stock Photos (Free plan, then $7.47/month).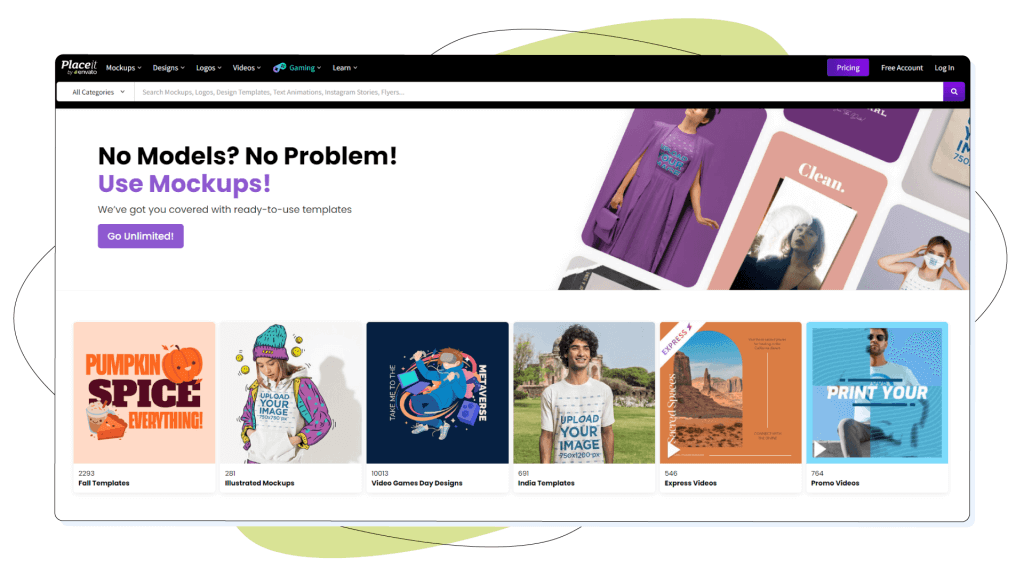 Use this tool to create beautiful social media images that feature your website's home page, blog, app, service, etc. There are plenty of neat integrations that make it easy for you to share your images.
The platform is intuitive and easy to use. All you have to do is choose a background from the library, upload a screenshot or enter a URL to grab so you can insert your website into the image.
Placeit will then do the rest, and you'll be able to download or embed your newly created graphic anywhere.
The best feature on the platform is the interactive video option which embeds your full website within the window so users can scroll through your site just as they would if they were visiting that page in their browser.
14. Skitch
Best Free Screen Capture, Annotation Tool (Free plan, then $7.99/month).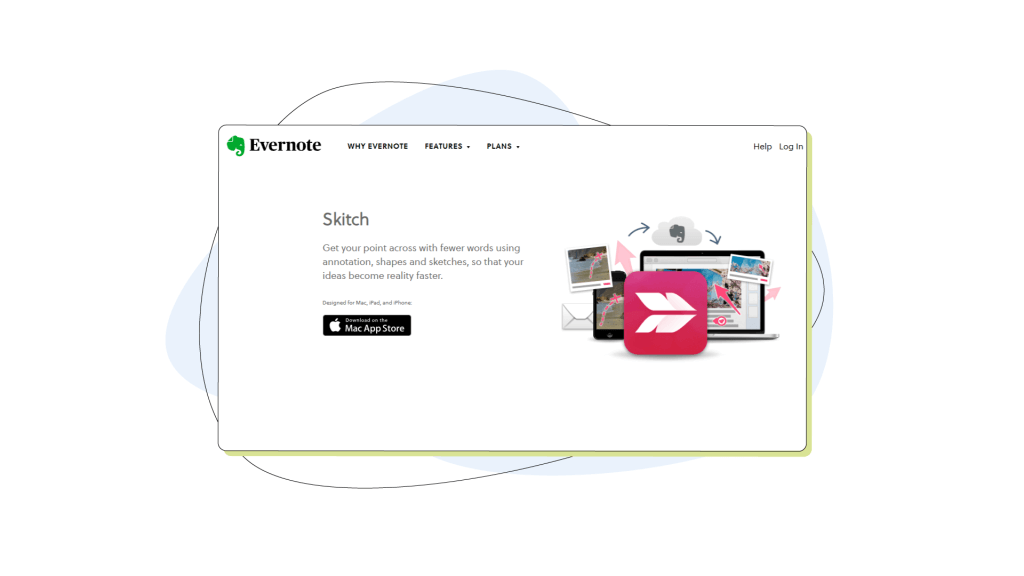 This freemium tool from Evernote is the go-to screenshot tool for many marketers. It's simple and easy to use. Once you have it installed, it pops up when you type a keyboard shortcut on your Mac (Cmd+Shift+5. You can then click and drag the mouse over the part of the screen that you want to snip.
The tool has impressive annotation features that will help you create more professional-looking graphics for social media.
Blur, circle, or point to things with just a couple of clicks. For instance, when sharing an image with sensitive information on it, you can simply use the "blur" feature before sharing your screen grab. Save or store all your screen grabs in an Evernote folder for easy access.
15. PicMonkey
Best Graphic Design Tool for Consistent Branding (Free trial, then $7.99/month).
PicMonkey by Shutterstock is a photo editing and graphic design platform that will help you create scroll-stopping images for social media.
You can also use it for ads, logos, flyers, banners, thumbnails, and much more. There are dozens of stunning templates to choose from, and all of them are fully customizable so that you can stay on brand at all times.
Try this photo editor for quick and easy graphic design. You can use your own images or choose from the millions of professional images in the library. You can sign up for a free trial on the website to start exploring the photo editor right away. Premium plans start from $7.99/month, and you get huge discounts for paying annually.
Bonus: BeFunky
Best Photo Editing Tool for One-Click Changes (Free plan available).
BeFunky is an easy-to-use, user-friendly photo editing tool that's perfect for content creators or branders. With BeFunky, you can edit photos, make photo collages, and create graphic designs without any prior training. You can even use the tool to upload content directly to social media.
BeFunky's fun and functional photo editing features are so simple to use that you can perform the most complicated tasks with one click. But that doesn't mean the tool itself can't produce high-quality designs. In fact, BeFunky uses AI technology to perfectly transform photos into art, retouch portraits, create a stunning collage, complete batch edits, or crop and resize images.
In seconds, users can pull from the tool's library of free stock images and vector graphics to make virtually anything. BeFunky should be in the pocket of every designer or non-designer.
Conclusion
The tools I mentioned in this article more-or-less have the same core features. I've also mentioned any features that are unique to each one to make it easier for you to choose the best graphic design tool for creating share-worthy social media graphics.
---
BYLINE:
Ron Stefanski is a website entrepreneur and marketing professor who has a passion for helping people create and market their own online business. You can learn more from him by visiting OneHourProfessor.com. You can also connect with him on YouTube or LinkedIn.