There's a lot to consider when you're thinking about hiring a marketing agency for your small business. It's a decision that can have a massive impact on your company's future. Before you jump in (or decide to close the door on the idea), there are several questions you need to ask yourself – and answer honestly.
This will help you determine whether a marketing agency will help or hinder your efforts to reach your small business' marketing goals.
What Do You Hope to Achieve With Your Marketing?
Before hiring a marketing agency for your small business, you must determine what you're trying to achieve. What kind of marketing goals have you set for your business, and how will the marketing agency help you achieve them? 
For example, do you want to increase traffic to your website because you have low brand visibility and need more people to be aware of who you are? Do you need help converting your website visitors into paying customers? Or do you want to turn your existing customers into loyal fans who frequent your business once a month?
In addition to having a solid understanding of your goals, you must also know the level of success you want to achieve. For example, if your small business website currently converts 250 customers per week, do you have the capacity to meet customer demands if that number suddenly rises to 1,000 customers per week?
Figure out how much success you can handle right now and in a few months. There's no use in hiring a marketing agency for your small business if you can't handle the sales and logistics end of the marketing results.
Do You Have Modern Marketing Expertise?
Small business marketing – particularly in the digital realm – is changing fast. From social media to SEO, web design to user experience, there are many new trends, techniques, and tools available to help you amplify your marketing presence. Do you know what they are and how to use them effectively?
A marketing agency brings a wealth of expertise to the table. They typically have dedicated roles within specific digital marketing verticals, such as someone who works exclusively in paid SEO. This means that they're on top of digital marketing trends and understand which ones will be effective for your small business. They also have access to digital marketing tools to increase productivity and efficacy, such as helping you determine the right SEO key phrases to use in your content.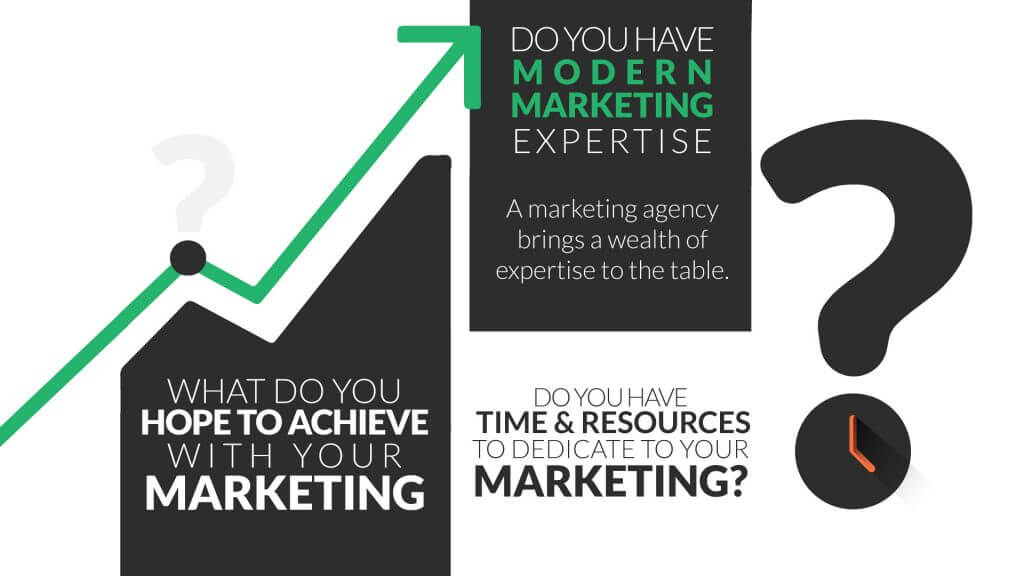 Do You Have Time & Resources to Dedicate to Your Marketing?
Most small business owners and entrepreneurs have a strong do-it-yourself attitude. After all, this is how they have gotten this far – by driving forward independently. However, you have to let go of the reins at some point and let someone else drive, especially when you have other responsibilities.
While you may want to take part in running your small business marketing, you probably have many other tasks competing for your attention. Dedicated marketing is a full-time job. Do you have several extra hours a day to spend working on your marketing? If not, hiring a marketing agency for your small business may be a good idea.
An agency will free up your time so that you can focus on the other areas of your business that need your attention, such as operations, logistics, and customer service. Instead of spending five hours a day on marketing and doing everything on your own, you may only need to spend 30 minutes daily reviewing and approving the marketing agency's strategies and implementation plans.
Are You Good at Keeping Track of Your Marketing Expenses & ROI?
To know whether your marketing efforts are working, you need to carefully track your marketing expenses and the associated return on investment you receive from each of them. This way, you can determine which marketing activities work well for your business – and which ones you can ditch.
The problem is that many small business owners are already strapped for time. They don't have extra time to record and analyze their marketing expenses.
This is where a marketing agency for small businesses can come in and tell you which marketing activities provide the best ROI. As part of their process, marketing agencies carefully track all expenses, analyze each campaign's results, and make future marketing decisions based on data. This not only creates a more effective use of your marketing funds, but it ensures that you're only investing in marketing activities that provide the results you're looking for, helping you reach your overarching marketing goals.
Do You Need a Small Business Social Media Consultant or a Full-Fledged Team?
Some companies may only need to hire a small business social media consultant. They can help you grow your social media presence, gain the favour of social media influencers, and build brand awareness.
Small business social media consultants can also effectively drive traffic to your website to encourage visitors to purchase. If your marketing goals can be achieved solely using social media, then a small business social media consultant may be the right answer.
But most small businesses need a more diversified approach that includes online and print advertising, search engine optimization, public relations, and email marketing – in addition to social media. This is where a marketing agency for small businesses is vital. You get an entire team with a varied set of skills and expertise – not just one person focused on a singular marketing channel.
Carefully consider what kind of additional resources you need to add to your business to reach your marketing goals. A diversified approach will likely be more successful than pushing through on a singular marketing channel.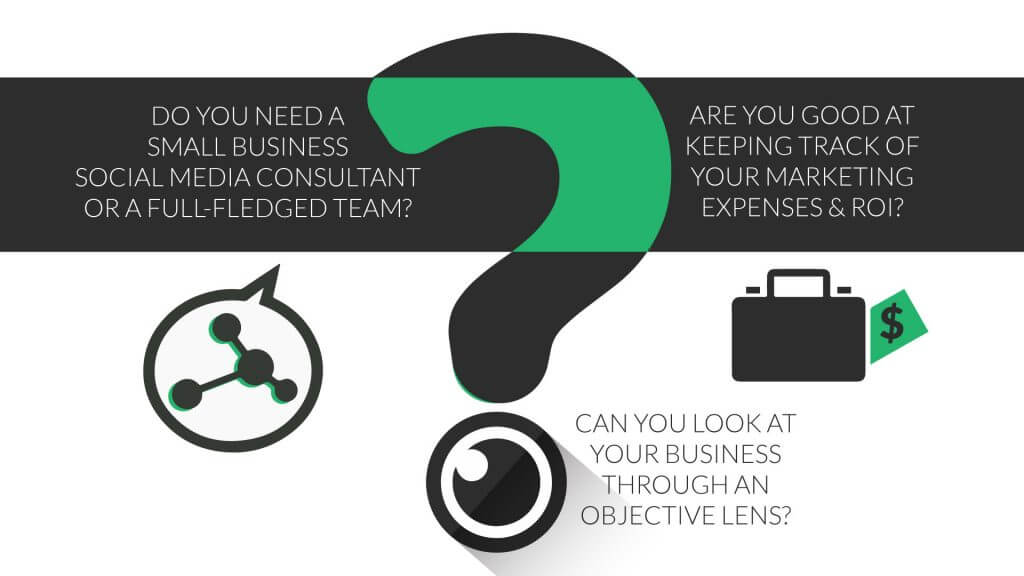 Can You Look at Your Business Through an Objective Lens?
A small business owner is the expert on their business. They have seen the company rise from nothing and have a detailed understanding of the products and services they sell. Similarly, an in-house marketer (who is often the small business owner, too) is often intimately aware of all day-to-day marketing tasks required to keep the business running. While this perspective is useful for coordinating logistics, it is not always sufficient for seeing the bigger picture and overall marketing strategy.
One of the significant benefits of hiring a marketing agency for your small business is that they are one step removed from the company. As a result, they can more objectively review your marketing strategies and plans to determine whether they are useful in helping you reach your small business marketing goals. An agency can provide small businesses with an unbiased perspective – whereas the small business may feel too close and emotionally tied to the company to make an objective decision.
There Is No Right or Wrong Answer
Whether or not your small business needs a marketing agency is entirely dependent on your goals, your needs, and your future. What works for one small business may not work for another. That's why it's important to be honest about your business needs and where the gaps are – so that you can determine whether or not a marketing agency can fill those gaps.