As the online community continues to grow, so do business and money-making opportunities. A popular way to passively make money online is monetizing your website content.
To do this, you need an advertising program that connects online advertisers to site publishers. Although you can make money through pay-per-click programs like Google AdSense, this is no longer a preferred choice for everyone.
The good news is that you can find a lot of advertising platforms as a substitute for Google AdSense. In this article, we talk about 34 top-rated recommendations as to the best alternatives to AdSense. But before that, let's quickly discuss what Google AdSense is all about.
What is Google AdSense?
Google AdSense is an online advertising program run by Google, offering a simple way to earn money by displaying ads on your website. The service is free and works by allowing you to show engaging and relevant ads on your site to target your visitors and audiences. You can even customize the look and design of the ads to match the layout of your site.
To use AdSense, simply apply on Google AdSense website, create the HTML ad codes and paste them on your website where you want the ads to appear. Next, advertisers will bid to show their ads on your space in a real-time auction. You get paid for impressions and clicks on these ads.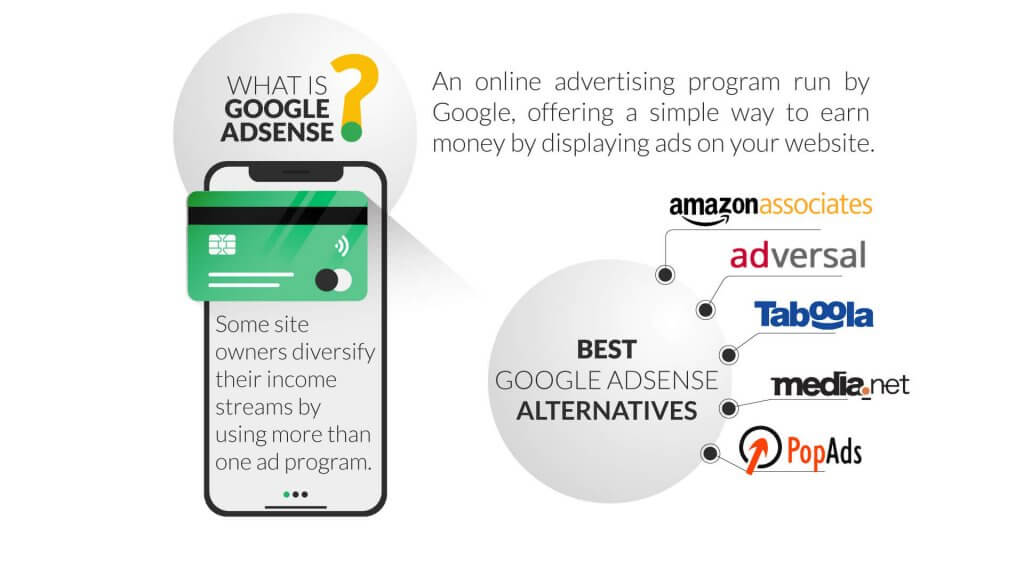 Which Type of Website Is Best for AdSense?
According to Google, blogs, online forum sites, and free tool websites are the best types of websites for AdSense because they have the most potential to attract tons of visitors and audiences.
Unlike regular sites, blogs are ever-changing as new content gets added regularly, making it easier to get a high impression rate.
A forum site works similar to a blog – but you don't need to create the content. Instead, you have community members and contributors making new content, contributions, and comments for you, pulling traffic daily. This creates the perfect space to monetize ads with Google AdSense.
Developers and people who can afford to hire developers can also monetize from their free online tool through AdSense. An online tool site can offer anything from gif makers to free flyer template designs to free stock images. These sites also tend to pull in a lot of traffic, getting ads on the site noticed.
Why Should I Look for Alternatives to AdSense?
There are many reasons to look for a Google AdSense alternative. For one, different ad programs will have unique features – you may choose an AdSense alternative for a specific feature offered by that program.
For example, some ad programs may offer higher CPM rates than Google AdSense. There aren't limitations on how many programs you can have accounts with for a single site. Some site owners diversify their income streams by using more than one ad program.
Best Google AdSense Alternatives
Here's our breakdown of the 34 best alternatives to GoogleAdSense this year.
Amazon Associates Program
The Amazon Associates program is the most popular affiliate program that you can take advantage of to generate extra revenue for your site. This program works great for publishers with sites, such as blogs.
All you have to do is place affiliate links to the products you'd like to recommend to your audience. You can add the links to your promotional emails and monetize your email marketing activities.
If a visitor clicks on the product, they'll be redirected to the Amazon page. After clicking the ad, if they purchase on Amazon, you'll receive a commission from that sale.
What makes this program an excellent choice is Amazon's size as an eCommerce giant and its high conversion rate, increasing the chances of pulling in revenue for your site. Amazon doesn't have a minimum referral quota requirement, allowing you to start earning immediately.
Depending on the niche you opt for, you can make a commission of up to 10% on each sale. You'll receive your payment 60 days after the end of each month with a minimum of $10 in total earnings.
Adversal
If you're a high-traffic site publisher, Adversal is the perfect tool for you, offering self-service advertising to let you manage and control the experience. This self-service advertising program allows you to purchase and publish ads directly.
Adversal enables you to have better control over your advertising on your website, supporting picture/display, video, and native ads. However, Adversal does have a minimum requirement guideline.
You need to have a domain with at least 50,000 page views a month to qualify. The program doesn't work for adult niche sites or sites associated with malware and illegal activities. Their minimum payout is $20 and can be paid out via wire transfer, check, PayPal or ACH.
Taboola Native Advertising
Taboola Native advertising is geared towards larger enterprise sites with a huge following and traffic volume. What makes the platform stand out among other ad programs is its customization freedom.
Taboola allows you to embed videos and even filter your ads using keywords. But, because it's geared for larger enterprises, it has a pretty high minimum requirement that may not work for small sites and blogs. It requires a minimum of at least 500,000 page views per month, but it also offers a pretty generous minimum payout of $50 through Payoneer.
Media.net
Media.net is a true alternative to Google AdSense. Boasting a similar concept, Media.net is run by Yahoo and Bing and is a go-to alternative for many advertisers and publishers.
The ad site even offers nearly the same rates as AdSense, offering a wide selection of display and native ads curated for desktop and mobile-friendly viewing. Many advertisers and publishers opt for AdSense for its better ad quality, custom features, and payout rate, with a minimum of $100 through PayPal.
However, the site requires that your site looks clean and professional and that most of your visitors are from the US, UK, and Canada.
Pop Ads
If you're just starting with your blog or still struggle with low traffic, you can take advantage of Pop Ads. It lets you open an account with them even with a monthly visitor rate as low as 1,000. The ad program focuses its ad design on pop-unders, considered less intrusive than pop-ups.
These ads typically appear behind the window you're looking at on a site. The site also gives you reasonable control over your ad design and features, along with targeting and frequency. Pop Ads has a low minimum payout of only $5 paid out daily via PayPal and AlertPay.
Adcash
Adcash is geared towards pay-per-action models. However, unlike most platforms, it caters to all types of sites, whether a small blog or a large enterprise site. The site helps publishers who want to monetize the traffic to their site and advertisers who want to grow their audience through performance-driven campaigns.
The site supports a selection of ad formats, including standard display ads, premium pop-unders and embedded video ads. Adcash even offers detailed reporting and analytics to help you understand how your ad is performing. It offers a minimum payout of $25 through various payment methods, including Payoneer, PayPal, and Skrill.
Infolinks
Infolinks offers a unique ad format in the form of in-text ads, catering to both new and older sites. This platform uses a unique tracking algorithm that picks up relevant keywords in your site content. These keywords are then matched with the relevant ads so that when a visitor points to the word on your content, a relevant ad appears next to it.
While you can use these forms of ads for various sites, they guarantee better results for websites such as blogs that have a lot of word content. The best part about this platform is it has no stringent minimum requirements. Infolinks pays at least $45 every 45 days through PayPal, Payoneer, or Western Union.
Propeller Ads
Propeller Ads is a full and self-service advertising network for display and mobile-friendly ads. The platform offers a range of targeted and non-targeted ads, including banners, push notifications, video ads, pop-unders, and sponsored links.
However, it's most popular for pop-unders on old and new sites. The platform offers a pretty simple setup, letting you create ads quickly and with ease. Propeller Ads is straightforward to use with no requirements. It also has a low minimum payment of only $5 per month through PayPal.
Sovrn Commerce (formerly VigLink)
Sovrn Commerce is curated for beginners, but experienced site publishers can also use it. The platform offers a selection of ad formats, including affiliate links, display ads, and video ads. You can insert these ads into your site pages and take advantage of the platform's automation abilities for the best results.
Sovrn Commerce is popular for its affiliate link ads. Additionally, the platform offers superior analytics, letting you track your campaigns and even figure out how to increase revenue generation. It also offers a choice between cost per impression and cost per click models. Sovrn Commerce comes with no set requirements and has a minimum payout of $10 through PayPal.
Google Ad Exchange
Also known as Google AdX and formerly known as the DoubleClick Ad Exchange, Google Ad Exchange offers a unique advertising experience. The digital marketplace allows publishers and advertisers to sell and buy advertising space in real-time auctions. These include selling ad spaces and networks, such as AdSense, agencies, and demand-side platforms.
However, unlike AdSense, Google AdX has strict requirements. These include a site with a clean Google record, family-friendly content, at least 5 million page views per month, and a minimum of 10 million ad impressions per month running through Google AdSense for at least  6 months. In addition to meeting these requirements, AdX is invite-only at the discretion of your Google Account Manager. This means that this platform isn't geared towards smaller sites and blogs. 
Revcontent Native Advertising
Built for high-traffic media sites, Revcontent is a great platform for native ads. In turn, this gives your ad campaigns the look, feel, and function of the format they appear in. However, the platform doesn't limit ad formats to native ads alone. It also offers formats like mobile, video, and display ads.
With its publishers pulling in high traffic, the platform also offers higher payment rates, thanks to high-paying advertisers. Payment is done monthly with a minimum payout of $50. The catch is that Revcontent has a requirement of at least 50,000 monthly visitors on your site and consistency in content generation.
Carbon Ads
Carbon Ads is an ad tech platform that connects advertisers with developers, publishers, and designers through its exclusive network of sites and apps. The platform carefully picks its publishers based on content quality and traffic they pull in, ensuring they find the best leads for advertisers.
Advertisers are connected to publishers, developers, and designers in the same niche via targeted verticals called Circles. This allows for the creation of truly targeted and relevant ads. In addition to these strict requirements, Carbon Ads also has a single display ad per page network setup.
This means that a publisher is required to have an exclusive relationship with them. Payment is made in several ad impressions served with a range of $1 to $2.50, paid every 15th of the month. Earnings are typically delivered via Paypal or Wire Transfer.
Bidvertiser
Bidvertiser functions slightly differently from other ad platforms. The site features a bidding campaign design, where advertisers place bids on the advertising space of different sites. As a publisher, Bidvertiser sells your ad space on your site to the highest bidder. While this setup comes with benefits, it also comes with drawbacks.
Getting higher-paying bids offers a greater chance to grow your revenue significantly. If you have good content and high engagement, you have a chance of earning more as advertisers outbid each other for space on your site. The drawback is that if you exclusively work with Bidvertiser, you may lose some revenue since your site will have to list even free ads.
You're less likely to succeed if your site doesn't have a significant online presence. Beyond this, the platform doesn't have any restrictions. You're paid monthly with a minimum payout of $10 per month.
Ezoic
Ezoic is a Google award-winning AI platform designed to help you grow your site's passive income and optimize its UX. The platform works best by combining it with Google AdSense or ADx, as a secondary platform.
Ezoic uses Google AdSense and Google Adx and performs automated site tests to help you boost site traffic and boost revenue. Testing is done on ad locations and style combinations within your site. Ultimately, it helps to automatically add ads to various locations on your site through its proprietary AI technology. Ezoic is an entirely free-of-charge machine learning platform.
Yllix
Yllix is another excellent alternative to AdSense for beginners. The self-service platform offers many ad formats, including sliders, clicks, anchors, in-app ads, pop-ups, and even mobile ads. However, what makes it stand out for newer sites is its zero requirements, making approval after signing up a breeze.
The site pays you monthly with a minimum payout as low as $1. You can even take advantage of its referral program, which pays up to $100 for every new client you bring.
Adsterra
A popular and respected ad network, Adsterra pulls in up to 1 billion daily impressions, offers real-time statistics, and helps improve experience and revenue generation through AI-based optimization. The network works for all types of advertisers and publishers with zero requirements.
It also offers a selection of mobile and desktop ad formats, including popups, native ads, videos, clicks, and more. Adsterra provides a pretty standard rate of $2 for every 1,000 ad views and rolls out its payments monthly.
Revenue Hits
Revenue Hits is a new platform on the market, but it continues to leave its mark through its advanced optimization tool and selection of ad formats. It's the perfect alternative for pay-per-action campaigns. Its ad optimization tool shares detailed ad performance feedback, letting you focus on each campaign.
Unlike some tools, the platform is performance-based and doesn't only depend on clicks. This means you'll have to work harder to convert visitors into customers or subscribers on the advertised site. It has a minimum payment of $20 remitted through Payoneer or PayPal every 30 days.
AdNow
AdNow focuses on native advertising for both mobile and desktops. The service uses a range of advertising technologies like big data, AI, and RTB to optimize results.
According to the official site, AdNow advertisers pay up to 51% more attention to usual ad banners than other platforms. AdNow doesn't have any limiting requirements and offers a CPM rate of between $0.1 and $2, depending on the country. Payouts are monthly with a minimum of $20 through PayPal or Wire Transfer. You can also take advantage of AdNow's 5% referral program.
Dianomi
Dianomi is an outstanding premium native advertising platform specially designed to cater to financial services, tech, corporate, and lifestyle sectors, so it draws advertisers and publishers within this niche.
The platform powers ads through the Sponsored Financial Content via popular sites like WSJ and Business Insider. It uses a proprietary algorithm to optimize campaign targeting on your site based on metrics by VTR, RPM, and CTR. Dianomi offers a choice of cost per click (CPC) or cost per view model for video advertisements.
Criteo
Criteo is designed to cater to different industries by providing online display advertisements and performance marketing. The platform offers personalized retargeting for internet retailers to bring in more visitors and customers to their site.
Criteo uses a pay-per-click model where visitors to the advertiser's site have to complete specific marketing activities, whether a purchase, lead, or click. The site works with publishers with a high turnkey and performance, so it's not the best option for smaller sites or blogs. Using Criteo, payments are released every month.
Exponential
Exponential is an interactive global ad platform that uses advertising intelligence and digital media solutions to help you grow your revenue. Exponential works with up to 88 top global brands, guaranteeing to rack in great rates.
Unlike other platforms, Exponential doesn't have set rates for advertisers. Instead, they allow publishers to get higher CPMs with larger advertiser budgets. However, the platform has a minimum requirement of 500,000 site visitors a month, consistent targeted content, top-level domain URL, professional and attractive site designs, and an active user base.
Payouts are usually every 45 days with a minimum of $50. The platform has a payout rate of about 55% for every ad its publishers.
Inskin Media
Inskin Media features an innovative ad exchange setup that helps with design and layouts. The platform uses an HTML 5 framework to customize mobile and desktop ads, giving them customized layouts and allowing multimedia ad formats.
With this functionality, you don't need to do much on your end in terms of design and customer attraction. Inskin Media also works with publishers of different niches and sizes, with a monthly payout plan. Publishers can enjoy CPMs as high as $20.
Vidoomy
Vidoomy is a multi-screen and brand advertising platform that specializes in video ad formats for mobile and desktop site viewing. What makes Vidoomy a great option is its high number of top brands as advertisers, bringing value to your site or blog.
Vidoomy has eligibility requirements for publishers which include at least 3 million page views monthly and at least 500 high-quality plagiarism-free articles. The platform offers cost per view and cost per impressions models.
Adblade
Adblade is a content-style ad platform with a self serve designed to cater to publishers and advertisers of all industries. It also covers formats such as display ads and sponsored ads. The self-serve platform offers a range of ad optimization, geo-targeting, and retargeting tools.
According to the Adblade site, the platform offers up to 3 times better clicks on ads via premium content style ads. However, it has a strict eligibility guideline for publishers. This includes a minimum of 500,000 monthly page views on your site. Adblade pays out publishers every 30 days but has a minimum payment threshold of $100.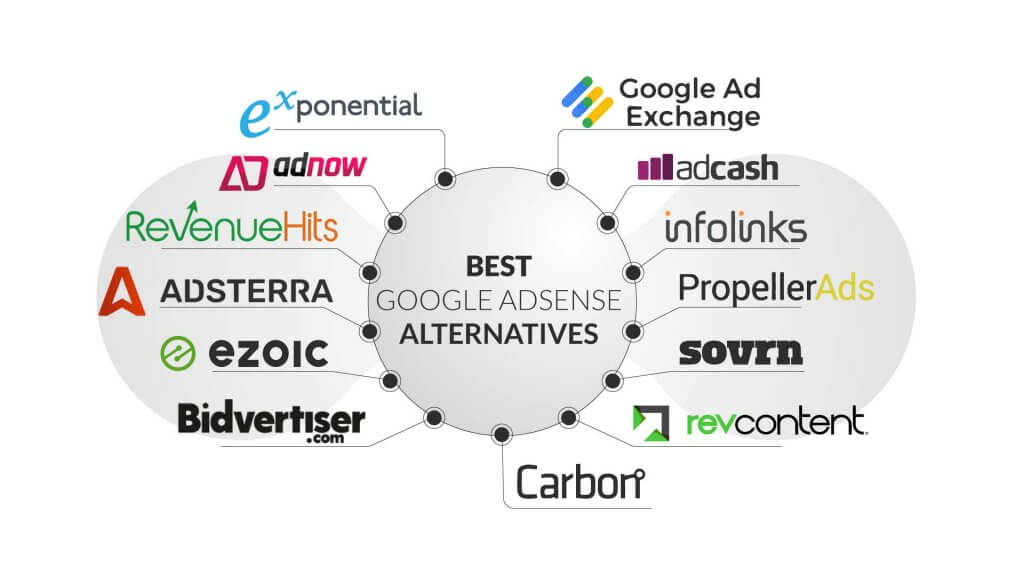 Create Your Own Bidding Solution
You can also opt for platforms that let you curate your own bidding solution.
PopCash
PopCash specializes in pop-under ads with global coverage. The platform allows you to get started right away, but you'll have to make a 4% deposit.
PopCash also offers an innovative targeting feature that helps you determine where to improve your ads. It's a great option for pairing with AdSense, giving you access to the Popunder site of ads.
Setupad
Setupad is a great ad platform for bidding campaigns. The platform features many ad formats, including native, amp, video, and expandable formats. Setupad uses header bidding technology to connect advertisers with publishers, with Google included in the former.
Due to its high engagement, the platform has competitive buyer rates on bids, but it has a minimum of 100,000 monthly page views for the site. Payouts are first done after 60 days and monthly thereafter, but you need a minimum of 100 euros.
AdRecover
AdRecover is designed to increase advertising visibility and revenue for your site. Partnering with Adblock, AdRecover offers interface-friendly ads that reach all types of internet users without being intrusive or annoying.
To truly benefit from using the platform, you have to install and use AdRecover for at least a few weeks. This allows the site to analyze traffic to your site to determine whether or not your site should be approved. AdRecover requires a minimum of 10,000 visitors monthly.
PopAds
Specializing in pop-under ads, PopAds is among the best ad platforms for sites with average to low traffic. The site offers reasonable flexibility, allowing you to customize several ad features and targeting.
To join the platform as a publisher, you need a minimum of 1,000 monthly page views. It also offers a low payment threshold of only $5 payable through PayPal or AlerPar, or you can opt for Wire Transfer if you accumulate your earnings to $500.
AdThrive
Built for larger sites and platforms, AdThrive facilitates online advertising through various ad formats. The platform offers a cost-per-impression model and helps both advertisers and publishers make the most of every ad campaign.
AdThrive offers publishers up to a 75% payout rate, but there's a catch. You'll need a minimum of 100,000 monthly US visitors to qualify to join the platform. AdThrive also has a payment threshold of $25, paid monthly through PayPal or direct deposit.
Mediavine
Mediavine is specially curated for lifestyle blogs. The platform offers responsive customer support and high-traffic ads in the lifestyle industry.
You can compare Mediavine to AdThrive for its revenue and engagement. However, its requirement for a publisher account requires half of AdThrives monthly views, which is 50,000. The platform also has a payment threshold of $25 via direct deposit or PayPal. Publishers outside the US will require at least $200 in the account for international direct deposit.
SHE Media
Just like its name suggests, SHE Media is a female-centric ad platform that caters mostly to female bloggers and content creators. The platform even produces content curated for women through its SheKnows and StyleCaster blogs, among other resources.
The platform does the same for its ad service, connecting female-focused advertisers with bloggers and content creators. Your site needs at least 20,000 monthly visitors with at least 80% US audiences and 70% women to meet eligibility. Payouts are done monthly through PayPal or direct deposit.
BuySellAds
BuySellAds is designed for well-established sites and blogs to support advertiser vetted high-quality ads. The platform connects publishers to advertise via a marketplace for easy navigation.
The self-serve ad platform offers competitive rates of up to 75% and gives you a range of ad formats to work with, including RSS feeds, native ads, and text ads. You'll need at least 100k monthly views and highly engaging content to qualify to join the platform. The site has a payment threshold of $20, payable monthly via PayPal.
Skimlinks
Skimlinks offers ad services by specializing in affiliate marketing. The unique ad platform uses the text content on your blog or site for ad links to advertiser sites. Instead of manually adding affiliate links, it automatically turns all links that lead to advertiser sites into affiliate links so when your site visitor clicks on it, you'll receive a commission.
Thanks to this design, the platform is great for publishers who don't want to display ads on their sites. The platform offers a commission of up to 75% and extra commission if the visitor converts into a customer on the advertiser's site. Skimlinks has a minimum payout of $10 payable every 90 days.
Monumetric
Formerly known as The Blogger Network, Monumetric does great at targeted and impression-based ads. The platform is designed for bloggers and uses highly targeted ads and a pay-per-impression model to make up for its low rates. This, in turn, increases visitor engagement and your revenue.
Monumetric has a minimum of 10,000 visitors per month to qualify for an account. However, the more page views you have, the higher your rates become. If your page views are lower than 80,000 monthly, you'll have to pay an upfront setup fee of $99. The site has a monthly payout with a minimum of $10 to your PayPal account or direct deposit.
Which AdSense Alternative is Best?
You now have a pretty generous lineup to choose from when looking for an alternative to AdSense. Ultimately, your choice depends on your needs, your site's achievements, and the features that work best for you.
For example, if you want to maintain the visual look of your site, you're better off with non-visual ad platforms, such as Skimlinks.
On the other hand, a more prominent publisher with high traffic will do better with Taboola Native Advertising. After all, the key is to go for a solution that could potentially bring in the most revenue.
Choosing the right site builder and hosting platform, will eventually impact how your site's ad campaigns are received and engaged, whether through neat layouts or attention-grabbing designs.