Small businesses are massively helpful to a country's economy. In the US, small businesses created 12.7 million new job opportunities from 1995 to 2020, while large companies accounted for 7.9 million jobs during the same period of time. This data comes straight from the U.S. Small Business Administration and considers all businesses with 500 or fewer employees.
With that data in mind, it's clear as day that small businesses are the backbone of the US economy and countless other countries worldwide. The COVID-19 pandemic in 2020 negatively impacted 51% of small companies but quickly declined to a stable percentage of just 25% a year later. This shows that small businesses are flexible and respond quite well to the changing world landscape.
Some might underestimate the effort and dedication needed to run a small business. In reality, small business owners have a lot going on in their daily routines, with cramped schedules and many things to manage. Working smart is vital for success, so business owners need access to the best tools they can get, especially those operating online.
This HostPapa blog lists and analyzes the best small business tools for online companies you need to put in your everyday lives. These tools will help business owners manage their workday more efficiently and effectively and help them quickly solve everyday problems.
The list includes free and paid tools ranging from collaboration tools, customer relationship management, file sharing, analytics, and other great tools that create successful entrepreneurs!
What Tools Does A Small Business Owner Need?
Every small business is different, so the tools they need to operate will vary. However, there are some essential tools that all small businesses should have in their arsenal before embarking on their daily routines.
No matter how complicated or straightforward, planning your workflow is paramount for every project manager who oversees all the pending and current company tasks. Everything starts with the right project management program. This will help you keep track of all your tasks and deadlines and ensure everything is on track.
A good project management tool will keep task lists and schedules and allow anyone from your business to collaborate and report on the current tasks.
Another must-have for your toolkit is a good customer relationship management (CRM) software. This will help you keep track of all your customers, their contact information, and any interactions you have with them.
There are multiple types of CRM software, but the most essential for every small business is one that looks at numerous aspects of your company, like sales, marketing, analytics, and customer service.
You'll also need good email marketing and an email finder tool. Email is the most old-school method of converting leads to sales, so taking advantage of it makes sense, especially for an online business. This business tool will help you stay in touch with your customers and keep them updated on your latest products or services.
Apart from email, most marketing tools also have social media marketing support meaning they connect with your social media accounts and manage your posts, scheduled posts and insights – all from a friendly user interface.
A small business should also have a good operations management tool. The team or person managing this area keeps track of all the current tasks and company targets, whether short or long-term.
It's also the place where all employees can connect with each other, but an operations management tool can be a lot of things. It can be automation software for your company building or an automation tool for everyday tasks – practically a means to ensure everything is running smoothly.
Team collaboration and communication tools are also essential for small businesses. These business tools will help you communicate with your team members quickly and efficiently and ensure everyone is on the same page.
Projects that need brainstorming and new ideas can also benefit from great collaboration tools, which can be very beneficial for online companies with remote teams.
Finally, small businesses should always have complete payment and accounting software. This will help you keep track of your expenses and income and ensure that your books are always up to date.
To add to the above, if you own an online store, you should invest in powerful inventory management software to manage your products. Platforms like WooCommerce have a great list of plugins that will help you manage inventory, shipping, and tracking more efficiently.
The Top 10 Tools for Small Businesses
In our modern times, most small businesses use tools and software that help them get over every challenge they might face. Finding the exact software for your needs will take time, but some de-facto apps are considered a must-have for every business.
To save you valuable time, we've made this list with our top eleven best small business tools you should start using now. So buckle up, and let's count to 10!
Sender is an email marketing platform tailor-made for small-to-medium businesses. It helps you easily grow your brand while spending much less. In fact, it's probably the most affordable tool in the market.
You'll thrive with its email and SMS automation feature. The platform helps you create personalized, automated email and SMS campaigns that trigger based on user behaviour. This way, your messages will always reach the right people at the right time.
Growing a small business requires building your subscriber list, and Sender makes this easy with high-converting popups like spin-to-win or exit-intent. You can capture leads effortlessly and expand your customer base.
For small businesses aiming to create targeted campaigns, Sender's smart segmentation and personalization will help you do that. You can craft content that resonates with specific groups and make each customer feel like you're speaking directly to them.
Once you build an audience, you should consistently engage them with personalized emails and newsletters. With Sender, you can easily create these emails using its drag-and-drop email builder and premade templates. Whether you're a pro or a beginner, you can craft your emails within minutes.
You can also track your email and SMS campaigns using detailed reports and a heatmap. The software provides insights into open rates, click-through rates, and more to help refine your marketing strategies for optimal results.
Sender is your best bet if you want a powerful email marketing tool that won't break the bank.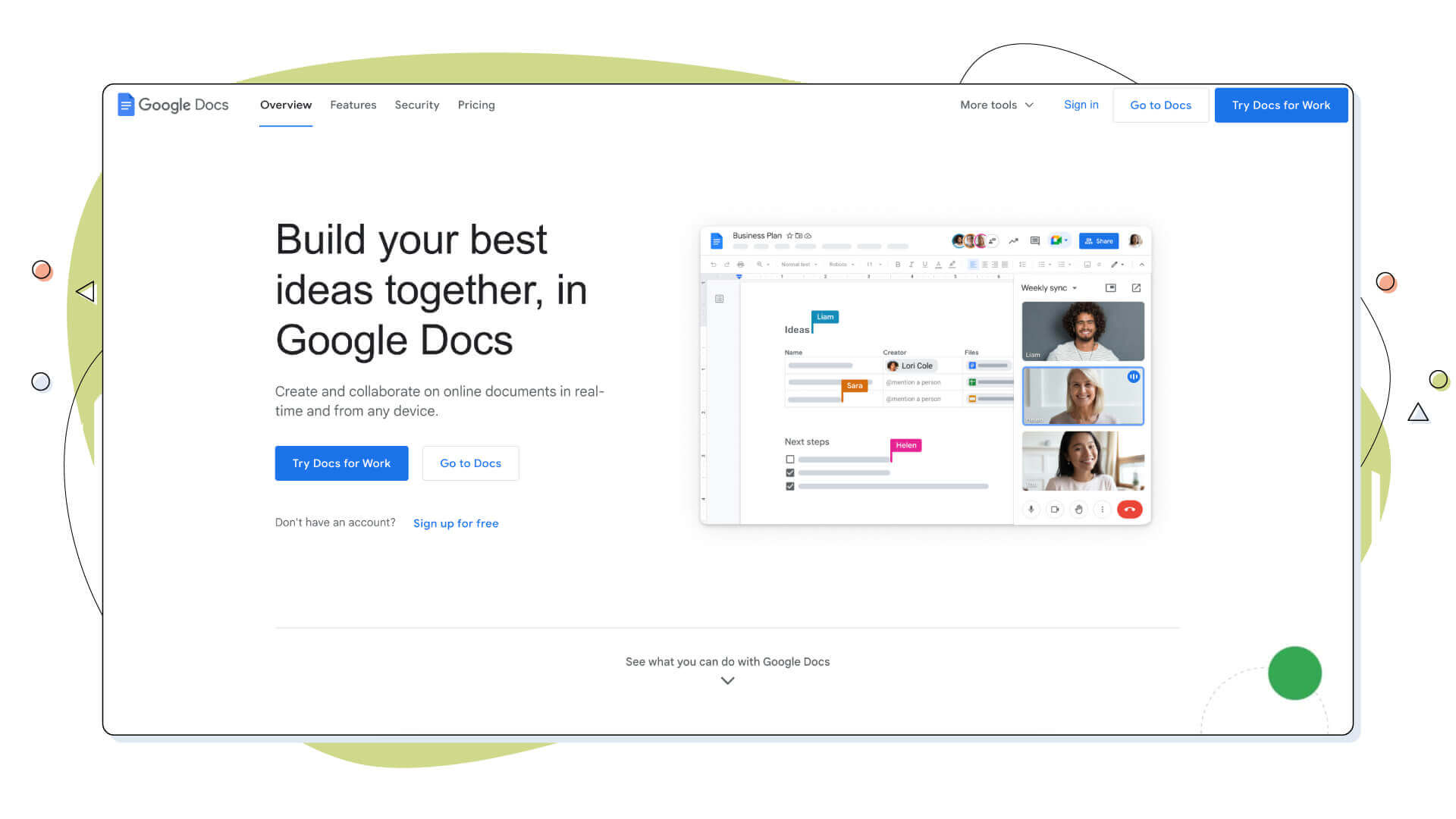 Who doesn't know this one?
Google Docs is an online word processor and a part of the Google Suite of online tools for businesses and individuals. The online software dropped its Beta status in 2009 to help create, share, and collaborate on documents. There's a variety of applications within the Google Docs suite, including:
Google Sheets: A spreadsheet software with features comparable to Microsoft Excel.
Google Drive: A cloud storage and file-sharing platform that lets you store, edit, and sync your files online.
Google Slides: A presentation app that helps you create and edit presentations online.
Google Forms: A form builder application that lets you create and publish online forms.
Google Docs is a very versatile productivity platform with a wide range of features that were slowly added in the last decade. One of the most notable ones is the "suggested edits," which was added in 2014, enabling people to suggest changes to the text that the author could accept or reject.
The platform also offers a good level of privacy, as all documents are stored in the cloud, and each account can be secured with two-factor authentication. For companies concerned about their online privacy, and given Google's history, there are some outstanding alternatives with similar features, such as Zoho Writer, Excel Online, and SlideShare.
For extra convenience, online businesses can freely interact and sync with other online apps like Google Calendar, Google Drive, and Google Analytics, all with the same account.
The platform is accessible for free to everyone with a Google account. Alternatively, companies can use a paid Workspace account to connect with their colleagues, adding to their privacy online.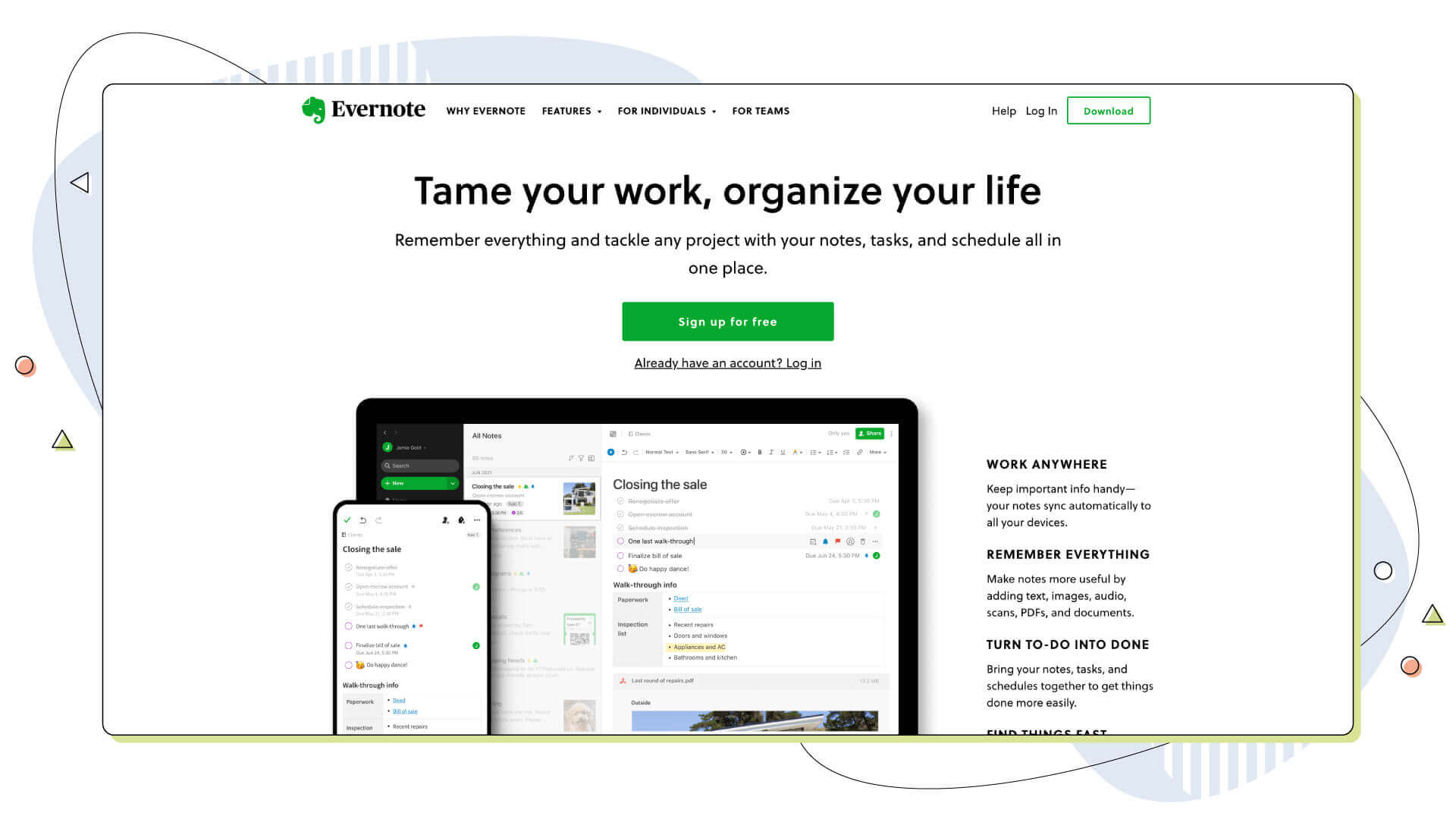 One of the best task management applications out there is definitely Evernote. It's a reliable software that started as a simple notepad but developed into a full-fledged program with plenty of features and a free plan.
While the free plan is adequate for personal use, the Personal and Professional plans offer more monthly uploads and added features that can help small businesses. These range from keeping track of their tasks to organizing their business schedule and saving important documents and articles from the web.
The "work anywhere" concept syncs all your notes and data with all your devices on your account, meaning you can continue where you left off from wherever you are. Additional features like document scanning (for going paperless) are some of the most significant reasons to use Evernote for your business.
The central dashboard for the desktop helps you stay on top of things, while the intuitive interface certainly adds to Evernote's versatility.
Another free alternative to Evernote is Google Keep, although this comes with far fewer features, making it just a simple online note-taking application. Before moving on, we must mention OneNote, Microsoft's attempt at creating "your digital notebook." The application is free to use online and is also part of the Microsoft Office Suite of programs.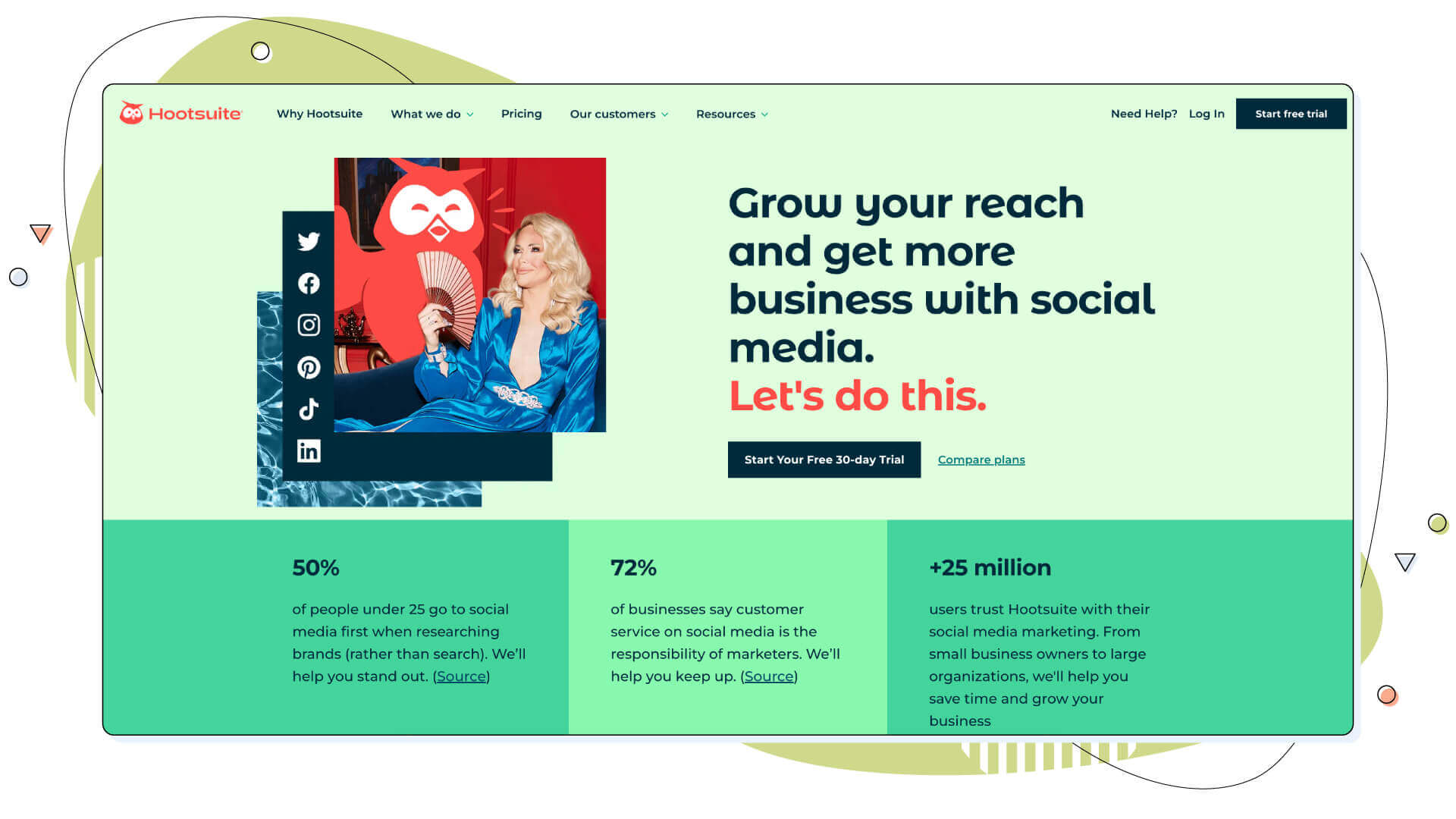 Hootsuite is one of the most popular social media management tools, and for a good reason. As social media marketing plays a significant role in business success and growth, Hootsuite aims to improve your social media content and boost your company online.
The free account will give you access to the basic features of the platform, such as scheduling posts, managing multiple accounts, and measuring your social media analytics.
Once you have created your account, you can then begin to add social media profiles. Hootsuite currently supports 20+ networks, including Twitter, Facebook, LinkedIn, TikTok, Instagram, YouTube, and Pinterest, helping you crush your goals on each one.
After you have added your social media profiles, you can start scheduling your posts. Hootsuite post scheduler offers a wide variety of options, including:
One-time posts
Posts that repeat every day, week, or month
Posts that are only scheduled for certain times of the day
Posts that are dependent on current events
You can also create streams inside Hootsuite to help you keep track of specific conversations or hashtags, which is fantastic for social listening.
For example, if you're a small business owner who wants to keep track of all the tweets that mention your company name, you can create a stream for that specific keyword. This will allow you to quickly and easily see all the tweets that mention your company in one place.
Another great feature of Hootsuite is its ability to measure your social media analytics. This includes metrics such as:
Twitter followers
Facebook likes
LinkedIn shares
YouTube views
Using Hootsuite's analytics, small businesses can better understand which social media platforms work best for them and which ones need more work. More analytics tools like Hootsuite that you should check out are: Sprout Social, Agorapulse, and Semrush.
Asana is a project management software for small businesses to manage online work. The founders were working at Facebook when they realized they were spending most of their time in meetings rather than doing actual work.
Their vision created Asana, a platform to coordinate and manage tasks and projects online through an easy-to-use interface. Asana offers a free and paid plan, with the paid plan offering more features for small businesses.
The free plan offers many helpful features like task creation, assigning and due dates, notifications, adding attachments to tasks, and much more. Some features offered only in the paid plans include the timeline view, milestones, and workflow builder.
Some great Asana alternatives include Jira, Trello, and Wrike.
Email marketing and automation are two fundamental pillars that Mailchimp is built upon. In addition to the essential email marketing and automation tools, small businesses can also utilize Mailchimp for product recommendations, A/B testing and behavioural targeting.
For small businesses that want to create targeted email campaigns with a small budget, Mailchimp is a good platform. The drag-and-drop interface makes it simple for small businesses to create email campaigns without investing too much time.
One of the best features of Mailchimp is that small businesses can automate their email campaigns based on user actions. For example, small businesses can set up a trigger to send a specific product to customers.
It also supports retargeting ads with a small ad platform that allows small businesses to display ads on search engines and social media.
In terms of email marketing, Mailchimp is one of the most popular and widely used tools available. It has a free plan that gives small businesses access to many valuable features, including:
Autoresponders
Broadcast emails via a template or customized design
Mobile-friendly templates for newsletters
Campaign reports
Performance analytics
Needless to say that a good email marketing tool like Mailchimp is indispensable to cope with demanding marketing tasks and inform a large number of users at once.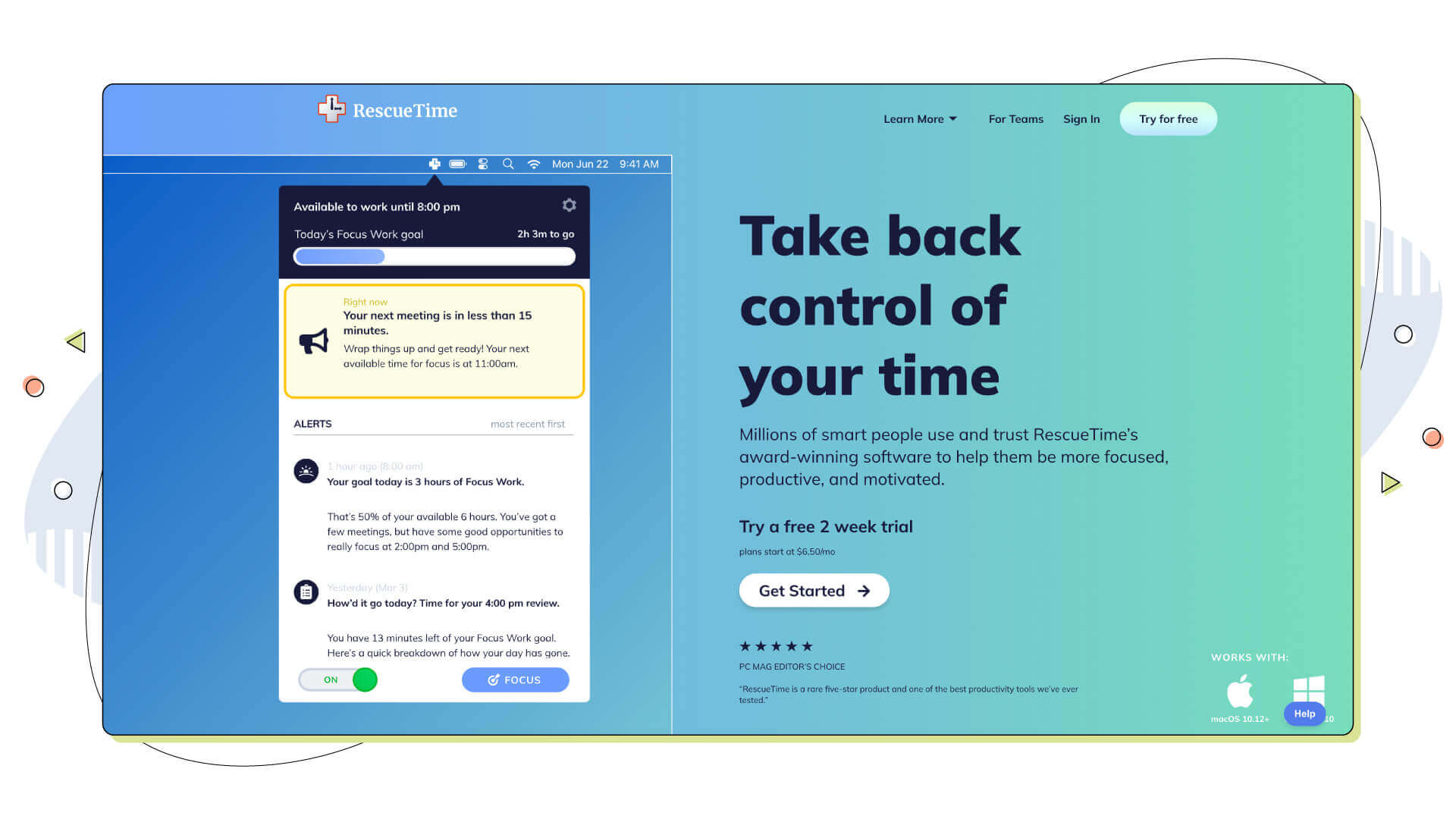 RescueTime is a time management software that helps small businesses and individuals understand how they spend their time online. The service offers a free and paid plan, with the latter offering more features for businesses and professionals.
The free plan includes:
Tracking time spent on websites and applications
Setting alerts for when you exceed your set time limits
Generating weekly reports of time spent on websites and applications
The ability to block distracting websites
Some features offered only in the paid plans include:
The ability to track time spent offline
The ability to set goals and alerts for productivity levels
The ability to generate monthly reports
The ability to add notes to time-tracking data
This time management software is an excellent tool for professionals that need to focus and users who generally want fewer distractions while boosting their productivity.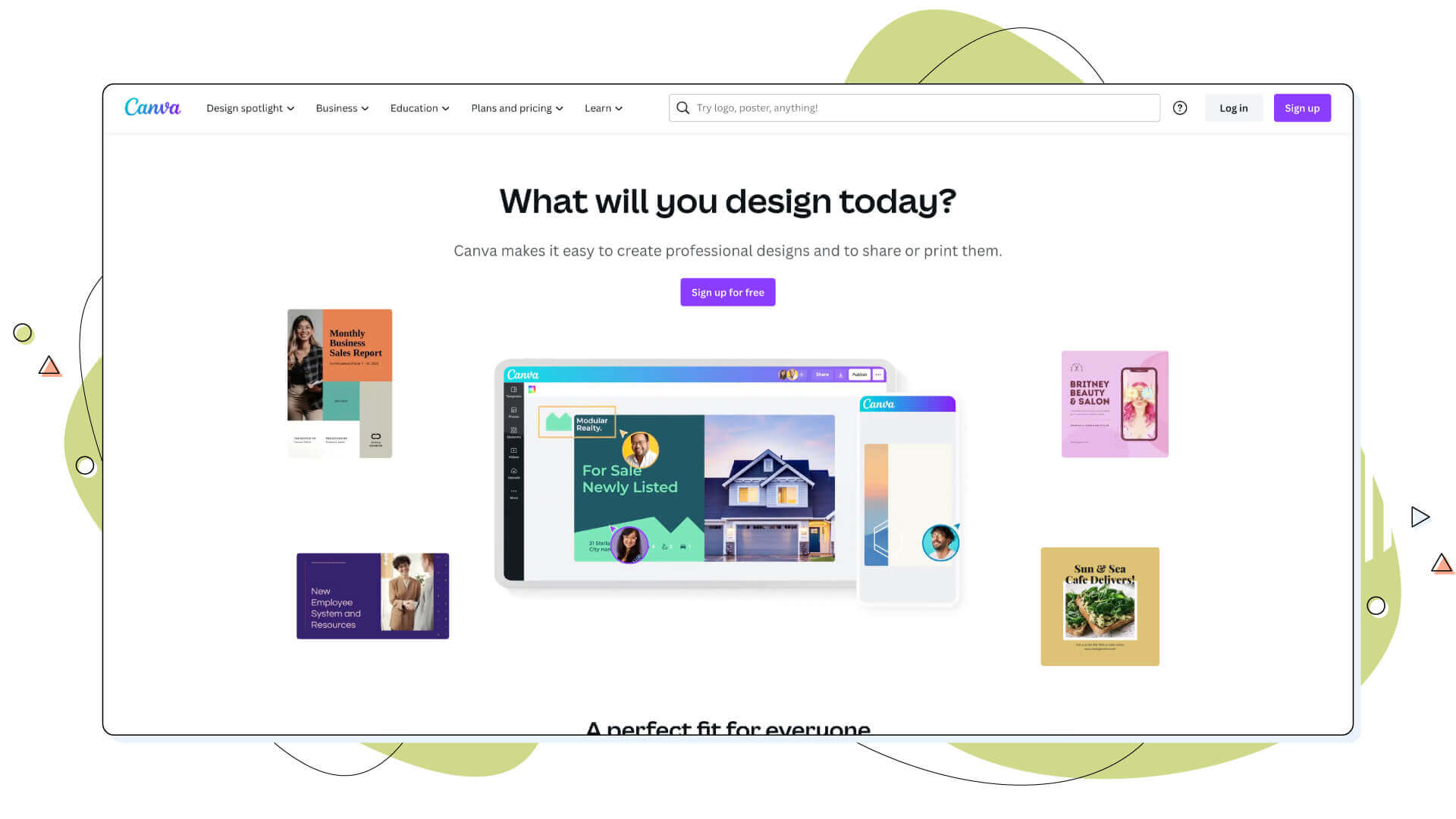 To have a great marketing campaign, you need an equally great design for your creatives. So, this is where Canva comes in. It's an online design tool with a vast collection of templates for social media posts, posters, presentations, videos, logos and many more.
While Canva's template database is mainly free to use, the Canva Pro and Canva Teams plans cost $119.99 and $149.90, respectively. With these plans, you get "millions" of stock photos and other premium content like templates and designs, which benefits companies that want their creatives available from anywhere.
It's also worth noting that Canva has specialized plans for teachers and schools to help students express their creative selves better. These plans offer more cloud storage and access to millions of free stock images and animations, ready to be added to any project.
Whether your small business needs a new logo, social media graphics, or simply better visuals for marketing campaigns, Canva is one of the best tools available to help you create professional-looking designs in less time.
For a business with an in-house designer, Canva might be a limiting factor. Investing in alternatives like Adobe Creative Cloud, which has plenty of desktop applications, is preferable, adding more flexibility and options.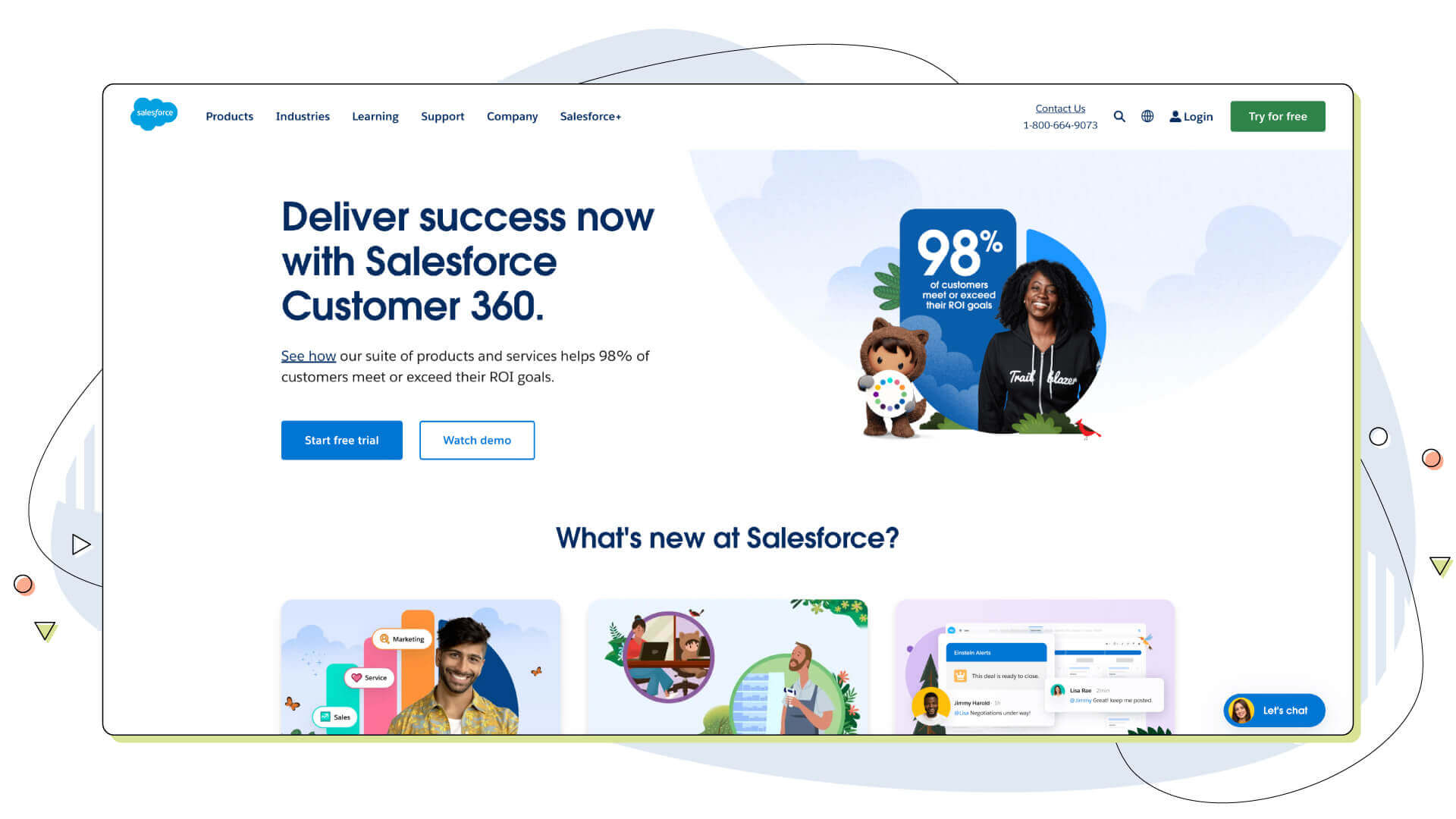 Customer relations are crucial for all businesses, which means that CRM software capable of managing and interacting with existing and potential customers has to be the greatest addition to your arsenal of business tools.
Investing in customer service is crucial, and it's something that also drives us at HostPapa to provide better and more complete services to each and every one of you.
Salesforce CRM is an excellent business tool because it offers many of the most wanted features for a low price. Salesforce CRM offers a free trial where you can try most of its features before buying, like:
Sales automation
Email marketing
Task management
Lead management
Price quotes and invoicing
Opportunity management
One of the best things about Salesforce CRM is that it's cloud-based, so small businesses can access it from anywhere. Many third-party integrations, such as Google Drive, Dropbox, and Zapier, are also available to make things easier. Besides, you can connect Salesforce to Looker Studio or other analytics/visualization tools to get an in-depth performance analysis.
This means that small businesses can use other tools they're already familiar with to work with their Salesforce CRM data.
Salesforce CRM is one of the most popular software, but the market has some great alternatives, too. Zoho CRM is very similar, offering many great features for a low price. The Standard plan costs $14 and includes the most essential functions like data collection, task scheduling, scoring rules and email insights.
The Professional, Enterprise and Ultimate plans include more features, such as Macros to automate follow-ups, the ability to capture lead info from emails and data entry wizards and many more to make your company's online life a lot easier.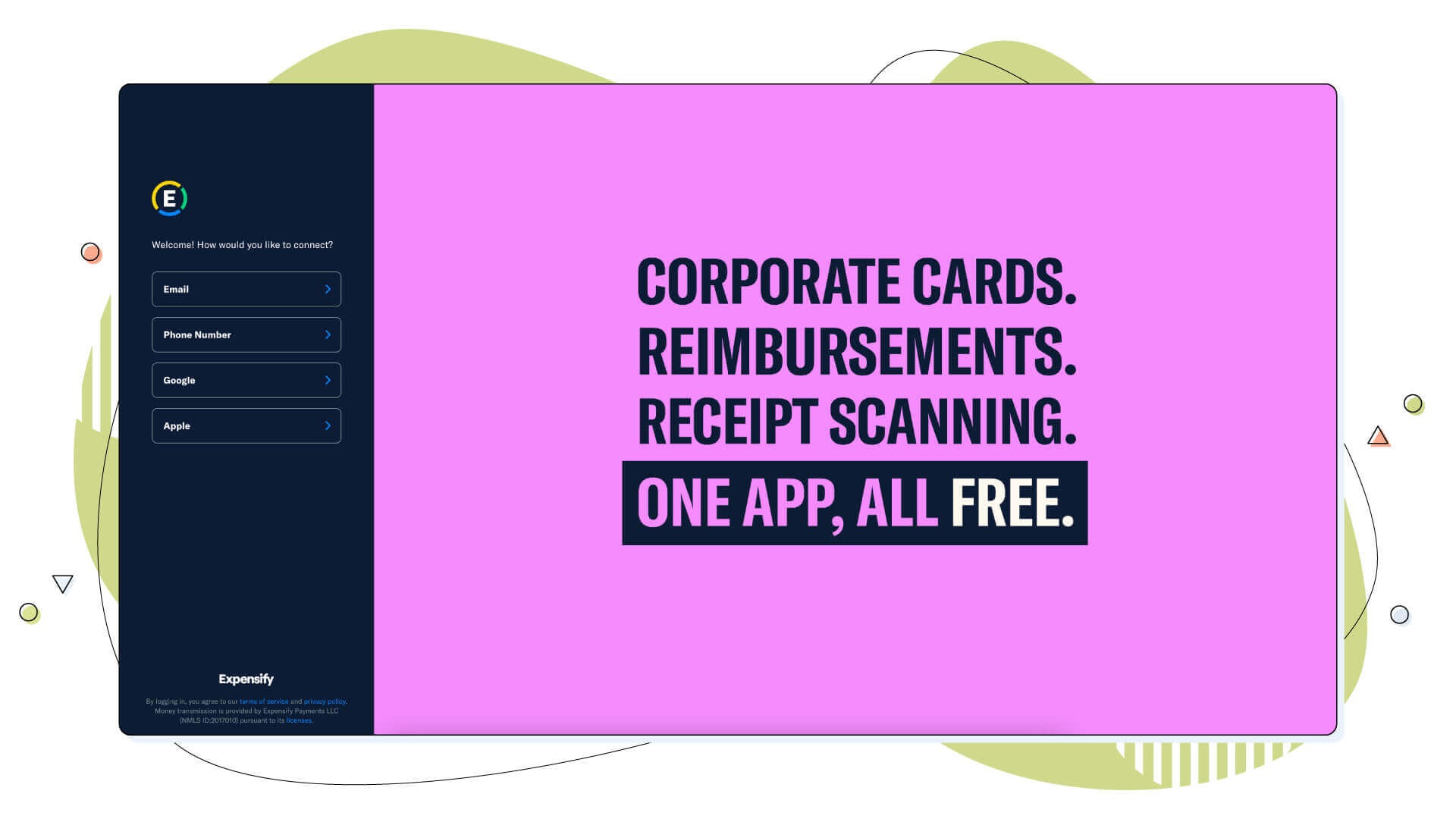 When you run a small business, every penny counts. This is why it's crucial to have a tool that can help you keep track of your expenses to save money in the long run.
Enter Expensify. This cloud-based application lets you track expenses, pay bills, generate invoices, collect payments, and plan trips quickly and easily through a straightforward user interface.
Expensify is a free tool; only some services need a monthly or yearly fee. These paid services range from custom reporting and payroll to payment tracking and trip planning. One of the best things about Expensify is its ease of use. The application has a simple interface that makes tracking down expenses a breeze.
Another great thing about Expensify is that it integrates with many other applications, such as Google Drive, Dropbox, and Evernote. This means you can easily import data from other applications into Expensify to make tracking expenses more manageable.
One more excellent accounting software alternative is QuickBooks. It offers a variety of features similar to Expensify, such as invoicing, tracking expenses, paying bills, and other financial-related tasks.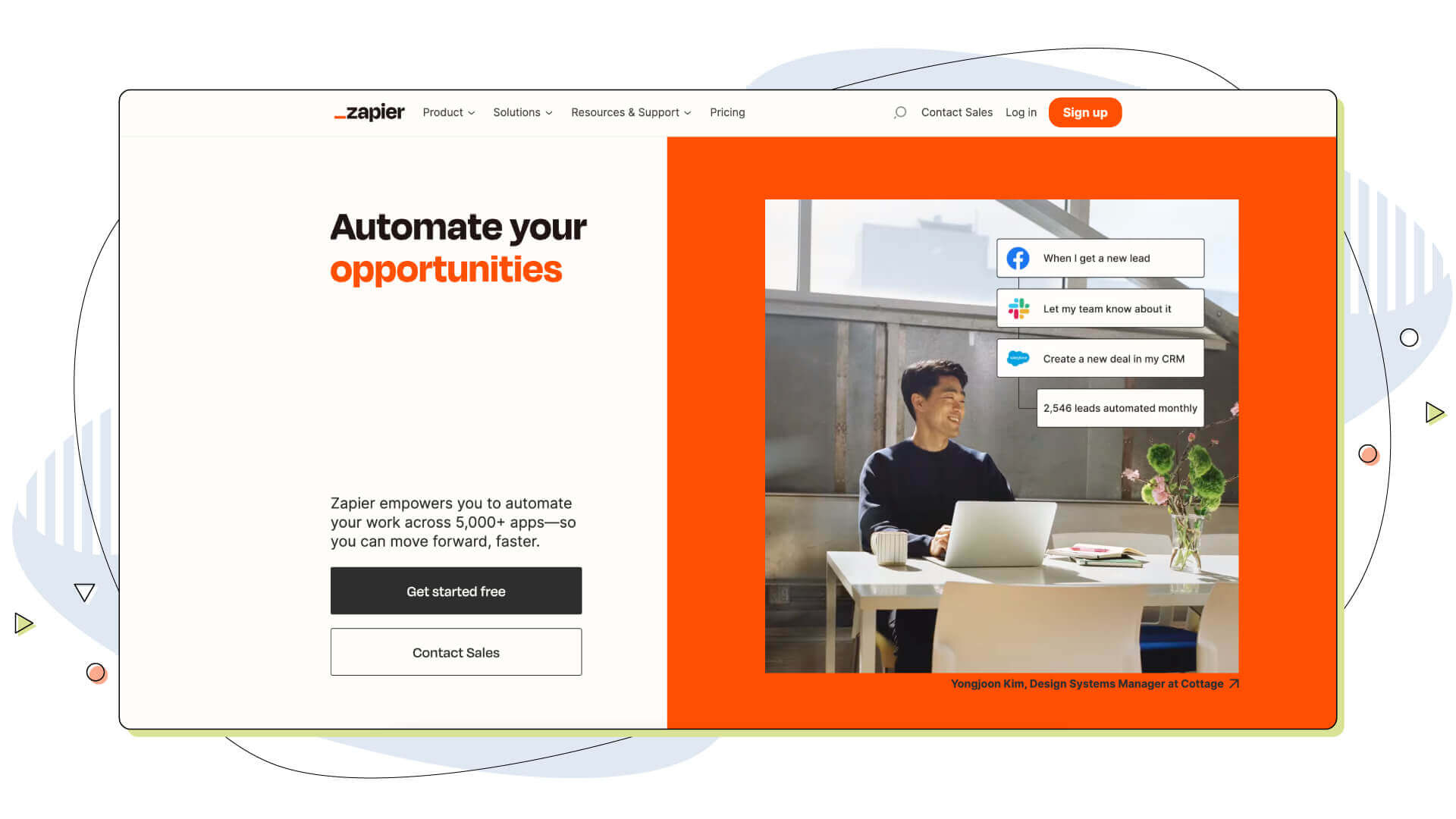 There's a reason major companies are investing heavily in automation. Automation software is a type of software that helps small businesses coordinate their goals better. Small businesses can save time and money by automating specific tasks while achieving their goals more efficiently.
Zapier is a web-based automation software that helps small businesses automate their workflows.
With over 5000 app automation available, Zapier can connect to almost anything, making it a very versatile business tool. It also has low-cost pricing plans that make it more affordable for small businesses, and it has a free version as well.
One of the best things about Zapier is its ability to reduce the need for manual data entry, which can be very time-consuming and costly if done incorrectly. Zapier also helps small businesses save time and money by automating tasks that would otherwise have to be done manually.
Some great alternatives to Zapier are IFTTT, short for If This Then That, and Microsoft Flow.
Bonus: Sendbird
Sendbird is a platform that provides communication APIs for in-app messaging, voice, and video calls. One of its key features is Sendbird's video chat API, which allows businesses to easily integrate high-quality video chat functionality into their applications or websites.
This can be especially useful for online companies who rely on remote communication for customer support, team meetings, or virtual events. Sendbird's video chat API supports customizable UI components, screen sharing, and secure encrypted connections, making it an ideal solution for small businesses looking to enhance their online communication capabilities. In addition to the video chat API, Sendbird also offers APIs for in-app messaging and voice calls, allowing businesses to create a seamless communication experience for their users. Some alternatives to Sendbird include Twilio, Agora, and PubNub.
Final Words
Small businesses are the backbone of the economy, and it's vital to have the right tools to succeed. In this blog, we listed some free and paid tools that all target helping with everyday challenges a small business might have.
Our favourite small business tool is Google Docs because it's cloud-based and integrates with many other collaboration and file-sharing applications. Plus, it's among the best free tools to supercharge your company.
We also like Canva for its easy-to-use interface and the excellent free plan that lets us pick from thousands of templates without spending a penny.
Finally, we recommend Zapier as a superb marketing automation software that can save small businesses time, money and energy. Of all the helpful tools mentioned here, searching for web hosting is the one you should invest the most time to get right.
At HostPapa, our standard web hosting is perfect for a small business and paired with our excellent customer support, your website is in good hands. With HostPapa by your side, you'll have everything you need to succeed online!
Enjoyed this post? Head over to HostPapa Blog to read more exciting topics like this and get all the latest web hosting tips for your website!