Everyone wants to become a better version of themselves. Whether in their personal lives or professional lives, people need help to successfully reach their goals.
That's why life coaching has become an in-demand service around the world.
Anyone passionate about personal development and helping others should consider starting a life coaching business.
What is Life Coaching?
For many years, coaching has been focused on sporting disciplines, with coaches tasked with helping athletes optimize their skills and abilities. By bringing out the best in the athlete, the coach helps them improve their chances of succeeding.
However, coaching is not just for athletes or sporting disciplines. It can be an essential ingredient for success in every area of life.
In its simplest form, life coaching helps a person make progress in specific areas of their life – personal or professional. Depending on the type of life coaching and the desired outcomes, this could result in:
Clarity of vision and life purpose.
Increased productivity.
More fulfillment in life.
A smooth transition from one stage of life to another.
A life coach, then, is a professional who helps people tap into their potential and become the best they can be.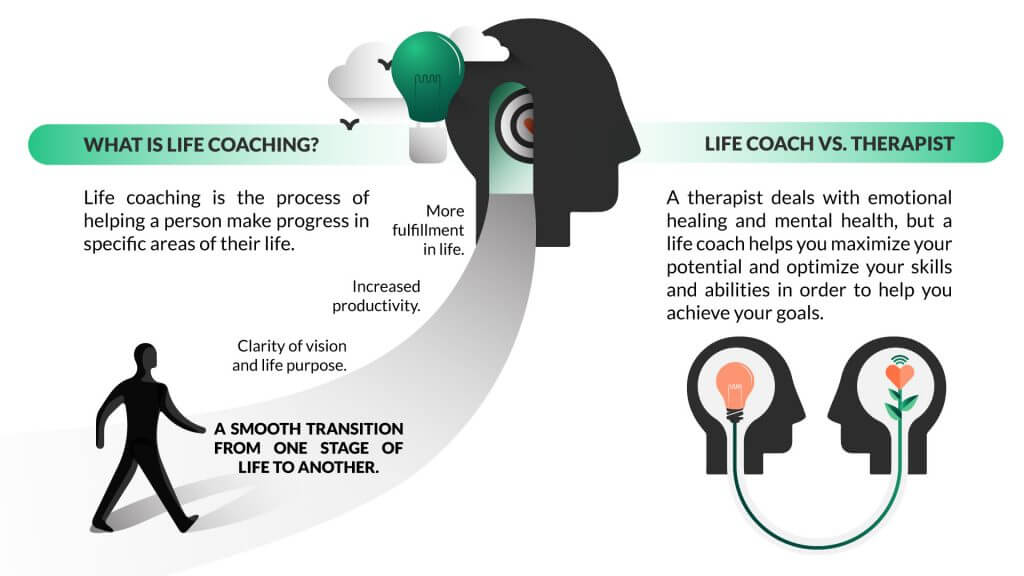 Life Coach vs. Therapist – What's the Difference?
People often tend to confuse the roles played by life coaches and therapists. However, these are two distinct professions that deal with different aspects of a person's life.
The main difference between a life coach and a therapist is that a therapist deals with emotional healing and mental health. On the other hand, life coaching helps you maximize your potential and optimize your skills and abilities to help you achieve your goals.
People visit therapists when they need help to:
Overcome past traumatic experiences.
Deal with mental health issues, like anxiety, depression, etc.
Depending on what they want to achieve or overcome, people need a life coach to help them:
Get unstuck during confusing or stagnant phases of life.
Successfully navigate a career change.
Improve their interpersonal relationships.
Break bad habits and replace them with positive ones.
Improve communication skills.
In summary, therapists help you deal with your past and present, while life coaches help you create a better future for yourself.
If life coaching sounds like something you'd like to do, let's dive in and take a brief look at the industry's landscape.
A Glimpse at the Life Coaching Industry
Life coaching is a broad industry that deals with many different aspects of life. Because of this, the industry is continuously evolving and growing as the demand for new skills grows.
Let's look at a few stats and facts to get a clear picture of what you can expect as you start your life coaching business.
The following information comes from a joint survey conducted by the International Coaching Federation (ICF) and PricewaterhouseCoopers:
Current market size. With individuals and corporations spending $2.356 billion every year on life coaching, it's a sure testament that the market is large enough if you want a piece of the pie.
Growth rate. With a 6% average yearly growth rate, it's safe to say that life coaching is still a great industry for those looking for a profitable business idea.
Demand. 75% of practicing coaches expect an increase in the number of clients every year.
As you can see, starting a life coaching business is a worthwhile venture. And the good thing is, you can even do it from the comfort of your home by working remotely.
Now, let's look at how you can start your life coaching business.
Starting a Life Coaching Business Step by Step
Starting a life coaching business is pretty straightforward. That's especially true as you don't need:
Extensive training;
A lot of capital and overhead.
Here are the steps you can take to get your life coaching business up and running:
1. Pick Your Niche
One of the most critical steps in starting a life coaching business is picking a niche. A niche means a specific area of life coaching that you want to focus on.
Life coaching is a broad industry, and while it may be tempting to offer your services in several different areas, this will only hurt your business.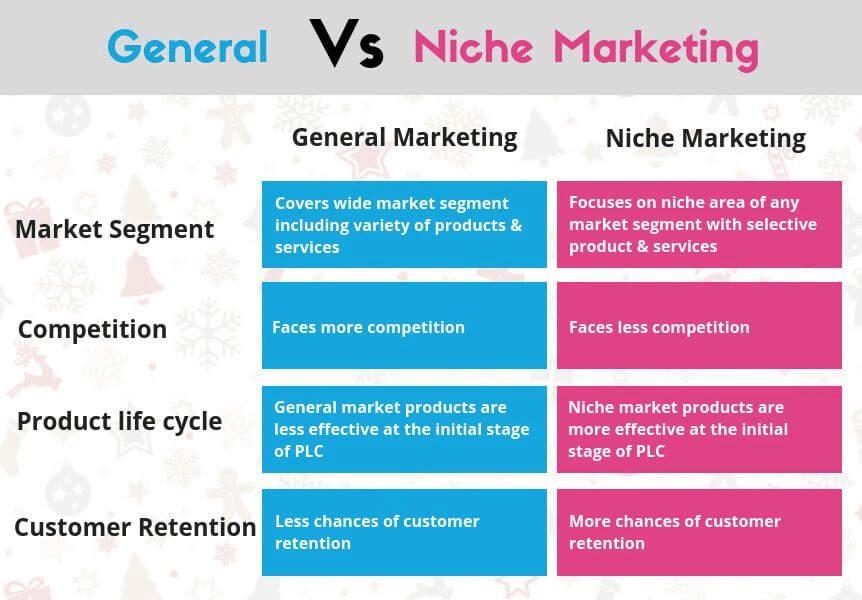 Instead, pick a niche that you will specialize in. A few examples of niches in the life coaching industry include:
Mindset Coaching.
Peak Performance Coaching.
Leadership Coaching.
Health Coaching.
Weight Loss Coaching.
Fitness Coaching.
Emotional Intelligence Coaching.
Relationship Coaching.
Family/Parenting Coaching.
Career Coaching.
Financial Coaching.
Spiritual Coaching.
Picking a niche helps you be more efficient as a life coach and enables you to build a strong brand. It also enables you to market yourself better.
If you're wondering how to pick a niche, here are a few tips to help you choose one:
Evaluate your abilities. Take an audit of your skills, abilities, and talents. These will help you determine your niche and how you can best help your clients.
Consider your experiences. Your personal experiences can also help you pick a niche. For example, suppose you've experienced being broke and managed to come out of debt and become financially sound. In that case, you could leverage that experience and position yourself as a personal finance coach.
Leverage your education and work experience. Starting a life coaching business on the foundation of your educational background and work experience makes it easier as the learning curve isn't as steep as it could be.
Follow your passion. The beauty of life coaching is that you can get paid to help people do the things you love. Picking a life coaching niche that you're passionate about is a great way to ensure you enjoy your business.
Granted, these are not the only criteria to help you pick a niche, but they can certainly be a great place to start.
2. Determine How You'll Package Your Life Coaching Services
Another critical step in starting your life coaching business is determining how you'll package your services. To do this:
Define the outcome of your services. People won't hire you for what you do. They pay for the results you help them get. That's why you must clearly define the results you'll help your clients achieve.
Determine the value of the results you produce. How much weight do your clients place on the results you help them achieve?
Using these two criteria, you can develop the best way to package your life coaching services. It will help you figure out each session's duration, the number of sessions needed, and, most importantly, how to price your services.
The way you package your services is also a great way to set yourself apart from the competition. Coming up with a unique model can help differentiate you and your services.
Give it some thought and design service packages your clients can't resist.
3. Legal/Business Aspects
If you've come this far, you've probably already decided that starting a life coaching business is the right business path for you.
That means you have to make it legal. Because we're not lawyers, you'll need to seek advice from a legal expert on the exact steps required. However, here's a general look at what you'll need to do:
Name Your Business
Naming your business is the first step towards making it a legal entity recognized by the law. Take time to come up with a name that reflects the coaching you do or your coaching program's results.
Alternatively, you can register it as your name.
Before you settle on a name, make sure the domain name for your preferred business name is available.
Decide on the Legal Structure of Your Business
There are several different types of business entities you can register your business under.
However, the two most common ones for a life coaching business are:
Sole proprietorship. This is the default business entity for most single-owner businesses. In this type of business entity, the owner is not separate from the company. This means that as a sole proprietor, you have no liability protection. If your business gets sued, for example, your personal property may be at risk.
Limited liability company (LLC). When you create an LLC, you're essentially separating your business from yourself. You'll have to file all the necessary papers or outsource it to a professional if you don't have the time.
No matter which business entity you decide to go with, you must make sure you run your business within the confines of the laws governing your locality.
Along with this, you will also want to have some sort of contract tool to create and send legally binding contracts to the clients you work with.
As you start to understand the life coaching business better or as your business grows, you can switch to the structure that suits you best.
4. Build Your Website
Whether you want to learn how to start a life coaching business online or establish an in-person one, you can't escape the need for a website.
We're living in a digital world where an online presence is critical for any business, online or not.
Don't worry. Getting your life coaching business online is not difficult. And it certainly isn't expensive. The three main things to put in place are:
Domain Name
Your domain name is your URL or online address. When it comes to picking a domain name, use your business name. If your business name is not available, choose one that's as close to your business name as possible or something that can easily be associated with your life coaching niche.
Web Hosting
Web hosting simply means your digital real estate. It can be beneficial to use web hosting tailored for small businesses.
When you get web hosting, a provider allocates you space on their servers to host your digital files. This enables people to be able to access your website on the internet.
Design and Develop Your Website
Once your domain name and web hosting are sorted, the next step is to design your website. The key pages to have on your website are:
Homepage. This is the main page on your website, as it is usually the first page people land on. It's the gateway to the rest of your website and, thus, should be well-designed.
About Us page. Although it's called an "About Us" page, this page should be more about what your clients will gain from working with you.
Services page. Because it highlights the life coaching services you offer, this page acts as your sales page.
Contact page. This page is crucial as it allows customers to get in touch with you.
While technology has made it easy to build a website or blog without coding, outsourcing this aspect is a good idea if you want a professional-looking website.
In addition to these aspects, you will also want to consider traffic sources for your website.
For example, will you grow an Instagram following and drive traffic to your website that way? Or, will you target users in relevant Facebook groups and move them to a lead magnet on your profile that sends them to your website or email list?
Both of these can be great strategies for driving traffic, but it all depends on your niche and where your target audience is most engaged.
5. Market Your Life Coaching Business to Get Clients
Just because you've hung up the cyber shingle for your online life coaching business, it doesn't mean clients will automatically come rushing in.
Particularly as a newcomer to the industry, you must aggressively market yourself.
Here are some ways you can do that:
Blogging. Start a blog where you give away valuable information that your target audience is interested in.
Guest posting. Create blog posts that you'll publish on other sites. This will help you tap into their traffic and increase your domain authority.
Social media marketing. Market yourself on social media using both organic and sponsored posts.
Podcasting. Host a podcast and either talk to your audience yourself or bring in guests in the space to grow your life coaching audience size.
Referral marketing. Encourage people to refer clients to you by offering them an incentive.
Email marketing. Create a valuable resource that your ideal client will be interested in downloading in exchange for their email address. This will help you build a relationship with your audience, making it easier for you to market your services to them.
Webinars. Make sure to entice your potential customers with live webinars to move them into a coaching sales funnel. Use a tool that integrates with email marketing to sell premium online courses.
Online courses. Use a platform to sell courses to your audience for a premium price.
If you want to start a successful life coaching business online, you must be prepared to don the marketer's hat if you're to succeed. Thankfully, most online marketing strategies are easy to understand and implement if you're willing to put in the hard work. And the best part is that you don't have to spend tons of money on the execution.
It's Time to Start Your Online Life Coaching Business
If you love helping others achieve their goals and become better versions of themselves, then life coaching is an excellent path for you to take.
And now that you know how to start a life coaching business online, there's no need to wait.
Go ahead and live your dream life by helping others achieve their dreams.
This is a guest post by Adam Enfroy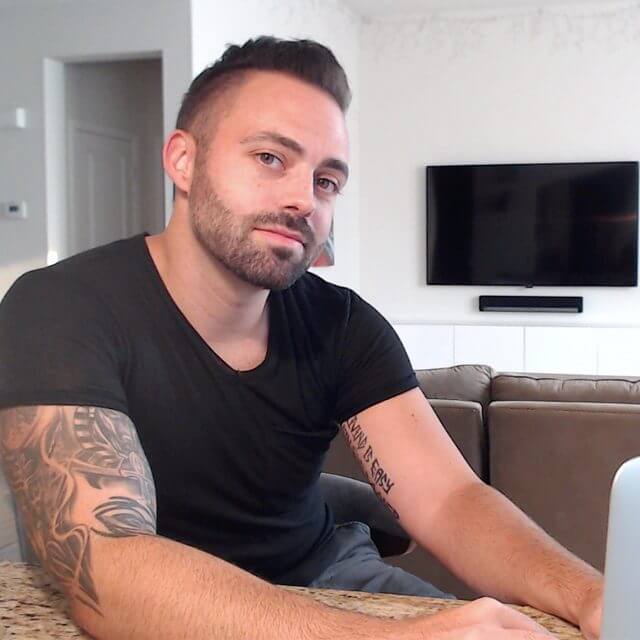 With over 500,000 monthly readers, Adam Enfroy's mission is to teach the next generation of online entrepreneurs how to scale their influence at startup speed.