From red carpet events to high school proms, press-on nails are everywhere. The designs can be dazzling, and the nails people notice most don't come off a rack at Walmart – they're custom press-on nails. Some salons offer custom press-ons, they're available from retailers like Kiss and Ardell, and a growing number of people are starting small, home-based press-on nail businesses.
With an artistic flair, an eye for what's hot in nail fashion, and a desire to run your own business, you can sell custom press-on nails. This article will cover everything you need to know, from the financial side of the business to operational details, marketing, and more. Let's get started!
How Much Is the Press-on Nail Industry Worth?
The press-on nail industry has a bright future. In a forecast that covers 2020 to 2030, analysts predict that the artificial nail industry (including press-ons and wraps) will enjoy a healthy annual growth rate of 4.85%. The industry is expected to reach $2.23 billion by 2030.
Even if major beauty product retailers occupy a market that size, there's plenty of room for small business owners to carve out a niche and earn impressive revenue selling nails online.
How Much Revenue Does a Press-on Nail Business Generate?
The revenue you can expect from a press-on nail business depends on the demand for the nails you create and how well you minimize costs. If you're marketing to the right audience and offer what they want, the only factor limiting your revenue will be the number of nail sets you can produce.
A set of finished press-on nails typically costs consumers between $10 to $30. They look nice and may even feature designs, but those nails aren't unique. By creating a truly distinctive look, you can offer a product that no one else has and set your prices accordingly, charging $50 to $100 per set.
Imagine a scenario where you're closely following nail fashion trends and identify what you're sure will be the next hot design. You produce just ten nail sets to test your theory, and they sell out immediately.
After ramping up production, the fashion craze you predicted enables you to move 100 nail sets at $50 each. That's $5000 in revenue. Continued trend-watching might reward you with multiple similar opportunities throughout the year, resulting in limitless revenue potential for your press-on nail business.
Should You Start a Press-on Nail Business?
With online searches for press-on nails increasing, there's never been a better time to start a press-on nail business. In the US, Google searches for press-on nails went up 41% in 2019 and have continued to increase each year. That's evidence of a dramatic shift in how press-on nails are perceived by consumers. No longer marketed as a low-end fashion accessory by mass retailers like Walmart, press-on nails are now seen on celebrity fingertips and sold at premium fashion outlets.
The market for press-on nails is great, but is it the right business for you? Ideally, you love wearing press-on nails yourself and already use Pinterest and Instagram to track nail trends. That genuine love of press-on nails will help you transition from consumer to entrepreneur, spurring you to take on the market research required when running your business.
If you have an avid interest in press-on nails, are artistically inclined, and have a strong desire to run a small business, don't hesitate – get started planning your press-on nail business today!
How Much Do You Need to Invest in a Press-on Nail Business?
The cost of starting a press-on nail business is extremely low compared to that of other small businesses. You can buy 500 full-cover acrylic nails for $10 and $20. High-quality gel polish can be expensive, but you're still only looking at $5 to $10 per bottle.
To stock up on 500 nails and a few bottles of polish, adding the cost of decorative boxes and nail mounting kits, mailers, plus the files and other tools you need, you may only spend around $50. With supply costs so low and a strong need to promote your business, you'll spend more on marketing than on materials.
You'll need to set aside about $150 to get your website up and running. Your ads and social media posts will drive customers to your site, where they can learn more about your nails, browse all your designs, add items to a shopping cart, and pay. If you're considering using a site like Amazon or Etsy to sell your nails, take a close look at the fees you'll pay to use those platforms. They'll eat into your profits too much. With a DIY approach to website design and a low-cost hosting plan, you can easily get a website that meets your business's marketing and eCommerce needs.
A press-on nail business is within reach for anyone with about $200 to invest. Still, potential press-on entrepreneurs must also possess an aptitude for running a business and a keen interest in expressing their creativity through unique nail designs.
How Do I Start a Press-on Nail Business?
To create your press-on nail business, you'll need to decide on your company's name and logo, acquire the needed supplies, and create a business plan. You'll have to create a website where you can sell your nail sets. Plus, you'll need to come up with a marketing strategy.
There's a lot to do, but it shouldn't be overwhelming. The sections below describe five of the most important startup steps for your press-on nail business.
Get an Eye-Catching Press-on Nail Business Logo
Your unique nail designs will catch customers' attention initially, as images of your press-ons pop up in ads and social media posts. The next thing customers should notice is your business name and logo. They are critical branding elements that will help establish a memorable identity for your company.
Create your logo using design elements that reference your nail art, as this will directly link your branding to the look of your products. Carefully consider the colours used in your logo and make sure the design looks good in any size. Your logo needs to work in your ads, on your website and your business card, and as the image for your social media accounts.
Set Up Your Press-on Nail Business Website
You will need a place to showcase and sell your nails online. Avoid using Etsy, Poshmark, and other online outlets for handmade goods – the fees will destroy your profit margin. Instead, create an eCommerce website that makes it easy for customers to browse and buy your nails.
Setting up a website for your press-on nail business involves four easy steps:
Select a hosting provider and plan
There's a competitive market for web hosting, so you should take some time to research your options. Your website will need basic eCommerce capabilities but will not require advanced resources, so WordPress hosting or shared hosting are the best options. With both types of hosting, one computer runs many websites, so providers can offer secure, reliable hosting at very low prices. Better hosting companies offer deeply discounted rates, free domain registration, and a free SSL certificate, while the very best providers include 24/7 support and free training.

Register a domain name
Your domain name will be a key branding element in your press-on nail business. Domain names are priced based on demand, so, rule out expensive options like bestpressonnails.com. It's best to go for something like yourcompanyname.com; since you're likely to be the only person interested in buying that domain name, you can expect to get it for a low price. When you sign up for a hosting plan, the fee for your domain name may be covered for the first year, but note the annual fee and account for that as an ongoing business cost.

Design your site
Even if you have no experience creating a website, there's no need to pay someone to do it for you. WordPress makes it easy to create a website, so you should plan on a do-it-yourself approach. Keep your design simple and easy to navigate, with the main focus being images of your nails. You can choose from countless professionally designed WordPress themes to help you with your site's layout, images, colour scheme, and content. With a WordPress plugin, adding eCommerce features will be easy too.

Add content to your site
When customers visit your site, your goal is to engage them and encourage them to buy your nails. The shopping experience should be effortless, and you should include a description for each nail set, highlighting the appeal and perhaps explaining the process you used to create the design.
When you research the hosting market, providers offer WordPress-focused shared hosting plans at low rates. If you choose one with great plan features, top-tier support, and free training, you'll be able to set up a professional press-on nail website with ease.
Create a Detailed Press-on Nail Business Plan
Does a one-person, home-based business need a business plan? Absolutely! A business plan serves as a blueprint for your operation, capturing revenue goals and documenting estimated operating costs, profit and loss, and cash flow. Once you're up and running, your business plan will be a roadmap, helping you stay on track and follow your growth path.
Your business plan should cover operational details. List the equipment you'll need, identify the materials required to create your initial inventory, and document how you package and ship products. Detail your approach to pricing, identifying your market research sources and competitors. Accounting for production costs and marketing expenses.
Documenting these details in a business plan may cause you to avoid early missteps. If the price you plan to charge barely covers your costs, you'll need to look for less expensive materials or consider charging more for your nails. It would be much better to discover that before you start making sales – a business plan will help you see a positive cash flow from Day 1.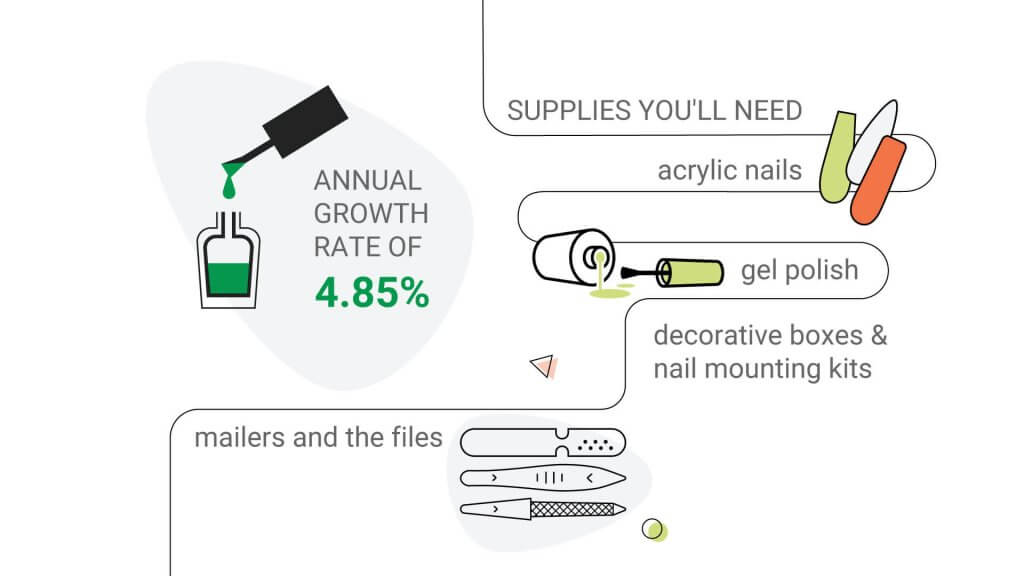 Get Supplies for Your Press-On Nail Business
Controlling costs should be your top priority, so you must scour the internet to find the best price for your materials, buying huge quantities to lower the unit price. But, there's one major exception to that rule.
In the beginning, stocking up on supplies is tricky – you need to buy enough nails, polish, and other materials to create your initial inventory, but you're not sure which designs will be most popular. For that reason, don't seek bulk purchase discounts when acquiring your initial stock. You can buy your start-up materials from a mass retailer like Amazon or Walmart. Simply purchase a few gel polishes at single-bottle prices, a bag of 500 acrylic nails, a dozen decorative boxes, plus any tools you need, and start selling your unique nail art.
After you've made a few sales, you can use the revenue to purchase more supplies. That's when bulk purchasing comes into play. You can find wholesale distributors that charge a very low unit price. That purchasing approach is key to cutting costs, so you should employ it the first time you resupply following your startup phase.
Promote Your Press-on Nail Business
The best way to promote your press-on nail business is to get an image of your nail art in front of as many interested people as possible. Online ads and social media should be at the center of your marketing strategy.
You can use digital ads to reach a specific group of prospective customers. The analytics used by Google and other digital ad platforms enable exact targeting, so you can be sure you're advertising to people who love press-on nails.
Instagram and Pinterest are great for showcasing your nails and will help you create an online presence for your nail business. With regular posts that showcase your latest work, you can engage an interested community, attract new customers, and encourage past customers to buy again. Having an account on multiple social media platforms, all named for your press-on nail business will create a solid brand image.
Your ads and social media posts will drive people to your website, so to ensure a smooth transition, use your logo and other branding elements consistently.
How Do Press-on Nail Business Owners Pay Themselves?
Requiring so little in startup funds, your press-on nail business should see a positive cash flow soon after making your first few sales. Income from all sales should be put in a bank account that you use exclusively for your business. The funds you take as income, plus the money you need for supplies and marketing should come out of this account.
One aspect of small business ownership that's often overlooked is taxes. You'll have to pay sales tax for items sold, plus the income from your business is taxable. You need to ensure you have enough in your business bank account to pay your tax bill. If your business exceeds certain revenue limits, you may have to pay taxes quarterly.
As the business owner, you'll pay yourself from company earnings, but it's crucial that you carefully manage the business's cash flow. While a portion of the business's revenue can be taken as income, ensuring that you maintain enough funds to cover operating expenses is crucial for long-term success.
How Much Can You Sell Press-on Nails For?
When you decide how much to charge for your nails, some pitfalls can cause you to set the price too high or too low. To price your nail sets correctly, do these two things:
The market dictates the going price for your nail sets. Depending on the design, custom nail sets can cost as little as $20 or as much as $100. You must price your products close to similar nail sets. Even if your designs are undeniably unique, you'll be able to find something comparable on the internet. Gather as many data points as you can—find out the price that salons and retail outlets charge, and research the average price people pay online. Use this information as the primary factor in pricing your nail sets.
Account for all your costs
How much does 1/50th of a gel polish bottle cost? What's the cost of one decorative product box? How much will you pay for the business card or thank you note you'll include with each order? Figuring out the cost to produce and ship one set of nails will take some effort, but it's crucial to pricing your products.
If, after market research, you think you've determined the right amount to charge, test that price. Account for every penny of your costs to produce and ship one nail set, then subtract that unit costs total from the price you plan to charge. If the resulting profit doesn't meet your expectation, you'll have to raise the price.
Do You Need a License to Start a Press-on Nail Business?
While you typically need a license to work as a nail technician, there's no industry-specific license required for a person selling press-on nails. However, depending on where your business is located, you may be required to obtain a general business license and document your business with the state or local agency responsible for collecting sales tax.
If you were concerned about getting a nail tech license to sell press-ons, you could relax – no such license is required. You will have to meet other legal requirements, and we'll cover those in the next section.
How to Start Selling Press-on Nails Online Legally
When you start a business, you must decide what type of business entity you're creating. The simplest option is to be a sole proprietor, where you do business using your social security number. Alternatively, you can create a limited liability company (LLC) and be assigned an EIN for tax purposes. There's a fee to maintain your LLC status, but the LLC option is overkill for a new press-on nail business even if it were free. You may want to take advantage of the liability protection of an LLC later, but it's not something you should consider during the startup phase. Keep in mind that there are different types of LLC, and you should choose the one that supports your business the best.
You can register your business with the state as a sole proprietor, with "doing business as" documentation identifying your company by name. Research the name you chose to ensure it's not already being used. Also, you'll be responsible for collecting sales tax, so you'll probably need a sales tax license or seller's permit issued by your state.
Nail Your Business Planning and Press on to Success
The key to getting your press-on nail business started is smart planning. Initially, if you closely account for your costs and price your nail sets right, you'll make a profit. As you proceed, planning your next hot seller will need to be a top priority. You'll have to continually identify nail fashion trends and market the most sought-after styles before interest fades.
Creating and selling unique press-on nails will let you explore your creativity and engage your small business skills. It's a fun way to make money doing something you love to do!