Have you always been in awe of different fads in the beauty industry, and how fast they become the hottest 'it' thing to do? Have you thought more than once of investing your precious dollars in a business related to some beauty product that people are religiously consuming? The lash trend is one such fad that only seems to grow each day. We know it's not going anywhere soon. So starting your own lash business may be a promising entrepreneurial venture if you have some savings stashed away.
Joining the lash business automatically makes you a part of the global and very popular side hustle movement. Also, it makes you a key participant in normalizing false lashes and lash extensions. Where once these were considered a luxury add-on one would treat themselves to on special occasions, now more and more image-conscious people get lash-enhancing products as a regular part of their beauty regimen. Thanks to this, opening up a lash salon is a lucrative business idea. Hop on board as we talk about the ins and outs of the lash business and help you navigate your way towards opening up a salon of your own.
Why Are False Lashes So Popular?
False lashes are one of those significant millennial trends that one can appreciate. It was once a novelty to get lash extensions and often gave an impression of going the extra mile to look presentable. Thankfully, with new technology and enhanced versions, false body lashes gel in perfectly with your face. Instead of looking like extras and giving one an artificial made-up look, the extensions only enhance one's eye's natural shape.
Due to these features, lash extensions are a hot favourite go-to beauty product of image-conscious millennials and gen-Z. These people don't think twice about spending a hefty amount on false lashes. It has also become an essential cosmetic need for people looking for a fresh makeover. We now live in a world where wearing lash extensions is considered a standard everyday beauty concept, and those minks are no longer reserved for special occasions, tucked away in our dresser drawers.
What is an Eyelash Business?
An eyelash business consists of a lash salon where trained lash technicians apply eyelash extensions and other lash-enhancing products to your face. Of course, it's not a matter of a one-time visit like you experience at a nail salon. The eyelash experts have two or more sessions with their clients to discuss their requirements, such as their eye shape and lifestyle.
It's not a matter-of-fact transactional business in the eye-lash industry. Customers trust their lash experts to provide them with superb guidance based on honesty and integrity and provide them with the complete salon experience with an appealing yet professional ambiance, personalized attention, and good customer service.
Thus the eyelash business is as huge as any other beauty industry-related business and requires you as a business owner to give it your all in terms of planning and operating.
Is the Lash Industry Growing?
The lash industry is undoubtedly a very popular hustle for many beauty industry experts currently as the demand for lash extensions grows by the day. More and more consumers have become image-conscious and don't mind spending massive amounts on lash volumizing products.
As per our research, the lash industry had grown 4 times its size from 2018, when its revenue potential was nearly a whopping $270 million. Since then, the industry has grown at a steady rate of 14% each year. At this pace, the lash industry revenue potential is expected to grow to $1.6 billion by 2025.
Based on Grand View Research, Inc., the lash industry in the United States alone was worth $206.4 million in 2017 and became worth $269.7 million the following year. On the whole, the average growth range predicted by researchers for the lash industry from 2021 to 2026 is $496.83 million at a compound annual growth rate of 4.48%.
So if you're thinking of becoming a part of this global style trend and investing your money into it, now is a good time. Industry demand will only increase yearly, followed by an excellent sales-profit ratio.
Is the Eyelash Business Profitable?
The eyelash business is a highly profitable hustle in 2022 with a promise of an annual increase in market demand and revenue potential. As per industry forecasts, the lash industry will maintain its rapid growth as more and more young, style-conscious people consume its products.
Lash extensions are one cosmetic and beauty industry item that people willingly splurge on. According to Giovanni Eyelash Factory, the consumer market in the United States alone consumes about 40 million-plus pairs of eyelashes each month. At this level of demand and sales, the profit potential of the lash industry is enormous.
According to reports, lash business owners can earn $47,396 annually if they operate independently without many employees. Another factor to consider when calculating profit margins and earnings is that when you start out new, you may need to keep your products and services cost low. This is until you establish your practice and increase your recurring customer base. Once you feel you've achieved that milestone, you can raise your prices and consequently your profit margin. Research claims successful lash business owners can make up to $73,000 a year.
How Much Does It Cost to Start a Lash Business?
As is the case with several types of businesses, you'll need to invest in a set of essential costs to launch your eyelash business. The list of necessary expenditures includes (but is not limited to) supplies and equipment, rent of the space where you want to set up your salon, utilities and overheads, employee salaries, website and business software.
Initial startup costs may vary from person to person. Within individual circumstances like location and financial stability, we can safely come up with an estimated startup cost amount that can hold for most lash businesses. Based on our market research, we can safely say that you may need to invest anywhere between $30,000 to $60,000 to launch your business.
Thus, investment numbers can go into the thousand dollars bracket with a lash business. So before you start, make a financial plan on how much you have and how much your expected monthly income will be. From that, once you deduct your monthly operational costs, you can get a fair idea of how much profit you'll earn through this business, which will help you identify whether it's worth the initial investment you plan to put into it.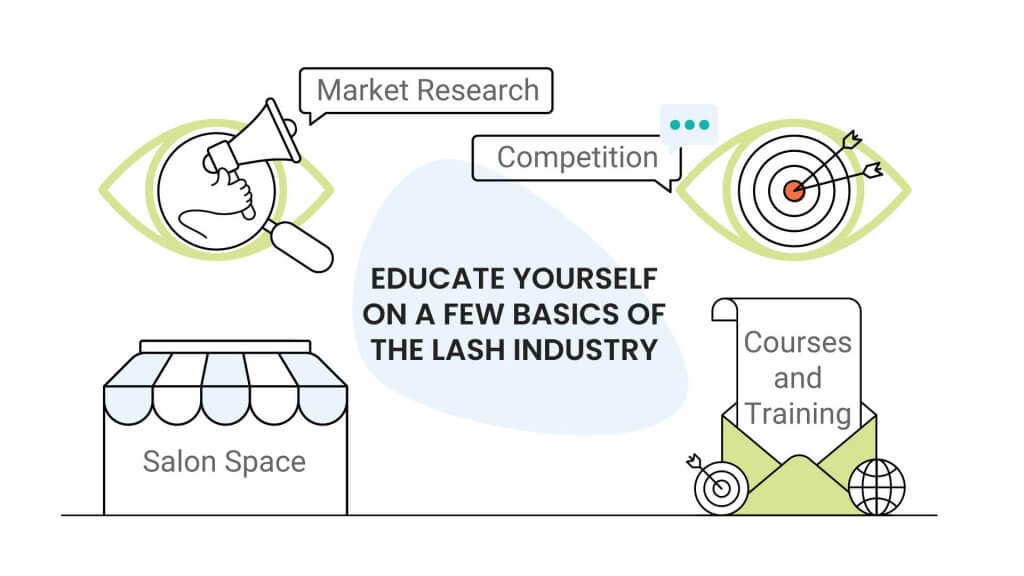 What Should You Know Before Starting a Lash Business?
We know it's a great business proposition, and you are excited about the idea of launching your own lash business. The demand for the product is high, and everybody is getting them, right? So you expect it to be profitable and all things rosy.
Before you take the plunge, though, ready to invest your precious savings into the venture, it's good to educate yourself on a few basics of the lash industry. If you're already an expert lash technician, you'll probably already know most of this, but for the rest of you, you may want to consider the following points;
It's always useful to explore the current market for product trends and to identify your potential customer profile. Before officially launching the business, figure out what kind of segment of the population you are targeting in terms of age, gender, and lifestyle. Also helpful is a knowledge of the current products available in the market and their price points.
You definitely want to assess who your potential market rivals are and what products and services they offer. Also making a note of tiny operational details like their customer service, salon ambiance, and marketing strategies, among others, will be beneficial points of reference for you.
As an essential step you will have to make a decision about where you want to operate your business; home or rental salon, or better yet a new space that you purchase if you can afford it. This major decision of selecting a salon space depends on your financial stability. Usually, most lash business owners opt for rental salons, which are already pre-set with all the necessary equipment. You can rent such spaces at a nominal cost, and once your business and earnings soar, you have the additional option of buying the place.
Setting up your salon at home may appear cheaper, but costs will balance out once you buy all equipment and supplies from scratch. Also, there will be added charges for providing security and other logistical details. Mobile salons are also an option to consider if you can arrange for a mobile salon set up and opt to go to the client's home for services.
To run a lash business, you need to be a trained and certified lash technician. Either that or you hire employees who are professional lash artists. Lash training and certifications involve learning all about applying lashes and getting on board with lash vocabulary. For instance, you, as a lash artist, need to know the difference between mink, faux mink, and synthetic lashes. Or getting familiar with different lash adhesives and glue.
Working Out Monthly Income vs Monthly Operational Cost
You should list down your monthly operational costs and expected monthly income or earnings. From the estimated monthly payment, subtract your operating costs to approximate your monthly profit. Such estimations can help you decide whether the lash business is workable for you or not.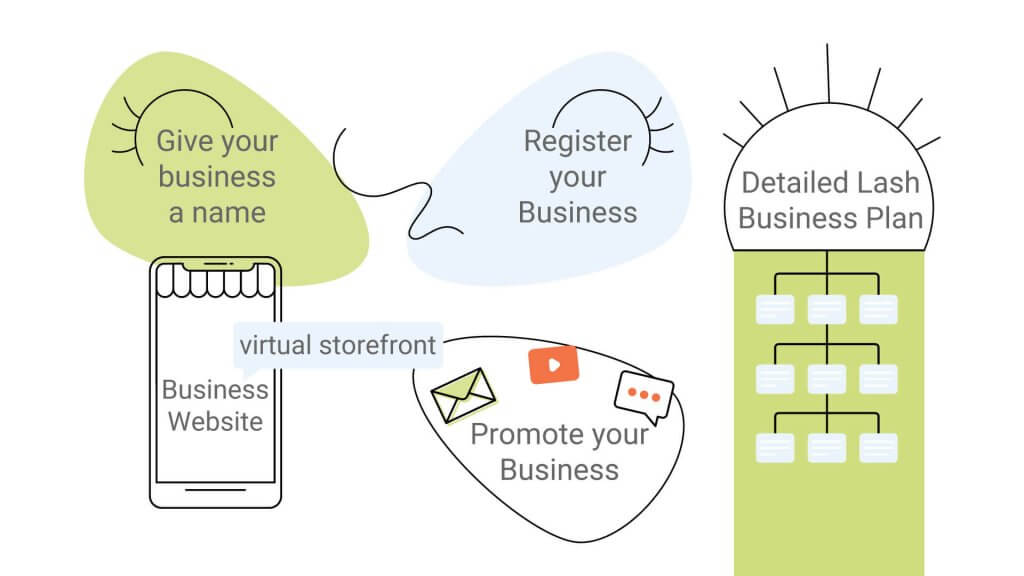 How Can You Start a Body Lash Business?
Starting a new entrepreneurial venture can be exciting but nerve-racking at the same time. Especially when you have no experience in setting up a business all by yourself and are overwhelmed with all the volume of information and particulars to look at. However, our guide will help you streamline the process and make it easy by providing you with step-by-step guidance.
Pick a Business Name and a Logo
First things first; you need to give your business a name. Sometimes that seems like the most challenging part. Sure it's good to be creative and unique, but remember to settle for a name that is easy to pronounce and remember. The name you select has to be something your target customers can identify with.
Once you've picked a name, be sure to check its availability. We're sure you wouldn't want a dupe of your brand appearing out of nowhere and creating a mass of confusion for your customers. The best way to check whether your desired business name is available is to Google it. The next step would be to check relevant official government sites that deal with business listings and registrations. Most people search social media for accounts associated with a name to verify availability status.
After the name comes the logo. Your brand's logo is a visual symbolic representation of your business and thus should reflect your brand identity and motto. The logo should be cute, perhaps quirky, but surely professional-looking.
If you possess some basic design skills yourself, you can design your logo independently. Otherwise, you can order a custom logo online through freelance websites like Fiverr or Upwork. Besides, there are several free logo-generating websites online, such as Adobe, Wix, Freelogodesign.org, and Canva. You can also partner with a web design company to take care of your logo and other web solutions.
A professional-sounding name and a cute logo out of the way; now you come to the point where you have to make it all official. That's when you register your business with your local or area government. Registration processes and requirements vary across different locations. Check with your local authority what you need to get the process going.
As a general rule of thumb, though, remember that business can be registered through four different channels; sole proprietorship, partnership, corporation, and LLC. The pros and cons of all four vary, and you can decide which model suits you best. In sole proprietorships and partnerships, you or your partner and yourself are the sole owners of the company in good times and bad. This means you get all the profit directly and are directly liable for any losses or debts. In the other two business models, your company is a business entity, and you get profits through shareholders' dividends. Also, you're not directly put on the line if a client sues you or goes into debt.
We cannot stress enough the importance and absolute need for an efficient and professional-looking business website. Consider it your virtual storefront and online company representation. Even though lash businesses operate physically through salons, a good website will help you gain more customers when your website appears in online searches. Your sound online presence will help you gain broader visibility.
Besides, having a good business website will give a professional touch to your business. At HostPapa, we provide all the solutions to your online business needs. Our shared hosting service enables you to launch and operate a successful business website by providing high server speed, unlimited webspace, maximum security and site maintenance, your domain name and business email, and much more. Our shared hosting package lets you build your website yourself from scratch using WordPress or our Website Builder tool. Alternatively, we provide you with website development services by our team of expert developers.
Create a Detailed Lash Business Plan:
Whether you invest your savings into your new venture or get funding from the bank, you require a solid and workable business plan to kickstart things into action and keep them afloat efficiently.
Consider your business plan a guidebook or a go-to manual for running your lash business. It will provide you with an organized step-by-step course of action and cover all integral aspects such as finances, capital, and investments. It will also define your business objectives, your operational procedures, your marketing strategies, and so on. It will also cover your company profile and the product offerings, supplemented by pricing details. So basically, your business plan is a comprehensive guide to executing your business plan.
Therefore, prioritize drafting a detailed and well-researched business plan as your number one tool to launch your company.
A significant chunk of your business plan is your marketing strategies. As we say often, your product and services may be top-notch. And why wouldn't they, when you have put your sweat and blood in it? The irony here is that unless the world gets to see how great your offerings are, you will never sell them.
A comprehensive and effective marketing plan is your best friend here. Marketing is sub-divided into several different types of campaigns, both on and offline. Looking at internet marketing, all the popular social media platforms are your best resource to advertise your company. Platforms like YouTube, Tik-Tok, Instagram, and Facebook are the best source to establish a fan following which converts to potential customers. By creating and uploading engaging posts on these social media platforms, you will be increasing your visibility and the greatness of your products and services ten folds than in real life. Besides, you can use paid advertising options on Google, Instagram, and Facebook to sponsor yourself to a broader audience outside of your followers' network.
You can utilize print advertising to project your lash business other than online marketing. This can be done by getting your business cards printed and circulated and getting some company brochures and pamphlets printed.
How Much Can You Charge For The Lashes?
According to our research and industry service, we observed the following average pricing for lash products;
| | |
| --- | --- |
| Type of Service | Average Cost |
| Full set of lashes | $81 – $120 |
| Refill of lashes | $ 41 – $80 |
Prices of services in lash salons depend on many factors and vary from salon to salon. These factors include location, market dynamics, product type (classic, volume, mink, etc.) and type of service (extensions, refills). Therefore there can be no one fixed cost for each service.
However, as a point of reference, you can charge something around $120 or so for primary treatment and go up to $300 or more for an extra service consisting of add-ons or unique kinds of lash treatments. These can be custom extensions based on the client's individual case like eye shape, preferred lash length, and lifestyle.
It's a wise idea to keep your prices on the lower end during the initial months of your launch. You have the option of increasing these costs once your business establishes and you have a network of recurring clients.
How to Get Your Lash Business Licence
Before you think otherwise, let us remind you that you will require several licences and permits to operate your lash business like all other businesses around you. You need particular permits depending on your location, as licence requirements vary from region to region.
Other than the regular government permits, it's good to research into your particular, in this case, the cosmetic industry, to identify which industry-specific products you need. These could include permits related to healthcare, FDA, and aesthetics.
The best way to obtain your necessary permits and licences is to check your local and federal government's websites and contact the relevant authorities to get guidance on essential procedures.
Wrapping Up
Body lashes makes one look glamorous and well put together. They are trendy nowadays due to their beauty-enhancing features. Young people, mainly the fashion and image-conscious millennials spend several hundreds of dollars on lash treatments each month. The United States itself is one of the largest consumers of lash products globally.
When the picture is this rosy, we don't blame you for wanting to jump at the opportunity and try your hand at setting up your own lash business, hoping you can cash on this trend and make good money out of it. There's no doubt exciting potential in this business.
However, we advise you to do your homework before officially launching your company and knowing what you're getting into. An organized approach, lots of market research, and a well-drafted business plan will help you succeed and make maximum profits in your lash business.