It's common for people who make their living in construction to trend toward specialization. Over time, worksite experience drives individuals to favour the part of the job they feel is most important, has the best profit margin, or brings them the most enjoyment. The desire to run your own specialized construction contracting business with an entrepreneurial spirit becomes strong.
Working with cement is a favourite part of every job for some construction pros. Could a person like that create their own cement contractor business? Yes, and this article will explain how!
How Much is the Concrete Business Industry Worth?
Almost every construction project requires concrete. It's used extensively for foundations, walls, floors, and driveways. Economically, the concrete market is closely linked to the broader construction industry, which currently has around $1.4 trillion. There's been a downturn in construction in recent years, but the industry is rebounding, with a slow, steady recovery projected.
New home construction was up 15% in 2021 and is expected to increase 5% in 2022. Commercial construction is also picking up. The upward trends in both those sectors have the concrete industry thriving – the annualized revenue of the US concrete contractor's market in 2021 was around $67 billion.
A motivated cement expert wanting to run their own company could carve out a nice chunk of revenue from that $67 billion market. In the next section, we'll examine just how much money a concrete business can generate.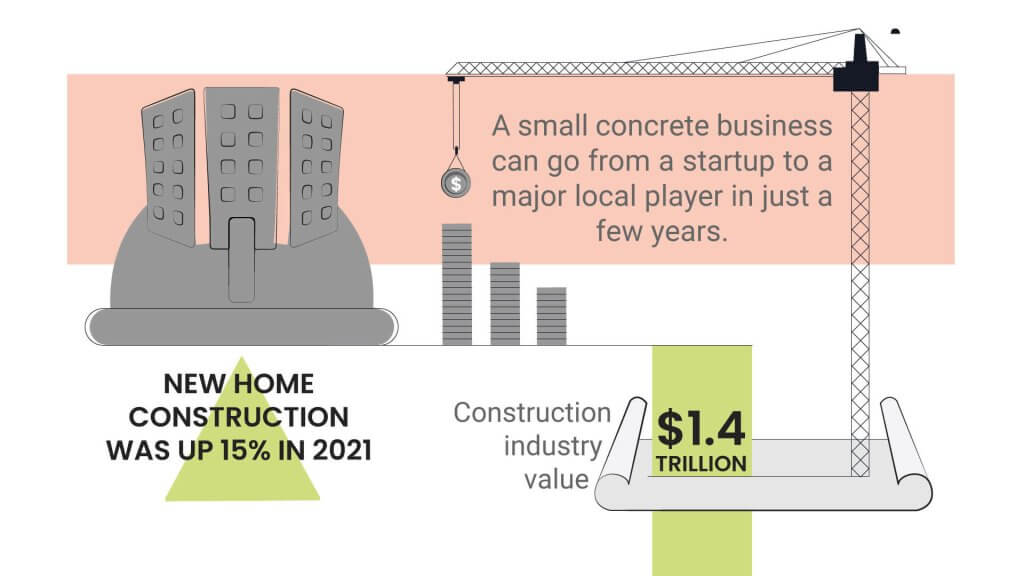 How Much Revenue Does a Concrete Business Generate?
When you pour a foundation, driveway, or patio as part of new residential construction, you can expect the project price to be at least $1500, with projects in larger commercial spaces bringing in an average of $2000 or more. You may also take small jobs in established suburban neighbourhoods, with walkway or driveway replacement projects priced around $1000 per job.
When getting your concrete business off the ground, you can expect to take on a mixture of all these types of projects, and the business's projected revenue depends a lot on the jobs you land.
Assuming an average project price of $1500 and a plan to tackle 12 projects per month, that's an annual revenue of $216,000. If you work out of your home, and with the cost of materials and labour factored in, you can plan for a 50% profit margin and enjoy a salary of over $100K.
After a year or two in business, you'll earn a brand reputation for providing quality service. Every local contractor will call you first when they need cement for their projects. Your marketing efforts will produce a steady supply of new customers. The time will come when you can expand your staff, move into a commercial business space, and buy the additional equipment needed to double or triple the number of jobs you can handle each month.
A small concrete business can go from a startup to a major local player in just a few years. You need a construction background, an aptitude for working with concrete, and a strong drive to run your own business to make that happen. Let's explore those and other factors you should consider when deciding whether to start a concrete business.
Should You Start a Concrete Business?
Smaller companies often limit their services to one specific area in the construction industry. Contractors work with subcontractors like electricians, plumbers, framers, roofers, and companies specializing in pouring concrete. Likewise, homeowners commonly need specific services that make up a part of the larger construction industry.
Deciding to start a concrete business is, in part, choosing which part of the construction industry you want to be involved in. With a background in construction, you're familiar with the different construction phases and what goes into each one. You may have personally roofed, plumbed, wired, and framed dozens of new construction projects. If you want to start a concrete business, it's clear that you've picked the construction industry niche you want to occupy.
After assessing what's involved in running a concrete business, your desire to do so can go in two directions. For some, the initial investment required or concerns about other aspects of running a business can sour the whole plan. But for others, taking the idea to the next level will be energizing. If the prospect of analyzing the local market, getting started on a business plan, and pricing new concrete equipment gets your blood pumping, then your plan to start a concrete business is a good one.
How Much Does It Cost to Start a Concrete Business?
When you're considering starting a concrete business, the upfront cost of purchasing a work vehicle and specialized equipment can seem like a major barrier to entry. You'll be ahead of the game if you already own a suitable truck and some of the necessary equipment. If you do have to deal with high startup costs, you can plan to recoup those costs after a few months in business.
The outlay for registering your business, purchasing insurance, and getting licenses and permits will be around $1000. You should plan to spend between $2000 and $3000 on marketing; that estimate includes the cost of setting up a website and paying for hosting services. You can expect to drop about $5000 as a deposit for a truck or van and between $7000 and $9000 on tools and equipment like a portable concrete mixer. This breakdown assumes you're working out of your home initially, but based on these loose estimates, you could start your concrete company for as little as $17,000.
There's high potential for a new concrete company to experience explosive growth in the first few years. After an initial boot-strap period in which you may take smaller jobs and make do with a skeleton crew, there's a real possibility that you'll be adding workers, shopping for commercial space, and looking into the cost of a cement mixer truck with all new expenses covered by funds in the company coffers.
That's a rosy long-term outlook that's not out of reach, but we have much more to cover about the startup phase of your concrete business. The next section will go over the initial planning and marketing steps you need to take to get your business off the ground.
How To Start a Concrete Business
From brainstorming about your company's identity and setting up a business website to creating a detailed business plan and figuring out how you'll attract customers, a lot of work is involved in getting a concrete business started. The sections below break down what you'll need to do.
Get an Eye-Catching Concrete Business Logo
One of the first and most exciting parts of starting a business is naming the company and deciding on a business logo. Your concrete company's name and logo form its identity, so they need to be concrete-focused and memorable.
When considering logo options, consider the colour scheme you'll use on your website and assess how well your logo fits in with that palette. Your business name and logo (along with the colours and graphics on your truck and website) contribute to your brand identity. Try a free logo maker to play around with some ideas. Customers will see your logo online, at the worksite, and at the top of your invoice. Such cohesive branding illustrates professionalism and helps embed your business's identity in the minds of your customers.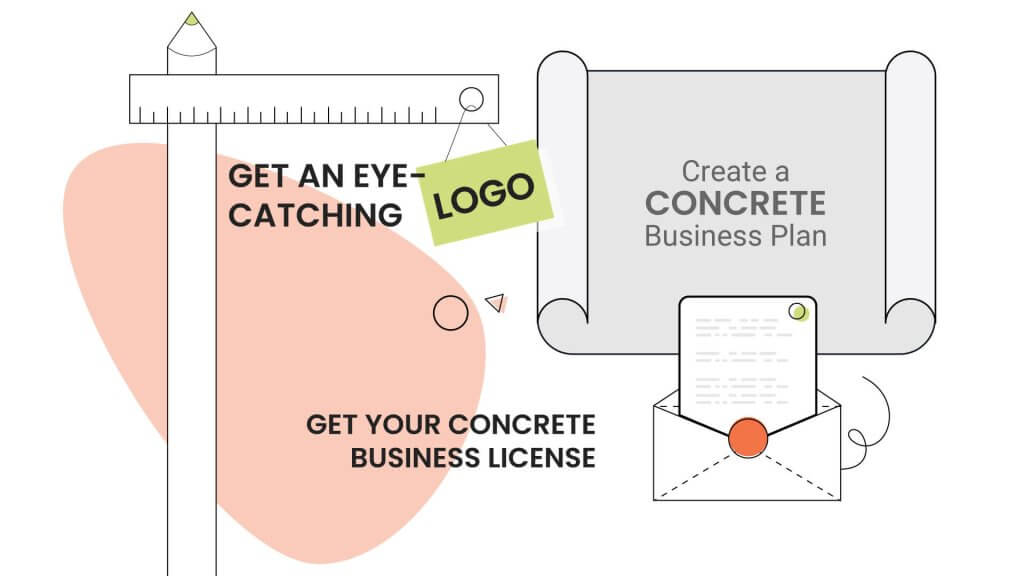 Set Up Your Business Website
A concrete company's website will play an important role in the business's success, but you don't have to spend much money to create one. By choosing a low-cost hosting plan and creating your website using WordPress, you can easily set up a website that meets your concrete business's needs.
There are only a few steps when setting up a website:
Select a hosting provider and plan
Explore the market, and you'll find several providers offering low-cost rates for shared hosting plans. Look closer, and you'll see a big difference in what those low rates get you. You should seek a shared hosting service, where one computer runs many websites, as that's the most affordable type of hosting and is suitable for most small businesses. Opting for a service built around WordPress is smart, and you should expect your provider to offer free domain registration, a free SSL certificate, and 24/7 support.
Register a domain name
An important part of any website is its domain name. The domain name will represent your concrete business online. While you may get the first year of domain registration free, you'll have to pay an annual fee. Consider that when choosing your domain because some domains cost a lot. For example, if you live in downtown Atlanta, you may look into buying the domain atlantaplumbing.com and get a sticker shock. Domains are priced based on demand, so choosing one that only you want will be the cheapest option. For example, if your business name is Your Name Plumbing, there's a good chance you can get yournameplumbing.com for a very affordable price.
Design your site
WordPress and website builders make it easy to create a website, so it's safe for you to plan on a do-it-yourself approach. Keep your design simple, so your site is engaging and easy to navigate. Countless WordPress themes, some with designs made specifically for construction companies, can help you with your website's general layout, images, colour scheme, and content.
Add content to your site
You'll drive visitors to your website using social media. Your web address will appear on your business card, marketing brochures, ads, and maybe on the side of your truck. When people visit your site, your goal is to engage them, so they'll learn about your concrete services. That's the first step in getting customers to use your company for concrete projects. Ensure that your website content clearly explains the types of projects your company handles and answers any prospective customers' questions.
Your website will be the hub of all your marketing activities and where your customers go to discover your services. Give this important part of your business the attention it requires – you'll spend more time than money on your website, but not a lot, and the rewards will be great.
Create a Concrete Business Plan
If you plan to seek outside funding for your startup concrete company, a business plan will be required. Still, convincing investors or a bank to part with money is not the only purpose a business plan can serve. A business plan can be a roadmap for your company, refining its goals, outlining operational details, and documenting proof of the company's viability.
Your business plan should describe the company's mission, ownership, and goals. It should detail your services, including market analysis, and outline a strategy for sales and marketing. The plan should describe expected staffing, procurement of equipment, and other operational details. It also needs to contain three to five years of financial planning, addressing startup costs, profit and loss estimates and projected cash flow.
A crucial part of creating a business plan is identifying the company's unique selling points. You'll learn about their services and prices by researching concrete businesses nearby. Then you can ensure that your service offering will appear to customers as a better choice.
You should look for an opportunity to fill a gap in your local concrete service market. Your company could offer services no one else offers, like decorative concrete projects or handling the specialized concrete treatments required for polished flooring applications. Another tactic to consider is to offer the same range of services as competitors but beat them on price or cover a larger service area than they do.
Your business plan will capture the details of your concrete business's early growth and outline a path to long-term success. It will also contain some details you'll use to promote your business, our next topic.
Promote Your Business
How will you promote your concrete business? There are several marketing channels to choose from, including print ads, online ads, social media, and your website. You should plan on using more than one channel.
Use Facebook, as the platform's paid advertising lets you target specific groups. If you can determine the type of people who need concrete services in your area, you can make sure those people know about your company.
Networking may be useful in landing concrete projects, especially during your first year in business. Connect with people you know in the construction industry, attend local meetups or seminars focusing on construction, and use those opportunities to make people aware of your business.
Ads, brochures, and social media posts should drive people to your website, but prospective customers should also be able to find you on the web by searching. Ensure that your website content contains the keywords your prospects will use to search for concrete services.
Whatever marketing outreach you use, ensure consistent messaging and highlight what makes your business different.
How Do Concrete Business Owners Pay Themselves?
Your start-up funds should cover the purchase of equipment and supplies and enough to pay workers until your business sees a positive cash flow. When payment for your first completed jobs starts to roll in, you can begin to pay yourself.
Payment from finished jobs should be put in a bank account that you use exclusively for your business. Your pay, workers' salaries, and other expenditures will come out of this account.
When it comes to paying yourself, there are some factors that, as the business owner, you'll need to consider. The IRS classifies business owners as self-employed. You can take your payment as an owner's draw or define a salary for yourself. Like all earners, you'll have to pay taxes on your income. No taxes are withheld with an owner's draw, so you'll need to pay your taxes proactively. You can set up the standard tax withholdings if you opt for a salary.
How Much Can You Charge?
Not all concrete jobs involve pouring new concrete. Concrete requires treatments that give the material a finished look when it's used as exposed flooring in foyers, living rooms, patios, and workspaces. The work may need to be done periodically to keep the surface looking its best.
The most popular treatment produces stained and polished floors with a clean, modern appearance. Some homes have acid-stained or dyed concrete, and advanced concrete treatments can involve hand-applied scoring and designs.
The prices you can charge for concrete treatments on existing floors are considerable, so much so that you may want to make treatment services a significant part of your offering. To polish a concrete floor, you can invoice between $3 and $15 per square foot, depending on the details of the job. Each project will be different, but most will involve surface preparation, spot repair, smoothing, grinding, polishing, and sealing.
Do You Need a License to Start a Concrete Business?
Although it varies based on where your business is located, most US states require concrete business owners to obtain a contractor's license. Some states issue a separate permit for concrete work, while others include the use of concrete in general contractor's licensing. Most states dictate a minimum age for the business owner and require the contractor to pass a written exam. Proof of general liability insurance is also usually required when applying for a state contractor's license.
In addition to (or instead of) state licensing requirements, you may need to deal with local requirements imposed by a county or city. Local permitting and licensing pertain to where the work is being done, not where your business is located. If your company covers a large service area, you may need to view local licensing as a checklist item for every project you take on.
How to Get Your Concrete Business License
The extent to which licensing requirements for construction contractors vary based on location is so great that it is difficult to generalize what will be needed for your business.
To get information about contractor licensing in your state, start with a web search – "your state cement contractor license." You'll find a state government website that pertains to the licensing of general contractors in your state.
The requirements, as explained on the state government website, may be hard to understand. If you hit a wall of confusing state government regulations, you should note that your web search may have also returned links to companies that, for a fee, will help you obtain the needed licensing.
The most important thing to know about contractor licensing is that you, as the business owner, are responsible for learning and meeting licensing requirements where your business will operate. Apply for and secure the needed licenses and permits before starting your first job.
With Smart Planning, You'll Cement Your Future Success
Starting a concrete business is an exciting prospect. You have the opportunity to put all the knowledge and experience you've gained in the construction industry to a new, entrepreneurial purpose.
In this article, we've briefly examined the cost and potential earnings associated with starting a concrete business. We explored the basic steps you need to take to begin your substantial business, discussing the vital planning phase, marketing, income and expenditures, and licensing requirements. The following steps are yours to take, and we wish you success in starting a concrete business you can call your own!