Managing 7-9 figure online businesses used to be a feat only a few businessmen could achieve. But thanks to the power of the internet, everyone now has a chance to take on that challenge. Here, we will teach you how to buy from wholesalers – a secret kept by major players in the eCommerce industry because it can make or break your business.
If you're looking to start an online boutique because you want to join in on the fun, but you have no idea where to start, then this one's for you.
What's Wholesale & How Is It Different From Retail?
There's often some confusion about what retailers and wholesalers are. Their main differences lie in their target market and the number of items they sell.
Retailers sell directly to consumers, while wholesalers aim to attract retailers and businesses.
Manufacturers prefer selling in bulk to wholesalers because it lessens their total expenses. There are fewer extra charges when processing big orders at once, so wholesalers can lower their costs without compromising their profits.
Meanwhile, retailers mark up their prices because it's more expensive to bring products to the consumers.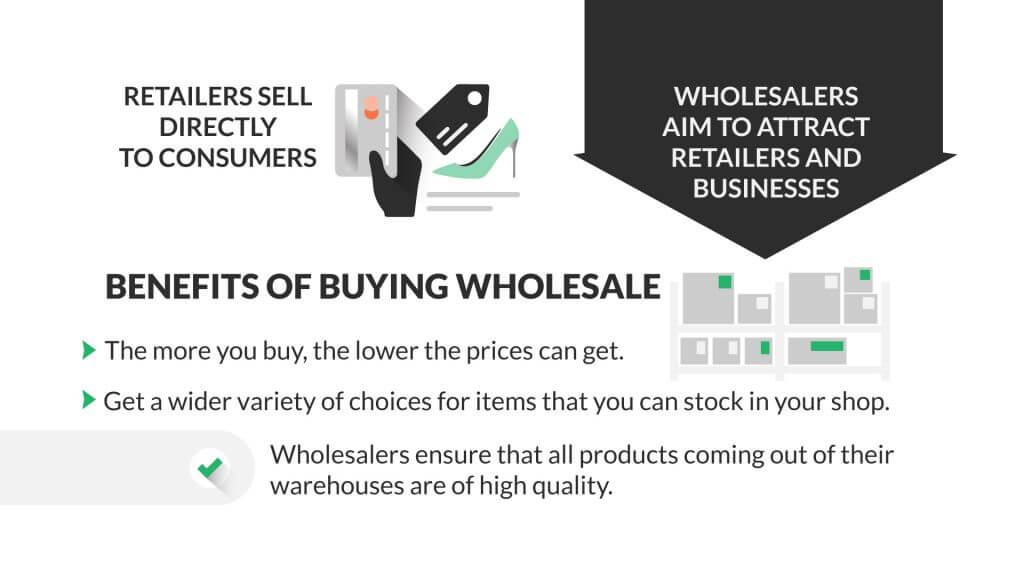 Benefits of Buying Wholesale
It doesn't matter how big or small your company is; all businesses stand to enjoy everything wholesalers can bring to the table. Here are some of the reasons you should learn about how to buy from wholesalers and take advantage of what they offer:
Best Deals
As we've said, the number one reason you should learn how to buy from wholesalers is the financial benefit. The more you buy, the lower the prices can get. If you think that sounds too good to be true, you can look at it from the wholesalers' standpoint. There's less effort and fewer expenses if they sell to a single business instead of going directly to consumers.
Avoid scams by doing thorough background checks and proper negotiations. Besides haggling for discounts, you can also ask for payment terms that fit your needs. Some wholesalers even accept returns for unliquidated products. It all depends on how well you can bargain with your supplier.
Ease of Access
Ensuring that products are always available for your customers is a tough job. Getting and handling inventory for your shop is more complicated than it seems. Fortunately, it's a lot less confusing when you have a supplier ready to fill in your orders anytime.
You also get a wider variety of choices for items that you can stock in your shop. It lessens the time you need to dedicate to sourcing products that will fit your niche.
Fewer Costs
Most wholesalers have dedicated logistics partners who can transport your orders faster at little to no cost. They even cover delivery to places that other shipping companies don't. And in cases of mishandled or lost items, it's easier to file claims or talk to someone in charge.
Even if the wholesaler isn't partnered up with courier services, ordering in bulk means you'll be buying products less frequently. This means you can expect lower shipping expenses because you won't have to pay for multiple deliveries.
Quality Assurance
Reputable wholesalers ensure that all products coming out of their warehouses are of high quality. If they don't, they risk losing the trust of big businesses.
Still, you have to watch out for vendors whose products won't meet your standards. Make sure you don't order anything in bulk without testing first. Better yet, find out if you can visit their facilities to see the products for yourself.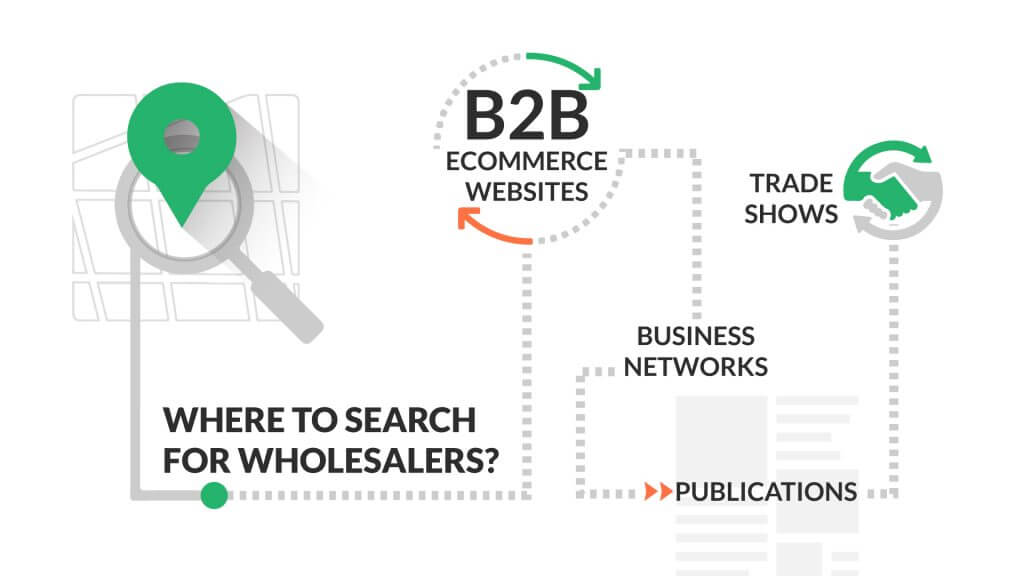 Where to Search for Wholesalers?
B2B eCommerce Websites
One of the go-to B2B (Business-to-Business) websites for finding wholesalers for any product under the sun is Alibaba. It's an eCommerce platform that connects you with the manufacturing companies, brokers, and wholesalers that offer the lowest prices. It's where most dropshippers and eCommerce stores source their products.
Business Networks
You can also search for vendors within reliable business networks. Try reaching out to people on LinkedIn and industry forums or your local chamber of commerce.
Publications
As much as you're looking for suppliers, vendors also do everything they can to find entrepreneurs who can help them reach their business goals. You can discover several wholesalers and manufacturers' works by reviewing industry-based magazines designed to showcase what they offer.
Trade Shows
If you're looking for a more hands-on experience searching for suppliers, visit trade shows. It's where you can meet the people behind the businesses, get a quick preview of their processes, and see product samples.
How to Buy from Wholesalers
After finding a trustworthy vendor, it's time to purchase the products. But before placing an order, make sure you've covered the following basic bases to learn how to buy from wholesalers:
Negotiations
To negotiate the best deals, you need to know the facts you can leverage to create an arrangement favourable to both you and the supplier. Here are some questions you can ask:
How much is the item's retail price, and how much will you save if you buy wholesale?
What is the minimum number of orders, and that number a good fit for what you need in your business?
Suppose you mark up your prices to cover direct, indirect, and overhead costs. Will your final cost exceed the suggested retail price?
What are the included services and perks in the suppliers' offer? What are the limitations?
What communication channels can you use to contact them when issues arise?
What are the payment terms?
What happens to outstanding inventory that you can't sell anymore, especially for items returned by customers due to factory defects?
Warehouse
You have three options when it comes to storing your products.
First, you can DIY by getting a warehouse to put all your products. With it, you'll also need an office where you can process orders. There's no one stopping you from turning your garage or basement into a storage facility, but you might want to check out your lease agreement or local laws for any restrictions on holding a large inventory at home. You can bring large storage cabinets to keep your inventory safe at home.
Second, have you heard of dropshipping? It's selling items straight from your supplier's inventory. You handle all the product marketing, while your supplier takes care of shipping to your customers.
Lastly, you could try a fulfillment service like Amazon's. It's a lot like dropshipping in terms of letting someone else handle the logistics. But with this service, you have a different inventory from your supplier. You simply have to ship all your products to a fulfillment warehouse, where they process each order for you.
Website
Having a safe and secured website you can trust to work 24/7 is the most crucial part of your online business. You can't risk losing customers because of glitchy or slow-to-load websites that scare people away. Look for one-click install eCommerce hostings that offer Rocket‑Fast Premium Servers with dedicated customer support and free eCommerce tools.
It will also be a big help if you have integrated software that automatically calculates sales and inventory details. This way, you can see how many items you should order from your wholesaler to avoid overstocking.
Most importantly, study how you can utilize Search Engine Optimization (or SEO) on your website. It's all about determining the right terms or keywords people use when searching the internet for what they need. When done right, SEO will help you appear on the first page of a search engine like Google. Entrepreneurs should know how to use the best eCommerce SEO tips to reach their target market without unnecessarily spending thousands of money on ads.
Things to Keep in Mind When Purchasing in Bulk
Buying perishable bulk items is not a good idea for people only starting to set up their online businesses. You want to sell things that will last long and won't budge, even when you store them outside of a controlled environment. Later on, once you have a better feel for managing logistics, you can decide if you're ready to take the risks that come with selling short-lived products.
Don't hesitate to haggle for a price that works for you, but be ready to compromise too. The worst thing that can happen when you ask for lower rates is that your supplier says no.
If the minimum number of orders is way past your limit, consider partnering with other retailers. Or better yet, walk away for now. Avoid getting stuck with too many products that you can't sell right away.
Sign a contract with your supplier to protect yourself from damages, especially for big purchases.
Be wary of wholesalers who can't give you a list of previous or current customers. You should check in with them to ask about their experiences working with your supplier.
Figuring out how to buy from wholesalers doesn't need to be hard. By following these tips, you can cut the chances of losing your capital and expect a smoother business with more outstanding results.