Small business owners who are figuring out Google's toolset commonly enter things like "google workspace basic vs business" and "Gmail free vs paid" into their browser. When you look at the tools included in Google Workspace, which was recently renamed Google Workspace, they look like the ones that we all get to use for free—Gmail, Drive, Calendar, etc.
But don't let the existence of those widely-used free versions fool you. There are big differences between the free Google tools and the versions included in Google Workspace.
In this article, you'll find a Google Workspace comparison chart that shows why small businesses should opt for the enhanced tool features that come with Google Workspace. We'll wrap up by matching the four Google Workspace plans to the kinds of businesses that can most benefit from each one.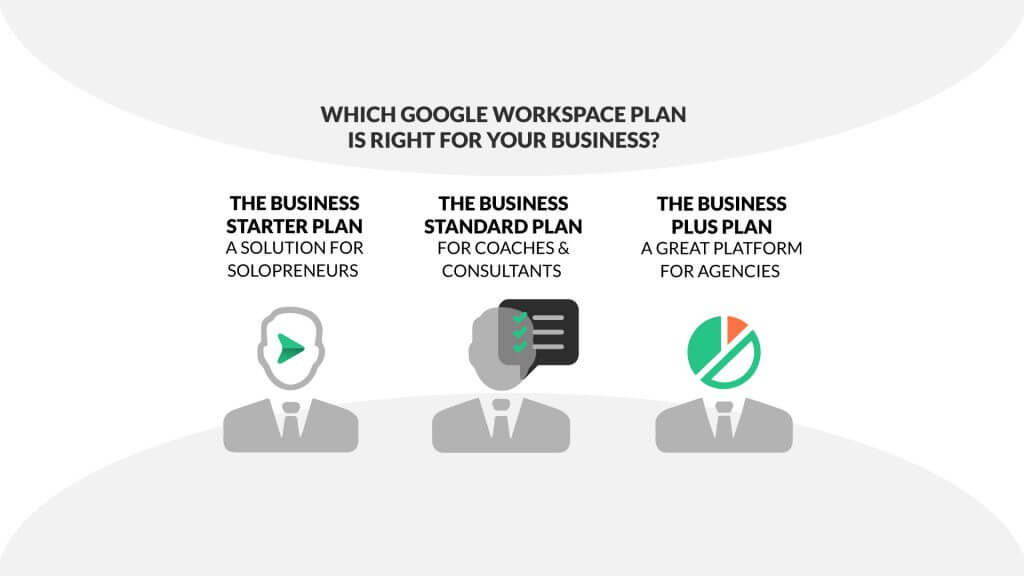 Google Workspace Basic vs. Business: The Difference Between Free and Paid Access to Google Tools
Everyone with a Google account has access to a version of the tools offered in Google Workspace, but that's not the same thing as having a Google Workspace account. Free access is limited access, and when the tools are needed for business, the limitations become a problem.
For example, a photography business that needs to store thousands of large photo files will find that, with free Google Drive access, the storage limit is far too low. Any kind of business dealing with the limitations of a basic Gmail account will find it unsuitable for business use. While team collaboration is possible with free access to Google tools, there are features in Google Workspace that will help you optimize how your team works.
One of the major benefits of Google Workspace is exclusive access to advanced interface features. Google has unified its productivity and communication applications into a centralized interface that incorporates email, text, voice, video, and content management. The company recently released this interface and it's currently available to Google Workspace users.
Now, let's compare all the tools included with Google Workspace Business vs. Basic, with a focus on why paid access makes sense for small businesses.
| | | |
| --- | --- | --- |
| Tool | Google Account | Google Workspace Account |
| Gmail | The free version of Gmail is a full-featured email platform that millions of people use every day. It's great for personal use, but for business use, the features associated with free access will not suffice. | With a Google Workspace account, Gmail becomes a flexible business communications control center. For one thing, you can use a professional signature and address, like you@yourcompany.com. There's enhanced security, and the paid version of Gmail allows you to chat and make voice or video calls from within the Gmail app. |
| Drive | Drive provides cloud storage for backing up files, etc. While the space limit applied to free Google accounts is generous (about 15 GB shared across all apps), it's not enough storage space for a business. | Even with the lowest-level Google Workspace plan, you'll get 30 GB of cloud storage per user, separate from the massive storage allowances assigned to other Workspace apps. You also get more ways to access files and greater control over how files are shared. |
| Meet | For non-paying users, Meet is an easy-to-use video meeting platform. Limitations make the free version unsuitable for business use. | The paid version of Google's Meet app allows teams to conduct secure meetings with enterprise-grade video conferencing. There's also a new "picture-in-picture" feature, which allows users to video-meet inside the Docs, Sheets, and Slides apps. |
| Calendar | The version of Google Calendar that everyone can use for free is a great planning tool … if you're planning a vacation or need to remember someone's birthday. If you're working with a team on business goals, you need the Calendar features that come with a Google Workspace account. | For small businesses, having a centralized calendar for scheduling is crucial. Paid access to Google's Calendar app brings enhanced integration features and expanded functionality for helping teams share calendars and schedule meetings. |
| Chat | All Google account holders can use Chat to send text messages to their friends and family from any device, but if you need to optimize communication with team members, colleagues, and customers, you'll need the enhanced capabilities of the paid version. | With a Google Workspace account, Chat makes one-on-one and group messaging easy and flexible. Users can create Docs, Sheets, and Slides documents directly from the Chat app. Workflow is streamlined by "smart chips," which are popup messages in the context of specific @mentions. |
| Docs | The free version of Docs, Google's full-featured word processor, is great for personal use but lacks many of the valuable integration points that the paid version offers. | A Google Workspace account adds enhanced integration between Docs and the other Workspace apps, especially Sheets, Slides, and Forms. It enables real-time collaboration so multiple people can make and see changes at the same time. |
| Sheets | A full-featured tool for crunching numbers, Sheets allows users to create smart spreadsheets, but advanced features are exposed only in the version included with a Google Workspace plan. | Paid access to Sheets gives businesses enhanced security, fuller integration with the other tools, and advanced collaboration features. There's also helpful AI that provides meaningful insights. |
| Slides | Anyone with a Google account can use Slides, an easy-to-use presentation tool, however, the free version has significant limitations in terms of integration with the Google Workspace. | With a Google Workspace account, users can create and collaborate on presentations inside the Chat app, or they can use Meet's new "picture-in-picture" feature to video chat inside the Slides app. |
| Keep | Keep is a useful tool for personal organization. You can capture information from any source and integrate it into a list. | With paid access, you'll be able to use Keep in countless ways to collaborate on notes and task lists with teammates. You can plan together and schedule action items, with all the information synced across devices. |
| Sites | With Google Sites, users can create websites, but they're bound by significant design limitations. | With a Google Workspace account, Sites becomes a site creation environment that the whole team has access to. Businesses can spin up short-term websites for events and meetings or create a project site to centralize communication. |
| Forms | For personal use, the free version of Forms makes it easy to create quick survey forms and collect the results in Google Sheets. | Paid access to Google Forms allows businesses to collaborate on surveys and questionnaires to support internal and customer-facing communication. |
| Currents | There is limited free access to Currents, an advanced platform that helps businesses establish a cohesive environment for collaboration. | The use of Currents inherently means gathering large numbers of users in a closely-managed collaboration environment—the associated high user count requires paid access. |
In addition to these differences, Google Workspace account holders get increased administrative control, including centralized management of user accounts and security settings, the ability to manage user access, and more effective tools for working with remote employees. Google Workspace account holders also get 24/7 support.
Now that we've looked at what Google Workspace provides compared to the free tool versions, it's time to explore the different Google Workspace plans and match them up with the kinds of businesses that can most benefit from them.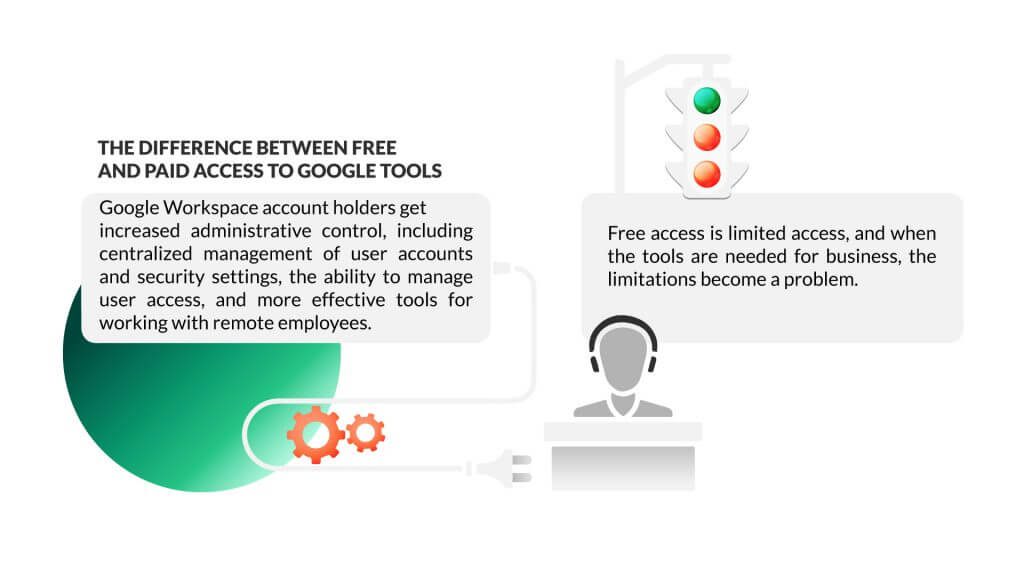 Which Google Workspace Plan Is Right for Your Business?
In the transition from G Suite to Google Workspace, the company has tried to fine-tune its offering so that it perfectly meets the needs of any size business.
If you're seeking a productivity suite for your business, one of the most affordable ways to take advantage of Google Workspace and meet your related hosting needs is to sign up for a managed Google Workspace hosting plan.
Let's look at the available Google Workspace plans with an eye toward the types of businesses that could benefit from them.
A Solution for Solopreneurs—the Business Starter Plan
The lowest-priced Google Workspace plan is the Business Starter Plan. It's perfect for solopreneurs, especially those who are just starting their business.
A one-person business must pass a legitimacy test that doesn't apply to full-size companies. You can highlight your professionalism with a business Gmail—a custom email address like you@yourcompany.com goes a long way to present a professional image.
A one-user Google Workspace account gets you a lot. There's the highly integrated toolset, of course, and business owners can host professional video meetings, use up to 30 GB in secure cloud storage, and maintain full control over the security and management of their account.
For Coaches & Consultants—the Business Standard Plan
Online coaching and consulting businesses need an open, flexible platform to communicate with team members and clients. The Business Standard plan lets you conduct secure video conferencing, and you can record the meetings. Integrated calendars make team scheduling easy. You get custom and secure business email, 2 TB of cloud storage per user, and the opportunity to upgrade to Google's Enhanced Support.
A Great Platform for Agencies—the Business Plus Plan
An agency needs to bring teams together for collaboration in real-time and establish workflows that maximize productivity. In the Business Plus plan, the "plus" means professional email augmented with advanced business intel features, a high limit on video meeting participants, the ability to record and track attendance in video meetings, and a massive per-user storage allowance. The Business Plus plan also comes with access to Vault, which offers 2TB of storage per user.
An Affordable Productivity Solution for Your Business
Every small business needs a productivity and communication toolset that helps them execute their plans and grow. Whether you're the lone employee of an online boutique, you lead a small team of consultants, or you marshal the creative forces of a full-service agency, you need a workspace in which to realize your business goals.
We hope this article has clarified the business benefits of Google Workspace. After closely examining your needs and those of your team, you'll be able to decide which of the Google Workspace plans is right for your business.