Having emails with your custom company domain (yourname@yourcompany.com) has numerous advantages. It makes you look more professional, it makes all of your organization's email addresses consistent, and it gives you more control over your company's communications.
But setting up your custom email addresses can carry some difficulties. Whether you're using Google Workspace (previously G Suite) or another business suite, you'll need to take care of the technical side of your emailing. In this post, we'll focus on how to ensure secure emailing by setting up Google Workspace SPF, DKIM, and DMARC keys. These functions are extremely easy to set up in your Google Workspace, but if any complications arise, your hosting provider should be able to lend a hand.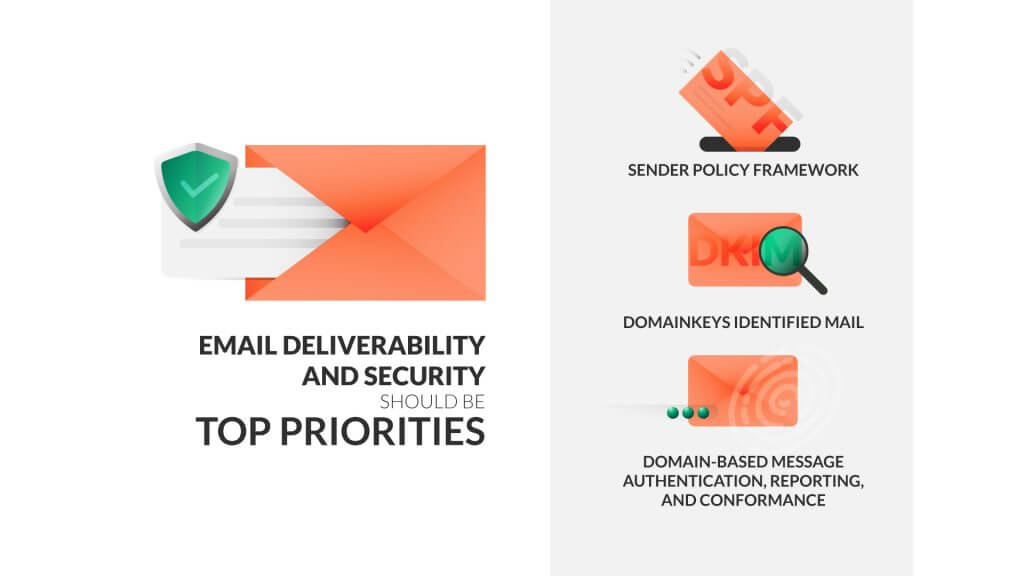 Why SPF, DKIM & DMARC Keys Are Important
To put it briefly, SPF, DKIM, and DMARC keys guarantee that your emails will reach their recipients and prevent scammers from stealing your identity.
Email deliverability and security should be top priorities, whether you're sending invoices and project updates to individual clients or implementing email marketing campaigns with hundreds of recipients. A third-party infiltrating your communications can irreversibly damage the reputation of your business and even your clients' finances.
But email security isn't just about protecting your clients. It can also protect your company from financial damage. With thousands of businesses transitioning to remote work, this year has seen a significant rise in a very specific type of phishing scam. Writing for Infosec, Fakhar Imam notes that 2020 has been the year of the "CEO Scam":
"Typically, this scam works in three steps:
Scammers attempt to find names of corporate executives (the boss, the CEO, high-ranking supervisors), their emails, usernames, passwords, and job functions.
They impersonate a trusted boss and send email to subordinate employees.
They try to obtain or withdraw money sent by the victims; to this end, they may even need third-party assistance."
SPF, DKIM, and DMARC aren't the be-all, end-all of cybersecurity. There's still a chance of passwords and other sensitive data being stolen, but these protocols make it harder for the average scammer to impersonate you. Most CEO scams are conducted through free email accounts, not through accounts with personalized domains.
But what are SPF, DKIM, and DMARC keys, and how do they work?
SPF, DKIM & DMARC Explained
A first step in the right direction is taking a look at what these acronyms mean:
SPF is an abbreviation for Sender Policy Framework.
DKIM is short for DomainKeys Identified Mail.
DMARC is short for Domain-based Message Authentication, Reporting, and Conformance.
SPF, DKIM, and DMARC are three authentication protocols. The presence of SPF keys, DKIM keys, and DMARC keys confirm the identity of the email's sender. They guarantee the authenticity of your messages and prevent attacks.
SPF, DKIM, and DMARC complement each other to create a solid barrier against scammers. The SPF key guarantees that the IP address sending the message has the right to use the email address. This prevents the fraudulent usage of your domain.
When sending an email from a personalized domain through a service that has DKIM keys, the mail is "signed" as legit. This "signature" is encrypted. It's there, but it can't be removed or altered. This prevents "man in the middle" attacks. And if a security concern arises, the DMARC protocol will block any suspicious emails before they reach the recipient.
Now that you know what these keys are and what their purpose is let's see how to set them up in Google Workspace.
How to Set up your Google Workspace SPF, DKIM & DMARC Keys
SPF and DMARC keys are set up through your hosting provider's control panel. Your control panel interface will vary depending on your hosting provider. At HostPapa, we work with small businesses and aim to make things as easy as possible with cPanel's intuitive and simple interface. You can learn how to set up your SPF key with HostPapa in this article. Our servers allow us to achieve DMARC compliance through SPF, so the only other protocol you'll need to worry about is DKIM.
Let's take a look at how to set it up, step-by-step.
First, navigate to your Google Workspace admin panel, and click on Apps.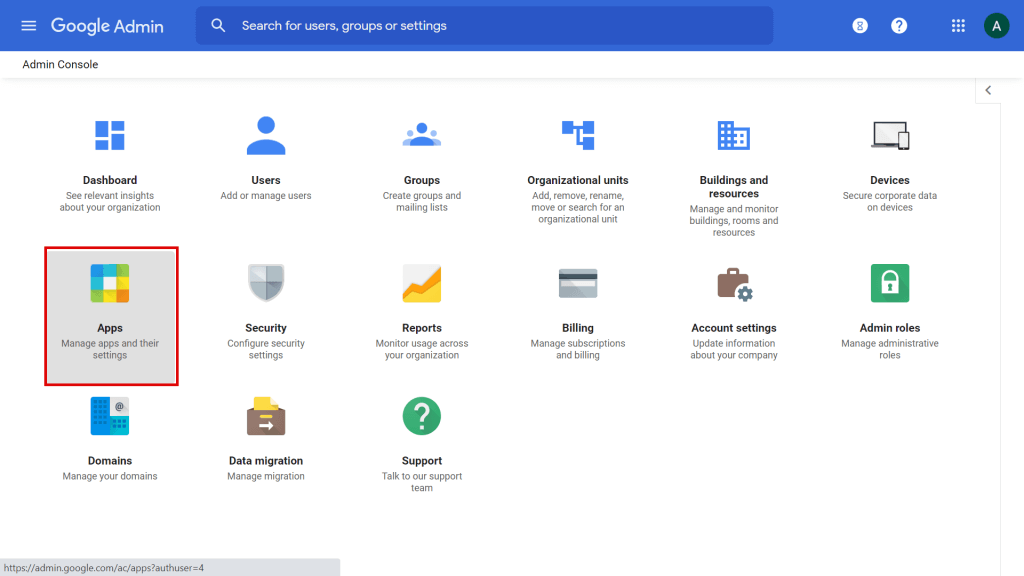 Next, click on Google Workspace.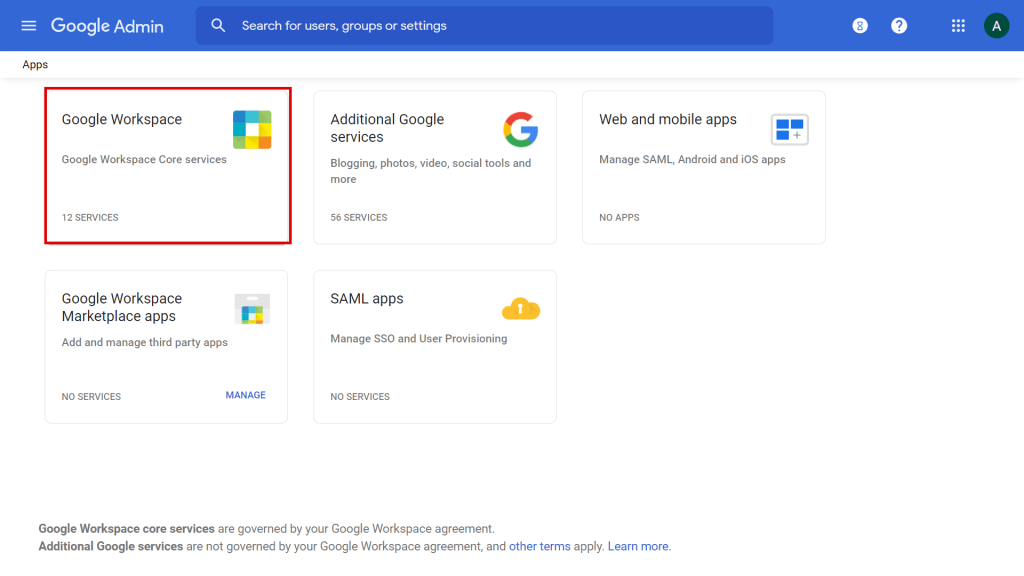 In this section, you'll find a list of all the Google Apps available for your workspace. Click on Gmail. Make sure you don't click on the item's checkbox, as this will only show you the option of activating or deactivating the app. Instead, you want to be sent to the Gmail settings page.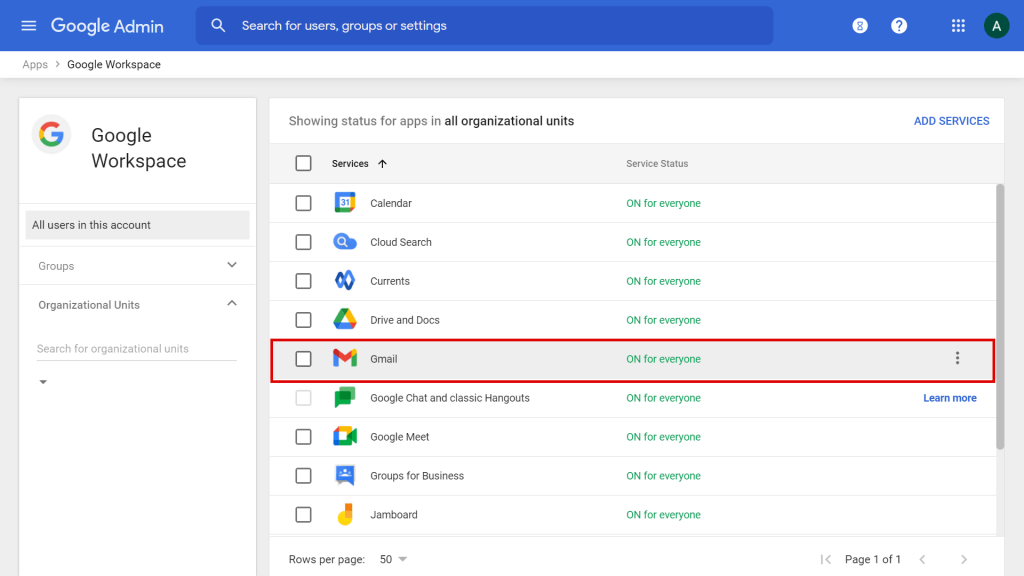 Scroll down, and click on Authenticate Email.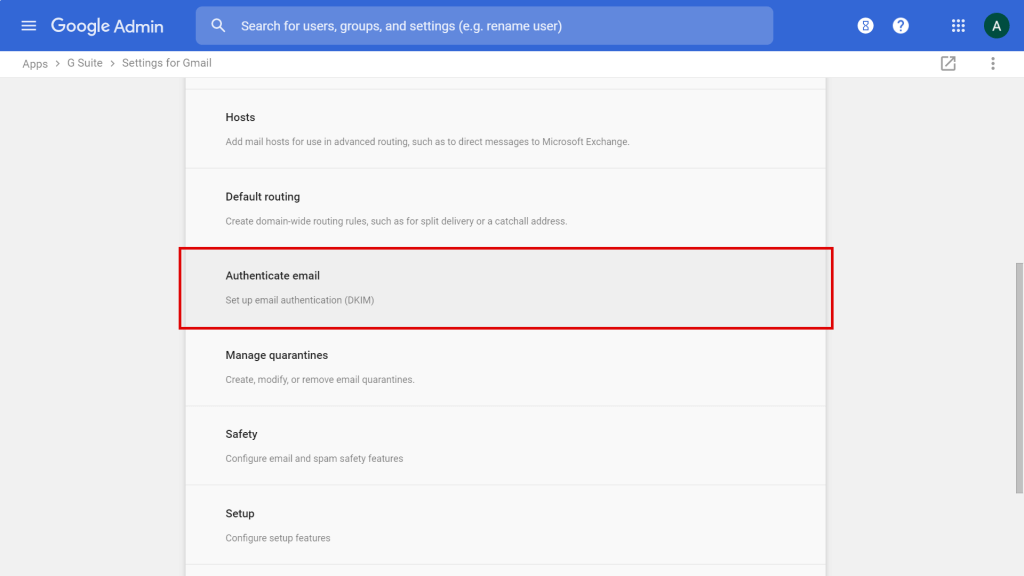 Next, click on Generate New Record.
A pop-up will appear. Click on Generate.
This will create a new TXT record value.
Go to the "DNS Zone" section of your hosting's admin panel, and create a new TXT record with the values that Google provides.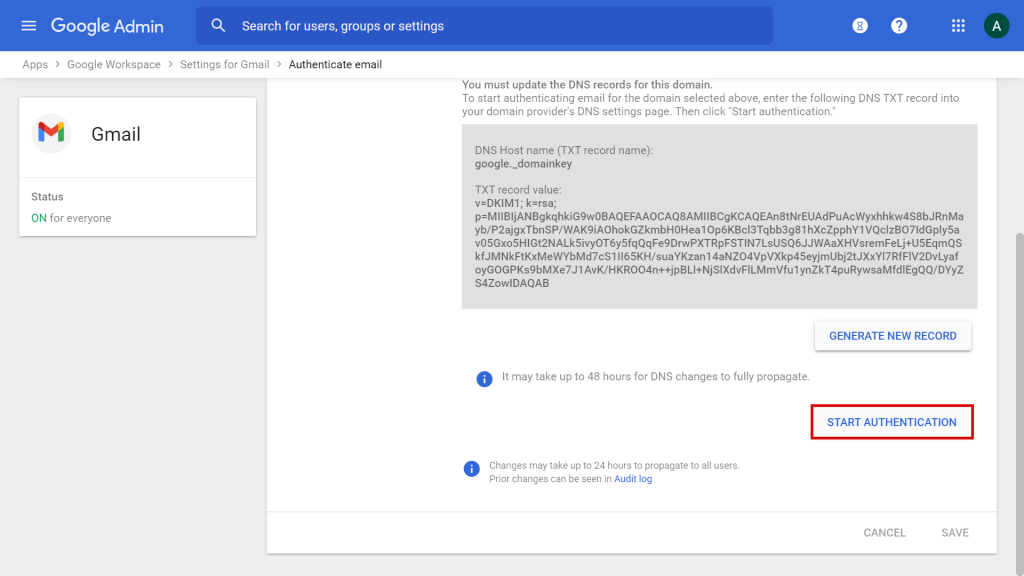 Once the TXT record is created and saved, go back to the Google Admin panel and click on Start Authentication. This process may take up to 48 hours, but it's usually much faster.
Key Takeaways
In this post, we explained the importance of SPF, DKIM, and DMARC keys for communication and security. These security protocols:
Ensure email deliverability.
Prevent your email marketing efforts from being flagged as spam.
Reduce the chance of malicious attacks.
We also took a look at how to set up Google Workspace SPF, DKIM, and DMARC keys. The process is quite simple, but it's even easier if your hosting provider has a simplified admin panel that non-specialists can use.
HostPapa's mission is to help small businesses go digital with the best technology, so we're relaunching our Google Workspace services in 2021. If you're looking to take your business' communication to the next level, check out our Google Workspace hosting. Happy emailing!