Coaching has helped thousands of individuals and organizations around the world surpass what seemed like unmovable roadblocks. As a result, business coaching is a thriving industry with an estimated market value of over 11.6 billion dollars.
While an experienced and talented coach can drive incredible personal and commercial growth for their clients, those in service industries should consider coaching in another light as well. It's not only a service they can benefit from, but one they can offer to support their clients' goals further. Offering coaching services can make your relationship with existing and new clients richer, stronger, and more efficient.
Business Coaching and Coaching as a Business
Be it personal, professional, financial, fitness, or narrative, coaching is a highly requested service that you can provide to both new and existing customers. Adding coaching to your services isn't just an upsell. It breathes new life into your working relationship, helping you get to know your clients on a deeper level so you can recognize and address their needs.
Developing a physical product or diversifying your business can be high-risk, but adding coaching into your services is not. One of the first (and potentially most expensive) steps to incorporating coaching is getting trained as a coach. But even if it doesn't pay off the way you expected, coaching skills can benefit your business in less obvious but equally important ways. For instance, adopting coaching practices and principles into your company's leadership style can result in a more engaged team and help develop high-performing employees.
In this post, we'll explain the first steps to adding coaching services into your business. While the tips we'll share can be useful to all types of coaches, we'll focus our attention on business-to-business coaching.
What Is Business Coaching?
Without motivated leaders with a clear business vision, a company cannot grow or even function correctly. Practitioners often define business coaching as a strong and lasting relationship between a business owner and a coach. This relationship is based on advisory, accountability, self-awareness, honesty, and realistic goal-setting.
You may be wondering if there's a difference between business coaches and consultants. There is! Using a data-driven approach, consultants are hired to develop objective answers and procedures to solve a business's performance problems.
Business coaches, on the other hand, focus on the performance of individual leaders. The purpose of business coaching is to help people in a leadership position establish a vision for the company that's true to their principles. Business coaching focuses on individual behaviour and will often tackle personal problems along with work-related needs.
Small Business Coaching
If you've spent the last few years operating a small enterprise, you know the ins and outs of entrepreneurship. In this case, you can change businesses and the lives of others through small business coaching.
Your specialization is your competitive advantage. If you're a graphic designer operating a small studio, your small business coaching services could focus on visual communication and how it relates to a business' identity and mission. If you're a legal practitioner, your small business consulting practice could help scale a company's leadership and navigate its regulatory framework.
Don't try to fit into the mould of an "ideal" business coach. You don't need to know every aspect of your client's business to make a positive impact. Make the most of your knowledge and experience, focus on what makes you different, and specialize in the problems you can solve better than anyone else.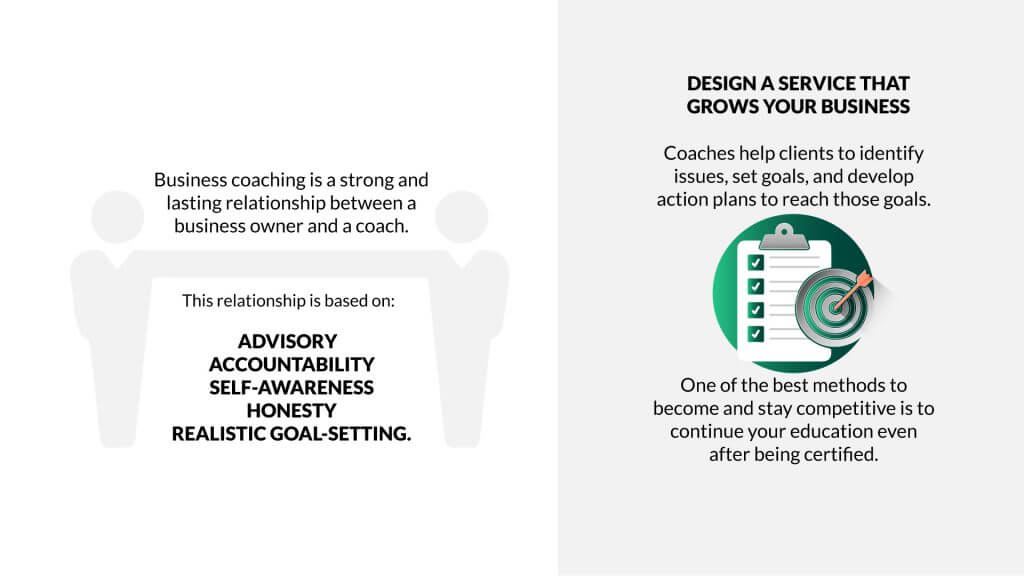 How to Become a Coach: First Steps
Before analyzing how to become a coach, you should determine why you want to be a coach and understand your own motivations. Most coaches have a personal narrative at the core of their practice. Besides your subject matter expertise, how have you personally experienced what you aim to help clients face? For instance, if you'll become a financial coach, which adversities have you faced in your path to financial stability, and what have you learned as a consequence?
Remember, coaching isn't about providing advice. As Anthony M. Grant notes in a 2012 paper, coaches help clients to identify issues, set goals, and develop action plans to reach those goals. These action plans have to match the goals and the values of the client. When the action plan unfolds, the coach's role is to monitor and evaluate the client's progress.
Working with a coach offers clients a space for realistic goal-setting, accountability, and growth, without providing direct advice. For instance, if you're a dietician, you could provide customized meal plans and coaching. A coach without medical qualifications shouldn't offer nutritional advice; instead, they can help the client attain and keep good dietary habits by complying with their dietician's instructions.
Once you have a deep understanding of your motivation and your role as a coach, ask yourself: how would my clients benefit from my coaching? Talk to them. If possible, make sure that you have received sufficient and trustworthy client input before launching your new service. Ask your clients if they've ever received coaching before, if they understand the role of coaching, and whether or not they believe coaching will benefit them.
Don't dive into coaching spontaneously. Getting trained to be a coach is very important, even if you are already a counsellor or consultant. Coaching requires a particular skill set and involves models and toolkits that a counsellor or consultant may not have.
One of the best methods to become and stay competitive is to continue your education even after being certified. Keeping up with new techniques, tools, and practices can make a world of difference to your clients.
Design a Service that Grows your Business
When you're adding coaching to your existing professional practice, you're in a much better position than those starting a coaching business from scratch. You probably already have extensive experience serving your clients – you know them, and you can figure out how to tailor your service to meet their needs.
Don't limit yourself to coaching your existing clients! Your new service will eventually attract new leads from different backgrounds and with unique needs. Soon, the question of niches may arise. For example, if you started as an accountant and financial coach, but you're now receiving an inflow of clients who are also looking for personal coaching, should you add to your services? Or should you stay within your niche?
When facing the question of niches, coach Kim Morgan says:
"To niche or not to niche seems to have become the question for coaches. The coaching industry has grown at a phenomenal rate, and most marketing experts now agree that identifying a target audience, an ideal client, or a niche area for your coaching is a good thing. (…) It's fine to be a generalist if that feels comfortable to you, and your marketing communicates that clearly as a deliberate choice. But by finding a niche, you can develop a clear brand and become a recognized expert or thought leader in your field, and that can generate lots of opportunities."
How to Market your New Coaching Services
When growing your coaching business, you must have an active, value-driven online presence. "Value" is our keyword here. Your marketing should project the idea that you're a knowledgeable and well-trained professional focused on helping others.
That's why content marketing is the preferred marketing method for coaches. You should promote your services and grow your clientele, not just by announcing that you're offering coaching services but also by providing free samples of your knowledge through engaging content.
On social media, this could be bite-sized ideas, concepts, and practices. You could also add a blog to your company website where you offer case studies, insight into the research behind your methods, and address your potential clients' concerns and needs.
If you don't have a company website yet, this may be the perfect time to get one. WordPress hosting services for small businesses offer very affordable solutions, with customer service representatives dedicated to helping newbies.
Having an active online presence will benefit all areas of your business by bringing a new stream of leads to your website and increasing your brand awareness.
How Coaching Adds Value to Your Business
Adding coaching to your services will help you stand out from the competition, strengthen your client relationships, and open the door to a new clientele. It can also set the stage for a better, more vibrant, and engaging online presence since the best way to promote coaching services is through creating valuable content.
Before you begin, you should clearly understand your motivations, clients' needs, and what you can bring to the table. Get training, and continue your education after you've been certified.
Coaching can breathe new life into your business and make you a better professional. In a sense, it's an ongoing education. What you won't learn from courses and books, you're bound to learn from your clients.