In the digital age, running a successful business requires more brand retention, networking, and a strong online presence than ever before. Most entrepreneurs starting their business or trying to scale their operations are looking for services to help them with their website building, brand engagement on social media, and business cards to make a good impression when networking.
When trying to find the best online business card printing services, look for professionals who can make ordering new business cards simple and offer the best design and print quality at competitive prices.
Even today, business cards are not only widely used around the world, but they still make noticeable value addition to a business's marketing strategy and public reputation. This makes them necessary for all businesses, particularly if you focus on networking and looking for business leads during events and seminars. That said, unlike what some people may think, you need to pay some attention to the options available when deciding on your online business card printing service.
In this article, we'll guide you through everything you need to know to find the best online business card printing services for your brand.
How Important are Business Cards?
Even though many businesses have adopted the new era of digital marketing, many consider a business card one of the most important pieces of your brand representation and marketing material. It's a universally used way to directly promote your company name, services, and brand. Business cards are especially essential for your business if you meet potential clients. investors, suppliers, contractors, and other business stakeholders.
A well-designed business card sets the first impression of your brand while you're out representing your business. You want to make sure that your business design is memorable and helps people think of your brand when they see your card. Be sure to include your business logo and branding in the design itself. If you've already been working on the right colour scheme for your business website, you can use the same colours and branding guidelines like fonts for your business cards.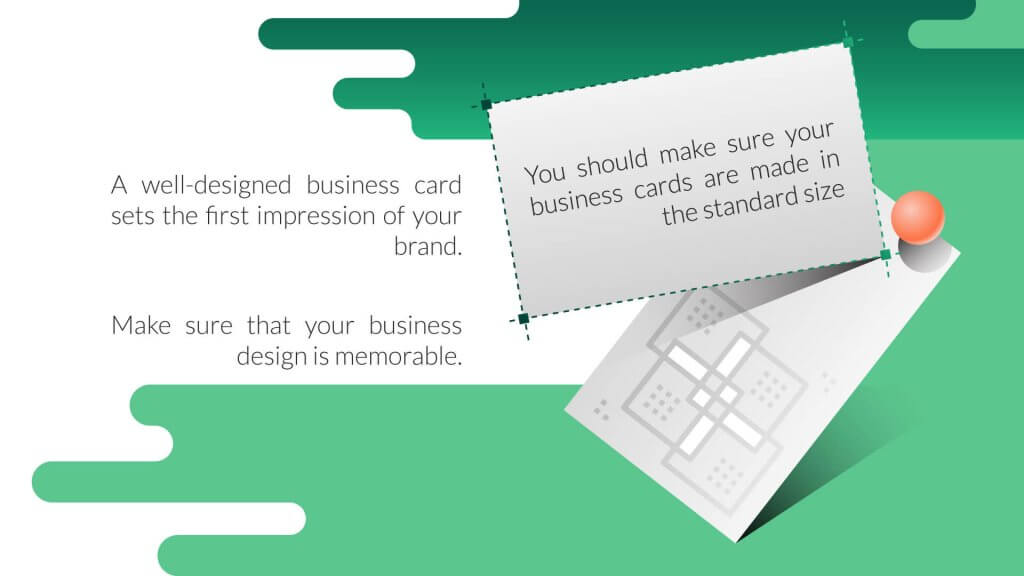 What Size is a Business Card?
Along with focusing on your business card design to build a good first impression, you should make sure your business cards are made in the standard size. The standard business card size is often based on the universal sizes of wallet manufacturers for storing bank or ID cards.
On average, the standard business card size in the US, Canada, and several other countries is 3.2 x 2 inches, where 3.36 x 1.86 inches make the printing area safe. That said, if you're planning to go for a more unique or modern design and shape, you can use one of the following standard business card sizes.
| | | |
| --- | --- | --- |
| Format | Size In Millimeters | Size In Inches |
| Standard Business Cards | 89 x 51 | 3.5 x 2 |
| Micro Business Cards | 25 x 76 | 1 x 3 |
| Square Business Cards | 57 x 57 | 2.25 x 2.25 |
| Folded Business Cards | 83 x 51 | 3.25 x 2 |
How Much Do Business Cards Cost?
The cost of printing your business cards varies based on several factors, like whether you are online looking for printing services or using one of the free templates or personalized design. On average, printing 100 business cards can cost you anywhere between $17 to $30. That said, you may need to pay more if you want premium quality paper or any other extra requirements.
Many online business card printing service providers offer a selection of free templates that you can choose from for your business cards. But if you want to get a customized business card design, you'll probably pay extra. You can ask the graphic designer who planned your website design for help or look for a freelance designer for customized business card design options. This may add another $100 to $300 to your cost of printing business cards.
Why Print Business Cards Online
More often than not, the process to print your business cards from an online service provider is quick and easy. It's also often more cost-effective for your business than getting them done elsewhere.
Many online business card printing service providers allow you to design customized business cards through their online design tools. Most offer this option these days to cater to business owners' particular requirements. Before you know it, your personalized business cards will be freshly printed, shipped, and available to you for a reasonable price.
That said, online service providers allow you to avoid looking for a good physical store and going there to place your order. You can easily receive your business cards without leaving the comfort of your home or office. This makes online business card printing services more favourable for business owners who can use their time efficiently.
The Best Online Business Card Printing Services
In this section, we'll list some of the best online business card printing services providers, along with their price ranges and the pros and cons of opting for each. This should help you find the right online business card printing service for your business needs.
Canva
Canva allows you to design and print custom business cards directly from Canva on your phone or desktop in a variety of quality paper stocks, finishes, and sizes. The best part is that there is a Happiness Guarantee, meaning you get a refund or reprint if you're not happy with your Canva business cards.
Pros
Professional print quality from a professional printer nearest you
Free and easy-to-use drag-and-drop editor with a library of millions of free assets
Shipping from $0 – free standard shipping available globally
Planet friendly printing – a tree is planted for every print order received
Resize design into more print products – turn your business card design into another product from a flyer, sticker, postcard and more
Cons
Minimum order of 50 business cards
Limited to Standard, Premium and Deluxe paper finishes
Price Range
Starting from US $14 for 50 cards.
Vistaprint
Vistaprint is a well-known name in the online business card printing industry. They are particularly known for offering a range of services to their clients that other online services providers often unmatch.
Vistaprint provides its customers with a wide range of online printing services. You can choose from dozens of business card template designs available online, or upload your business card design on their website and opt just for their printing services. You can also opt for their in-house design services to get your customized business card ready for printing.
Pros
Wide range of paper options in thickness, card finishing, and paper type
Ensure excellent print quality of business cards
Great online design tools to design your business card
QR code generator allows you to add QR codes to your cards
Tons of options for your business card design, including non-traditional ones
Printing services for several other marketing materials, including brochures, invitation cards, and event signs
Pricing is fair and market-competitive
Cons
Many upselling attempts
Pre-designed templates may be too basic for some clients
Low customer service
Price Range
The price of printing your business cards depends greatly on your design, among other factors. However, business cards with rounded corners and squares will cost you a starting price of $24 for every 100 cards. The embossed gloss and foil accent business cards will cost $29.50 per 100 cards. You can also opt for one of their three packages, Standard, Premium, and Specialty, based on your business needs.
Moo
Moo may be the online business card printing service provider for you if you're looking for a customized business stand for your brand. Moo is known for its high quality and excellent selection of business card styles and sizes. They have options beyond what is usually available in the market, such as standard, square, rounded, mini, and more.
Pros
Easy-to-use online platform
High-quality printing results
Vast range of pre-designed templates
Design your business card online or upload a custom design
Excellent shipping packages
Discounted prices when buying in bulk
Cons
Prices are a bit higher than other companies
Customization options are limited
Price Range
Moo allows you to purchase business cards by the quality of paper, card size, and business card finish. Moo's standard size business cards start at $14 per 50 cards. Square business cards are available starting at $16 per 50 cards, and mini business cards are available at $13 cards per 100 cards.
PsPrint
PsPrint is known for its effective design tools, price packages, and business card printing services, and they offer affordable prices compared to other service providers in the market. It's easy to use and navigate, and it allows customers to design some of the best business cards online.
Pros
Design tool available
High printing quality per market standards
Interface is straightforward
They offer one of the lowest market prices, making them affordable for all.
Cons
The tiered pricing scheme can be confusing
Price Range
PsPrint comes with a built-in online price calculator that allows you to input all your requirements, including product specification, design, and delivery method, as well as calculate your order's printing and shipping charges. On average, 50 standard-size cards with basic product requirements can cost $12 or more.
Staples
Staples allows you to design your business cards, get them printed, and collect your business cards from the nearest Staples store, sometimes all within one day. This is one of the quickest ways to print your business cards and make them stand out in the market.
The design tool Staples offers is very easy to use. It enables you to easily upload your business card design from any cloud storage space, including Dropbox and Google Drive. Staples is also flexible with the file type you can use, which provides more options.
Pros
Quality business cards with the fastest delivery and pickup available
Solid printing quality
Website has an easy-to-use design interface
Cons
Limited card material options
Fewer options for pre-made template designs than other providers
Price Range
The prices vary based on your product requirements, but on average, the printing cost of 500 cards in standard size will start at $14.99.
Elite Flyers
Elite Flyers is the right choice if you're looking to place a high-volume business order. It offers great best bulk pricing and discounts, which works great for printing cards for staff in bulk. You also get to choose from various business card styles, designs, and sizes, including linen, silk, spot UV, and foil. They take a minimum order of 1000 cards and can fulfill a maximum order of up to 25,000 business cards with delivery in just 3 to 5 days.
Pros
Wide range of design options
Very quick turnaround time for bulk orders
Excellent printing quality
Professional design services
Cons
Minimum order of 1000 cards
Can be expensive for smaller orders
No free shipping option
Price Range
Elite Flyers has an online price calculator based on product requirements. On average, 1000 cards in standard business card size will cost around $35. The prices can increase depending on your specifications.
GotPrint
GotPrint is ideal if you're on a tight budget and can settle for entry-level business card quality that's not as durable as some other providers. You'll get a selection of custom online printing services for business cards along with an excellent online designing tool.
GotPrint also offers a range of unique business card styles and designs to pick from. They're great for new and small businesses looking for very affordable prices.
Pros
Excellent pricing
Lots of printing and unique card shape options available
Easy-to-use online card designing tool
Cons
Limited font options
Card templates are less modern than other providers
Cards come in lower than average quality paper
Price Range
GotPrint's prices vary based on your requirements and product specification like size, shape, quality, and type of paper. GotPrint's price range starts from $8.30 for a pack of 100 cards in standard size.
Zazzle
Zazzle has an impressive range of business card templates based on profession and style, which can help you design and print a unique business card that suits your niche. You can upload your own design or choose one of Zazzle's templates. You'll also get great options in terms of different sizes and shapes of business cards.
Pros
Huge range of pre-designed templates
Choose from very stylish and professional-looking design options
Tons of high-quality printing options
Search designs for your business niche with relevant keywords
Cons
Limited freedom and options when you upload your own design
Occasional pricing changes
Price Range
Zazzle helps you calculate the price for your order based on your specifications. A pack of 100 standard-size business cards starts at $20.95, but you can also get discounted prices when ordering in bulk.
Jukebox Print
Jukebox Print is a great option for premium business card templates with professional designs and maximum impact. They offer wider options for different materials, making them stand out in the market. You can get your business cards printed on cork, hemp, bamboo, and wood, helping you create a unique persona for your brand. Jukebox Print also allows you to print premium black business cards for the ultimate elegant first impression.
Pros
Choose from tons of unique and impressive card materials
Very stylish design options
High-quality printing services
Gold foil options
Cons
Prices are a bit higher than competitors'
Price Range
Their prices vary based on your business card specifications. A pack of 250 cards in standard size and matte coating starts at $55.
Overnight Prints
Overnight Prints has lightning-fast turnaround times. It offers a Buy it Today, Get it Tomorrow (BITGIT) service, which delivers every order placed by 8 pm the next day. Staples offers same-day service, but you need to pick up your cards from one of their stores yourself. Whereas, Overnight Prints will deliver the cards to your doorstep.
Pros
High-quality printed cards at fair and affordable prices
BITGIT, the next-day delivery solution
Tons of options in shapes and styles
Cons
Price Range
The cost of printing your business card is based on your product specification, including style, paper quality, and shape. The cost of standard size business cards at Overnight Prints starts from $7.04 for 25 cards.
Clubcard Printing
Clubcard Printing makes it on our list of best online business card printing services because of its excellent graphic design feature. They offer a great selection of business card designs for you to choose from, along with a variety of card materials. Some of the popular options include 100% recycled, laminated, foil, coated, and uncoated business cards.
Pros
Excellent printing service
Plenty of options in card types and designs
Cons
Price Range
The price Clubcard Printing offers varies based on the material and style you need, as well as the quantity you're ordering. You can order a pack of 50 cards of standard size business cards for $19.
Summing It Up
The online business card printing service providers mentioned above are highly recommended and can help you print quality business cards for your company. Just like working on any marketing material for your business, it's important that you look into all your options and find the right online business card printing service provider. You should base this decision on many factors, such as your personal preference and the specification you're looking for in your business cards, like type and quality of material, design, and shape.