When people talk about B2B marketing, they often think of boring trade shows, trade journals, and cold outreach on LinkedIn. However, B2B marketing has evolved, influenced mainly by B2C marketing.
Today, companies that negate the need for analyzing buyer intent data, improved buyer journey, and user experience are giving away enormous opportunities. As we face another year filled with uncertainty, B2B marketers can better prepare themselves by following these trends.
B2B Trends to Watch for 2022
1. A Unique Brand Voice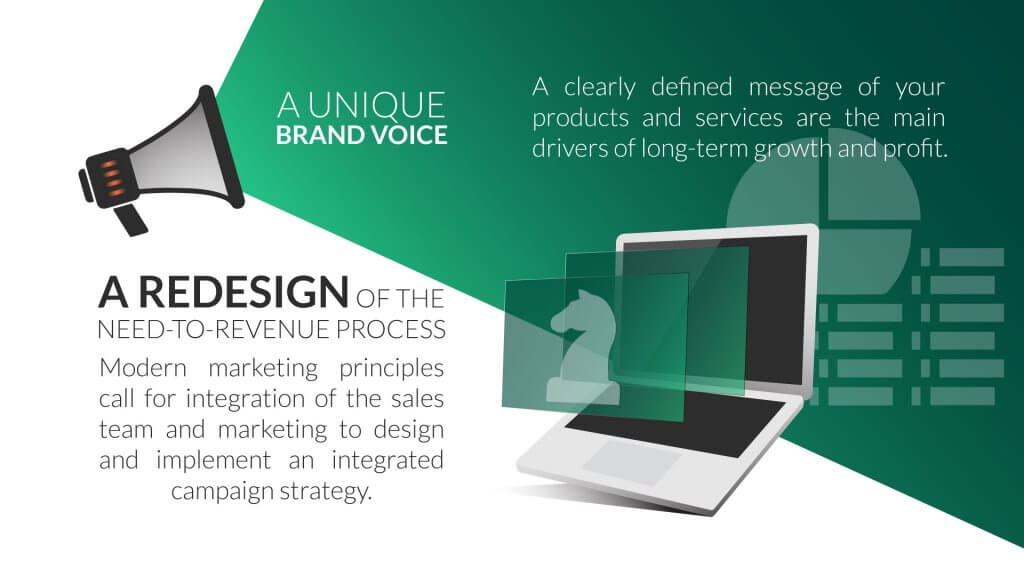 One major marketing trend to watch out for in 2022 is the increased importance of knowing your brand persona.
B2B marketing is more complex than B2C, as more decision-makers are involved, and a certain level of professionalism must be maintained. However, this approach is stifling creativity. The result is a sea of competitors that echo the same message. Just because your competitors are bland and do not stand out does not mean that you also have to be that way.
Within the B2B space, businesses need to carve out their voice and message. A unique brand voice and a clearly defined message of your products and services are the main drivers of long-term growth and profit, vastly outperforming short-term marketing. Brand personalization allows you to have a distinctive brand positioning that can easily reach your target audience and differentiate your company from competitors.
2. A Redesign of the Need-to-Revenue Process
According to research, sales teams ignore 80% of marketing leads. Another report found that this misalignment of sales-marketing costs businesses a shocking $1 trillion a year. Therefore, it is not surprising that the traditional fragmented sales process is redesigning. Modern marketing principles call for integration of the sales team and marketing to design and implement an integrated campaign strategy.
In the past, experts have emphasized the need for the cross-functional alignment of both teams. In 2022, many companies will go beyond alignment and instead fully integrate and unite the revenue engine functions. As a sign of this trend, we also see software providers and platforms incorporating these changes in their digital tools. These two departments must step out of their silos and work on marketing and sales initiatives together to make organizations thrive.
3. Leveraging Intent Data
Today, 68% of B2B buyers prefer an online shop to the classic purchase via sales staff, leaving a significant digital footprint. Nowadays, companies use data to examine the purchasing process and buying journey of the customers. With so much data available, marketing campaigns are no longer based on general preferences and demographics and instead are giving rise to predictive B2B marketing.
Buyer intent data can establish what solutions the users are looking for, what content they are consuming, which keywords they are using, and what differentiates your brand from competitors.
By analyzing the patterns and triggers of the prospect's behaviours, organizations can get an adequate buyers' insight to help them create a hyper-personalized marketing strategy. In 2022, we will see more persona-driven marketing that targets specific pockets of the audience.
4. New Lead-Generation Channels
Sellers need to stay agile and adapt to changes to generate quality leads in a hyper-demanding market. Considering that today's customers and buyers are of different age groups, businesses need to adjust to customers' preferences to dictate how products are sold.
One study found that most Baby Boomers (56%) prefer the RFP or tender process, significantly more than Millennials (39%) and Gen-X (31%). Millennials (31%) are most likely to prefer marketplaces and use platforms such as Amazon and Alibaba. In contrast, only 18% of Baby Boomers use these purchasing channels. Another poll revealed that about 80% of B2B buyers research and purchase their products on Amazon, making it the lead-generation channel of the future.
We find differences in what each age group prioritizes when making purchasing decisions. For example, Millennials expect pricing transparency and personalized product recommendations, Gen-X prioritizes fast shipping, better customer service, and convenience.
There is a growing demand for better digital services in the B2B environment. Marketers who do not adjust accordingly will miss out on new lead channels.
5. More Growth Marketing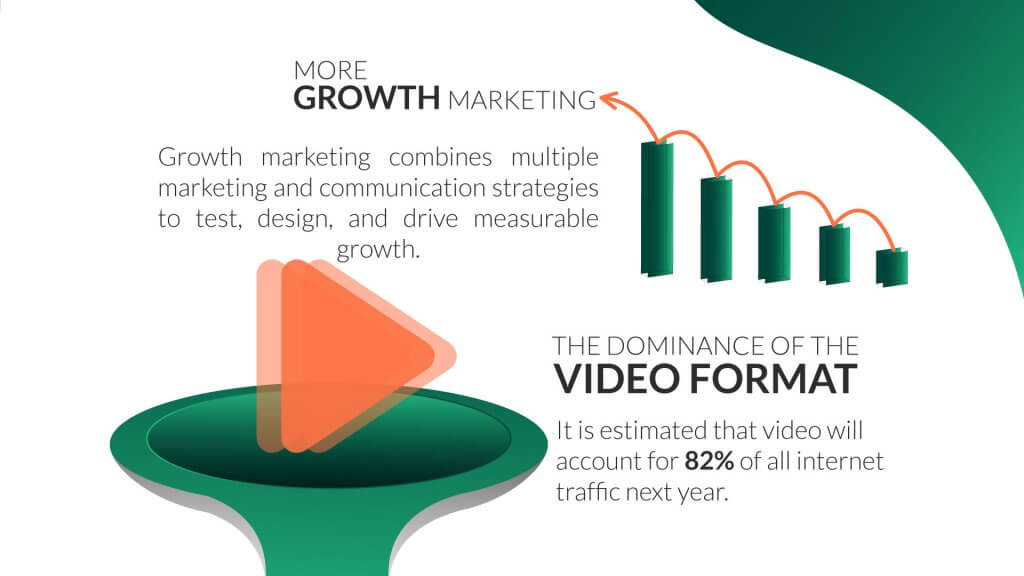 Growth marketing combines multiple marketing and communication strategies to test, design, and drive measurable growth. Growth marketers are experimenting with different channels and methods to see what content is visited and optimize each user segment. 
Growth marketers use A/B testing, cross-channel marketing, and multivariate testing to understand the audience's preferences and apply them throughout the customer journey. With this knowledge, marketers can build the campaigns accordingly and enhance the performance of every stage of the funnel. This new emerging marketing branch will drive how success is measured and pursued in the upcoming year.
6. The Dominance of the Video Format
Businesses are using video as a marketing tool, and there is a good reason for it. It is estimated that video will account for 82% of all internet traffic next year. With 78% of marketers reporting that video content directly helped them increase sales, it's time to incorporate video into your marketing strategy.
The pandemic accelerated the need for a new engaging and creative medium while retaining the human touch digitally. Videos provide a way to bring the visual aspect to potential buyers. Businesses can tell an appealing story about what they do, showcase their expertise, and provide authentic client testimonials. It's popular because video marketing makes for more compelling content and better brand storytelling.
Video content is an excellent opportunity for businesses to create a personal connection with potential buyers. It is becoming a crucial part of every marketing SEO strategy.
7. Thought Leadership Content
The common assumption is that B2B decision-making is led by rationality and not emotional purchasing. In B2B, just as in B2C marketing, we find that much of the rational approach works for short-term sales activation. However, this approach does not work well for long-term brand building.
Emotional priming is much more effective for B2B brand building. Its goal is to make customers build associations with your brand, evoke emotions, and increase its salience over time. Thought leadership content can help B2B brands influence their brand perception, instill strong trust, and improve their reputation. Businesses need to seize this opportunity and strengthen their relationship with customers to leave a lasting impact in years to come.
Conclusion
In 2022, we expect to see a variety of macro and micro B2B trends emerge, and businesses will either lead or lag behind. Marketers must be prepared and go into the new year armed with tools and strategies to embrace the ever-changing market adaptations.