Every kind of business needs to exist on the internet – it's where customers will find you. We're not just talking about Instagram or TikTok, where you can produce content and engage with people. We're talking about building a website, where you can add all necessary information about your service and get new clients.
Are you a dog trainer looking to set up a website to take your business to the next level? You've come to the right place!
In this article, we'll teach you how to build a dog trainer website and answer some of the most frequently asked questions about dog trainer websites, including:
So, let's get right to it.
Why Create a Dog Training Website?
You must be wondering: why should I create a website, since my business is already present on the leading social networks?
This is a straightforward question to answer: creating a website helps your dog trainer business gain visibility and increase sales. Besides, you can invest in digital marketing to monitor the data from your website to see what's working and what's not.
Being present on social networks is still essential, however, it doesn't change the fact that having a website is, too.
By creating a website for your company, not only do you improve communication with consumers, but also you also improve business management. There'll be greater control over strategic information and increased brand credibility.
Successful businesses often have their own websites. And one of the main reasons for making this choice is the security they promote for their customers. Have you ever made a purchase on Instagram? Maybe there's a link there that takes you to a conversation with the company's sales department in some app, but the vast majority of businesses have a website link in their bio.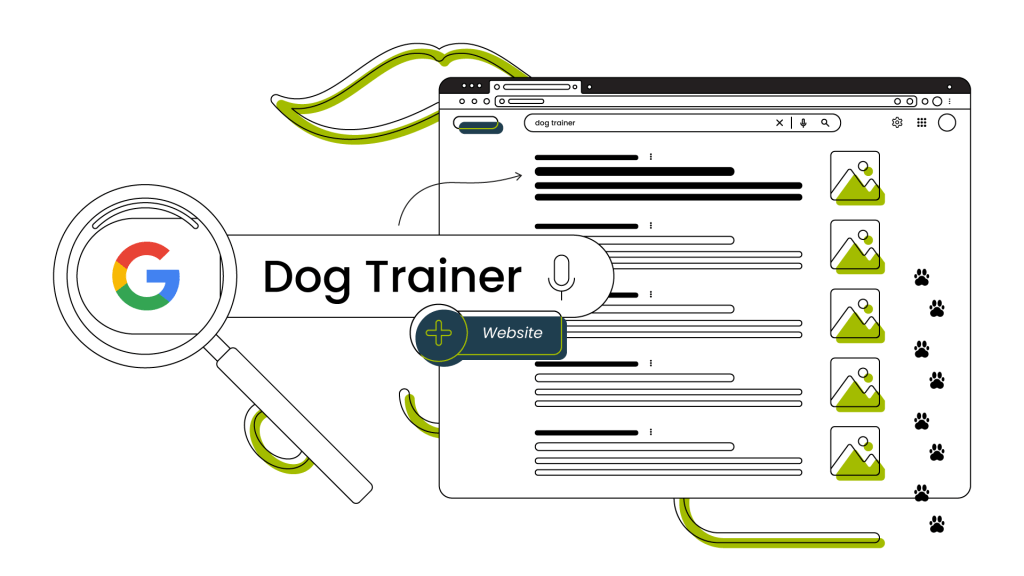 I Have My Own Small Business as a Dog Trainer. Why Do I Need to Create a Website for It?
Although having a website will increase your chances of selling, that's not all it's for. Google search is widely used by users looking for solutions and services to their problems.
If someone in your city is in need of a dog trainer, most likely that person will search on Google. So when someone searches for a dog trainer in X city, a website will give more credibility to Google bots, increasing the chances that you'll show up in the search results.
Examples of Dog Training Sites
Now that you understand why you should create a website, let's look three examples of dog trainer websites to get you inspired.
A domain name that gets straight to the point, The Online Dog Trainer is an amazing site with tons of content, from essential information about the dog training business to informative podcasts and articles about the dog world.
This WordPress site gets straight to the point, showing the types of training they offer, a content blog, an online store with their products, and other features. It's a simple, but effective website.
The famous dog trainer Cesar has a beautiful website that can definitely inspire you. Cesar is already well established in the dog training industry, with popular television programs and a lot of content to put on his site. But content production is also something you can tackle, and over time, the more customers you get, the more testimonials you'll be able to pick up and put on your website, making it more and more attractive to potential customers.
If after seeing these examples, you ask yourself: all these websites are beautiful, but how can I do this without having any knowledge? It's easier than you think.
How to Build a Dog Trainer Website
First of all, you need to register your website's domain. Think about the name you want for your website and register it with a website hosting company. Remember to think of a name that captures your expertise in a captivating way.
Once you have your domain name registered, you need to host your website with a web host.
Web hosting is the service that makes your website available to anyone who wants to visit it.
Here's an analogy to help you understand: it's as if you wanted to live somewhere and rent a house to stay there. Many companies offer this service, and just as there are different houses, there are different types of hosting services.
After you research the features of each service to find out which one is best suited for your business, you'll be able to shape your website.
Once you have your domain and web host, there are only two small (but very important) things missing: a CMS and a template.
CMS
The Content Management System, or CMS, is a software that allows you to put a website online in a practical and fast way. However, the great differential of the CMS is the possibility to change the contents of the site with ease.
If you're a dog trainer and you want to have a website, you're probably going to put content on it every day and keep it up to date. That's why website owners who want to make these constant changes choose a CMS.
Below, you can see some of the features of a CMS:
Creating and publishing pages with ease
Moderating comments on your posts
Install plugins and extensions to have new features within your website
Control of your eCommerce, if you want an online shop
There are several paid and free CMSs available on the market, each with its own specificities and suitable for different business objectives. Let's name the main ones:
Each has its own attributes, but later on, we'll talk more about the most used CMS in the world – WordPress.
Templates
We've arrived at the last piece of the puzzle on how to build a dog trainer website.
Let's say you chose WordPress to be your CMS, an excellent choice as there are thousands of templates available for WordPress, paid or free, with different features.
Just find a responsive template that'is easy to use and that's it – your site is ready for you to place your content.
Recapping the steps to create a dog trainer website:
Choose your website domain
Choose your web hosting service
Choose your favorite CMS
Find the best template for your website
Frequently Asked Questions
Let's answer some questions related to this subject.
Should I Use WordPress For My Dog Training Website?
WordPress is definitely an excellent choice. It's the biggest CMS on the web and its main features are a large number of templates, themes, and plugins available.
Below are some pet-related themes you can choose for your website's design.
Besides these, there are many others out there, paid or free. All you need to do is see which one fits your business best. It's worth mentioning that you don't necessarily need to choose a specific theme for dogs. There are several themes that you can choose and shape to suit your needs.
If you're still in doubt about which hosting service to choose, HostPapa offers an optimized WordPress hosting plan, perfect for those who want to get their website online quickly.
Which Hosting Service Do I Choose for My Dog Training Website?
There are websites that need to be on a server that offers more power than another. For example, a news website, like BBC, that's accessed 24/7 across the country needs to be on a more powerful server than a website that just went live and is starting its journey now.
For these types of websites that have a lot of traffic, there are specific hosting services, which offer more features, more disk space, and don't share resources with any other website, like a VPS hosting service.
If you're too busy thinking of ways to market your dog training business or busy studying new training tactics, HostPapa has a do-it-for-me website plan. You won't have to worry about a thing – the Papa Team will create your website for you. This plan already includes the hosting plan service, and the support team talks to you to understand your needs.
How Do I Market Myself as a Dog Trainer?
We mentioned above that you may not have time to build your website as you'll be busy marketing your business.
There are many ways to promote your business. The hardest part, which is to kick-start and create a website, has already been done. Now, you need to roll up your sleeves and produce content for your website and social networks to attract customers.
We have an article with over 20 tips on how to get clients as a dog trainer that is definitely a must-read for you.
Ready to Build Your Dog Trainer Website?
We hope this article answered all your questions about creating a website for your dog training business.
Even if you aren't an expert, don't worry! As you can see, you just need to follow four simple steps to create a website. Plus, choosing a great hosting company makes it even easier.
Are you ready to build your dog trainer website?