Think of a career or field you're fascinated with, then search for it online with the words "online course" next to it. Chances are you'll find at least one online course dedicated to that subject.
One of the primary reasons for this is that digital learning has become a booming industry. In fact, the e-learning industry will grow to a jaw-dropping $1 trillion by 2027. There's never been a better time to create and sell online courses.
That said, creating and selling online courses is not a walk in the park. Creating a good online course is an uphill task that requires tons of resources and time. Getting people to buy that course is even more challenging. Luckily, it's not impossible.
This guide will show you how to create and sell successful online courses. You'll learn everything from coming up with a subject topic to marketing the final polished product. But let's start at the beginning:
Why You Should Create and Sell Courses Online
Generating passive income is perhaps the most significant reason most people create and sell online courses. Don't get me wrong; a lot goes into creating and selling an excellent online course. Maintaining the value of that course also requires a lot of effort.
However, once you make an online course and implement a solid digital marketing strategy, the project can take on a life of its own. It can generate thousands of dollars in monthly revenue, and you won't have to spend more than a few hours per week on the course.
How much can you make from an online course? That depends on several factors, including the size of your target market, the course's price, and your conversion rate. Also, there are different online course platforms. The platform you pick may influence how much money you'll make from your course.
All factors considered an online course can make anything from zero to thousands of dollars per month.
Passive income aside, creating and selling online courses is also ideal for the following reasons.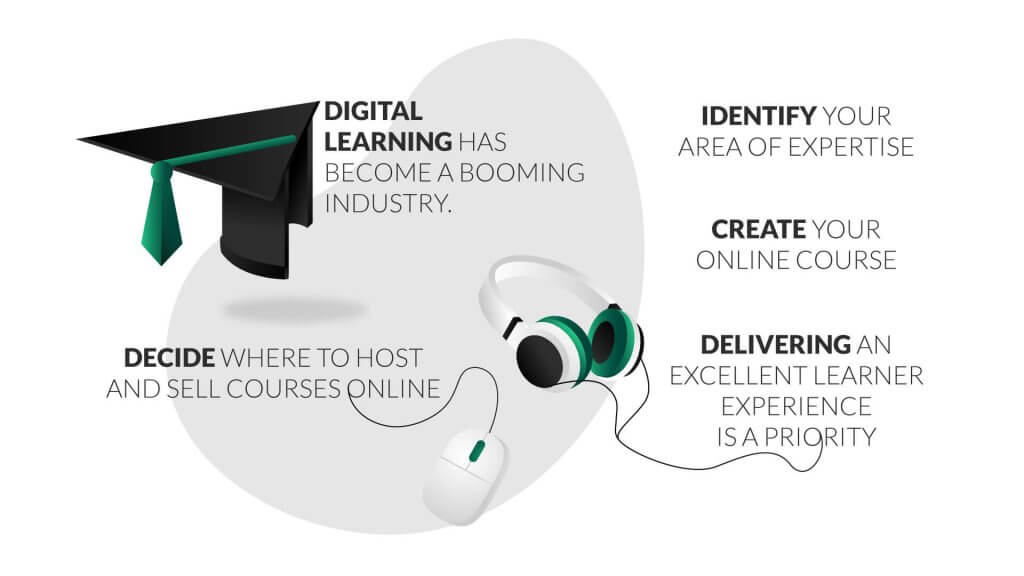 An Online Course Can Position You as a Thought Leader in Your Industry
Online courses are the perfect opportunity to share your knowledge and expertise with others. If you create a valuable course, you'll move from an expert to an authority figure in your industry. This comes with dozens of other benefits.
For starters, it increases your personal brand. You'll likely land more interviews on podcasts and the mainstream media.
Take Elliot Arntz and John Omar, for example. Elliot was a regular accountant in New York City until he joined John Omar in creating online courses on iOS app development. They made nine courses and earned approximately $100,000 per month with a net annual profit of $1 million in 2014. Their success with online courses got them featured in major publications like Business Insider.
The growth of your personal brand also opens the doors for other opportunities. For example, it allows you to build and scale a business.
Online Courses Can Increase Customer Acquisition
Online courses can form part of your sales funnel. You can use these courses to attract and capture leads at the top of the funnel. Then, share your expertise through the course to deliver value or solve pressing problems experienced by your students. Once that's done, you can convert the students into paying customers by pitching your products or services.
The strategy is effective for various reasons. One, it allows you to familiarize yourself with potential customers. The prospects will know you and your brand, making it easier for them to embrace your products when you finally make the pitch. Second, you get the opportunity to showcase your expertise through the course.
Brands like HootSuite use this strategy extensively. Through the Hootsuite Academy, the company provides valuable courses on social media marketing and advertising. Some courses are free, while others are behind a paywall.
These courses help Hootsuite capture and train future social media marketers. That's perfect because the platform offers social media marketing and management services.
HubSpot is another company using this strategy – their courses are lead magnets since they're completely free. The courses help them capture future inbound marketers, some of whom will eventually use HubSpot's paid services.
You can use HubSpot's approach if your company has a substantial budget. Otherwise, the HootSuite technique is just as impressive – charge for some courses to get back your initial investment, then upsell the students to your products/services.
How to Create and Sell Online Courses
Creating and selling online courses takes time, but the process can be summarised into a few steps. Here's what you need to do:
Choose a Subject That Sells
Naturally, you'll be attracted to a subject with a larger target audience since it might lead to more sales. But, unfortunately, you can't create a successful course, even in a lucrative field, if you don't have the expertise in that area.
Therefore, the priority should be to identify your area of expertise, not the biggest market. Then, find a subject within that area worth creating a course for. It could be a subject that many people struggle with, for example.
There are various ways to come up with an online course idea. For instance, you can think about an issue that brings people to you for help. You could also interview your customers to get topic ideas if you already have a product or service.
Keep in mind that niche-specific online courses can be easier to create, market, and sell than broader ones. For example, a comprehensive digital marketing course can be lucrative, but it will take more hours to create than a Facebook marketing course. Also, broader online courses tend to have more competition which beginners may find difficult to hack.
Once you've identified the topic, research it extensively. Start by checking if there's an actual demand for the course. You'll need to interview your target audience and see if they're willing to pay for the course. This is also known as validating your online course.
You should also search the online course marketplace for similar courses. This can help you see what existing courses cover. You can then use that information to create a superior course that goes above and beyond. That should help you attract more students.
Create Your Online Course
Start by crafting a catchy course title and writing the course outline. Course titles are to courses what headlines are to blog posts. The quality of your title will influence how successful your online course will be.
Here are some tips to help you write a great online course title:
Use keyword research tools like Ahrefs to identify relevant and powerful keywords for your title.
Make the title easy to read.
Make sure the value proposition is crystal clear.
You can go through existing courses in your niche for some inspiration on a course title. Check how the titles are formatted and see if you can draw any recurring trends to give you ideas on title formats that might work.
Next, you need to create a course outline. The outline should be sequential, starting with the basics. Each subtopic should build up to the next subtopic. The logical order will make it easier for your students to understand the topic.
While creating the course outline, take note of the types of content you'll need to create for each subtopic. Remember, you want to create an interactive online course, so you shouldn't rely on only one type of media. Instead, combine audio, videos, PDFs, and images.
Don't just combine different media forms for the sake of it. Think about the subtopic in question and ask yourself what media will make it easier for students to understand that content. For example, a picture is perfect when introducing your course. But, when you're demonstrating a point, e.g., how to use a tool, you'll need to switch to screenshots or a screen share.
As you identify the types of content needed for the course, take note of the required gear. Generally speaking, a course creator needs a high-quality microphone, HD camera, green screen, editing software solution, great lighting, and a decent laptop or desktop. Delivering an excellent learner experience is a priority, so don't compromise on these tools.
With your outline and gear ready, start creating your course. It would also help to create a script beforehand and follow it during the course creation process. Doing so ensures that no details are left out and allow you to deliver your ideas chronologically.
Decide Where to Host and Sell Courses Online
After creating your engaging course, the next step is to find it a home. You'll need a reliable platform where students can access the course easily. Additionally, the platform must make it easier for you to customize the course. More importantly, it should provide an effective payment system.
Let's look at different course creation platforms.
Types of Online Course Platforms
Self-Hosted
Here, you'll build your own website and use a content management system like WordPress to present the course. You'll then drive traffic to the WordPress website through paid ads, SEO, and email marketing.
There are two things to keep in mind if you choose the self-hosted option:
First, you'll need a highly-optimized website to boost conversion rates. Add a great description showcasing the value proposition. Consider adding a sneak peek of the course as well. Add some student testimonials to function as social proof too. Lastly, include a prominent CTA encouraging students to sign up.
Second, a reliable web hosting provider is critical. The web host must have great uptimes to ensure students can access your content at all times. Load times must also be optimized for a pleasant student experience. You'll also need to choose an appropriate web hosting package depending on your site's traffic and the size of your course.
The self-hosted option gives you more control and flexibility. You can price your course any way you want, for example. You also get to brand and market your courses in your own style. The drawback is that you need some technical knowledge to create and maintain the site.
Online Course Marketplaces
Consider online course marketplaces if you're okay with trading flexibility and control for convenience. With this option, all you have to do is upload your course to marketplaces like Udemy. They'll then do the rest, including payment collection.
The issue with online course marketplaces is that you have to operate within their terms and conditions. They'll also take commissions from every course sale. Udemy also has an additional annual subscription fee.
Learning Management Systems
Learning management systems like LearnWorlds, Thinkfic, Kajabi, Teachable, and FreshLearn offer the perfect balance in-between.
These all-in-one platforms charge a fixed monthly fee. In return, you get all the tools you need to create and sell your online courses hassle-free.
For example, you may get an intuitive drag-and-drop tool to help you build a branded website for your course. Some provide marketing automation features and tools to create quizzes and surveys for student assessment.
How Much Should You Charge for Your Online Course?
This is one tricky question that every online course creator has to deal with because there's no one-size-fits-all solution. Online courses can cost anything from $0 to over $1,500.
Beginners will have to do trial and error until they find the perfect pricing sweet spot for their course. You can start low and increase the price gradually, but don't set a price so high that it discourages interested learners from buying it.
Here are some factors to consider when pricing your online course:
Costs incurred creating, marketing, and maintaining the course
The spending power or income level of your target audience
Competitor pricing
Consider offering a flexible payment plan if the price is too high. This option can also increase uptake.
Increasing the Value and Price of the Online Course
One of the best ways to improve the ROI of your online course is to increase its value continuously. This allows you to charge a high fee months or even years after the initial launch of your course. Here are two ways to increase the value and price of your online course:
Include Upsells in the Digital Course
You can include an additional service or product and pitch it to your students as an upsell. Let's say you have an online coding course. In addition to selling the course, you could offer students an opportunity to receive one-on-one coaching for an additional fee.
Another idea is to pitch another online course. This is great if you have multiple online courses within the same niche or industry. The goal here is to show the buyer that other students usually buy the two courses together because they complement each other. That means the cross-sell needs to be reasonable. Don't pitch a second course that is totally unrelated to the first one.
Consider offering a time-limited discount to encourage interested students to buy the two courses together.
Including Bonuses in the Digital Course
A good online course comes with bonuses. Valuable bonuses can help increase your online course sales.
Bonuses can come in different forms. For example, if you're selling an SEO course, you could include a blog planner or email templates for link-building campaigns as a bonus.
Identify a vital resource that students will need when putting their newly-acquired skills into action. Then, provide that resource as a bonus.
Seed Launch Your Online Course
Before the official launch of your online course, run a seed launch. This is vital for "testing the waters" to see how well your target audience may receive the course.
Create a shortlist of people who match your ideal students. You may find these students on your email list (if you have one) or social media. Try selling the course to this list, noting any objections raised during the process.
You should then address those objections and adjust your marketing strategy accordingly before going public with the course.
Marketing Your Online Courses
After creating your online course, the next big challenge is getting people to buy it. You'll need a solid marketing strategy for that. Below are some tips on marketing your online course:
Build a sales page: Create an optimized sales or landing page promoting your online course. You should start with a "coming soon" page before the product launch. Use this page to build the hype and capture learners' email addresses. These emails will come in handy during the official launch and the follow-up strategy when marketing your course. Once the course goes live, convert the page into a sales page with a killer headline, irresistible value proposition, compelling testimonials, and powerful CTAs.
Leverage social media: Talk about your course on social media, especially on the channels used by your ideal students.
Start blogging: Start sharing tips, suggestions, detailed guides, and tutorials from your teaching blog. It can help you retain students and establish your expertise and increase credibility for your brand.
Tap into your email list: Send out an email blast marketing your course to subscribers. If you don't have an email list, build one from your website. Also, don't promote your course in every email. Instead, create an email sequence that nurtures prospects over time. For example, if you have an app development online course, you can create an email sequence explaining why the skills are valuable, the market demand, etc.
Appear as a guest on podcasts: Find podcasts within your niche and approach the owners for a guest appearance. Use these appearances to showcase your expertise and market the course. Of course, you can also start your own podcast, but this will take longer to yield results since you'll have to build an audience from scratch.
Run webinars: Host a webinar and market it through email and social media. Use the webinar to demonstrate your expertise, then market your online course.
Run paid ads: Paid ads on platforms like Facebook and Google can be expensive. However, they will help you reach highly-targeted audiences likely to purchase your online course.
Create strategic partnerships: Check your professional networks and identify strategic partners that can help promote your product. You can also create a referral or affiliate program for your own customers.
Picking the Right Market for Selling Online Courses
Identifying the right market for your online course will determine how successful the course will be. As pointed out earlier, the market must first be within your area of expertise. That's the only way you'll manage to create a valuable course that solves a real problem.
But, within your area of expertise, you can choose to target a wider market or a specific niche. A wider market could mean more potential buyers. However, such markets are also highly competitive. So, unless you have a massive budget and tons of patience, just go after a specific niche.
All in all, make sure there's a real demand for your course and the numbers are sensible enough for the course to generate meaningful ROI.
In Closing
Creating and selling online courses is, without a doubt, a challenging process. But, the one thing we can't question is the data showing how lucrative the industry is. Therefore, all the sweat that goes into creating and selling online courses is usually well worth it. Only if you do it correctly, of course, and this article has shown you how to do just that.
So, go ahead and do your research to identify a profitable subject. Then, get down to the real business and create your online course. Good luck!
Author Bio:
Baidhurya Mani is the founder of SellCoursesOnline.com. He regularly shares tips, tools, and strategies to help creators and entrepreneurs build a successful online course business.