When you change web hosts, your site should keep its search engine rankings without any dip in traffic. To pull off a seamless migration, you need to make sure your website's SEO isn't disturbed.
A high search engine ranking is like a homeowner's equity. It takes a long time to develop, and it should be guarded carefully during a move.
In this article, we'll look at how SEO-friendly web hosting can preserve the search engine rankings of a migrating website. We'll also examine some ways to protect your hard-earned rankings with web hosting for SEO.
SEO-Friendly Web Hosting Preserves Search Rankings for Moved Websites
If you're migrating your website and switching to an SEO-focused hosting provider, they should address every factor that could impact your search rankings. In this section, we'll explore five ways your new hosting provider can prevent any move-related SEO problems.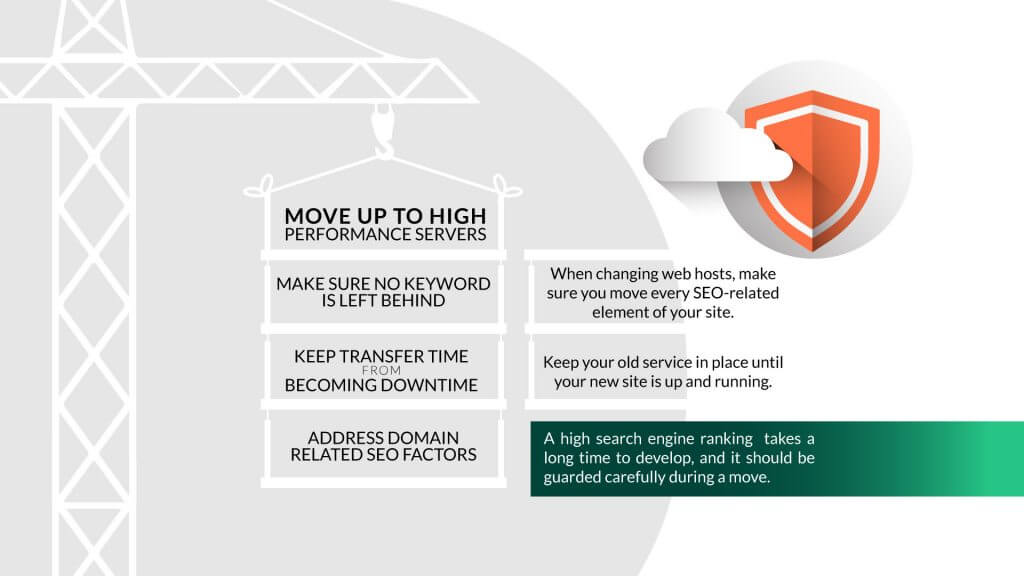 Move Up to High-Performance Servers
An SEO-friendly hosting provider ensures great search engine performance from reliable, high-speed servers. Server performance is crucial when migrating your website — you should only move to servers that are just as fast or even faster than those you're moving from.
Google measures your website's speed as a ranking factor. Fast-loading web pages help keep your bounce rate low, another important ranking signal. When your website loads quickly, a search engine's web crawlers can easily discover and index your content.
Because of the connection between website performance and search rankings, you should choose a provider with high-performance web servers. At the same time, remember the close relationship between high-speed web hosting and SEO.
Next, let's look at the importance of moving every element of your website that impacts SEO when you change web hosts, along with being aware of which parts won't be making the trip.
Make Sure No Keyword Is Left Behind
When you transfer a website's domain registration and move its files, databases, and scripts, you're not just moving the site's content. You're also moving its SEO. The keyword-laden copy, image alt tags, and metadata that give your site its high search rankings will be there on the new site.
When changing web hosts, make sure you move every SEO-related element of your site. If there's some part of your site that won't be migrated, consider the impact it will have on your SEO. Check your keyword data to see how each of your pages rank, and make sure you're not leaving out any content helping your rankings.
Before your website moves, create a backup of your whole site or exclude content you don't want to move. Download the backup file along with a copy of your website's database.
With backups files in hand, your website is boxed up for the big move. But as we'll discuss in the next section, that doesn't mean it's time to cancel your existing web service.
Keep Transfer Time From Becoming Downtime
If changing hosting providers causes your site to go offline for any amount of time, damage could be done to your reputation and SEO. With zero-downtime migration, your website visitors will never know your site has moved. To do this, you need to:
Keep your old service in place until your new site is up and running. Don't tell your previous provider you're moving your site, as this could lead to an early cancellation of service. A cheaper final payment will be of little comfort if your old website disappears before the new site is ready.
Choose a hosting provider with migration experts to move quickly and take care of your website. You can plan the perfect time to flip the switch — the moment your new provider has migrated your site, cancel your old server. That's a zero-downtime website move!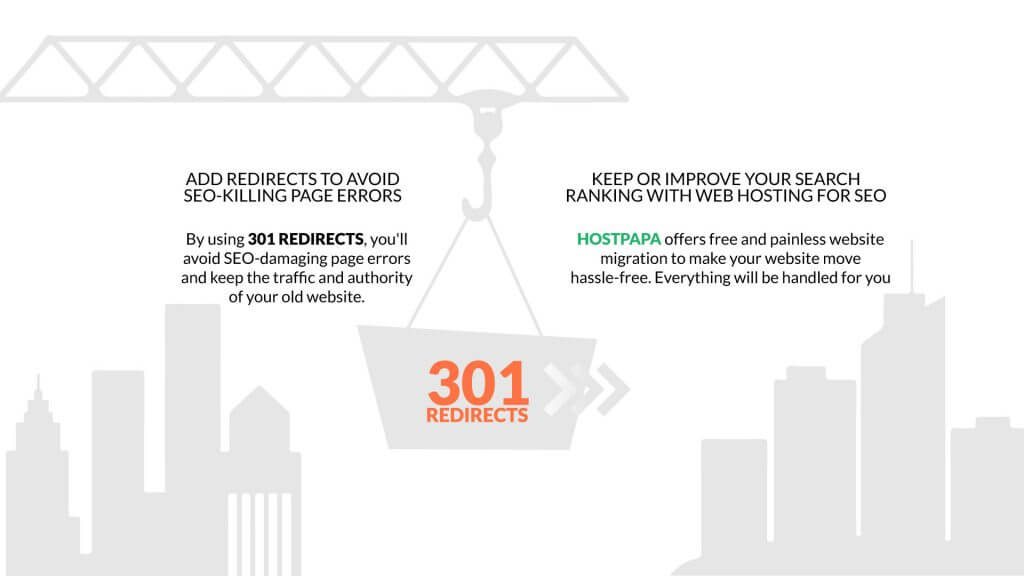 Address Domain-Related SEO Factors
If you're keeping your domain name, associating that name with your new IP address is all you have to worry about. Your new hosting provider will take care of the logistics for you. But if you're using the website move as an opportunity to change your domain name, there are some steps you can take to make sure your SEO won't be impacted.
In addition to giving your customers a heads-up, there are website-specific tasks you should address. Compare your old sitemap to your new website and make sure all uses of your old domain name have been changed.
If you've decided to change web hosts, you should look for an SEO-focused provider that offers free or low-cost domain registration along with hands-on help with any domain-related website updates. The best providers will have migration experts either update internal links or use redirects to catch each old URL and map it to a new one. Redirects are crucial to maintaining SEO after website migration.
Add Redirects to Avoid SEO-Killing Page Errors
If you're migrating to a new hosting provider and a new domain name in one move, or if some of your web content won't make the trip, you'll need to create redirects to avoid page errors.
By using 301 redirects, you'll avoid SEO-damaging page errors and keep the traffic and authority of your old website. A 301 redirect tells search engine crawlers that a URL has been changed and redirects to a different URL. If a web page was ranking well on your old site, you might need to redirect the URL to keep those rankings.
A hosting provider focused on their clients' SEO will have website migration experts make sure every redirect is in place before your new site goes live.
Keep or Improve Your Search Ranking With Web Hosting for SEO
You can change web hosts with a seamless transition that doesn't damage your SEO. All you have to do is choose a hosting service focused on SEO.
HostPapa offers free and painless website migration to make your website move hassle-free. Everything will be handled for you, from the transfer of website files, databases, scripts, and email, to the straightforward, low-cost domain registration.
HostPapa's website migration process involves clear and efficient communication throughout, with fast migration of your whole site, plus post-move testing to ensure flawless performance.
When you sign up for a new HostPapa web hosting plan and open a migration support ticket from your HostPapa dashboard, your part of the process is done. HostPapa's team of skilled technicians will migrate your site efficiently.
If you're planning to change to a better hosting provider, preserving your SEO should be a top priority. We hope this article has given you a road map to selecting a provider, so you can move your site without impacting your SEO.