Elementor is a great page builder plugin for WordPress, giving you the power of designing web pages without all the technical jargon and code you have to know or needing the help of a web design professional to reach your goal. In recent years, it has become an integral part of web design, even for skilled developers who use it as a complementary tool for their creations.
It's handy and gets the work done in a small amount of time.
Apart from Elementor, considered one of the best, sometimes you might need more features or want a different experience. For that purpose, plenty of other user-friendly and search-engine-optimized tools run well on many WordPress themes.
The most basic function of a page builder is the ability to create custom pages and templates for your categories, posts, and tag pages. They're also helpful for developing landing and home pages; the most exciting part is that you can create beautiful web pages even if you're not a designer.
In this article, we'll explore the top Elementor page builder alternatives that still offer all the features you might want to bring your website to another level.
The Benefits of Using a Page Builder
Page builders are a great way to start designing your website based on WordPress or other content management systems. They are known for their flexibility and user-friendly interface, which can significantly expand your WordPress theme. The most notable benefit of using a page builder is the price. With them, you eliminate the need for a web developer.
Some page builders offer excellent compatibility with most WordPress themes, giving you all the necessary tools to create and edit web pages just the way you want them. And while they provide you with all that ease of use, it's also important to note that some page builders have free versions so everyone can explore their benefits. Included templates and guides are an added benefit and can help you create landing pages that can convert visitors into customers – that is, if you're an eCommerce store owner.
Another strong positive of using a page builder on your WordPress website is the flexibility taking away the need to learn how to code and structure your web pages. With a page builder, you can create static web pages, category pages, post pages, and many more, and some even let you save these templates for later use.
These page builder plugins harness a drag-and-drop interface to make things effortless, but some have dedicated code windows where you can input your code snippets and enhance their functionality.
How to Choose the Right Page Builder for Your Needs
Before we look at the page builders, we have to see precisely what to look for in these tools. Not every page builder is created equal. This means that different page builders come to satisfy different needs.
We've collected some of the most wanted features you might need from a page builder below:
User Reviews
Reviews help distinguish good from great software. Many people want to help others, so they write their own opinions on a piece of software they use. That's right! What was the last time you bought something online without first searching more about it?
Reading user reviews on the official forums or other boards can help you create an opinion about a software, while a trial version will give you first-hand experience. It's time to put your detective gloves on and try before you buy!
Pricing
Elementor is extremely popular for several reasons, but most importantly, because of its free version. Opting for the pro version adds benefits, like full theme-building support and professional page templates and blocks to use on your website. Of course, the list is enormous, and the pro version has over 20 unique additions to its free version.
It's essential to note that pricing is paramount, and many people will first opt for the free versions to get a better look at the software before they advance to the pro versions.
Features
Everyone craves better and more features. Some page builders like Elementor and the alternatives discussed below have everything you might need to create beautiful web pages for strong conversion rates – even in their free versions.
The number of features a page builder plugin offers can make it very successful, especially if these features are offered for free.
Performance
No one wants a slow page builder that makes your website sluggish.
A page builder sits on your WordPress theme and manages the web pages you create. Issues like memory leaks or high memory usage can lead to low performance, impacting all your site's visitors, including yourself.
Ease of Use
When choosing a page builder, ease of use is an important factor. If you're unfamiliar with coding or web design, you'll want a page builder plugin that's easy to use and doesn't require much technical knowledge.
Most of the page builders in this article manage this domain well. This is important as an easy-to-use page builder can be the preferred choice for those who want a simple tool to edit their website, while having an extra set of more advanced features will be surprising for tech savvies, but in a good way.
Customizable Header and Footer
This is one key feature that adds to a page builder's flexibility. Not all WordPress themes support header and footer customization, while others have this option fully locked.
A well-designed page builder plugin will offer header and footer customization, leading to complete control over your website's design. This is crucial as this way; you can create a truly unique website from top to bottom.
Advanced Typography Options
Having plenty of fonts to choose from is more than perfect. Using an uncommon font gives your website a unique character and makes it stand out from competitors.
Most page builders have some typography options to help you make that happen. You can choose between 700+ fonts that come entirely free by giving you access to Google Fonts. Going one step further, some page builders allow you to upload your fonts in WOFF or WOFF2 formats.
This way, you can enhance your website look even more, creating an exceptional design that will surely make your visitors notice.
A Template Library
A library with premium themes and templates is another detail on premium page builder plugins. Elementor has loads of competition from many of its competitors, and having an incredible roster of templates ready to use can solve many design blocks you may encounter.
Support for WooCommerce
Ready to create your first eCommerce store? WooCommerce is a viral open-source eCommerce plugin and platform for WordPress for creating an online store and selling products online. You must ensure your page builder supports WooCommerce and has everything you want from your website.
Most solutions are an ideal pair for WooCommerce, so you can start your online business in close to no time. Some page builders will have better support than others, so ensure that your preferred option has your desired features.
Top Elementor Alternatives
With all the above in mind, we embark on this short journey to catalogue the best Elementor alternatives currently available.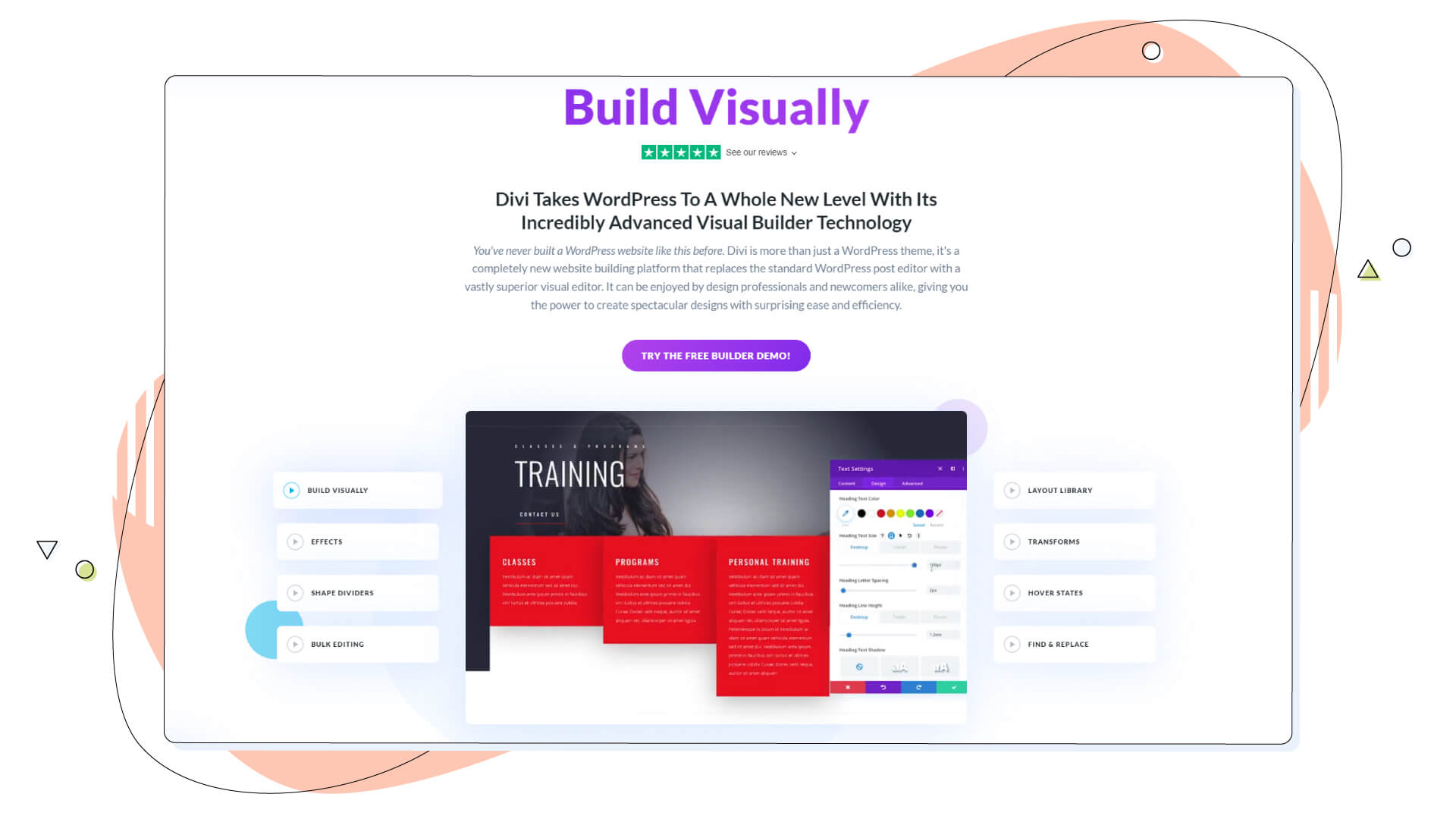 If you're looking for a page builder that is more versatile than Elementor, then you should check out Divi on WordPress.
The Divi plugin by Elegant Themes is one of the most popular page builders and themes and a great alternative to Elementor. The massive list of almost 850 templates and 100+ layout packs makes Divi one of the best Elementor alternatives in the market. Besides the giant list of templates, Divi supports full website customization, thanks to its underlying design framework.
It offers a wide range of features and lets you quickly create beautiful pages and posts. It has built-in A/B testing, so you can test different versions of your pages to see which one performs best, which is helpful for online marketers. On Elementor, a third-party tool is required for that feature to work.
Divi also has a great demo page, where you can test every inch of the software before downloading the plugin to your website.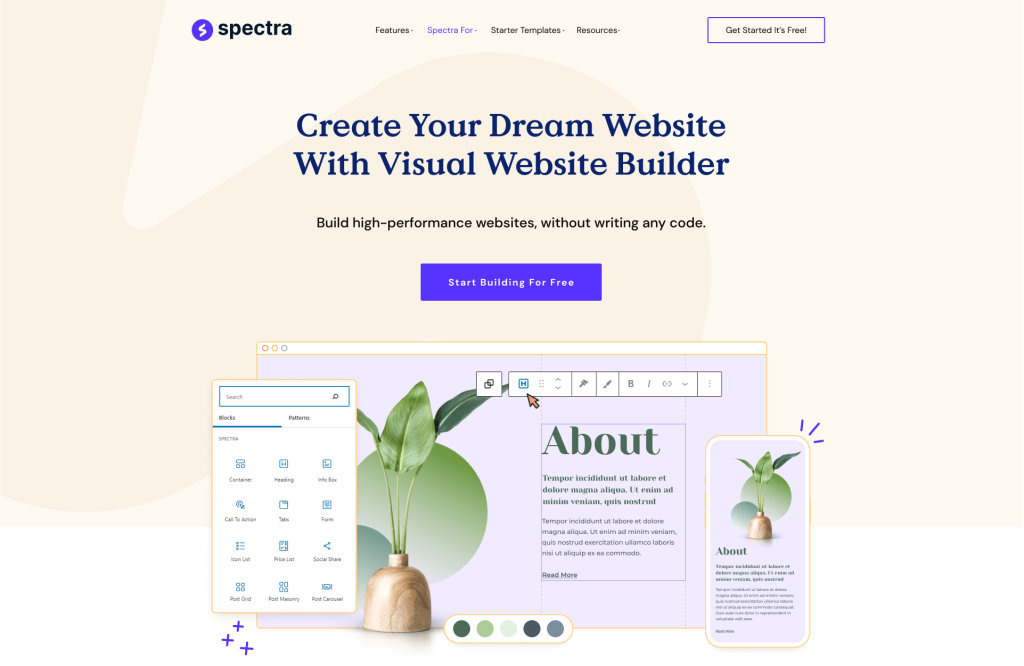 Spectra is a free page builder plugin that integrates seamlessly with the WordPress block editor and adds new blocks, wireframes, patterns and templates.
It works in a similar way to the block editor too. Select a block, drag it onto the page and edit using the block menu. It's as simple as can be, and if you have used the block editor before, using Spectra will be second nature.
Spectra installs like any other plugin and adds 28 innovative new blocks, block patterns for page sections, wireframes and full site templates. It's an excellent addition to the block editor and adds lots of new features to help build WordPress websites.
The plugin has been designed to not slow down pages and to only use code necessary for the blocks you add. If you don't use a Spectra resource, it doesn't load code, keeping your pages as light and as responsive as possible.
All while delivering the blocks, patterns, wireframes and templates to help you deliver an awesome website!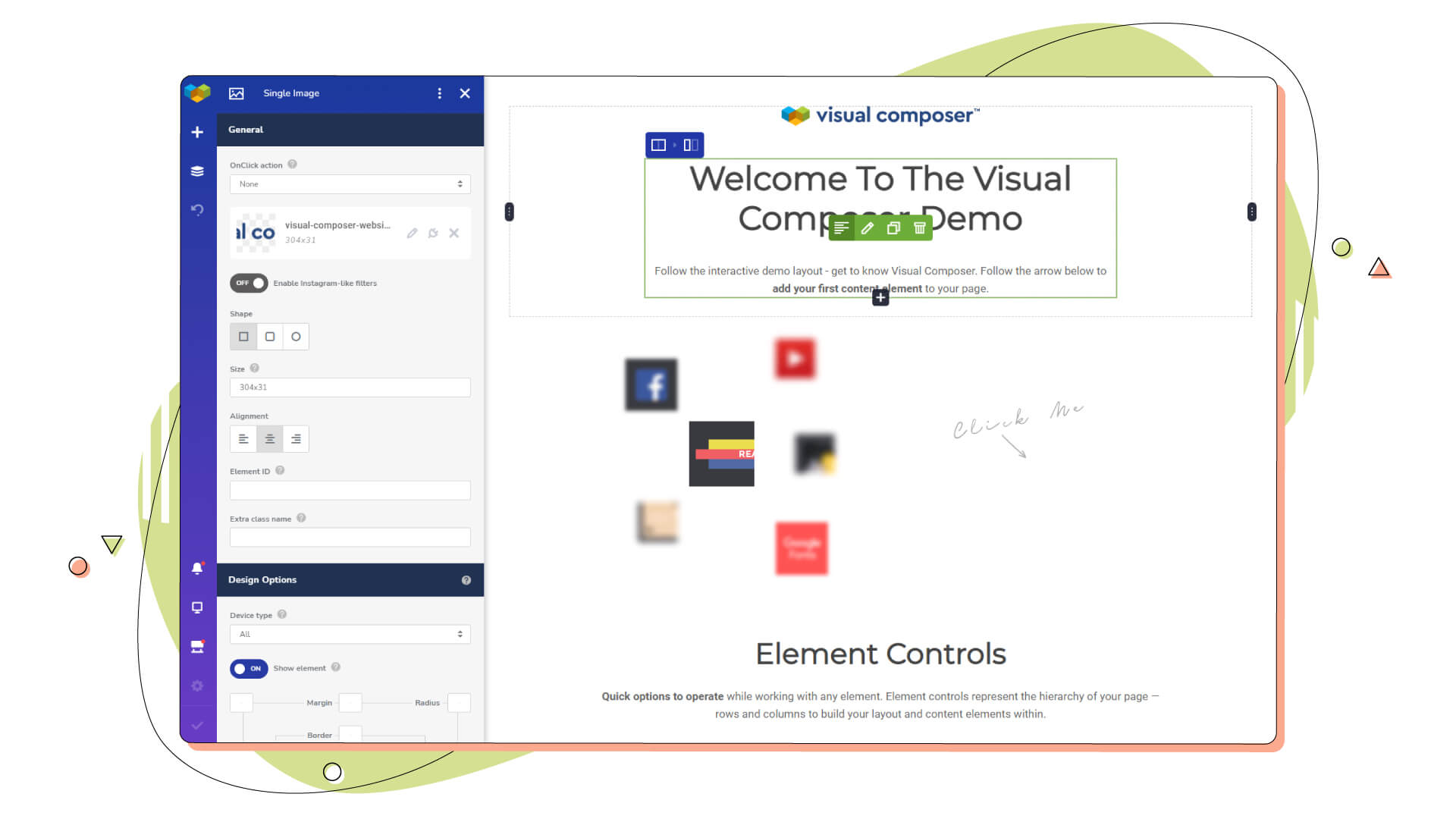 Visual Composer is one of the most popular page builders on the market, and it's a great alternative to Elementor. This is because VC, as it's best known, is an all-in-one package that offers plenty of functionality.
It allows you to create custom post types, add custom fields to your posts and pages, and even create custom shortcodes so that you can easily recall them in the future. In addition, the plugin comes with over 800 pre-made templates, add-ons, and content elements that you can use to get started quickly.
Visual Composer is highly rated among design professionals and even has a free version for anyone interested in trying out the software before paying $49 a year for a single website license.
WPBakery Page Builder is another drag-and-drop page builder made for WordPress.
It's versatile and one of the most popular page builders on this list. One primary reason is that WPBakery is designed mainly for users who seek a straightforward page builder to create web pages for their websites.
Some of WPBakery's features include:
Drag and drop interface
50+ built-in templates and a template library
Custom CSS and JavaScript support
Responsive design
WPBakery page builder plugin also has add-ons that boost the page builder's functionality with more features. Pricing starts at $56, but most WordPress premium themes come with WPBakery already pre-installed, so it's compatible with many third-party themes currently on the market.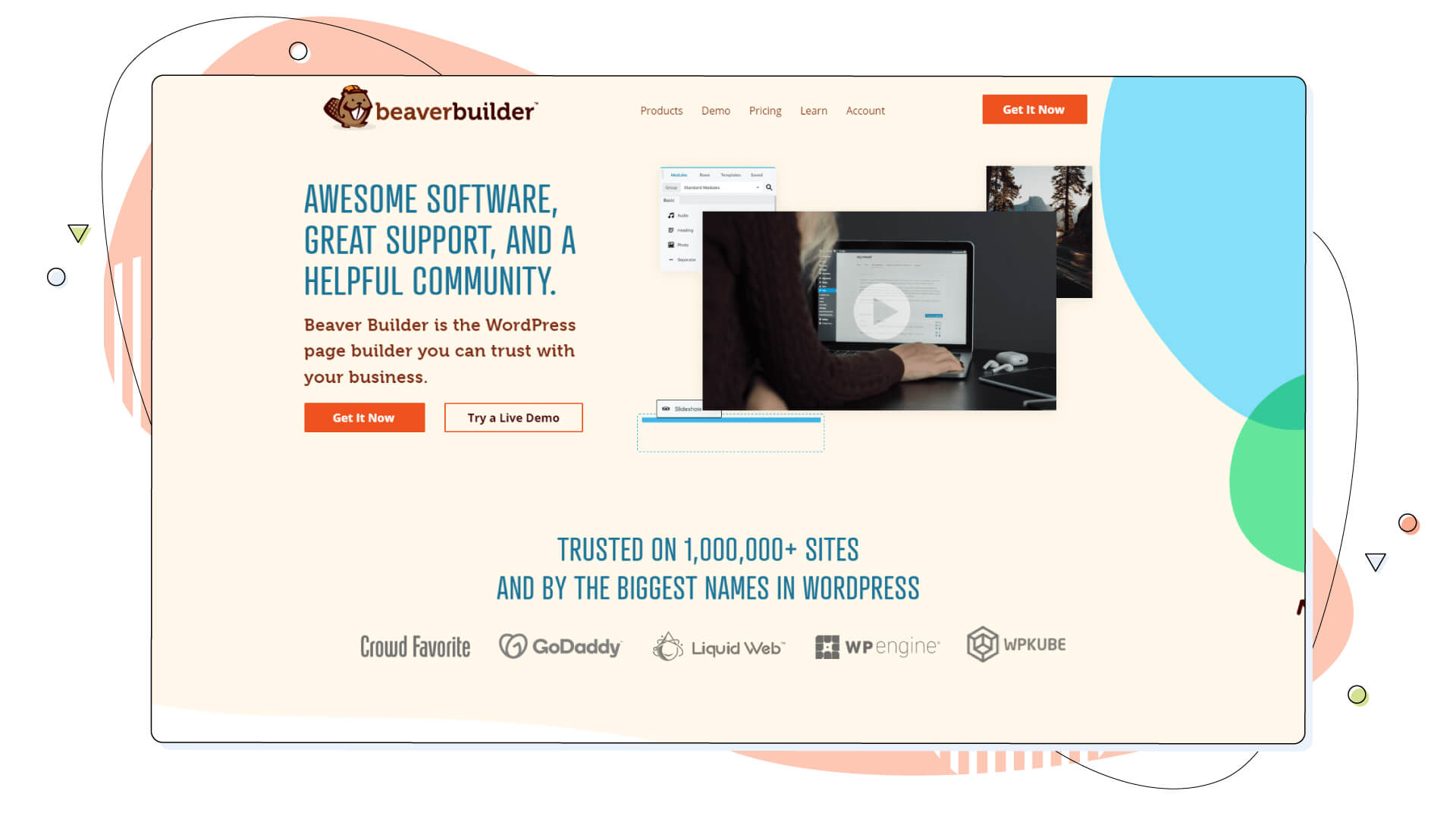 Beaver Builder is another famous page builder launched over eight years ago. Its main attraction is the user-friendly interface and the multitude of updates it gets over time, making it a solid contender for an Elementor alternative.
It has a drag-and-drop interface, great eCommerce integration, and many more layouts to create web pages for all websites. Beaver builder allows you to save templates, modules and rows to reuse them more quickly and supports adding extra CSS classes and IDs, showing that it's also developer-friendly.
It's one of the primary plugins introduced for the WordPress CMS, and its base plugin is offered for free, while the paid versions start at $99 for unlimited websites.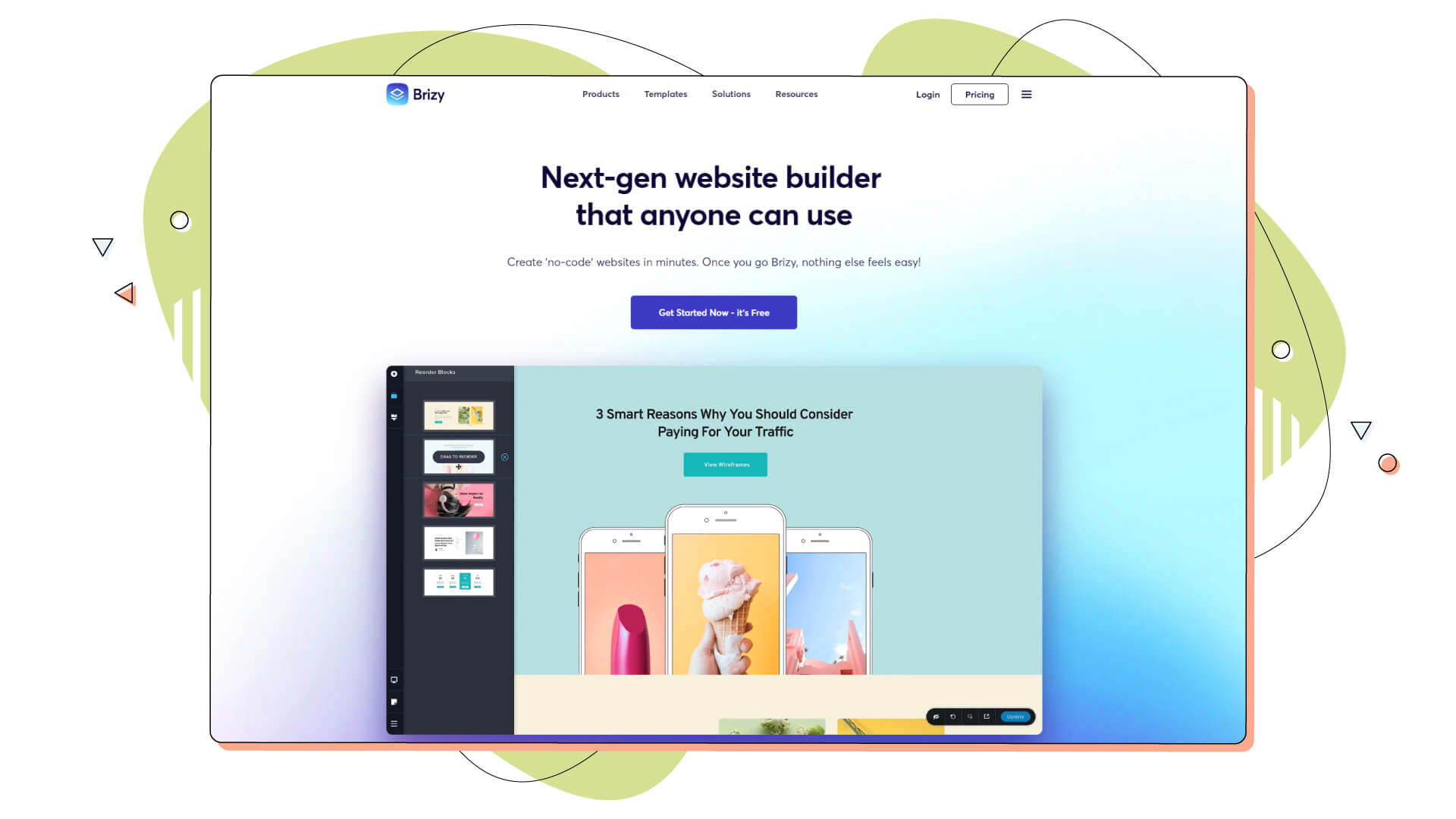 Brizy is another fantastic solution for people looking for an easy page builder, and it's perfect for creating landing pages. It offers features like animations, parallax effects, and over 500 ready-to-use blocks that you can integrate into your website, even in the free version.
It's contemporary and intuitive, showing only the options you'll need while fiddling with your web pages. Apart from the WordPress plugin, there's also a cloud-based, standalone version that works just as fast and allows you to create simple static web pages on their subdomain for free.
Brizy is created on the React scripting language, and it's noteworthy that it's super light on resources when used as a plugin for your WordPress website. Pricing for WordPress starts at a one-time $149 fee for one website, while the cloud version starts at just $9/month.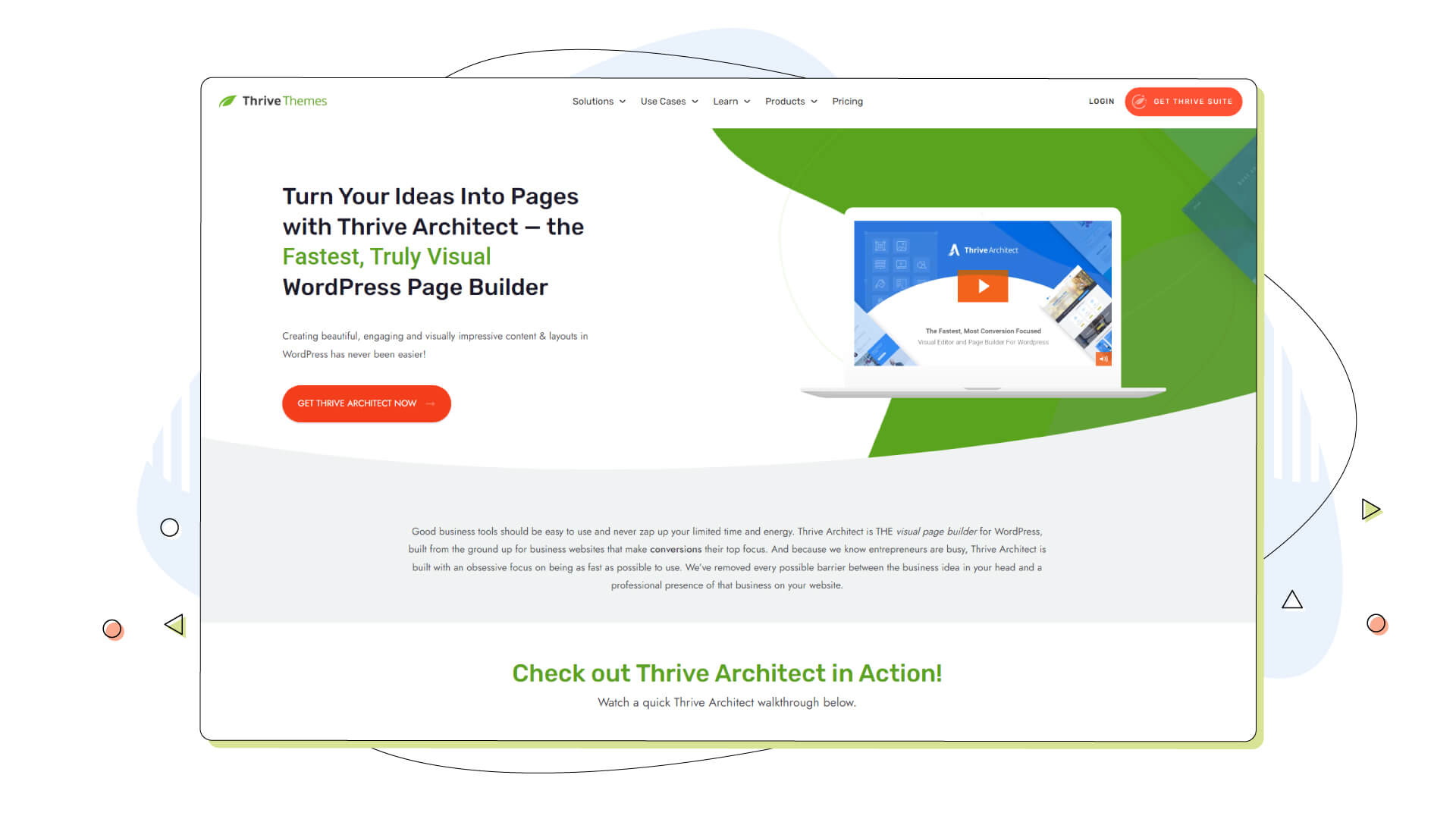 Thrive Architect offers features similar to Elementor, like the inline editing structure, while the interface looks like it, too.
This page builder has some fantastic features for small businesses to help them generate more leads. It supports many lead generation elements like buttons, countdown timers and many more that can be added to your pages.
It has more than 300 pre-made pages and supports custom HTML code to give your website a more personalized look. Pricing is higher than some of the other contenders on this list, at $299, but all the included features make up for it considerably.
Page Builder by SiteOrigin is one of the oldest page builders available for WordPress. Its interface is simple and clean, with everything aligned on a grid for better access. Like all the others on this list, SiteOrigin has implemented a drag-and-drop interface it's flexible and effortless to use.
The plugin offers plenty of functionality while its code is highly consolidated, meaning it's very light on resources and supports live editing and history so that you can go back to a previous version in no time.
The page builder plugin is free from the official WordPress plugin page but has an optional Premium add-on solution that costs $29/year for a single website.
If you're looking for a free WordPress page builder, then the Site Editor is your best bet, and it's already included in the popular CMS.
Blocks are the new element of WordPress 5.0 and are a great way of creating content for your website. With Blocks, you can easily create custom post types, pages, and even entire websites.
This is an attractive option for those already familiar with WordPress but only works on a select number of themes. The Site Editor was introduced in version 6 and is less versatile than some of the other options listed here, but it can be a good choice for those who don't need all the bells and whistles of more complex page builders.
It's also free to use and available only on block-supported themes, like those pre-installed on WordPress.
The Oxygen page builder is an agile and easy-to-use software to help you create web pages on WordPress.
This is more of a website builder capable of changing the whole website for you, and this can be a flaw if you need just a simple page-building plugin. Oxygen, though, is ideal for building an eCommerce website, as you're in charge of the whole design, and that's why it comes with plenty of eCommerce-focused additions.
With its drag-and-drop interface and header builder, Oxygen builder is a solid alternative to Elementor, and it's already SEO-friendly for every developer looking to get the most out of it. Pricing includes a one-time, unlimited license for $129, while the one offering WooCommerce integration and support for the Gutenberg Block builder comes at a $149 one-time fee.
Let's Wrap Up
Elementor might be one of the best choices available, but this blog post confirms that it's not the only one you can have on your WordPress website.
All the page builders on this list have features that make them ideal for different types of users. Divi and WPBakery are suitable for anyone that has used Elementor before, as they have similar drag-and-drop interfaces and support pretty much the same features. Most importantly, they have support for plenty of third-party WordPress themes.
If you're looking for a more user-friendly experience, check out Beaver Builder or Thrive Architect. These builders have simple drag-and-drop interfaces that make building pages easy, even for beginners. Still, they lack affordability, which is crucial for people that start now in website creation.
No WordPress page builder is perfect, and each has its strengths and weaknesses, but they greatly expand your WordPress theme. Some act as theme builders for your website, boosting its features and adding flexibility. Other page builders come with beneficial key features like online templates giving you the incentive to apply them to your next project like Visual Composer.
If you're not extremely happy with Elementor's current features or need a more versatile page builder, one of these alternatives might be right for you. Most of these have massive support for any WordPress theme, meaning they'll work on almost all websites. So, try one of these out and see if they make a difference for your WordPress website!
Enjoyed this post? Head over to HostPapa Blog to read more exciting topics like this and get all the latest web hosting tips for your website!