According to Statista, the global income for social media platforms in 2021 is estimated at $42 billion. Companies are beginning to understand that many entrepreneurs use social networks to increase revenue.
Video marketing allows meeting the needs and requirements of your audience. To produce engaging video content, you need to capture professional footage and learn how to edit videos to grow in popularity. Follow these steps to keep your video viewers engaged!
1. Experiment with Different Video Lengths and Choose the Optimal One
The optimal length of a video depends on the type of clip you want to present to your audience. We recommend you try different lengths to see which one is the most appropriate.
You'll also need to know the maximum length of a video supported by every platform. For example, the duration of the longest video that can be posted on Facebook is 120 minutes, 60 seconds on Instagram, and 140 seconds on Twitter. If your video is longer, you can post it on YouTube and share a link to it on almost any social network (except Instagram).
2. Pay Attention to Post-Production
If you want to create a video for advertising purposes, you should devote ample time to its post-production. Video editing doesn't only involve cutting and merging videos or adding music but also creating closed captions, text overlays, and calls-to-action. To get a flawless clip, you should be ready to spend a lot of time on its processing.
First, you need to decide what you're involved in before starting. For instance, a formal, polished clip on YouTube requires more editing than a basic Livestream. As YouTube is a popular platform, you need to optimize the text and visuals to excel other video producers.
If you don't have time for post-processing or want to get a high-quality result, address the professionals. The FixThePhoto company provides outstanding video editing services and specializes in raw footage editing. If you're looking for a reliable video processing agency that can refine your clip quickly and professionally, entrust this task to the specialists of FixThePhoto.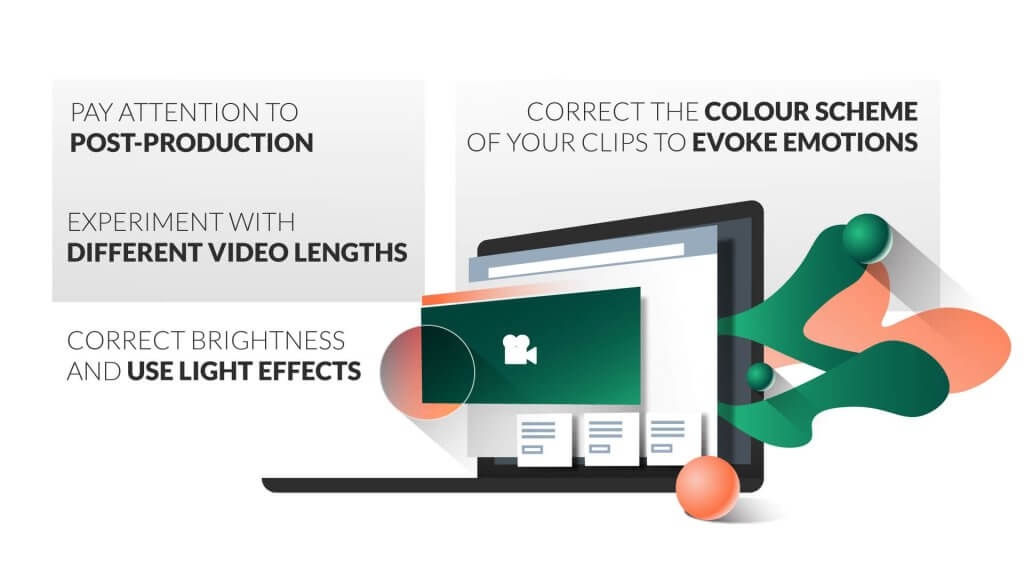 3. Correct the Colour Scheme of Your Clips to Evoke Emotions
The colour scheme of your video is very important. It can be adjusted to focus on certain subjects, evoke specific emotions, and create the desired atmosphere in your clip. It's great that nowadays, most editors provide users with an array of colour editing options that have been previously available for processing images.
Very often, editors perform two basic manipulations with colours. First, they correct the colours of the footage to give it a consistent look. Then, filmmakers do colour grading to make a video more unique. Both video editing techniques are important if you want to have a realistic and eye-catching clip or make each scene differ from others by using sepia and monochrome presets when editing "flashback" shots.
Pro Tip: We recommend using such video editing software as Adobe Premiere Pro and DaVinci Resolve to correct colours. You can use LUTs for video editing, which allow video specialists to save some specific colour grades as a template. In other words, LUT is a colour preset that you can easily apply when processing a video.
4. Use Jump Cuts to Remove the Unnecessary Pauses
The human brain functions by switching from one task to another when developing new ideas. Jump cuts use the same principle and can attract more viewers as they mimic human thoughts and speech.
By processing these tiny parts of your video, you can bring your message across more effectively. Jump cuts are also great for removing repetition in extended footage and eliminating the unnecessary pauses and other elements that seem off-topic.
Pro Tip: Jump Cuts are straightforward to use. We recommend trying such software as Adobe Premiere Pro, Sony Vegas and Final Cut Pro X. They allow you to use non-linear editing techniques, have collections of filters and effects, and support various formats.
5. Correct Brightness and Use Light Effects
A camera and a human eye perceive light differently. The latter has a more complicated structure and can capture even the most minor details and lighting contrast. A camera needs bright lighting conditions to pick up the details. To make the quality of your video comparable to what a human eye can see, add some lighting effects to your clips.
Using such highly-functional software as iMovie, you can adjust the lighting to meet the requirements of your viewers.
Pro Tip: If your video is about strong emotions like anger, use harsh lighting. If it's a cheerful clip, select soft lighting. In other words, the lighting solution can define the mood of a scene affecting how your audience interacts with the content.
6. Select Appropriate Music to Change Your Video's Tone
Video editors often use music to create a clip's desired mood and tone. Remember that you cannot include another artist's music without proper licensing. Otherwise, your video is likely to be deleted from the platform. To avoid such problems, use royalty-free compositions or pay a composer to get permission.
If you want to include royalty-free music into your clip, you need to pay a single flat fee, meaning that you won't need to cover some extra licensing payments or royalties in the future. YouTube, Pond5, and PremiumBeat are the most popular resources for royalty-free tracks.
You can use various video editing tips to create an engaging clip for your viewers. For example, videos for small groups may include newly released, underground hip-hop tracks. A clip for a diverse audience should consist of content that will be interesting to many demographics. Product tutorials or an upbeat event recap should feature suitable music tracks that match the formal tone of such clips. So, the music you choose should improve the overall tone of your video.
7. Add Subtitles for More Audience Engagement
Subtitles are vital for those who don't speak English and those who can't hear very well in a clip, making it easier to use the video. It can be viewed even by a user who is currently unable to turn on the sound on the device or use headphones.
One more reason why your footage should feature subtitles is connected with the fact that it will be played automatically on social media networks. For example, video content on Facebook is played automatically without sound, meaning that you cannot engage the viewers with inspiring speech. In this case, subtitles can help deliver your message, whether the video has audio enabled or not.
Pro Tip: We recommend using the following programs for creating video subtitles: Subtitle Edit, VisualSubSync and Subtitle Workshop. They're free and allow creating, configuring, synchronizing, and translating subtitles without problems.
8. Use of 360° & VR Clips
360° videos allow viewers to discover the content from every angle by scrolling around. This spherical video style enables the audience to explore any location. For instance, you may visit Antarctica or confront a shark.
To watch VR content, you need to use Oculus Rift or Google Cardboard devices.
Pro Tip: Movavi 360 ° Video Editor is a great option for creating VR videos and 3D tours. It features an intuitive interface so that everyone can use it without problems.
9. Use Animation to Capture Attention
One of the most recent trends and the most creative video editing techniques in social media video marketing is animation. You've probably already seen some animated videos that caught your attention and explained the topic simply. Animated clips are becoming more and more popular in 2022.
Animated videos are engaging as they can explain and visualize even the most complex themes in a clear, informative, and entertaining way. Using animation, you can bring your videos to life and make them more interesting for viewers.
Pro Tip: To create an animation from scratch, use Adobe Animate, Blender, or Pencil2D Animation. If you want to use GIFs in your videos, turn your attention to the Clipchamp video editor.
10. Choose Smaller Web Versions for Exporting
Many video editors choose the largest possible resolution for exporting edited videos. This is probably the best option if you'll play the content on ultra HD screens. Nowadays, video projects are produced to be published on social media platforms, so we advise you to export smaller, high-quality versions for easier playback.
To export videos for the web, you need to produce a lightweight file of high quality for more straightforward upload and online viewing. Besides, you do not need to learn what settings are most suitable for exporting, as such platforms as YouTube, Facebook, and Vimeo recommend using specific export configurations.
About the Author
Eva Williams is a shooter and software journalist for FixThePhoto who lives and works in New York. She is a photography & videography software/apps specialist who creates comprehensive reviews to help readers select the most functional program for various purposes. Furthermore, she has extensive experience in video marketing.