TikTok has been around since 2018 but quickly gained mainstream traction and is currently the fastest-growing social media platform. Everyone – from celebrities to chefs to teens to cool grandmas are on TikTok – but just how much can entrepreneurs get from using TikTok for their business?
On the surface, TikTok seems more like a place for funny lip-sync videos rather than a place to showcase products and services. But conversely, there's a lot of potential for small businesses and new brands to use TikTok and reach their audience in a fun and creative way.
TikTok has a dedicated blog post for small business owners who want to promote their products on its platform. It offers some great tips on growing your audience and reaching new customers through an always-engaged approach. TikTok also has a dedicated landing page with more information on how to kickstart your small business with their platform.
With how trendy TikTok is right now, it holds the key to more sales and more new customers. When you put your strategy hat on, you can achieve great results. TikTok has more than 1 billion users who collectively spend as much as 19.6 hours scrolling the platform per month, according to Statista.
This HostPapa blog will explore some great ideas and tips to use on your small business TikTok account and explain the current ad types to help you get started.
What Is TikTok and Why Should You Care?
TikTok bills itself as the place for short-form videos. Imagine an Instagram for videos or a short-form YouTube, but with many cool new features. Google-owned YouTube, though, did quickly jump on the "short-form video bandwagon" by launching its own YouTube Shorts to compete with TikTok in September 2020.
Videos on TikTok can be anywhere from 15 seconds to ten minutes long. You can easily add eye-catching filters and special effects to your content. TikTok also has a vast music library to add a musical background to your videos, helping you stand out.
TikTok's algorithm uses AI to provide users with recommendations on which videos they should watch based on their watch history.
When a new video is uploaded, the TikTok algorithm promotes it to people who would most likely enjoy new content based on their past viewings. This recommendation system also works based on peoples' past interactions, like the number of minutes they watch a video and their total engagement – likes and shares.
Simply put, if a video is watched more often, it gets automatically promoted to more people, becoming viral. But if not, it gets to fewer people's feeds until it's no longer promoted.
The algorithm makes it easy for users to discover new content, also making it easy to create viral sensations.
The app is growing in spades and is currently the sixth-largest social network. Here are a few more astonishing numbers that might convince you to try TikTok for business:
The app has been downloaded more than 3 billion times.
In 2021, it was the most downloaded app, beating Facebook, Instagram, and Snapchat.
The average user opens up the app more than 19 times a day.
TikTok's largest demographic is 10-19 year-olds, followed by 20-29 year-olds.
Around 61% of US TikTok users are female, while about 39% are male.
Understanding The Platform
If you're considering using TikTok as a small business marketing tool, start by creating a small business account and exploring the platform.
That kind of promotion isn't going to get very far on TikTok. That's why it's best to look around first and see what other businesses are doing. There are also a handful of TikTok success stories from famous companies and smaller brands for you to explore. You'll also want to make sure that your audience is already on TikTok before going any further.
When you're exploring the platform, here are a few things for you to try:
Watch videos: Open the app, and you'll automatically see a feed with videos. Click around and watch a couple to get a feel for the platform. That's the best strategy to get started.
Create your own videos: You don't need to aim for professional videographer quality. Most videos posted on TikTok are recorded on smartphones with minimal equipment. Start recording with your phone, add filters, use cool effects like face zoom, and sprinkle in stickers.
Add in music: TikTok is filled with music. Music on TikToks is essential for most platform creators as it helps them convey their message better. The platform has countless songs and audio you can use for your own videos, but you have to find the trending ones! You can search for viral audio or viral sounds on the TikTok search bar. You can also find sounds while creating your TikTok. Tap the plus sign and select Sounds from the top. On this page, you'll find many trending sounds and curated playlists based on your region.
Follow accounts you like: Look for other small business owners and companies on TikTok and follow their accounts so you can stay up to date on the kind of content they post. Also, follow industry giants and check out their marketing campaigns.
Buy virtual coins: TikTok lets users buy virtual coins with real cash. You can then use these to give others virtual gifts for a chance to be featured on their stream.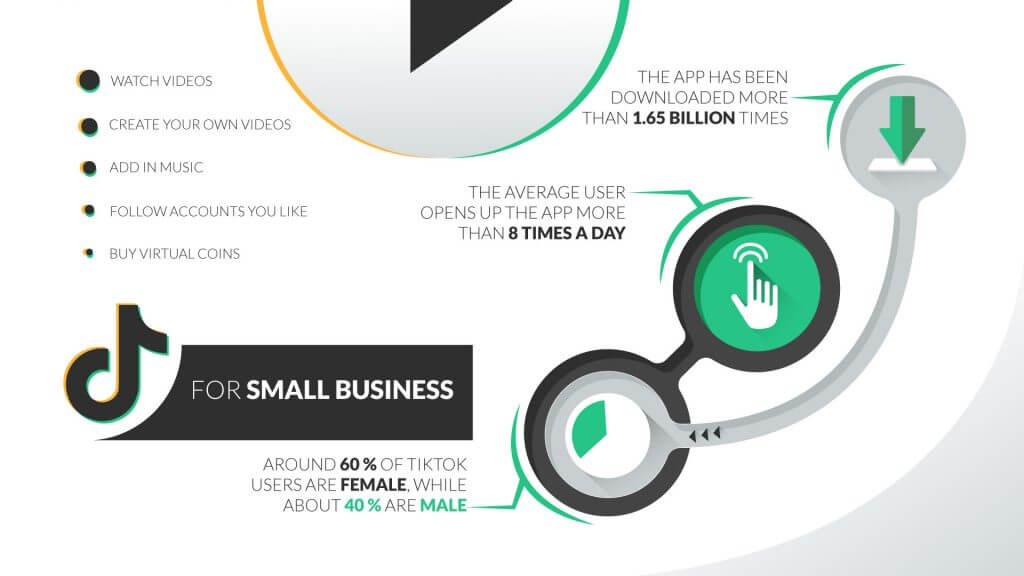 TikTok for Business: Experiment With Different Content Types
Once you've researched your competitors and know your audience is on TikTok, it's time to create some original content for your business. While you can certainly do a funny lip-sync video, you should use all the available options to promote your business:
Introduce yourself and your team with a fun theme song that captures the essence of your business.
Give followers a cheeky tour of your workplace so they can see where the magic happens.
TikTok is a great place to share inspirational stories. Do you have a success story about how you started your business?
Instead of telling people about how great your product or service is, see if valued customers would like to share a few words about it on video.
Does your business have a unique name? Create a video explaining why you chose that name and its story.
Lots of small businesses have pets running around. TikTok users love cute animal videos!
Does your business donate time, money, or products to your community? Share that and why it's essential for your business.
Time-lapse videos are trending on TikTok. How's your product made? Show users the step-by-step process.
Want to inspire others to start their own business? Provide tutorials on how to do that.
There are so many unique ways to share information about your business on TikTok. The thing to remember is that TikTok users like fun and creative videos. Also, use TikTok analytics to know what type of content is gaining traction.
They don't want to see a talking head explaining how to use a product or why your product is the best. They want to see an engaging story about a product with some catchy music in the background.
Giving your viewers a story is a no-brainer task. First, you should prepare a picture that will serve as bait, enticing them to move further and watch a whole video. After you've selected the right photo, make sure to embellish it with professional actions. There are lots of free filters online, so refresh your knowledge on installing Photoshop actions and get down to the creative part.
Use The Right Hashtags
If you want to get your content discovered, you need to do some hashtag research. What kind of hashtags are trending, what does your target audience click, and which are related to your business?
Hashtags on TikTok are used the same way as on other social media platforms. Finding the best hashtags that suit your business is paramount so you can connect with potential customers. Some of the top TikTok hashtags, according to TopHashtags, are:
#foryou
#foryoupage
#fyp
#viral
#trending
#comedy
You can't just use any hashtags because it's popular – hashtags actually have to do with your video. Otherwise, users who click on it will be disappointed and won't return to your account again.
Use the Platform's Full Potential
While creating your own videos is an excellent way to promote your business and bring brand awareness to TikTok, you can also tap into your customers' content. This is where hashtags come in again.This is where hashtags come in again, and it's an invaluable tool for marketers to promote brands and small businesses.
Use hashtag generator tools to create a unique hashtag for your business and ask your customers to use it whenever they post something on TikTok about your products. You could also run a paid hashtag challenge (more on that below).
This way, prospects learn about your company through the best marketing vehicle: word of mouth. For example, if a prospect sees a TikTok video where a user wears your designer dress, they'll want to follow your business' hashtag to learn more about those dresses. This could eventually lead to them purchasing through your website because of a TikTok video.
You should strongly consider creating a website if your business doesn't have a website. Check out our shared hosting service to get your website up and running in no time!
Leverage TikTok Ads
Like any other social media, businesses can advertise on TikTok. Advertising is an excellent way to get your brand seen by new audiences and potential customers.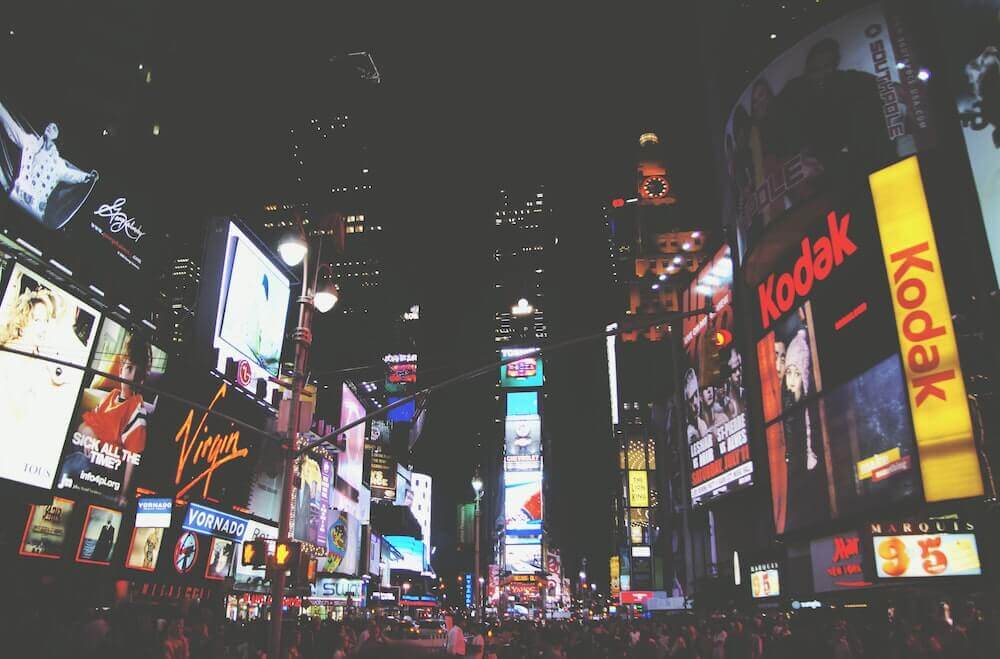 TikTok ads are user-friendly and offer multiple ways to interact with your audiences and increase sales.
There are four main ways your business can advertise on TikTok:
TopView ads: When users open up their TikTok app, they see a full-screen ad before any other user content. You can link the ad to a landing page if you create exclusive offers or discount codes for TikTok. According to TikTok, 71% of users say that TopView ads grab their attention, so creating ads is a great way to get people interested in your products.
In-Feed ads: These ads play in between user content and are part of the "For You" feed. This means that users can interact with it just like any other content and can skip the ad just by scrolling past it. 83% of users say that these TikTok ads are more enjoyable than on other platforms.
Branded hashtag challenge: Businesses can sponsor a specific hashtag challenge and advertise on the Discover page. This is a great way to get more engagement for your brand and hashtags, while TikTok says that these ads have a median engagement rate of 17.5%.
Branded effects: This is a type of filter your business designs for users to add to their videos. It's best to pick something related to your business that resonates with your target audience. Then, users can pick your effects and add them to their content, making it a fun way to advertise your brand.
Start with TikTok for Small Businesses
TikTok for Small Businesses is a great way to get your brand discovered by potential customers. Users on TikTok are highly engaged, love sharing content, and open up TikTok multiple times a day.
For its ease of use, TikTok has gained a massive reputation, especially during the recent COVID-19 pandemic. Small business owners are taking advantage of every aspect of the social media platform, leveraging hashtags and multiple advertising options.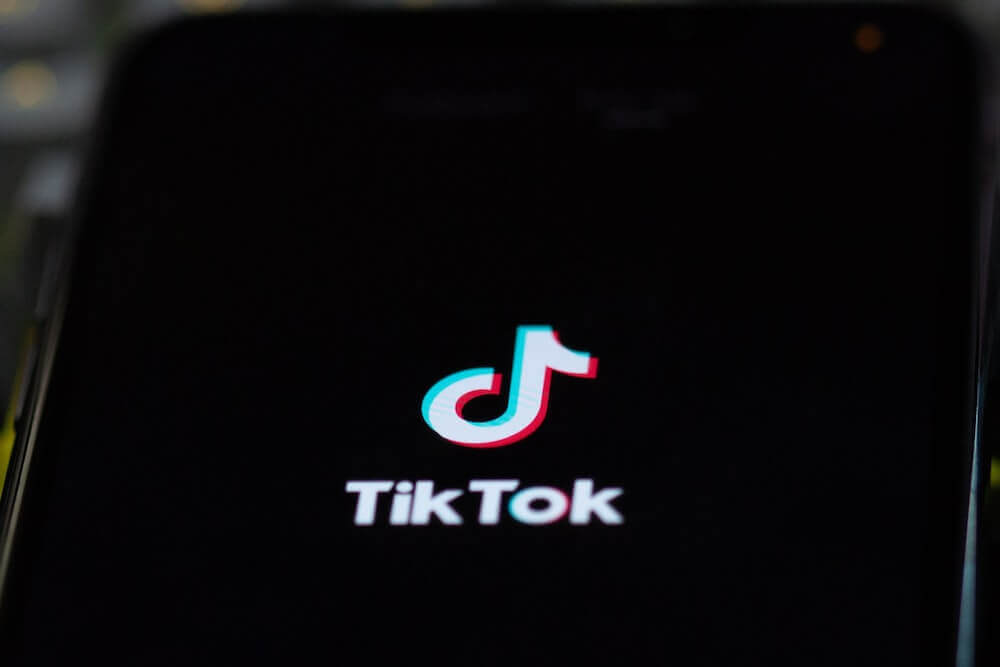 A small business can use TikTok to show off its creative side, add humour to its posts, and find music that resonates with its target audience. Remember, TikTok is about entertainment and creativity, not high-pressure severe sales that might be beneficial on another medium.
TikTok for Small Business helps you set up ads, present your brand to the right people, and provides tips for engagement and increasing your follower count.
Check out the Business Learning Center to get your questions answered and learn how to shine on the platform. TikTok is growing daily, so don't wait to join your audience and show off your fun-loving side.