Running a small business is time-consuming. You're often pulled in many directions, and 24 hours a day just doesn't feel like enough. For many small businesses, their Facebook page is a source for qualified leads. However, managing a Facebook page, especially direct messaging, is yet another task that takes time and energy. Lucky for you, you can automate tasks using a Facebook Chatbot within the Facebook Messenger Marketing feature.
In this post, we talk in detail about what a bot is, how to build one, and how to use it to increase your business's conversion rates.
We'll cover the following topics:
What Is a Facebook Messenger Bot?
Facebook Messenger bot is a software that uses artificial intelligence to perform tasks or answer simple questions. You may have encountered a chatbot in the past, trying to talk to a company's customer service through their website. You can use the same chatbot through Facebook Messenger and enhance your social media marketing campaign.
With machine learning and artificial intelligence, chatbot technology has advanced to the point where people often can't tell whether they're talking to humans or robots. The Messenger chatbot is designed to interface specifically with the Facebook Messenger platform, including WhatsApp and Instagram. It's a great way to save time but still engage with your customers.
How Can You Use the Facebook Messenger Bot for Your Small Business?
Implementing automation on your own can be scary, but it's a great way to get more time back in your day, allowing you to focus on other tasks that need your attention. A Facebook Messenger chatbot can tackle several functions for you. 
Interactive automated tools for your Facebook page like the chatbot are efficient means of generating leads and engaging your customers on social media. Let's see how you can use the Facebook chatbot tool to increase your potential customer base.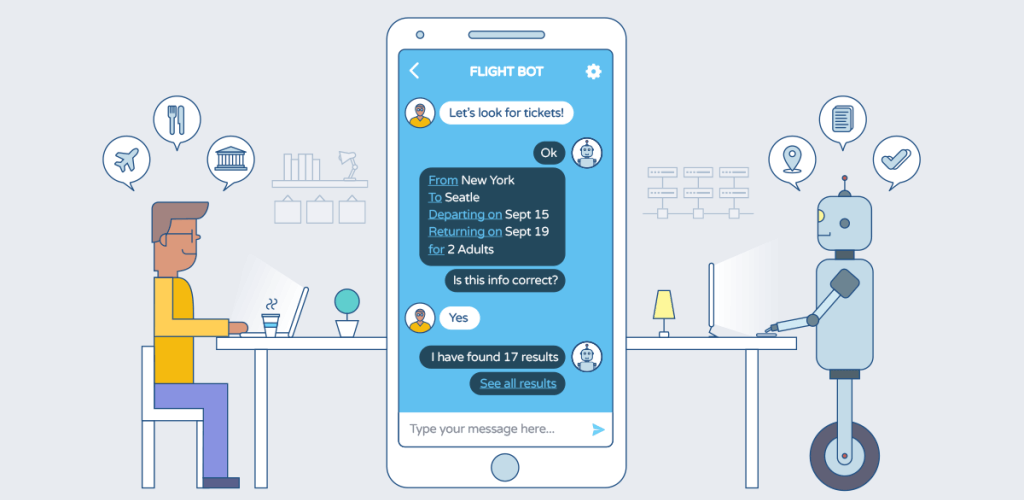 Generate Leads and Increase Sales
Facebook Messenger isn't just a support tool or a communication app. Once you've set up your Facebook Messenger chatbot and synced Messenger to your storefront, you can configure more advanced features to help drive sales and conversions. The chatbot can even make product recommendations based on questions your customers answer.
Facebook Messenger chatbot will enable you to provide your customers with instant and automated help. This improves support times and reduces the number of unnecessary calls to your business line. A Messenger bot can answer questions, provide advice, or direct a person to a specific web page or phone number. Often, a Messenger bot can take the load off your already-busy team and acts as a Customer Service department. Order confirmations, shipment tracking, and more can be handled with a chatbot.
Following up with customers is a great way to activate sales. A Messenger bot can automate reminders to customers who have items left in their cart or haven't engaged with you for a specific period. Use a Messenger bot to send them relevant information, compelling them to take action.
Facebook Messenger is one of the most popular social media apps globally, with over 1 billion monthly active users. Increase your audience and engagement by expanding your use of Facebook Messenger. For example, add a Messenger widget to your website with a WordPress plugin like WP Chatbot and increase your Messenger contact list off Facebook.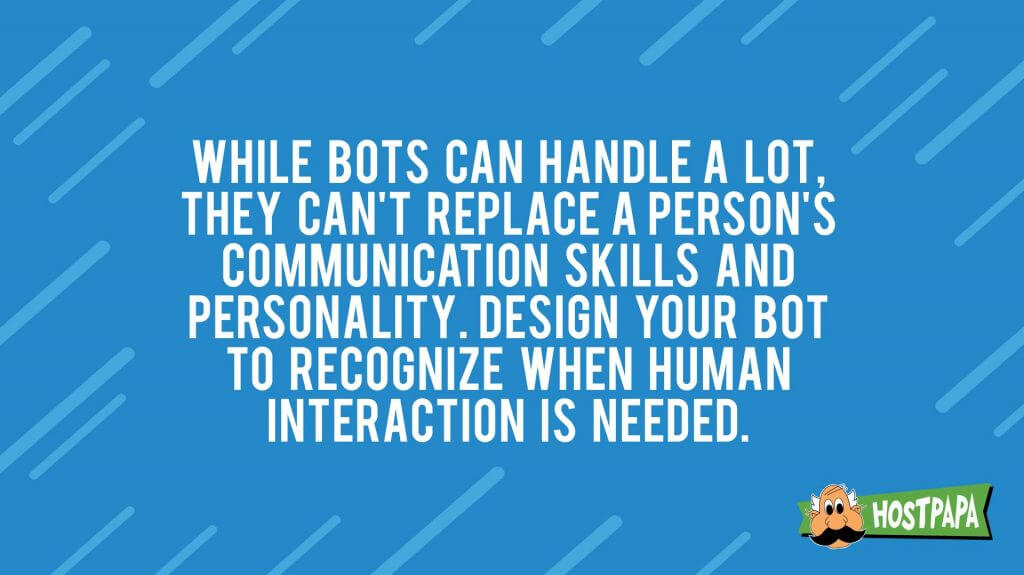 Which Tools Do You Need to Build the Facebook Messenger Bot?
Building and customizing your chatbot may be stressful, thinking about how you will ever get along without any coding knowledge. Don't worry, though; building a chatbot is no rocket science.
With the aid of a content builder, you dont require any coding or prior design experience to set up the bot. You can get things going through drag and drop and toggle options with various easy-to-use tools.
What you do need to work on, however, is your content. Since the Facebook Messenger Chatbot is a marketing tool, getting somebody well versed with digital marketing or content strategy to work on the bot's content is a better idea. Your content needs to be simple yet engaging and informative. How you craft your message and the offers within is what will hook your customers.
Multiple platforms help you create a chatbot designed to automate specific functions in your business. Some of the best self-serve chatbot tools include:
Chatfuel
One of the most popular platforms, Chatfuel accounts for 46% of all Messenger bots. Chatfuel allows you to build a chatbot with no coding experience that can increase sales, reduce costs, and automate support on Facebook.
ManyChat
ManyChat focuses more on chatbots' sales and marketing aspects, like selling products, booking appointments, and building your list. ManyChat is designed to get you up and running quickly: you'll have a bot in minutes!
MobileMonkey
MobileMonkey helps businesses instantly chat with future customers on Messenger, native webchat, and SMS. MobileMonkey is one of the fastest-growing platforms, thanks to its Free Forever edition.
Develop a Bot Strategy
As with all sales and marketing activities, it's essential to start with a strategy. First, define your goals. What do you want to achieve by implementing this new tool? Which operations do you or your team currently manage that a bot could easily handle? Take time to analyze the most common topics/requests your audience contacts you.
For example, program a Messenger bot to do this if you get many messages about your store hours or shipment status. Just imagine how much time you would save!
Once you've established your goals, be sure to:
Set clear expectations for the customer: Be transparent with your customers – let them know they're talking to a bot. By doing this, they'll know what kind of questions to ask and how to get more help.
Personalize content: Remember that not all customers are the same. They have specific needs. The best way to cover your audience's needs is to segment them and train your bot to ask questions based on their preferences. Given the answers it receives, you should be able to provide it with tailored responses that speak to each audience segment. Build a bot that offers genuinely helpful information, not just generic answers.
Don't venture to replace the human connection: While bots can handle a lot, they can't replace a person's communication skills and personality. Design your bot so that it recognizes when human interaction is needed. Give your customers the option to speak to a real person at any point in the conversation.
Keep improving: Your Facebook Messenger bot needs to align with the rest of your social media strategy. Like all plans, you have to analyze and improve them regularly. Keep an eye on your bot's performance, and see what areas you can enhance on a timely basis. You could do it every quarter, for example.
How Can the Facebook Messenger Bot Help You Get More Leads?
Learn how to utilize the Messenger bot to enhance your Facebook messenger marketing campaign and generate more leads.
Regularly Update FAQs
Initially, you may have programmed your bot to respond to a specific set of queries only. As your customer base grows, people will ask a range of other questions, which your bot won't have inbuilt responses to.
This is your opportunity to expand the knowledge base of your bot and make it more comprehensive. Check the bot regularly to list down any unanswered questions and write down responses to them which you can feed to your bot later. This will expand your FAQ database, making your bot much more beneficial for your customers and visitors.
Make Your Bot Entertaining, Not Robotic
Make your bot informative but not boring. It can give people all the necessary information and address their queries without monosyllabic robotic responses.
You can help break the monotony by equipping your chatbot to entertain the customer or engage them while doing its basic job – answering questions! This can be done by sharing interesting insights relevant to the query or some fun nuggets of information.
An entertaining bot will go a long way in hooking your audience and creating user engagement. So use your creativity as much as you can and think of fun ways you can make your audience's user experience more enjoyable.
Use Chat Blasts
Chat Blasts are a great feature in your bot to target all the people in your messenger list and those who've already made contact. It acts similar to email marketing but through chat mode.
Through Chat Blasts, people in your contact list receive your message with some desirable call to action, enabling them to divert faster to your website. These are great for mass audience reach, mass messaging, and generating leads. Facebook Messenger marketing is the new face of digital marketing that you must use for efficient customer service and greater engagement and conversions.
Use Comment Guards
The Comment Guards feature by MobileMonkey is another fantastic tool to spruce up user engagement and website traffic. This tool allows you to create automated chatbots which appear every time users post a comment.
The chatbot appears as a private message to the user, enabling them to make direct contact with you. It's also a great way to keep a tab on users who've reached out to you and add them to your contacts list for future communication of launches, promos, or contests.
Integrate Website Chat
Many businesses use Facebook Messenger's website chat option on their websites. It allows them to interact and keep track of their site visitors. When new people visit your landing page, they are added to your contacts list. So it's an excellent source of tracking users even after they have left your website.
You can also build your contacts list through Facebook Messenger chat. As people must be logged into Facebook to interact with the chatbot, you automatically receive their email and contact information.
Incorporate Facebook Messenger Ads
Unlike the conventional Facebook Ads, you must use the Click-to-Messenger Ads feature. Through this option, each time a person clicks your ad, instead of diverting them to your website like a regular Facebook Ad, the Facebook Messenger Ad opens a chat box where they can directly connect with you and get information about your products. The better part is that you get their contact information through Messenger chat, which helps you grow your contact list.
Enter the Future of Business Communication to Drive Sales
Chatbots are versatile tools. You can set them up to handle customer support or perform marketing and sales tasks such as lead generation, answering questions, or user onboarding.
For a small business with limited resources, a Facebook Messenger bot can provide a helping hand where there isn't a human one available. Whether you use a bot to support your existing team or be your right-hand helper, they're useful in any industry.
Automate the routine and get the necessary time to focus on other business activities. While busy, the Facebook Messenger bot will support your customers, promote your products, and close sales.