Are WordPress tags and SEO related? You're about to find out!
If you're starting a new business website or blog, one of your primary marketing goals is probably increasing traffic. Getting more people to your website or blog is key because you have a wider audience to convert into paying customers. However, the web is a crowded place, and many other small business websites and blogs are clamouring for your prospects' attention.
READ MORE: [Full Guide] Hosting for better SEO
SEO is a proven marketing tactic for increasing website traffic. Many WordPress users often look at the categories and tags in WordPress and wonder if using them will boost their SEO. However, it's important to understand what WordPress tags are and how they work before using them to improve your site's search engine optimization.
What Are WordPress Tags?
In WordPress, tags are a way to help you organize your site's content and make it easy to navigate and access. After all, user experience is a crucial part of running an effective website.
Tags are a way to group related posts on your site together. When website visitors click on a particular tag on your site, they'll be able to see all of the posts with that particular tag. For example, if you run a food blog and you post lots of different kinds of recipes, your WordPress tags may include "Salad Recipes," "Soup Recipes," and "Chicken Recipes."
Keep in mind that WordPress also has a similar feature to tags, called categories. While they seem like the same thing, they should not be confused. Categories will also help you organize your site's content and make it more accessible to your website visitors. The one key difference between categories and tags is that categories are hierarchical, which means you can have nesting categories.
Tags, on the other hand, are not hierarchical. They are independent. You need to use both categories and tags on your WordPress site to improve your user experience. Remember to "Index" your categories pages and "Noindex" your tag pages. This way, Google will not see duplicate content between categories and tags and won't have to choose between them when offering up search results.
Do WordPress Tags Improve SEO For Your Website?
So here's the million-dollar question: are WordPress tags and SEO related, and will optimizing your WordPress tags improve your site's SEO? The jury is still out on that one. Some experts say no – WordPress tags do not improve your SEO. Others say yes – and see a direct correlation between tags and search engine optimization. At HostPapa, we think it can't hurt.
While it's hard to prove a direct connection between WordPress tags and SEO, we do know that using tags and categories improves the user experience of your website. Your website visitors can easily find the content they need when you use tags, making them spend more time on your website. This, in turn, gives your SEO a boost because it tells Google that your site is offering relevant content that visitors want to read.
How to Write Effective WordPress Tags
It's clear that there is some relationship between WordPress tags and SEO – and while experts disagree on whether there is a direct correlation in using WordPress tags to improve SEO, we know that tags add to the user experience.
Writing tags isn't as simple as just assigning names to groups of content – there's a lot of research involved. Here are the best practices for writing WordPress tags for your small business website:
Carefully research the taxonomies for your WordPress tags: Conduct SEO and competitor research to find out what your prospective website users are searching for. This will give you the right terms to use in your tags.
Create a tag plan before publishing: You don't want to end up with too many WordPress tags, with only 1 or 2 posts assigned to each. Instead, it's best to use a smaller number of tags carefully assigned to content pages related to those tags. Remember, the key is to make it easy for website visitors to find content using tags.
Don't duplicate categories and tags: While they are similar, it's best not to use the same terms in categories and tags. This confuses search engines and website visitors alike. Use categories for more general or overarching topics, such as "Italian Cuisine," and tags for more specific topics such as "Meatball Recipes."
Always stay consistent: Many people get confused with singular and plural tags and can't remember which they have used before or decide which to use. That's why it's best to have a tag plan before you start. Decide if you want to go with "Green Salads" or "Green Salad" and be sure to use it consistently.
Noindex your tag archives: Whenever you create a tag, an archive page is created for content with that tag on your site. It's unnecessary to have these pages indexed by Google, so most experts recommend "no indexing" these archive pages.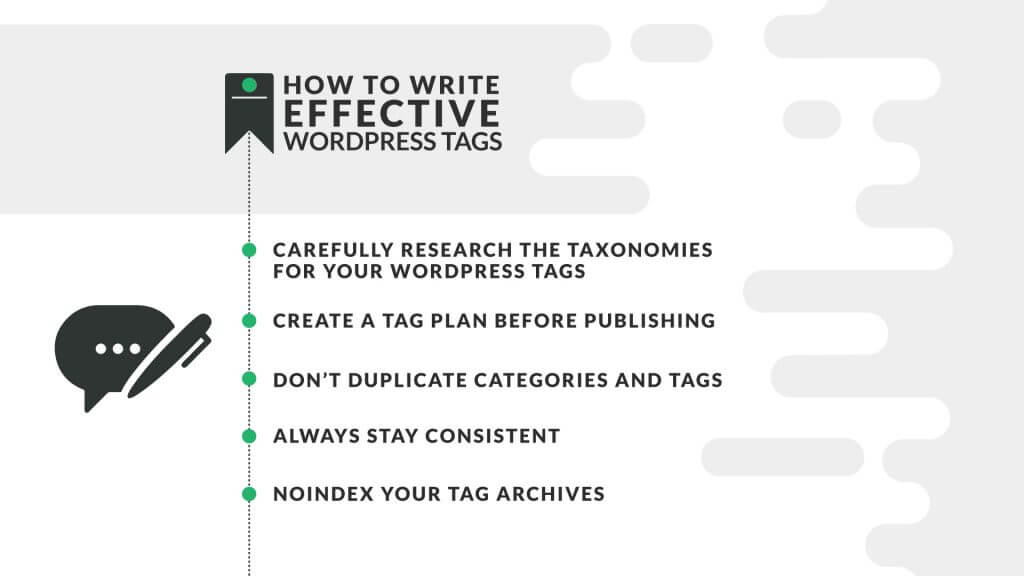 Easily Add Tags to Your Content in WordPress
Now that you know the relationship between WordPress tags and SEO and how to write effective tags, it's time to add them to your site.
Here is a step-by-step guide on how to add tags to your WordPress site:
Go to Admin Dashboard.
Go to Posts > Add New.
Find the Tags box, which will be on the right side of the Visual Editor.
Type in your tags. You can type in multiple tags and separate them with a comma. Be sure to follow the WordPress tag best practices.
What Other Ways Are There to Improve Your SEO?
Remember that if you want to improve your SEO, using WordPress tags won't be the only thing you need to do. First, remember to create useful and meaningful content that your audience cares about and wants to read. Conduct SEO longtail keyword research and incorporate those keywords into your page titles, meta descriptions, titles, and subheaders. Are you looking for a primer on SEO? We've got you covered!
Ready to Try Your Hand at WordPress tags?
Capture your prospects' interest with a WordPress site that offers an impressive user experience. Using WordPress tags, you can make it easy for your website visitors to find what they are looking for – and you may improve your SEO along the way.
Check out HostPapa's WordPress Hosting Plans for everything you need to get started.