Attracting new customers for your business is hard and not exactly cheap, depending on the strategy you're going for. Yet, there is one marketing channel that doesn't cost a dime, is easy to execute, and can be effective at helping you get new customers: Google My Business (GMB, for short).
Google My Business is a service that lets you create a free listing for your product or service-based business. The best part about it is that it's free to use—and you can set it up in an hour or less.
In this article, we'll show you:
What is a Google My Business listing and how you can benefit from it?
What types of businesses can create a GMB listing?
Step-by-step instructions on how to sign-up and claim your free GMB listing.
In addition, we'll also share a few helpful tips on optimizing and maintaining your GMB listing.
Let's get started!
What is Google My Business (GMB) Listing?
On Google, type the name of a well-known business in your area. In the search results page, you'll see a listing next to the standard search results, similar to this: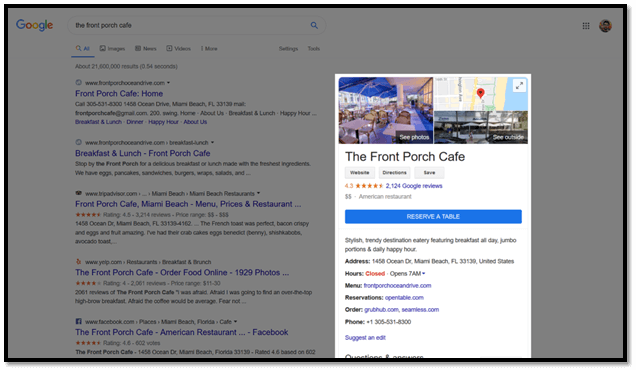 This is a Google My Business listing.
If you want your business to appear on Google like this, you'll have to create a GMB listing. The benefit of creating a GMB listing is that people will see useful information about your business when they search for it on Google.
Your business' GMB listing will include data like:
Pictures of your business
The physical address
Contact information
FAQs
Customer reviews
Opening and closing times
… and much more.
Why Create a Google My Business Listing?
1. It Improves Your Local SEO Ranking
As of December 2019, more than 90% of all searches were done through Google. Nearly half (i.e. 44% of Google searches) are for local information. And last but not least, 88% of people who search for a local business on their mobile device will call or visit the business the next day.
This shows that more and more people are searching for local businesses on Google. As a result, the businesses that show up on Google are getting more customers.
But to get found by searchers, a business has to rank in the results page for relevant keywords. This whole activity is called Local Search Engine Optimization (Local SEO for short).
A GMB listing helps tremendously with that.
According to a 2018 survey by Moz, Google My Business "signals" are the most important ranking factor for local businesses aiming to rank for local searches.
2. Your Business Will Show Up in Other Google Products
People aren't searching for businesses only on Google Search. They also use services like Google Maps and Google Assistant. By creating a GMB listing, information about your business will show up in these services as well.
For example, if you have a GMB listing, people can do a voice search for your business using Google Assistant or request Google Maps for directions—and both services will pull up information directly from your GMB listing.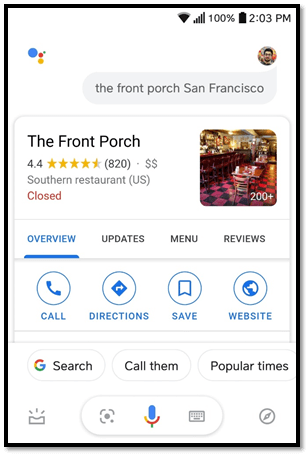 3. Your Business Gets Exposure in Unexpected Ways
Your GMB listing will show up when people will search for your business by name. But that's not all. If you optimize your listing well enough, chances are it will show up even when people don't search for it directly.
For example, try searching for "coffee places near me" on Google.
The coffee places located near you (that have created a GMB listing) will show up as a result. Like this: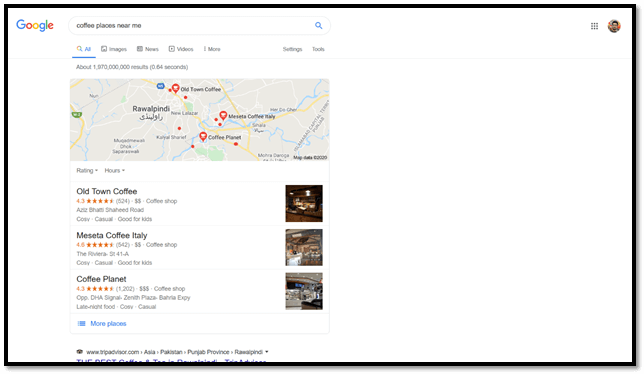 Google Maps, a service used by billions of people around the world to find local places, is rich with lists and collections that help searchers discover new businesses around them.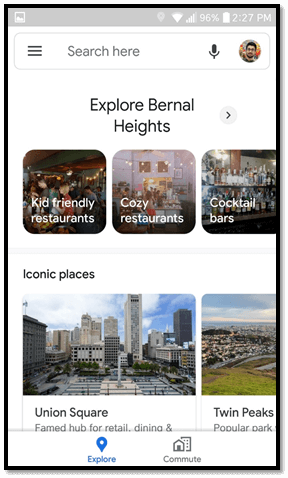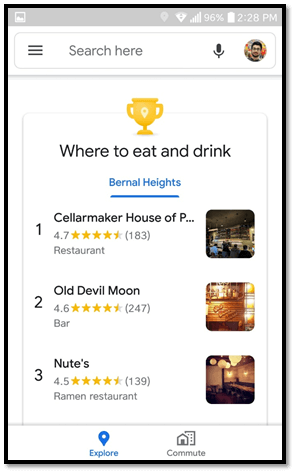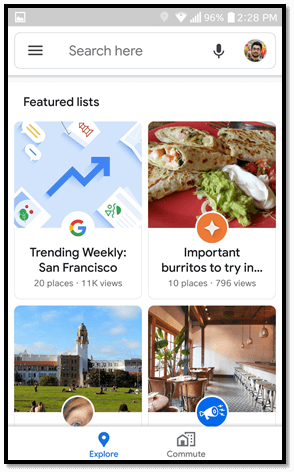 Getting found indirectly, via relevant keywords means even people who don't know your business exists will be able to find you. And that's a very powerful benefit only businesses with a GMB listing will be able to take advantage of, since Google Maps primarily uses data from GMB listings in its discovery tools.
What Types of Businesses Can Take Advantage of a GMB Listing?
Most people think that only businesses that have a physical location can create a GMB listing. This isn't exactly true.
According to Google, "in order to qualify for a Google My Business listing, a business must make in-person contact with customers during its stated hours."
This means that even if your business doesn't have a location, but does, provide services to people in specific areas, you can claim a GMB listing.
All in all, there are two types of businesses who can create a GMB listing:
A brick-and-mortar store/office: Businesses that sell products, services, or both, and operate in a physical location. Examples of such businesses are clothing stores, hair salons, restaurants, clinics and more.
A service provider: Many people operate a business, but don't have a physical location. They only provide services in specific locations by visiting locations themselves. Such businesses can create a GMB listing as well. For example, carpenters, plumbers, and gardeners.
However, if your business is such that your customers do not physically visit you and you don't physically visit them, then no—online-only businesses are not qualified to create a Google My Business listing.
How to Create a GMB Listing
You can create a GMB listing for your business for free. Just follow these steps:
Go to https://www.google.com/business/ and click the Manage Now button located on the top-right corner.
In the search bar, type your business name. If you can't find it in the results, click on Create A Business with This Name. Click Next to continue.
Choose the category in which your business falls in. For example, if you are a real estate agent, choose "Real Estate Agency".
Click Yes so people can see you on Google Maps and Search.
Type in the accurate address in which your business is located. Also, enter your postal code.
On the map, drag the pin to the exact location where your business is located.
Choose whether you provide services or deliveries outside your business location. If you select Yes, add the locations in which you deliver your products/provide your services.
Enter your contact information such as your business phone number or website.
Click Finish.
Once done, you will land on the Google My Business dashboard. Here, you'll see handy tips to improve your listing, plus a View Plan button.
Click on this button for instructions on what to do next with your listing. Alternatively, you can scroll down and see what information you need to add in the Complete Your Listing list.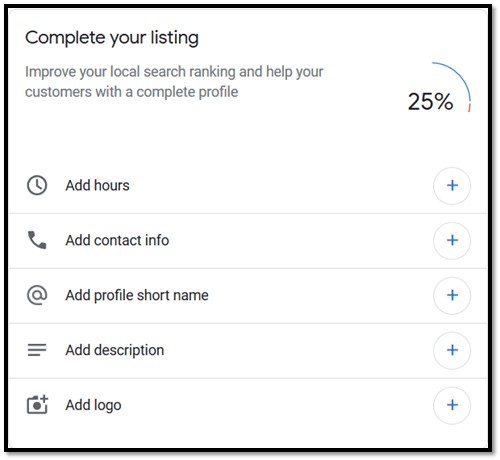 Also, don't forget to verify your GMB listing. Unless you do so, your business won't appear on Google Search and other Google services.
That's it.
You've successfully created your Google My Business listing.
Optimizing Your GMB Listing
After creating your Google My Business listing, you need to optimize it. The better you optimize it, the higher it will rank on search engines. And better rankings translate into more exposure.
With that in mind, here are five ways to optimize your GMB listing.
Fill in All the Required Information
There is a lot of information you can (and should) add to your listing. Here's a quick list of information your GMB listing should have:
Business Name, Address and Contact Information.
Logo, plus Exterior and Interior Photos.
Opening and Closing Hours.
Link to Business Website.
Business Description.
Depending on what type of business you run, GMB may ask for additional information as well.
Pro tip: You can also add 30-second videos of your business in your listing. Bear in mind that videos out-perform the other types of assets.
Create Posts
In your listing, you can add posts. In them, you can share interesting information with people looking at your business.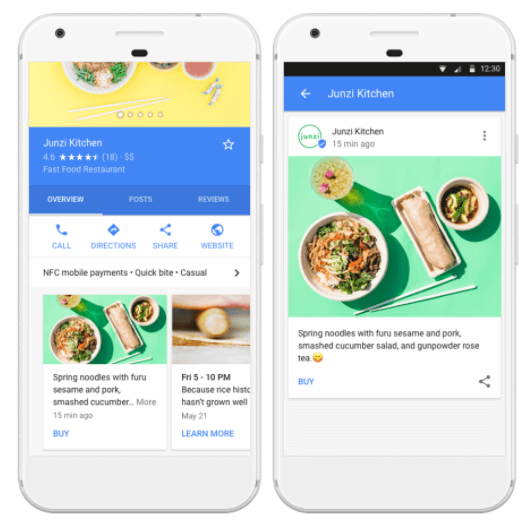 There are basically four kinds of posts you can create:
What's New: In this type of post, you can share anything you want about your business.
Event: If your business is holding an event, you can let people know about it with this post.
Offer: Have an exciting offer you'd like people to know about? Then this type of post is perfect. You can even add a voucher code and a link for your visitors to redeem the offer.
Product: If you are launching a new product or service (or want people to know about an existing one), then you can create a product post.
A cool thing about posts is that you can add buttons to them. Each button can be linked to any webpage of your choice and labeled with CTAs like "buy", "learn more", "get offer" etc.
Enable Messaging
By installing the Google My Business app on your phone (available on Android and iOS), you can activate the messaging functionality in your listing. This will allow people to privately communicate with your business.
Showcase Your Products and Services
In your GMB dashboard, you'll also find the "Products" and "Services" tabs. In the Products tab, you'll find the option to list the products you're selling through your business. Similarly, in the Services tab, you'll find the option to list the services you provide.
Adding this information increases the chances of you getting more sales, as it makes it easy for your customers to quickly browse through the products and services you have to offer.
Add Booking Functionality
The booking feature is available in select countries and to specific types of businesses. If available for your type of business (you will see this option in your GMB dashboard) you should definitely activate it. Doing so makes it easy for people to book your services right from your GMB listing.
Maintaining Your GMB Listing
Maintaining your GMB listing will take some time and effort. This is because there are some things you can control and some things you can't. This makes managing your listing seem a bit complicated, but don't worry, we're clarifying everything below.
Let's start with a very important fact:
A) People Have More Control Than You Think
Your GMB listing is somewhat of a public domain. This means, in addition to you, the people viewing your listing can make changes to it as well. A few areas of your listing which people have access to are:
Pictures/Videos: People can also add pictures of your business, its products, and services to your listing.
General Information: Via the "Suggest an Edit" button on your listing, people can edit your business address, opening and closing times, location on Google Maps, phone number and website.
Know this place: Google asks people questions about your business on your listing. Both you and other people can answer them.
As such, you should always monitor your listing–and change any incorrect edits made to it. You should also time-and-again browse the pictures added by the public as well, and report irrelevant/inappropriate images to Google so they can remove them.
That's not all you need to look out for…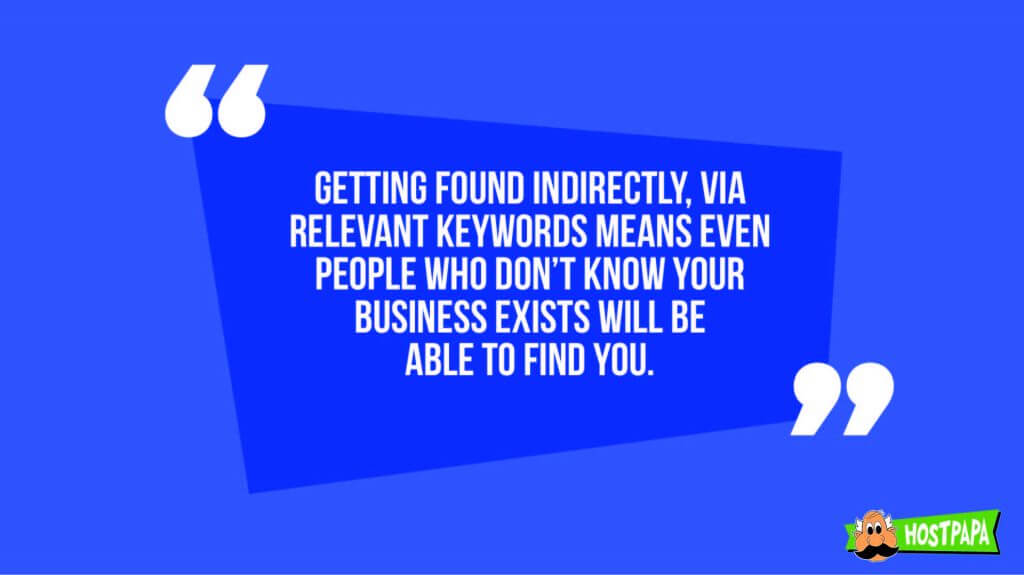 B) Keep an Eye on FAQs And Reviews
In your listing, you'll find the sections "Questions & Answers" and "Reviews".
Questions & Answers: This is an area where people can ask your business common questions. You should answer these questions as clearly as you can, as they will be public. In addition, you yourself can also populate this area with your own Q&As.
Reviews: This is an area where people will leave your business reviews. You can upvote and respond to them—or flag them if they are inappropriate/misleading. In addition, you'll see that Google may also pull up reviews about your business from popular review platforms (like Yelp! and TripAdvisor), or from professional review websites.
Ultimately, you cannot do much about these areas of your listing other than responding to people. Just make sure you provide satisfactory products and services—and this section will take care of itself!
If you still want to exert a bit of control over this area, the most you can do is ethically ask your customers to leave you a review.
C) Monitor the "Insights" Section
In the "Insights" section, you can see exactly how your GMB listing is performing. You can see how people find your listing, and how they interact with it.
Overall, you will find 8 data points in your GMB listing:
How customers find your listing: This shows from where your listing was viewed: by typing your business' name, by exploring a category, or when searching for a business related to yours.
Search queries: It allows you to see the search terms people typed into Google that led them to your listing.
Where customers find you on Google: You can examine which Google services people viewed your listing on (i.e. Maps or Search). You can also see how many people viewed your listing on desktop and mobile.
Customer actions: Here you can observe how customers interact with your listing. For example, how many called, visited the website, or asked for directions to your business.
Directions request: Look at the general areas around your business location from which Google received direction requests.
Phone calls: See the exact times and number of calls your business received.
Photos: Learn more about your own photo uploads and customer photo uploads separately. See how many times each photo was viewed and the total number of photos in your listing.
What your business is known for: See what descriptions customers associate your business with? You'll find the keywords regarding this in this section.
Knowing this information is helpful because it allows you to see what's working in your listing and what isn't. As a result, you can take specific steps to improve your GMB listing even further.
After all, the more effective your GMB listing will be, the more customers your business is likely to get!
Have you tried Google My Business? What was your experience?