The modern-day consumer no longer hoards stacks of crumpled yellow pages to track local businesses. They've got local search for that, and 78% of them use it weekly to find info on local businesses. That's why it's imperative to ensure your local SEO is on its A-game.
But what is local SEO?
Local SEO is a search engine optimization strategy geared towards improving a website's online visibility in geo-targeted areas.
If done right, it'll have consumers who use local search in your area line up at your brick-and-mortar store (if you've got one), ready to buy. Local SEO will also generate buzz around your brand, which is good for business.
So, how do you ensure it's at its best?
Learning about factors that drive good local SEO ranking is a step in the right direction. That said, here are five critical optimization factors for local SEO.
1) Name, Address, and Phone Number (NAP)
As the header implies, NAP is an acronym for name, address, and phone number.
It refers to any online mention of an enterprise's complete or partial name, address, and phone number. Besides consumers, NAP citations are also incredibly crucial to search engine optimization for local businesses. They allow Google, Bing, and other search engines to gauge your enterprise's existence, authenticity, and trustworthiness.
Setting Up NAP Correctly
NAP greatly influences your local SEO performance, so it's critical to ensure it's set up correctly. Here are essential steps to take when setting up your NAP citations for the first time:
Decide Your NAP
Once your NAP is up, it will show up on multiple platforms. Take time to compare the various NAP options you're considering because once it's up, changing it will be a lot of work and might be a setback on your local search rankings.
Besides the name, address, and phone number, other details you can include in your NAP are:
Hours of operation
Images for easy brand identification
Customer reviews
Owner or operator names
Geo-coordinates of your shop
Map
Don't Over-Optimize
Over-optimization was the key to SEO success in the early days of SEO. But those days are long gone, and now, search engines have improved algorithms that only deliver relevant, impactful search results to users. Google even has an over-optimization penalty and will de-list or de-index your NAP citations in a heartbeat if it detects over-optimization.
A typical example of over-optimization is stuffing multiple keywords in your NAP – which you do not want to do. So, while optimizing is key, do not over-optimize.
Ensure Consistency Across All Online Platforms
Search engines have been at the top of the game because they deliver consistent and accurate search results. When it comes to NAP, they'll cross-reference your NAP data across multiple sites to verify your enterprise's legitimacy.
In doing so, they validate your business's existence and eliminate spam businesses from local search results, thereby protecting consumers. Having different variations of business names will also confuse search engines as to what the actual company is.
So, ensure consistent NAP across all your preferred online profiles to stay listed on local search, avoid potential penalization, and make it easy for consumers to find you.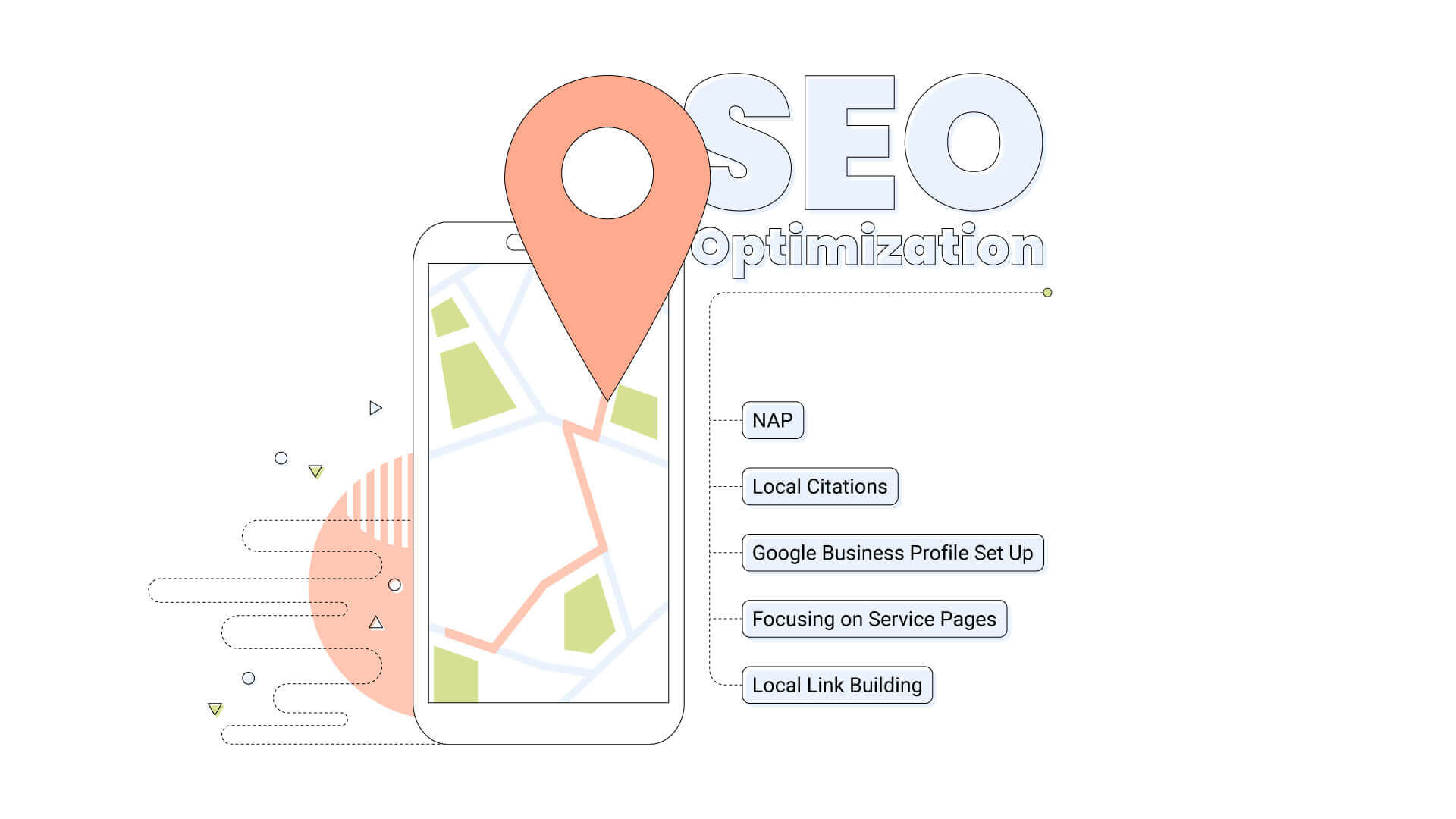 2) Local Citations
A local citation is any mention of your NAP online. Citations appear on many platforms, from local business directories to social media platforms. They offer consumers essential details about your business making it easy to find. Note: local citations can be either structured or unstructured.
A structured local citation features NAP, typically found in business directories, social media profiles, local business listing sites, and review sites. Unstructured citations, on the other hand, are contextual mentions and references to your business.
For example, if your enterprise is tagged in a blog as "one of the best businesses in an area," that's an unstructured citation. Unstructured citations are typically found on blog posts, forum posts, news articles, and social media.
Both structured and unstructured citations have significant SEO value. They add to the credibility of your website when cross-referenced by search engines, thereby improving visibility on local search results.
How to Do Local Citations
Here are some tips for local citations
Relevancy
Look for sites relevant to your market to get structured and unstructured citations with an SEO impact. For example, if you own a business in California, look for a listing on a California directory site. Also, establish a presence on reputable business directories like Yelp to increase your local citations online.
NAP Consistency
The more consistent your NAP is, the more credible and legitimate your business appears to search engines and searchers. So cross-review all the sites your local citations are live on.
Getting Reviews on Platforms for Good Signals
The modern-day consumer values good reviews and perceives them as social proof. So, ask for reviews across all your marketing platforms, and respond timely to keep your local audience engaged.
A bad review can be good only if you use it to improve your business and offer the best possible experience to consumers. So work on getting positive reviews from satisfied customers and offering good customer service even with customers who left a bad review on the platforms.
3) Google Business Profile Set-up
Google Business Profile, previously Google My Business, is a free listing offered by Google to businesses. Google provides these services to enable local companies to establish an online presence.
Account owners can upload their NAP and photos of their premises, products, services, and even business hours. And unlike general NAP, which is tricky to update, account owners can access and update their Google Business Profiles whenever it suits them.
The best part is that besides Google Search, the info you upload on your business profile will also appear on other Google platforms like maps and shopping, further increasing your online visibility. It also shows up to search results of local users within a five-mile radius.
How to Optimize Google Business Profile
To make the most out of your Google business profile, do the following:
NAP Consistency
To claim your Google Business Profile, you should first set up your NAP details. Go to the info section of the business profile page, and enter basic business details from the name, address, and phone number to business hours. Also, cross-reference to ensure the info you use on your business profile is consistent with your NAP on other online profiles, such as your official website and popular social media platforms.
Make Sure the Profile is Filled Out Correctly
The beauty of the Google business profile is that it's impressively comprehensive. You can input nearly all the info a first-time customer needs to find you.
For instance, in addition to regular business hours, profile owners can also add operational hours during weekends and holidays. And if anything changes permanently or temporarily, they can edit Google My Business and update their profiles to keep searchers on tabs.
Other details you can add to your profile include the following:
Business Category
Service areas
Website
Business attributes, for example, outdoor seating
Check-in and check-out times (for hotels only)
So, check and ensure all categories available on your Google business profile are well-filled.
Don't Over Optimize
While it's beneficial to populate your Google business profile fully, you don't want to over-optimize it.
So, as tempting as it is, don't use keywords in your business name unless they read naturally, and don't overuse them in the rest of the profile, either. Also, refrain from using fake photos or locations to try and rank in multiple places because Google will penalize you.
Getting Reviews on Google Business Profiles and Replying to Them
Google Business Profile allows you to do more than just share your NAP. You can upload comprehensive enterprise details and, on top of that, interact with your clients through the review section.
And since reviews are nowadays a critical part of every customer's journey, you need to respond to both negative and positive reviews. For instance, express gratitude when a client leaves a positive review and sincere apologies in light of negative reviews.
This will serve as social proof for future customers that you're responsive and will also help build trust and credibility in your client base. Additionally, interacting with your customers via reviews makes your profile more actively. It's also likely to appear at the top of search results whenever an internet user needs goods or services you specialize in.
4) Focusing on Service Pages
A service page is a web page specifically created to define a business's service.
While you can always skip the hassle of creating one and display all the services you offer on your homepage, service pages add significant value to your SEO strategy. Multiple service pages create multiple links increasing your site's overall relevancy.
The result?
More of your site's pages are indexed, and search engines better understand what your website is about.
Service pages also create multiple points where your website visitors can find you.
Additionally, with a dedicated page for each service, you can naturally incorporate more primary and secondary keywords related to that service which helps you rank higher in related searches.
Lastly, service pages enable you to break down your offerings more comprehensively. For example, our web hosting page is dedicated to only web hosting information. This makes it easier for the target customer to understand your services and more likely to buy from you.
How to Optimize Service Pages
Here are some optimization tips to ensure your service pages perform superlatively
Page Title
Only a few on-page components influence SEO rankings as much as the page title. Also known as a meta or SEO title, the page title is usually the most important.
It's the first thing a search engine sees and uses to understand the content available on a page and determine whether it's relevant to the searcher's intent. Moreover, your page title is often displayed as a clickable link on SERPS, meaning users probably won't click through if it's not enticing enough.
So, ensure you optimize your service pages with quality page titles. Your titles should be between 50 and 60 characters, include relevant keywords, and, if possible, feature the brand name.
Meta Description
A meta description is a brief summary of a web page. It's typically displayed alongside the page title in search results and offers users an idea of how content within a particular web page coincides with their query.
A good meta description for service pages should be between 50 and 160 characters and should be written in an active voice.
It should feature naturally-reading keywords, a call to action, be engaging, and, more importantly, briefly answer the searcher's question to motivate them to click through and read the rest of the content.
Call to Action
Call-to-action buttons are small interactive elements that urge users to take action on a web page. They can be simple text, buttons, or images with textual descriptions.
Dynamic CTAs such as 'Schedule a consultation' for service pages can help increase conversions.
To further enhance your CTA's effectiveness, use relevant coloured buttons and place them strategically above the fold where they're most likely to be seen by visitors. Test different variations of your CTA button text and placement to see what performs best for your site.
A well-written CTA guides users on what to do next, eliminating the decision fatigue that causes searchers to close a service page. To write a good CTA, use words that provoke enthusiasm towards your products and services, create a sense of urgency, and, more importantly, keep it brief.
5) Local Link Building
Link building refers to backlinking other websites to your site. Now, local link building is specific to local websites. It involves building backlinks to locally relevant sites to increase organic rankings in local searches and map packs.
If done well, it shows your site's relevance to a particular area and makes it more trustworthy to search engines. The outcome? Your visibility in local SERPs increases, and so does your local organic traffic.
How to Do Local Link Building
Local link building has amazing perks, but you must work to attain them. Here is how you do it:
Search for Relevant Websites
To get local backlinks, start by looking up relevant websites in your area that are different from your competitors. That means if you're in the hospitality industry, the best link to get should be in other health-related industries.
Besides relevant industries, consider working with local media outlets, bloggers with a following within your target market, local event pages, and local charities to build local backlinks.
Outreach
Once you've identified a list of relevant websites, you will need to reach out to these sites. An outreach campaign is precisely that – reaching out to prospects to build valuable backlinks.
You can provide value to these websites in exchange for a link in several ways, including by writing guest posts on their blog, contributing to an upcoming event or an online magazine, or simply offering them a free product.
Summary
Local SEO is critical in optimizing your website and driving more organic traffic to your business. This guide discusses five critical factors for optimizing your local SEO strategy:
NAP optimization
Local citation building
Google Business Profile set-up
Targeting services pages
Local link building
Whether you're looking to increase visibility in local search results or improve conversions on your service pages, following these tips will help you optimize your local SEO strategy and drive more traffic to your site.