As you probably know, we've talked a lot about WordPress here on our blog.
The possibility of adding new features by installing plugins makes the platform even more attractive for those who come from other, more limited platforms, and for those who don't have technical knowledge.
One of the most recognized plugins for WordPress is WooCommerce, a free tool that transforms WordPress into an e-Commerce platform, bringing common features of virtual stores such as shopping carts, checkout pages, and integration with payment methods.
With WooCommerce, you can create a complete online store! You'll have the tools to start selling on the internet and making money online.
But in order for you to do that, you need to choose the best payment gateway for your business. In this article, we'll cover:
Which Payment Gateway Is Best For WooCommerce?
Payment gateways are solutions that emerged to simplify the connection of the virtual store directly with operators and banks.
As a feature, there's the freedom to integrate into any checkout process and tools so that the merchant has control over payments and risk management.
Nowadays, the market has a range of Payment Gateway providers that you can integrate with your website at a small service charge or fixed monthly charges, depending on the number of transactions your online store anticipates.
Make sure you choose a gateway that provides a variety of payment methods: Powercash21 offers Visa, Mastercard, and other local payment methods, including WeChat, Qiwi, Sofort, and many more, allowing you to reach global customers.
We'll present here some payment gateway examples you can use for your WooCommerce. The pros and cons of each will be discussed here, but it's up to you to decide which one is the best for your website.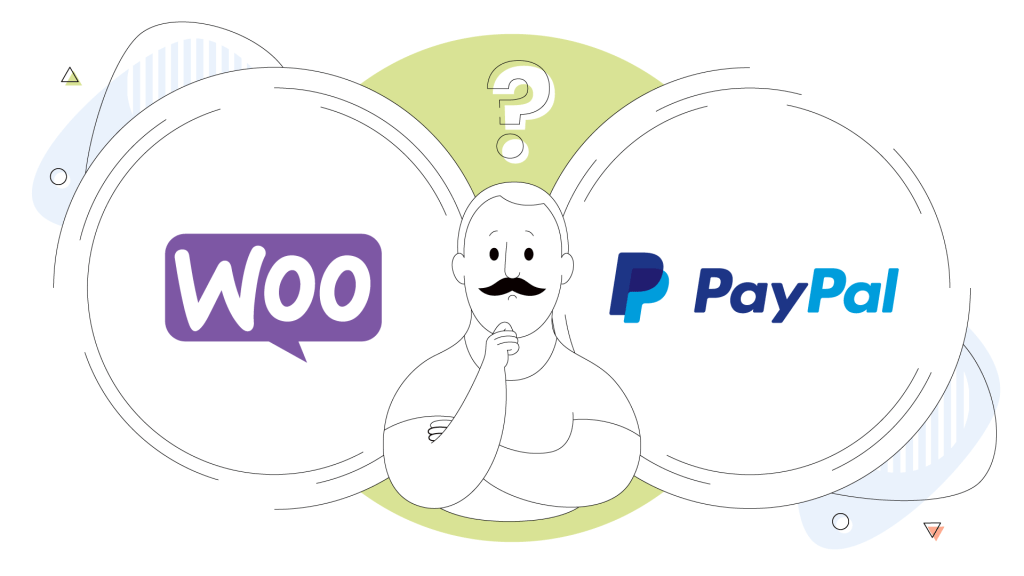 Can You Use Multiple Payment Gateways On WooCommerce?
Yes, and more: Multiple payment gateways increase your chances of getting paid and having a successful online store. If you use only one payment method, your earnings will be limited, and the potential customers who would like to buy your products won't be able to do anything.
And, as you probably know, some people are still skeptical of buying products online and may be suspicious if your website doesn't accept the payment method that these people are used to, even if the way you use is reliable and efficient.
So, make sure you use multiple methods because your company looks more professional in addition to increasing the chance of selling your products easier.
How Does WooCommerce Integrate Payment Gateway?
First of all, your web store will need efficient security certificates, and the best way to start this process is to get an SSL certificate – the one responsible for leaving a padlock next to the store's URL in the address bar. This certificate guarantees that the information used on the site is private, so there's no risk of leaks.
Now, to answer your question, to integrate a payment gateway, you need to have a direct contract with each card company you want to make available as an option. With the contract closed, you need to install the payment gateway and have the tool in your online store.
By default, the core payment gateways available in WooCommerce are Check Payment, Cash on Delivery, and Direct Bank Transfer (BACS).
Intermediary Options for WooCommerce
When using an intermediary in your WooCommerce, your customer is taken at the time of purchase to a new environment, where he will finalize the deal.
You may be asking yourself, but why use an intermediary when I can do it directly?
If you choose the intermediary, you don't have to sign a contract with banks and credit card companies. The purchase process is much simpler for you, who is the owner of a virtual store.
So, to make it very clear: If you choose to set up a payment gateway in your web store, your buyer will be doing the entire purchase process within your online store. If you choose an intermediary, the purchase will be finalized within the chosen financial intermediary.
An example of a famous intermediary gateway payment is PayPal.
How Do I Create A Custom Payment Gateway In WooCommerce?
You can create a Custom Payment Gateway with the plugin: WooCommerce Custom Payment Gateway.
This plugin gives you:
Unlimited custom gateways
Custom gateway icon
An order status after checkout
API request after checkout
Customer message and many other features
You can install this plugin directly from the WordPress plugins page. The plugin is simple, effective, and easy to set up and use.
Does WooCommerce Payments Use PayPal?
PayPal is a must-have payment method for every e-Commerce website. It has support in more than 200 countries and the chances of your store having more sales increase considerably. So, yes, the majority of WooCommerce uses PayPal.
We will talk more about PayPal in the list with the best Woocommerce Payment Gateways. Still, if you want to go ahead and start setting up your website with PayPal, you need to create a PayPal business account and fill out your business information. With that, you successfully create your PayPal business account. Now, you just need to configure it.
The Best 7 WooCommerce Payment Gateways Reviewed
You've come this far and already understand the importance of having a payment gateway in your business. Now, it's time for you to know which are the best payment gateways for your website.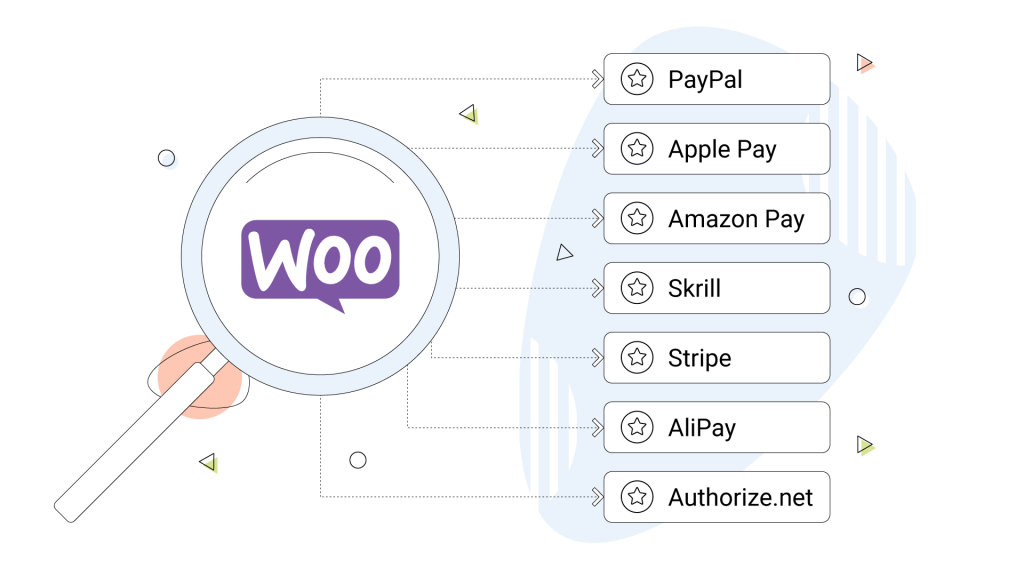 As we mentioned, PayPal is a must-have payment method and one of the oldest payment gateways in the world.
It's free to set up an account and easy to link to a bank account, credit card or debit card to send money to others.
Pal offers you one of the largest payment networks, no matter where you are or to whom you are selling. If you live in one of the 200 countries that work with PayPal and use or want to accept one of their 25 accepted currencies, you are good to go.
Not everything is perfect, as PayPal charges a fee of:
9% + 30 cents per transaction for local payments
9% transaction fee for international payments
But for your website, it's a must-have payment method.
Apple's official payment service is only integrated with the iPhone (iOS) and the company's other devices. To start using Apple Pay, search for the Wallet app on your iPhone and open it. The program is native and usually comes pre-installed on the iOS system.
It is possible to offer your customers to purchase in online stores and physical shops. This is a safe method because Apple utilizes a resource using a specific number for your device, and the platform creates a unique transaction code.
Initially, it was only available in the United States, but now the service is available in many countries.
Apple charges 0.15% per transaction on US purchases.
Amazon Pay is a service that enables the processing of online payments, either on the Amazon website or on accredited partners.
Amazon Pay uses the customer base already registered in the Amazon.com account to permit users to make purchases on external sites.
This means that Amazon customers can shop at other stores through this payment account.
Data such as login, credit cards or debit cards, billing and shipping address are already registered., The whole process becomes easier and safer for the clients and you.
To use Amazon Pay, the consumer must be an Amazon customer. Don't worry, it's very easy to open an account on Amazon.
There is no cost to customers. However, to sell and receive your products, there is a standard transaction fee, which is 2.9% + $0.30 per domestic transaction.
The good side of Amazon Pay is that the data is already registered on the Amazon website, preventing your own system from making a mistake when completing a purchase.
Skrill is one of the most popular PayPal alternatives. The platform was designed to be easy to use, especially for people without experience in the subject.
With Skrill, you can send money to other users or convert it to more than 40 currencies using a free account via the mobile app. The platform also has 24-hour customer service, which can be activated by phone or through the interactive online FAQ.
Skrill charges the following fees on its international transfer operations:
1.9% transaction fee (limited to $20 USD);
Exchange rate of 3.99%;
A withdrawal fee of up to 7.5% (varies by payment method).
With Skrill, your customers can pay quickly with just an email address and a password.
One of the main competitors of PayPal, Stripe has developed a payment platform that can be integrated into any website with simplified solutions.
Through carefully designed APIs and unique functions, Stripe works to get you the best possible product when creating an eCommerce. Thousands of platforms like Shopify and DocuSign already work with Stripe to broker payments for their customers.
Stripe has three product types that are worth mentioning here:
Connect: A payment software for platforms and Marketplaces, in which you manage payments for a large number of people
Payment: Whether you want to bill customers regularly, create a marketplace or accept payments, you can count on a fully integrated global platform that accepts online and in-person payments.
Billing: Offers intelligent billing and subscription management, which brings a set of tools to create and scale your recurring business model.
When we talk about fees, Stripe charges 3.99% of the total purchase plus 30 cents.
AliPay is the most used payment method service provider in China.
Just like all the other methods mentioned here, AliPay is a must-have method for your eCommerce.
It's a platform with millions of users (almost 900 million), so you can have an extremely high number of transactions made securely and without instability issues.
With truly innovative e-Wallet payment solutions, Alipay provides seamless payment collection and a convenient customer experience. The platform offers a variety of cost-effective digital payment methods so you can accept payments from customers worldwide and is compatible with all types of browsers across the internet.
Alipay charges the merchants a service fee of 0.1% on credit card bill payments above 2,000 yuan ($294) each month through the app.
This payment gateway offers small and medium-sized retailers the ability to accept credit card and electronic check payments from websites and automatically deposit the amounts received into a bank account.
You can take advantage of several features offered by Authorize.Net, such as customer profiles, card tokenization, and eCheck processing.
Easy to use, the logo of the credit cards that you can use will be displayed on the checkout page.
Something that many people like about this gateway is that the payment page can be customized.
You can choose the plan that fits you and start customizing everything you want.
Final Thoughts
We presented some payment gateway options for you. All are easy to use and completely safe and reliable. Remember to purchase an SSL with your hosting company to protect your customer's data.
Remember that multiple payment methods are extremely important, as we mentioned in this article. Are you ready to choose the method and start making money from your website?
We'd love to hear which method you choose and why! Let us know in the comments.