As a small business owner, there's always something new to learn. Whether you're a seasoned entrepreneur or just starting, learning a new skill can massively boost your business' potential – and taking a small business management course is a great way to do just that.
There are dozens of online management courses available for small business owners, catering to different curriculums, budgets, and time schedules. Some of the best online courses are totally free to sign up to and will teach you invaluable skills and tricks to implement in your business and guarantee results.
We've put together a handy list of 12 best free online management courses, so all that's left for you to do is sign up.
How an online course can help your business
Gone are the days when you had to sit in a classroom to learn – business and management courses have become increasingly digitalized over the past few years. You can now complete an entire course online, fitting it around your schedule and opting to learn in a way that suits you best.
As a small business owner, you might not have much time to invest in an online course – but doing so an investment in your business. In 2017, 77% of US companies used some form of online learning and found that eLearning can boost knowledge retention by up to 60%. For small businesses, in particular, there are so many reasons and benefits to take an online management course:
Stay up-to-date with the latest developments and trends
Learn new marketing strategies
Learn employee management techniques
Understand issues facing small business and how to overcome them
Discover ways to grow your business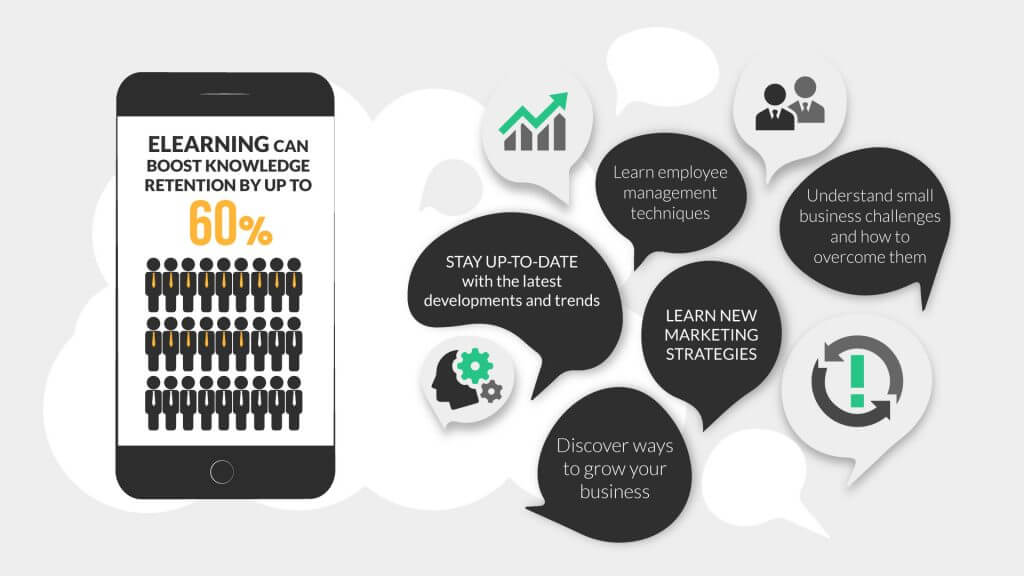 Our Pick for the Best Free Online Management Courses
However much time you can dedicate to an online course – even if it's just one lesson a week – the advantages are worthwhile. You can hone your existing skills while learning new ones and bring your business up to speed in a timeframe that suits you. And, best of all, some online business courses are entirely free.
Here's a round-up of 12 of the best free online courses for small business owners available right now:

1. Starting a Business: Vision and Opportunity
This free online course is a brilliant resource for aspiring or newly established small business owners. Starting a Business: Vision and Opportunity is led by Professor of Entrepreneurship Nigel Lockett. In as little as 2 hours of study time a week, you can create a fully-fledged business plan and learn valuable skills to make your business idea a success.
What topics will you cover?
The entrepreneurial learning cycle
How to write a successful working business plan
How to write a business proposition (with special focus on core values)
Understanding the role of vision and opportunity in business
Business models including the importance of sharing your vision
2. Essentials of Entrepreneurship: Thinking & Action
If you dream of being an entrepreneur but don't quite know how to make it a reality, Essentials of Entrepreneurship: Thinking & Action is the course for you. The free interactive learning resource from the University of California will teach you the fundamentals of entrepreneurship and all the top tips and tricks to becoming a successful business owner.
What topics will you cover?
How to achieve success in a new business
Understanding the importance of a business plan
Business strategies for new businesses
How to evaluate creativity, opportunity, and feasibility in business
3. Entrepreneurial Behaviour
There are a plethora of entrepreneurial courses available online for small business owners right now, and Entrepreneurial Behaviour is another hugely beneficial course for those looking to turn their business plan into a reality. This Open University course is specifically tailored to business owners. You can expect to learn the process behind entrepreneurship as well as the opportunities and personal aspects required when transforming your business plan into an entrepreneurial product.
What topics will you cover?
Exploring entrepreneur management and leadership
Understanding the work style of an entrepreneur
Qualities of a successful entrepreneur
How personal attributes aid entrepreneurial opportunities
Confirming your entrepreneurial business idea
4. New Venture Finance: Startup Funding for Entrepreneurs
From hatching your business idea to starting up your company, finance is such an important thing to consider at every step of the journey. Many aspiring businesspeople have a brilliant basis for a new business or product, but don't know how or where to get their projects funded – this is where the University of Maryland's New Venture Finance: Startup Funding for Entrepreneurs comes in. The free online course covers all the funding process bases, from investment options to closing a pitch, and gives small business owners a comprehensive guide to funding.
What topics will you cover?
When to raise outside capital
Understanding who and when to pitch
How to develop a winning investor pitch
Common pitching mistakes
Techniques entrepreneurs use to "get the close"
5. Introduction to Business Management
Whether business management is entirely new to you or you're looking to improve your existing managerial skills, Introduction to Business Management is a free, self-paced course that can help you gain confidence in all aspects of management: handling money, overseeing staff, and managing content. This course will give you clear insight into your own managerial style, which will provide you with more clarity and direction in your business venture.
What topics will you cover?
The importance of business management
Concepts, tools, and terminology in business
How to collaborate, negotiate, and give feedback in business
Identify and develop your managerial skills and ideas
6. How to Build a Start-Up
If you want to learn some key business tips from an expert in the field, Steve Blank's How to Build a Start Up is an excellent resource for small business owners. This free course is developed and led by hugely successful entrepreneur Steve Blanks (who built several Silicon Valley start-ups). It is a month-long program that teaches small business owners the critical steps to creating a successful start-up and the all-important customer development process.
What topics will you cover?
Business models and customer development
Value proposition
Customer segments
Customer relationships
Revenue models
7. Fundamentals of Marketing your Business Online
Business courses aren't just for new or aspiring business owners; taking an online course and learning new ways to modernize your business can be beneficial at any stage of your entrepreneurial venture. Fundamentals of Marketing your Business Online is the perfect example for established business owners looking to bring their business up to speed in the modern world. This free marketing course is designed to help you improve and maximize your business' online presence. It also teaches you how to put together an online marketing strategy for your business.
What topics will you cover?
How to promote your business online
Building your online marketing plan
Marketing through Google
How to use Google AdWords
8. Branding, content, and social media
In a world where everything is going digital, small business owners have to find new and effective ways to promote and market their businesses online. If you're looking to brush up on your marketing skills – or learn completely new ones – The Ohio State University's Branding, Content, and Social Media course is an incredibly helpful resource. This course is available on iTunes and teaches small-to-medium-sized business owners how to create and implement effective social media, branding, and content strategies.
What topics will you cover?
How to be strategic and engaging
Understanding social media
Social Media: How-to steps
Understanding branding
How to plan a communications strategy
9. Introduction to SEO: Tactics and Strategies for Entrepreneurs
A strong marketing strategy can make a world of difference to a business' performance. SEO optimization is one of the most effective types of marketing a small business can use, but it's often misunderstood or overlooked by many business owners. With Introduction to SEO: Tactics and Strategies for Entrepreneurs, you can get a firm handle on how to use SEO and all the best tricks and techniques to incorporate it into your marketing strategy. The video-based course is hosted by Rand Fishkin, founder of SparkToro and previous co-founder of Moz, and can be completed in a mere 90 minutes.
What topics will you cover?
What is SEO strategy?
Debunking myths and misconceptions in marketing
Content tips and tricks
Building a culture of SEO success
10. Innovation, markets, and industrial change
Successful entrepreneurs understand the industrial structure and how to keep up with the latest innovations and trends. Making sure your business keeps up to date with market demands can be difficult, but The Open University's course in Innovation, Markets, and Industrial Change is designed to help you understand the industry life cycle and how to read and interpret demand curves and economic models to ensure your small firm can remain a frontrunner in your industry.
What topics will you cover?
Understanding technological change, demand, and costs
Tapping into market demands
The relationship between firms, costs, and technology
Understanding technological change and industrial structure
11. Management and Leadership: Well-being and Welfare at Work
A business is only as strong as its workforce. Whether you have 5 or 50 employees on your payroll, taking a course in Management and Leadership: Well-being and Welfare at Work will be beneficial to you, your employees, and your business. With this Future Learn developed course, you'll learn how to improve the day-to-day performance of your business, as well as pick up critical tips on how to retain your employees by catering for their wellbeing and supporting their professional development.
What topics will you cover?
Understanding and planning for professional development
The resources required for professional development
How to implement and evaluate your personal development plan
How to develop and support staff welfare and well-being
12. Business Improvement Techniques (Level 2 Certificate)
Savvy business owners are constantly on the lookout for ways to improve their business. But this isn't always easy in a saturated market, especially if you're new to entrepreneurship. This certified Business Improvement Techniques course will bring you up to speed on the latest and most effective ways to improve your business' efficiency and performance by equipping you with techniques in everything from analysis to problem-solving.
What topics will you cover?
How to implement safe and effective team working
How to conduct flow process analysis
Understanding and applying problem-solving techniques
Continuous improvement techniques and how to implement them
Online learning providers for small businesses
There's an online course for everything, but if the skill you're hoping to learn isn't covered on our top 12 list or want to find more extensive courses, here are some of the leading educational providers you can check out:
SkillShare – an online community where field experts share video-based tutorials and techniques in every aspect of business management. Skillshare is known for its coverage of niche topics and has a particular focus on providing targeted resources for small business owners.
Future Learn – courses and programs from top universities and business schools are readily available on Future Learn for small business owners. The online learning platform has also created courses advising businesses on how to cope during the COVID-19 pandemic.
Google Digital Garage – for webinars and online courses in marketing, technology, and career development. Google Digital Garage is a mostly free platform to learn the most up-to-date skills and techniques in business management.
Boost your business with an online course
A willingness to learn is one of the most valuable traits a business owner can have. Whether you're new to the world of business or run an established company, taking a small business management course has something to offer every business owner.