Do you want to improve your customer service and increase the number of leads coming in? With a call center solution, you can. A call center solution will provide you with tools that help manage all aspects of your business. Best of all, it's affordable! In this blog post, we'll be discussing how a call center solution can benefit your small or medium-sized business (SMB) and what steps need to be taken for implementation.
Before we start, let's cover the bases.
What is a Call Center?
A call center is a centralized location where different types of incoming calls are received. It provides customer support, sales and marketing assistance, technical troubleshooting or any other service that requires direct contact with the customers.
In the context of a business organization, a call center is an extension of a company's customer service department, which functions to handle telephone calls from individual customers. Today's call centers often enable a company to offer up its services and better compete for new customers by providing live help via phone, chat, or email. The typical features of today's modern call centers include an interactive voice response system that allows the caller to select from several options to get their customer service inquiries answered quickly and efficiently. 
Types of Call Centers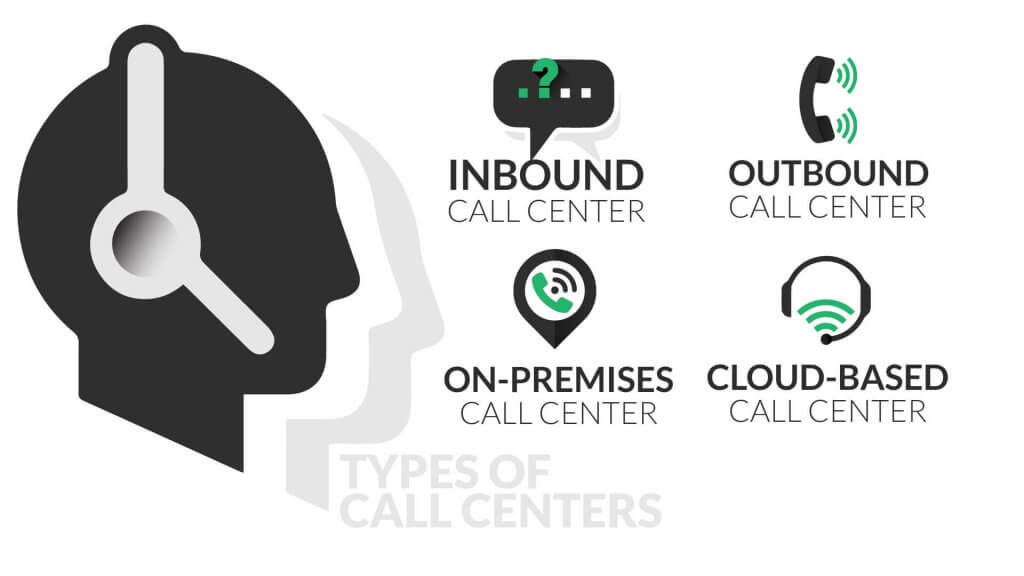 #1 Inbound Call Center
Inbound call centers are set up the same as outbound calling centers but to receive incoming calls from customers. Inbound agents answer the phone, ask qualifying questions, and pass the call on to an appropriate specialist or queue customer reports for higher-level departments. Inbound call centers can also benefit from using reverse phone lookups. By quickly identifying the caller, agents can access their information and previous interactions with the company, making it easier to quickly and efficiently address their needs.
They offer services such as technical support and customer service for various types of products and company units. These companies might use roles like account management, order management, and billing to accomplish their goals.
#2 Outbound Call Center
Outbound call centers take on the duties of cold-calling customers to generate sales leads and acquisitions for your business. This means that you'll need this type of call center to handle a high volume of outbound calls.
Outbound call centers typically assign operators to make outbound phone calls during daytime hours. They offer telemarketing, lead generation, or appointment setting for various types of products and company units.
#3 On-Premises Call Center
An on-premises call center is a call center that's located at and operated from the company's own office.
Often, the one selling these services will charge by the agent or per phone line used. On-premise usually means that they use your computer system to make and receive calls instead of their system. You can often customize the hardware (for instance, adding headsets) as part of the contract since those features would be available within your office premises.
#4 Cloud-Based Call Center
Cloud-based call centers are set up to be accessible through the internet. The cloud provides necessary backend support for desktop and mobile phone apps, video calling, instant messaging, and VoIP technologies. These applications are designed to make your business more effective by always having a customer service representative available when you need them the most.
This saves you money because it's usually significantly cheaper to use an application remotely than leasing office space in any region.
Benefits of Having a Call Center
#1 A call center can help with customer service by answering questions and resolving issues
A call center can help with customer service by answering questions and resolving issues. Since it is an extension of your company, you will always feel like part of the family. This decreases turnover rates because employees won't want to leave a place that provides great support for their needs. They value knowing there's someone who cares about them and their career.
This will also allow you to focus on other tasks like researching new customers, contacting suppliers, or negotiating offers with potential clients. It frees up your time so that you're able to do more things in a shorter period. This allows for a better work-life balance because employees won't feel overworked and stressed with their jobs.
2. A call center can also be a valuable resource for training, including company-wide training on new products or services
A call center can also be a valuable resource for training, including company-wide training on new products or services. You'll want to ensure that your employees are updated with the latest information about their work, so they don't give out incorrect information to customers.
Having a call center will allow for better company growth due to increased customer satisfaction and company awareness, boosting revenue rates. You'll also see what needs to be improved upon because the call center will keep track of all metrics related to your business.
3. Call centers are often an integral part of the sales process, providing information about the product or service to potential customers
If customers have any questions after hearing your pitch, you can send them over to a call center so that they know what it entails.
This allows for all-around better marketing because more than one medium is utilized to promote your product or service. You can have sales teams at the forefront of marketing while a call center is there to answer any questions customers may have so that they feel educated about what you're offering before making a purchase decision.
4. In addition to these benefits, a call center is typically cheaper than hiring additional employees at your business location
Furthermore, a call center is often cheaper than hiring additional staff at your business location. This will allow you to save money when expanding your company because you don't necessarily need an in-house customer service representative anymore if they are located elsewhere.
This provides for much more time efficiency because people can do their jobs from the comfort of their own homes. You won't need to worry about them coming into the office, which means that they don't have to take time off from work and can complete all tasks as long as there is an internet connection and a phone nearby. This cuts down on travel costs since employees can stay at home or wherever else they choose to work from.
How SMBs Can Set Up Their Own Call Centers
It's quite easy to set up your call center. All you need is a phone system that can be accessed via the internet and an agent who can access it through their computer or cellphone. You'll also want people familiar with different types of calls, so they don't get confused when customers ask them questions and friendly and patient people.
There are many ways a small or medium business can set up and leverage call centers, beginning with choosing a call center software from the various providers. Businesses can choose a service they need, and the company will provide them with agents knowledgeable about those services. This allows businesses to focus on what they do best, which is their product or service itself. Furthermore, it will enable them to have a competitive advantage over their competitors by providing a high-quality service that is fast and efficient.
It's important to keep in mind the value of call centers for your business, so you make sure they are used properly. Not only will this help expand your customer base, but it can also save money from being wasted through incorrect information and confusion.
Call center management tools are essential for running a call center because they allow managers to remotely evaluate agents' performance, make agent coaching interactive and engaging, and provide high-level reporting on activity metrics to measure team performance. These call center analytics reports help teams develop better processes by measuring how long it takes for an agent to take a customer from contact creation to booked service in minutes, analyzing their average abandonment rate in customers per hour or comparing customer satisfaction rates.
In-House or Outsourcing the Call Center Solution?
While you can have an in-house customer service representative, there are a few reasons why this may not be optimal. You'll need to factor in things like salary and payroll tax, space where they can work from, training time and cost on your part, as well as other expenses that you might not have thought of.
This is why an outsourced solution may be a better option since all labour costs are going to the company while your business doesn't need to worry about it. The only thing they will do is provide their agents with whatever technology and equipment required for them to perform well in this profession.
You may need to go through a few different companies before you find one willing to meet your requirements, but this shouldn't be too difficult if they are in the same industry with comparable customer service standards. As long as both parties have good communication and clear expectations of what should occur, there won't be any issues.
Over to You
In conclusion, a call center solution can benefit your SMB in many different ways by providing better customer service and increasing efficiency in time management. In addition, you'll be able to cut costs from various aspects of running a business, such as a payroll tax and equipment needed for the employees themselves. If you're looking into an outsourcing option, it's essential to choose one that matches your requirements and expectations, so you don't face any problems in the future.