As a startup founder, you need to look into multiple business matters at once. However, looking into other business insurance options and policies might not be at the top of your priority list. Even if you're trying to look into business insurance for startups, it can become a struggle to find accurate and relevant information to understand insurance costs for your startup.
Besides, considering how sales-oriented the insurance industry is, finding unbiased information to help you reach the right decision for your business can become even more challenging. To help you out, we've put together a comprehensive pricing guide on insurance for startups. This article will guide you on different types of startup insurance and how much they cost, how you can calculate your business insurance, and whether startups need insurance.  
How Much Does Business Insurance Cost for Startups?
How much your business insurance costs will highly depend on your industry and business size, operations, and coverage. However, on average, insurance policies for startups can cost you anywhere from $500 to thousands of dollars a year. Because this estimate is so vague, it's crucial to find the right policy for your startup.
For most startups, business insurance is a relatively minor expense for their business, which offers basic coverage. However, business owners have to upgrade to a more appropriate insurance package that provides a full range of policies as the business grows.
What Does Business Insurance Mean for Startups?
In many cases, a startup functions and feels different from a more mature company. This doesn't mean that startup insurance coverage needs to be any less extensive. The business insurance for your startup covers you from several possible scenarios and protects your business by giving you a second chance to succeed. One example is if you face losses or business claims and can't pay the cost of defending them – which could mean that your startup might have to fold before it even learns to walk.
What Kind of Insurance Do Startups and Small Businesses Need?
Your business insurance protects your startup from several claims such as:
Loss or theft of company supplies, equipment, and inventory
Any on-site accidents
Loss of revenue business faces due to a covered claim
Professional errors
Lawsuits for defamation of character
Employee illness and injuries
However, the thorough coverage of your startup will depend on your policy package. That said, you can cover the majority of small business incidents with professional liability, general liability, and workers' compensation insurance. This doesn't mean that all startups need all three – there is no correct answer to what coverage startups need. Startups and small businesses vary in their operations, employees, and assets.
To help you understand which insurance your startup needs, we've broken down the policies needed for specific business functions.
| | |
| --- | --- |
| Business Operations | Related Insurance Policy |
| Interacting with customers and clients directly | General Liability Insurance |
| Getting a private office for your startup | General Liability Insurance, Business Owner's Policy, and Property Insurance |
| Hiring employee of business's payroll | Employment Practices Liability Insurance and Workers' Compensation Insurance |
| Providing customized services to companies or publishing content on online platforms | Errors and Omissions Insurance or Professional Liability Insurance |
| Providing clients or organizations products or services to handle sensitive information | Cyber Liability Insurance |
Let's dive deeper into these different types of insurance policies for startups and find out what they cover.
General Liability Insurance
If the nature of your startup or small business requires you to meet potential clients or business prospects, pitch physical products, or provide in-person services, you're going to need general liability insurance in your business insurance. Even though general liability insurance isn't required by law, it's a good idea. It shows good preventive thinking for growing businesses that want to protect themselves from possible general liability lawsuits.
If you're a sole proprietor who operates from home and exclusively works with freelancers, you should consider opting for this policy.
Coverage
General Liability Insurance covers any property damage incurred and expenses in terms of defamation caused by company employees or bodily harm. It covers anything from a client slipping on a banana peel to a lawsuit resulting from a product release of a marketing campaign.
Property Insurance and Business Owner's Policy
With time, startups change the way they manage their operations. Many startups and even small businesses move into co-working spaces and shared offices with other startups instead of traditional options like renting a dedicated office space. These co-working companies often come with insurance policies that offer coverage for their properties, meaning you won't be required to get insurance for your business.
However, if a co-working space isn't the right option for you and you rent out a commercial property for your startup instead, you'll be required to get insurance before finalizing the lease with the landlord. At times, your landlord only requires you to get standard general liability insurance, but you may also need to get property insurance and slip and fall insurance for complete coverage.
Coverage
Your general liability insurance will take care of all basic property damage claims coming from employees and expenses related to injuries. Property insurance coverage for your startup provides varies from policy to policy, but it'll provide you with more comprehensive security to your company assets – from possible mould and severe water damage to any accidental damage to the property, floors, walls, and furniture.
Businesses looking for complete coverage should opt for a business owner's policy, which combines general liability insurance and property insurance for commercial spaces.
Workers' Compensation Insurance
If your business operations require you to hire any full-time or part-time employees, you'll most likely need workers' compensation insurance. In the United States, this policy has become required by law for most company owners and has been regulated at a state level since 2021. This is why your insurance expenses for this particular policy can vary from state to state.
As this can be a legal requirement, the process for getting workers' compensation insurance has become almost automated for convenience. That said, startups will still have to double-check to make sure they address their state's particular requirements.
Coverage
Workers' compensation insurance covers medical expenses and a portion of the lost wages if an employee gets into an accident or falls ill while at work. What percentage of lost wages your insurance will cover depends on your policy. However, you need to check if the injury has resulted directly from the employee doing their tasks and duties at work for your claims to be valid.
Employment Practices Liability Insurance (EPLI)
For businesses growing too fast and spreading their operations, it's important that they consider getting Employment Practices Liability Insurance to protect themselves from possible lawsuits from former and current employees. Your employees falling sick or getting injured is not the only risk you need to prepare for. Your employees are acting on their behalf of the company while they're on the company's time. This means your company is liable for your employees' behaviour, actions, and conduct towards other employees and staff. The EPLI policy safeguards you from possible lawsuits that result from the actions of those few bad apples.
Coverage
EPLI policy almost fully covers you from possible lawsuits that may result from your employees or even without hiring someone. The following are some of the possible lawsuits EPLI can protect your company from:
Wrongful termination
Breach of employment contract
Failure to employ or promote
Negligent evaluation
Sexual harassment
Data breaches
Intentional or malicious acts
Unpaid employee wages
Bodily injury
However, during the initial stages, many startups don't want to take on the hassle of hiring. Sometimes, startups don't have a dedicated HR team to recruit and handle employee insurance and compliance processes. In a country like the United States where laws vary from one state to another, compliances can be complicated. That's why startups often prefer to find help.
A Professional Employer Organization (PEO) is a company that provides services to startups and companies by hiring employees on their behalf. They make sure all employees they hire are insured according to the local laws and compliance with all employment laws of the specific state. Most PEO typically also have EPLI policies, however, their coverage is often limited and covers general claims. You might not be able to get coverage for risks that are more unique to your particular industry or business model.
Errors and Omission Insurance or Professional Liability Insurance
If you provide professional services to other companies and businesses as your clients, consider getting professional liability insurance. If your product or service is directly involved in how the client generates revenue or manages sensitive company or customer information, having an errors and omission insurance policy makes sense. However, any mistake or mishandling from your end that harms the client almost guarantees a lawsuit.
However, the scope of your policy will depend on the industry your clients are operating in and the possibility of errors involved. For example, a small business that provides a basic internal collaboration tool and doesn't deal with any sensitive information will need a completely different policy coverage than a vendor that provides a payment processing system. Similarly, a digital marketing agency that calls shots for a million-dollar campaign will need a different policy.
Coverage
This policy covers you for errors and mistakes – from bugs in the software code that result in issues to problems with any physical product like failing to deliver products or services as stated in the contract due to professional negligence. It also covers you in case of project scope disputes where your client doesn't think you've delivered the services according to mutually agreed-upon project terms.
It helps your company avoid some of the worst-case, scary scenarios where you need coverage for accidental trademark infringements. With the increasing collaborative business practices worldwide, accidental trademark similarities are more common than you'd think.
Cyber Liability Insurance
Over the last decade, how businesses operate has changed. Today almost all modern startups rely heavily on the internet and data regarding business functions and customers. If your company directly deals with sensitive information for your own business or clients, you must consider getting a cyber liability policy. You want to make sure your data on the internet is protected.
Coverage
The cyber liability insurance policy covers almost all worst-case scenarios that may result from a bug in the code, a leak, exploit, or facing extensive downtime. Legal expenses from hacking, website downtime, leaking of important data, exploits, and loss of profits are just a few possible situations you can make a claim for with cyber liability insurance.
How Much Does General Liability Insurance Cost Startups?
Getting a general liability insurance policy for your startup or small business will cost between $400 and $750 every year or between $42 and $92 per month. This isn't a huge expense considering the peace of mind and protection you'll get. This policy safeguards your business from basic liability damages and lawsuits. The exact price tag for your startup will vary with factors like business size, risk and uncertainties, policy limit, and deductible.
According to Insureon, the average premium for general liability insurance is $741, and the median per year is $421. The average cost range for startups in the media, IT, and consulting industry falls between $505 and $649 per year. However, you'll still find lots of variation in general liability cost depending on the insurance company, policy coverage, size of your startup or small business, and other factors.
That said, on average, during the early stage of your startup with just the founding team and a few small clients, your premium for general liability insurance is likely to be between $400 and $500 per year. As your business grows with a higher number of employees, bigger clients, operating in a high-risk industry, you might end up having to pay between $1000 and $2000 a year for the policy.
How Much Does a Business Owner's Insurance Policy Cost Startups?
The business owner's insurance policy combines general liability insurance and commercial property insurance policy. This is why a business owner's policy costs more than taking a general liability insurance policy alone, but it's more cost-effective for startups and small businesses than taking both policies separately. On average, a business owner's policy will cost a small business anywhere between $600 and $1200 a year. However, like any other business insurance policy, the cost will depend on several factors like your number of employees, annual business revenue, the value of your business property, and the level of risk your business is operating in.
Insureon reports that the average yearly premium for your policy is $1,191, and the median is $636. Whereas the median for IT companies is $540.
How Much Does Errors and Omission Insurance or Professional Liability Insurance Cost Startups?
Errors and omissions insurance is also known as professional liability insurance and will cost your small business between $500 and $2000. Due to the extensive coverage of this policy, the price range is relatively wider. The cost of your professional liability insurance depends on the value of your contracts and possible damages involving your services.
For example, even a small business or sole proprietor can have a big consulting project with the possibility of a significant negative impact on the client's image and profitability. If this sounds like your business, you'll need a higher policy limit, which will increase the cost of your policy.
On average professional liability insurance policy incurs the cost of $1,735 and a median cost of $713 every year. It's important to understand that the cost of your insurance will vary from policy to policy, how extensive the coverage is, and other factors.
For example, as a startup or small business with just a few smaller projects or clients will limited risk in terms of professional liability, you're going to end up paying anywhere between $600 and $900 a year for the policy. Whereas, a growing business with a couple of major clients and a relatively higher potential for big damages might have to pay more for their policy, around $1,500 per year.
How Much Does Workers' Compensation Insurance Cost Startups?
A startup with workers that are mostly clerical staff and office workers will have to typically pay between $2000 and $3000 per year for the workers' compensations insurance policy. The price range is likely to be lower for software developers for startups, designers, salespeople, and marketers than construction workers due to a much lower risk of injury and accidents.
The cost of workers' compensation insurance changes from state to state, as well as other factors like the company's number of employees on the payroll, the risk associated with the individual employee's job duties and tasks, and the company's total payroll.
Most startups have a higher number of clerical staff or office employees than landscapers or other high-risk jobs, which is why workers' compensation insurance costs are usually not so high. Your insurance cost depends on the number of employees on your payroll and their salaries and wages. For example, the average salary in startup jobs is increasing to an average of $102,000, according to Payscale. Employing four employees on the average startup salary will end up costing your business an average insurance cost of $7,252 per year in San Francisco. However, there are still many factors that will play their part in your insurance cost.
How Much Does Employment Practices Liability Insurance (EPLI) Cost Startups?
Typically, getting employment practices liability insurance policy can cost a small business between $800 and $4,000. If you upgrade your business owner's business policy with EPLI endorsement, your cost will increase by approximately $300 approx.
As a startup or small business, you may think you're safe, but there's been about a 400% rise in employee lawsuits in the last two decades, and the wrongful termination lawsuits have jumped up roughly by 260%. This means there's a higher chance a business will be sued by an employee than having a fire. These numbers don't just represent large corporations, but 41.5% of these lawsuits were made against small or medium-sized businesses with less than 100 employees.
It's a good idea to upgrade your business owner's policy with EPLI endorsement, which will add EPLI coverage to your policy. It'll cost an additional $300 to $500 annually for a startup or small business. However, getting a separate policy for even 10 to 15 employees will add up to the annual cost of $1,200 to $2,000.
How Much Does Cyber Liability or Data Breach Insurance Cost Startups?
Opting for a cyber liability insurance policy can cost your business anywhere between $500 and $5000 or even based on the nature of your business. Like most other insurance policies, the cost of a cyber liability insurance policy depends largely on the specific needs of your startup. If your company deals with sensitive information or payments for big corporation clients, you'll need a policy with much higher coverage compared to a small web designing startup that creates basic websites for small businesses.
Even if you're a small eCommerce store, you'll still need a cyber liability policy. Any business that digitally stores or processes important business or customer data is technically liable for any possible damages. Many IT companies offer web and app development services, managed WordPress hosting, and other digital solutions, and they require business insurance policies that protect them, particularly cyber liability insurance.
An important factor to consider is the size of policy and coverage your startup needs based on projected damages that the business may incur if data is leaked, the system is hacked, or downtime is extended. There's a wide price range it's a niche policy, and the premium significantly differs with policy size. According to HowMuch.net, cyber liability insurance can cost you anywhere between $750 and $8,000. Whereas other sources state the range to be $500 to $5000 and $1,100 to $22,000 per year.
If your business directly takes customers' credit card information or handles online payments, this will significantly affect your possible costs of breaches. In these situations, you may have to pay an additional charge for each record. When it comes to cyber liability insurance, your policy is of no use if you don't opt for one big enough to cover a large section of your potential losses. This means that your insurance cost can end up being any amount based on your business operations.
Factors That Impact Startup Insurance Cost
We've discussed the cost of startup insurance based on which insurance policies you get for your business. However, how much your startup insurance will cost depends on several factors, along with which policies you opt for. Here are some of the major factors that will impact your insurance premium cost.
Business Size and Payroll
If you're running a small business and only work with freelancers, it might be enough for you just to get a general liability insurance policy. This means you can get away with a cost of around $500 per year to ensure your startup or small business.
But if you're hiring full-time employees and growing your operation, you'll need to consider the state laws concerning workers' compensation and other policies according to the nature of your business. Depending on the local laws, the additional workers' compensation policy will cost you a few hundred annually per year.
Business Model, Industry, and Level of Potential Damages
The industry your business is part of is an important factor in projecting your insurance cost. Up to a certain extent, it defines the scope of potential damages that your business can incur and needs protection against.
For example, if you're running a hair salon, you risk causing an allergic reaction or hurting someone's ear. The possible damages incurred would go up to a few hundred dollars for a business like this. The situation won't be the same for a development company that subcontracts websites for Fortune 500 companies. One glitch in their deliverables can result in the possible loss of thousands or millions of dollars. The cost of these two business models and industries will be very different because there is a big difference in the risk level.
Scope of Coverage
Your coverage limit and insurance premium impact what you end up paying for your insurance policy. The coverage limit is the highest payout for a specific policy, which directly affects the insurance premium you have to pay.
When you're working with your insurance agent to find the best package for you, they may suggest an extremely high coverage limit, meaning a higher premium. You should make sure your coverage limit is appropriate for your industry, nature of operations, business model, and potential damages.
Business Location
When you're running a business, you're subject to the local laws and regulations of your state, which also affect the necessary policies for your business and their cost. One example is commercial property insurance – the cost of this policy is highly affected by property prices, the potential risk of extreme weather, and other factors.
Employee Risk
The employee risk also affects the insurance cost your business has to pay. It's particularly important in workers' compensation and health insurance policies. However, most startups have mainly clerical staff employees, a low-risk category. This means that normally, their employees will only add a small portion of their wages, directly reflecting on the insurance premium you have to pay.
Many companies and startups have a distributed payroll. It means many startups employ remote employees, which makes their business international. You might be required to pay a different premium for different employees according to the local laws and regulations of the state and country where they're working from. This will directly affect your workers' compensation insurance policy and the per-employee premium you have to pay. Another downside of hiring a remote team is that you'll have to consider the insurance legislation of different states and countries that may require you to add completely different policies to your business insurance package.
On the other hand, businesses are likely to pay a lot more in their worker compensation policy who hire manual labourers like workers to operate manufacturing plants and carpenters.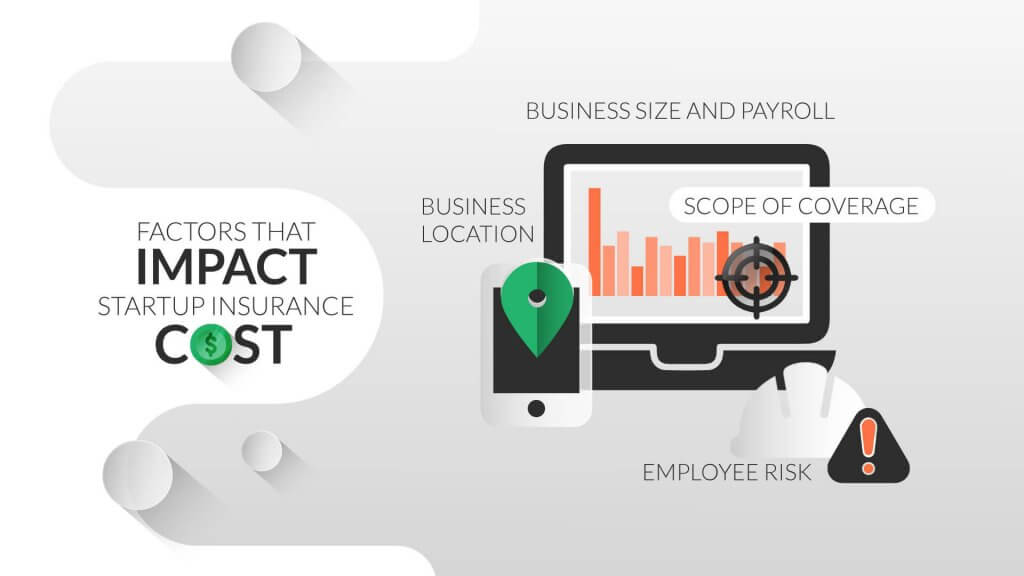 How Can You Get Insurance for Your Startup?
As we've discussed, several factors affect the insurance cost startups and small businesses have to pay. These factors can have a huge impact on the premium. When discussing and finalizing your business insurance with your agent, you should look into coverage limit and premium details to ensure the policy is best suitable for your business.
Following are some tips to remember to get the best insurance policy and terms for your startup:
Consult multiple insurance companies – A lot of times, you'll find different insurance providers offering different prices for their insurance policy. It helps when you work with an independent agent who helps you get multiple quotes for the coverage your business needs. This will allow you to compare different insurance providers' rates, make the most informed decision, and find the best package for your needs.
Plan ahead – You'll only be able to find the best insurance policy for your business when you anticipate your needs in advance. Sometimes purchasing specific policy coverage early on can prevent possible interruptions in business operations and may even help you save some bucks on the premium.
Look for bundle policies – Insurance providers often offer you discounted rates when you opt for a combination of specific policies and coverages altogether.
How Much Should a Startup or Small Business Budget for Their Insurance?
Due to the many factors that impact the cost of business insurance, the range for insurance budgets for different businesses can be vast to generalize for all startups. However, business insurance experts often recommend planning the budget based on a general rule of projected insurance costs as 20 to 30% of the business's predicted gross sales.
How is Business Insurance Calculated?
Calculating your insurance cost is not always a straightforward process. Several factors will affect how your insurance provider calculates your insurance charges before giving you a quote. The following are some of the significant factors that go into the calculation of business insurance cost:
Predicting a Business's Potential for Making Insurance Claims
Your insurance provider will determine the correct premium for your business insurance policy by looking into the expected frequency, as well as the severity or the number of potential claims. This considerably impacts the price quote that you're likely to get from your insurance provider.
Expenses and Miscellaneous
Insurance providers also consider the operating costs they incur in the process to provide you with insurance services. Some of the examples your insurance provider is likely to include the insurance agent's commission, marketing expenses, and reinsurance.
Business Specifics
The third factor that affects your insurance cost calculation is what we've discussed in detail in this article – your business model, industry, business assets, number of employees, annual revenue, and coverage limit are a few examples of your business specifics that will impact your insurance cost.
Key Takeaways
All businesses and startups are likely to have a unique experience in insuring their business. A business insurance cost is a customizable number that varies from business to business, industry to industry, and situation to situation.
That said, if you're a sole proprietor working from your home or a coworking space, and email addresses are the only sensitive business-related information you store digitally, your general liability insurance will probably cost you between $40 to $50 a month.
However, if grow your operations and start saving credit card information or bag big contracts with tech companies, you'll have to invest a higher section of your insurance portfolio on cyber liability insurance. The best business insurance cost for your business is one that's customized for your current and projected needs. In contrast to what some people may believe, startups are just as vulnerable to damage claims, data breaches, lawsuits, and other situations as any other business. It's crucial to protect your startup and business assets from all possible worst-case scenarios.