Accounting and bookkeeping is an essential part of every small business. But when was your last accounting class – college, maybe?
So, what happens when you launch a small business, and you can't afford an accountant? You need to get the best software within your budget to help you with accounting services for a small business.
If it's your first time searching, you'll notice that there are lots of bookkeeping software options at your disposal. It might feel daunting to decide where you should begin, which software is better for bookkeeping services for a small business, and which features are essential.
In this article, we'll share the best accounting and bookkeeping software for a small business.
What is the Difference Between Accounting & Bookkeeping Services for Small Businesses?
Accounting involves recording, analyzing, summarizing, and reporting on a company's financials. Bookkeeping takes care of recording a business's financial transactions, expenses, and income into a database.
While your business generates income based on the products and services you offer, there are some unexpected expenses you shouldn't overlook. One example of this is website creation. Unless you're a qualified web designer, you should hire an expert like HostPapa to help you out. Website costs are an example of an expense you need to record while preparing your company's balance sheet.
Though accounting and bookkeeping are different, they go hand in hand. Small businesses need accounting and bookkeeping to track their accounts payable and receivable to understand their profitability and be prepared for tax season.
What is the Best Software for Bookkeeping & Accounting Services for Small Businesses?
As we've mentioned, bookkeeping services are critical for a small business. But that doesn't mean it has to be difficult for you. Even without an accounting background, you can run your business effortlessly thanks to accounting and bookkeeping software. Here are some of the best software for accounting and bookkeeping for small businesses, along with their advantages and disadvantages.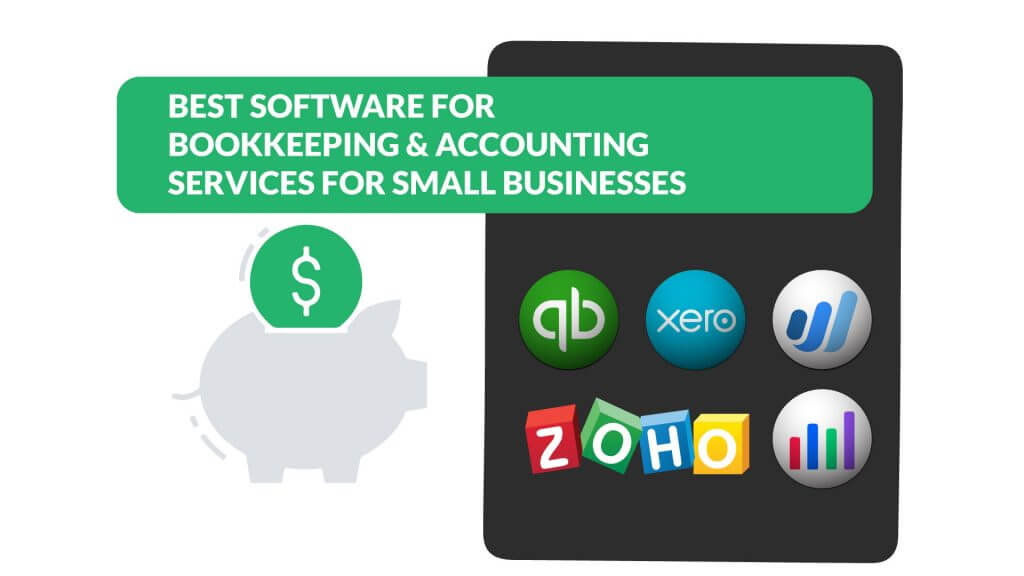 Intuit QuickBooks Online
Intuit QuickBooks is one of the top accounting software for small businesses thanks to its flexibility, excellent customer support, ease of use, and many other great features. It offers monthly plans, allowing companies to track their income and expenses, receive payments, send invoices, track taxes and sales, and make payments. 
Choosing one of Intuit QuickBooks' advanced plans will allow you to track time and inventory and run full-service payroll. You can access the online software on the cloud, through web browsers, or their mobile app. Without a doubt, it's the best software for accounting services for small businesses.
Advantages
Easy to use
Features customizable reports
In-depth transaction and contact records forms
Integration with third-party applications
Comprehensive payroll support
Disadvantages
Plan upgrade needed for more users
Auto-categorization slightly incorrect
Xero
Are you interested in micro-businesses and searching for simple software for your bookkeeping services? Xero might be your best choice. It's user-friendly and works well with third-party payroll services.
You can use Xero to collect online payments from your customers using their integration with GoCardless and Stripe. They offer three monthly subscription options, and you can also opt for their full-service payroll add-on.
Advantages
Simple inventory management.
Cloud-based
Payroll integration
Disadvantages
Limited customer support
ACH payments fee charges.
Limited reporting
Wave
Wave is an excellent accounting software if you're in a service-based small business and need to send simple invoices without running payroll or inventory. Wave's free features will allow you to handle all your accounting needs if you're a freelancer.
Wave will also help you prepare your business' tax returns and the necessary reports at the end of the year. It has numerous accounting features, including expense and income tracking, invoicing, financial reporting, and scanning receipts – all of which can be accessed online or on their mobile app.
Though the bookkeeping, reporting, and invoicing services are free and sufficient for running a small business, you'll need to pay to access premium services, including payroll and customer payment processing.
Wave also charges a fee to process payments. If you use Mastercard, Visa, and Discover, you have to pay 2.9% plus 30 cents. American Express users pay 3.4% plus 30 cents per transaction. Overall, Wave charges a slightly higher fee among other accounting software.
Advantages
Unlimited number of users
Free invoicing, accounting, and receipt scanning
No billing limits
Mobile app
You can run multiple businesses with one account
Disadvantages
Higher ACH and credit card payments
No inventory management
Limited app integration for third-party apps
READ: Web Hosting Guide for Small Businesses | SEO, Web Design & More
Zoho Books
If you own a small business and need good invoicing and affordable, robust online accounting software, consider Zoho Books. It's also ideal for international companies.
Zoho Books is renowned for offering users unbeatable invoicing and a mobile app. After various updates, it has climbed up to rank beside QuickBooks Online.
You'll love its top-notch customer service, and its pricing is better than competitors. Zoho Books also features a straightforward, user-friendly interface.
For all your contract management, time and expense tracking, project management, inventory, and tax support, Zoho has your back. It offers 16 customizable invoice templates, the ability to encrypt invoices, an online customer portal where clients can pay invoices directly, and recurring invoices for repeat and long-term clients.
You will enjoy easy invoicing through its automation capabilities, including auto-rescheduling invoices and setting payment reminders. If you run an international business, you can use Zoho to send invoices in over ten languages.
Advantages
Easy to use
Top-notch customer support
Low pricing
Unbeatable mobile apps
Disadvantages
No payroll
Limited integrations
ZipBooks
Accounting and bookkeeping for a small business can prove challenging. However, ZipBooks proves that you don't have to be an accountant to handle your business's bookkeeping services.
Although a relatively new software, ZipBooks has mastered simplicity, making it one of the best bookkeeping software for business owners with no prior accounting expertise. It offers a free plan, sufficient automation, and unlimited users.
Its attractive interface stands out, and the design is intuitive and straightforward with automation to save your time. It offers you all the accounting basics, including expense tracking, invoicing, and contact management.
You don't have to fret about customer support as ZipBooks representatives are ready around the clock to respond to any questions. They offer phone support if you choose their paid plans, and free plan users can get help through in-software chat, email, blog, and a knowledge base.
Advantages
Ease of use
Free plan available
Excellent customer support
Disadvantages
No inventory feature
Limited invoice customization
The Bottom Line
There is a great need for accounting and bookkeeping for small businesses to meet new companies' growing needs. With technology quickly advancing, you can access all bookkeeping services for small businesses online with ease. All you need is the right software that meets your needs and budget.
If you are shopping for the best accounting and bookkeeping software for your small business, you can start by choosing one of the above. The software you choose will help you keep track of business performance, allowing you to improve on weak areas. And for all your smart web solutions, HostPapa has you covered.
Please note that the pricing in this blog post is current as of the date of publication and is subject to change at any time.