The idea of making money online appeals to practically everyone. You can do it from anywhere, anytime, so it can be an easy fit for the rest of your life. There are online business opportunities for people with any experience, and you can aim to generate significant income or earn a little fun money.
A website is required to execute many of the online business ideas listed below. If you need a website, rest assured that getting one is easy and affordable. It starts with choosing a great hosting provider that offers low-cost shared hosting plans built around WordPress. There's a competitive market for that hosting, so look for a provider that offers low rates, free domain registration, a free SSL certificate, 24/7 support, and free training.
Are you ready for 101 of the hottest online business ideas of 2022? We'll cover all sorts of business opportunities, from full-time online money makers to small-scale side-gigs that create a welcome trickle of extra income. Let's go!
Online Business Ideas for Techies
If you have technical acumen and want to make money online, these business ideas are for you.
1. Software Development
Use your coding skills to make money. With the recent change in corporate views on allowing employees to work from home, you don't have to leave your house to land a lucrative software development job.
2. Freelance Web Design
Do you know your way around WordPress, Dreamweaver, or other site-building platforms? People will pay for your website-building expertise. Check out freelancer job sites like UpWork and WeWorkRemotely for website design jobs.
3. Buying and Selling Internet Domains
When a new business needs a particular domain name, they really need it and are usually willing to pay a lot. Anticipate demand so you can purchase needed domain names and then sell them for a profit. Buy and sell domains on sites like Namecheap and Namejet.
4. Chrome Extension Development
Chrome is the world's most popular web browser, with a massive user base that appreciates useful extensions and is willing to pay for them. Google offers help to people developing new Chrome extensions, so check it out and start coding!
5. Online Tech Support
Some businesses set up tech support in an overseas call center, but others hire a staff of remote support agents scattered all over the globe. You can find freelance tech support jobs on job sites like Upwork and Flexjobs.
6. WordPress Plugin Development
The world's most popular CMS earned that status partly because of the vast array of useful plugins available for the platform. Explore available WordPress plugins and develop a new one that fills a gap or improves on existing features.
7. 3D Printing
From rapid prototyping to creating hard-to-find parts, there are many applications for 3D printing. Buy the equipment, find your niche, and start producing 3D-printed objects that no one else makes!
8. Freelance Database Consulting
Database administration requires a specialized skill set that can earn you a nice income. Check out the hundreds of available jobs for database experts on sites like Flexjobs and Freelancer.com.
9. WordPress Theme Design
WordPress is popular partly because of the professionally designed themes available. Explore available WordPress themes, assess the feature sets of free ones and licensed themes, then decide how to bring your coding and design skills to the lucrative website theme marketplace.
10. Freelance Quality Assurance Testing
If you have a background in software development or QA services, you can make money testing software. Development companies of all sizes hire freelance QA testers, so finding a remote QA job won't be hard.
Online Business Ideas for Entrepreneurs
For people with a strong desire to start their own business. Check out these ten remote work ideas for entrepreneurs.
11. An Online Boutique
If you love fashion and have a unique style, starting an online boutique might be for you. You'll have to understand your target market and get a fully functional branded website, but there are great opportunities for an entrepreneur who wants to run an online boutique.
12. Design and Sell T-shirts
Businesses like Printful and TeeSpring make designing and selling custom t-shirts easy. If your careful trend-watching enables you to predict the next hot t-shirt designs, you can make a mint!
13. Dropshipping
If you have an eCommerce website and shipping costs eat into your profits, consider dropshipping, where you can sell and ship products without having any contact with them. Work with a supplier like Spocket – when you make a sale on your website, the product is automatically shipped to your customer.
14. Buy and Sell on Auctions Sites
Use an auction site like eBay or Bonanza as the source of your stock and the marketplace for selling it. You can buy low and sell high by closely monitoring the prices of in-demand products.
15. A Virtual Thrift Shop
If you love searching thrift shops for unique items, you could make money doing what you love. With an online store and targeted marketing, you can build a following of people who can't wait to see (and buy) what you find next.
16. Start a Daily Deals Site
A website that highlights daily deals, especially if it targets a niche audience, can be very lucrative. You'll scour the internet to find the best deals and post the ones that will earn you a referral commission.
17. A Blogging Instruction Course
Entrepreneurs of all categories use a blog to attract and engage customers. If you have experience running your blog, you can share your knowledge with other business owners by creating an online course that covers audience research, SEO, how to create a publishing schedule, and other details that will help novice bloggers. Look into Udemy and Teachable to market your online course.
18. Virtual Garage Sale
One man's trash is another man's treasure, and garage sales are a great source of cheap treasure. Cash in on your best garage sale finds by flipping them with a healthy markup. Selling items on your online store would be best, but you could also sell on a site like VarageSale.
19. Sell Products on Shopify or Etsy
Using an online marketplace is a valid option for entrepreneurs who don't want to create their online store. Targeting a well-defined niche, you can curate a set of products that perfectly meets the needs of your audience.
20. Content Marketing
With your blog or online store, you can publish and promote content to attract users, then encourage them to click your ads and affiliate links. Building a loyal audience requires an active social media presence and undeniably useful content, but commissions will start rolling in when your blog has traction.
Online Business Ideas for Writers
A talented writer can find great opportunities for online work as a blogger, tech writer, editor, proofreader, and more. Check out these ten business ideas for wordsmiths.
21. Freelance Writing
There are freelance writing opportunities in every category imaginable. Technology companies need subject matter experts, and businesses engaged in content marketing need talented, SEO-aware writers. Check Upwork, WeWorkRemotely, and other remote job listing sites for freelance writing jobs.
22. Travel Blogging
A travel blog in which you share your unique outlook on travel can provide an opportunity to generate a steady income. By sharply focusing on the chosen niche and creating a strong social media presence, bloggers can unlock numerous monetization opportunities, including digital ads and affiliate marketing.
23. Translation
If you are fluent in English and another language, that's all it takes to get freelance translation jobs. Businesses seek freelance translators to translate their website content, ad copy, and social media post, for example.
24. Technical Writing
Combine your writing skills with the knowledge you have acquired in school or your career to land and complete freelance technical writing projects. Industries that deal with complex information need tech writers, and most employers will let you work from home.
25. Proofreading
The final draft of any document, website content, social media post, or newsletter requires a pass by a meticulous proofreader. Businesses that need this service look for freelance proofreaders on sites like Upwork and Jooble.
26. Start a Food Blog
A food blog can be a major money maker for an entrepreneurial cook who chooses the right food niche, sets up their blog using a low-cost hosting provider, and implements effective blog promotion strategies. Once a blog has traction, ad sales, affiliate marketing, and selling cookbooks or cooking lessons can create a steady income stream.
27. e-Books
Forget about traditional publishing – a digital version of your book is just as marketable as a hardcopy version. If you have information your audience wants, create an eBook and sell it on your website or use Shopify's awesome eBook marketplace.
28. Start a Fashion Blog
Selling ad space, getting paid for product mentions, and partnering with boutiques and designers are just some of the ways a fashion blogger can make money. For a fashionista who understands their niche and actively promotes their blog through social media, the potential for high income is real.
29. Editing
When a small business owner creates website content, ad copy, newsletters, or any other written content, the text needs the attention of a professional editor. Freelance editor jobs are abundant on sites like Jooble and UpWork.
30. Run a Writing Team
Are you a freelance writer who has all the work you can handle? You haven't necessarily reached your income limit. If you find a freelance editor and freelance proofreader who want to team up, you'll be able to bid on and complete more projects in a shorter time frame.
Online Business Ideas for the Well Organized
If you're the type of person who pays attention to every detail, there are countless online business options that will put your problem-solving skills to profitable use.
31. Online Personal Assistant
There are a lot of personal assistant jobs available, and a large percentage of them can be done remotely. If you have a keen attention to detail and high availability, working as a freelance personal assistant may be for you.
32. Sell an Online Course
If you're an expert in an aspect of business or technology that involves proficiency testing for people entering the field, employees need subject matter experts to create online courses and tests. Create a website to market your courses or checkout platforms like Udemy and Teachable. If you've already taught in person, learning to teach online from home may require some getting used to, but there are lots of resources to help make the transition smooth.
33. Freelance Bookkeeping
In many small companies, accounting is not the founder's strong suit, but there's no room in the budget for a bookkeeper. If you have experience as a bookkeeper, it will be easy to find freelance booker jobs on sites like Upwork and Jooble.
34. Project Management Consulting
Keeping a team on track takes planning. If your forte is establishing project goals, setting milestones and deadlines, and reporting team progress, you'll find opportunities to work as a remote project management consultant.
35. Event Planning
Event planners think of everything, addressing large and small details to meet their clients' specifications. A remote event planner will reserve locations on specific dates, arrange ground transportation, and prepare for every aspect involved in weddings, business conferences, etc.
36. Legal Writing Service
Opportunities to provide legal writing services exist not only for lawyers but also for law students and executives that have experience with contracts. If creating legal documents is in your wheelhouse, there are remote legal writing jobs available.
37. Travel Planning
Tour groups, sports teams, companies with a travelling staff – there are all kinds of employers looking for a remote travel planning consultant. Monetize your ability to secure airline and hotel reservations by working as a remote travel planner.
38. Online Therapy
Online therapy businesses like BetterHelp and TalkSpace are taking off, so if you're a counsellor or therapist, look into getting hired or starting an online therapy business yourself.
39. Medical Transcription
Medical transcription is a niche skill that can earn you money working from home. If you have experience in this field, check out medical transcription jobs on remote job listing sites.
40. Sell Hosting and Websites
Reseller hosting plans let entrepreneurs provide hosting and websites to small businesses. A person with marketing savvy and the ability to create WordPress websites can make a lot of money with this business model. You could start with a plan that supports up to ten websites, for example, and then upgrade as you add clients.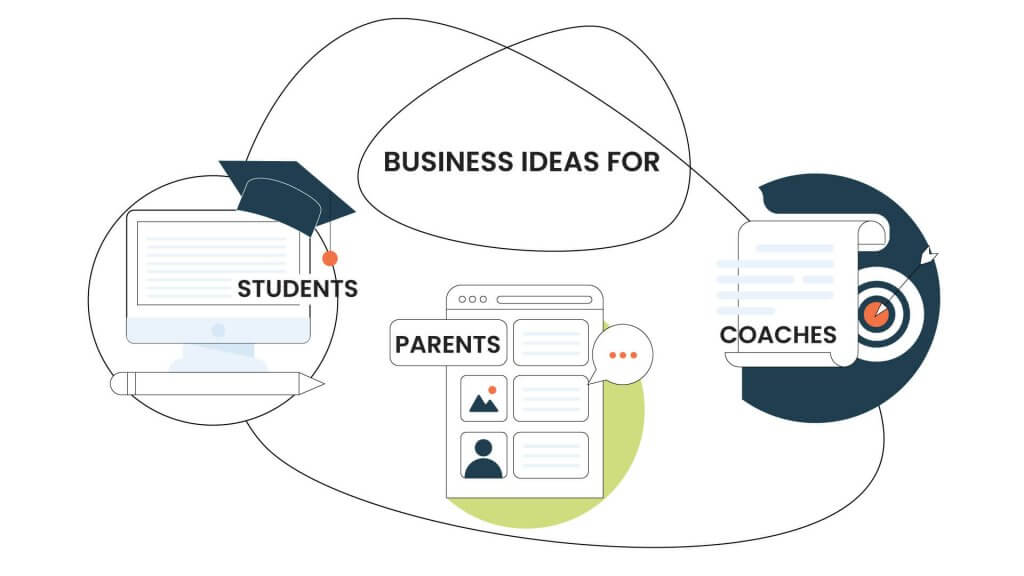 Online Business Ideas for Creative People
Creativity is an inherently rewarding trait, but it can also earn you money. Check out these ten online business ideas for creative types.
41. Freelance Graphic Design
Monetize your talent for graphic design by completing freelance design projects. Logos, menus, signs, stickers, business cards – there are countless design projects that small businesses need help with. You'll find those businesses through postings for remote graphic designers on Jooble and other job sites.
42. Sell Stock Photos
Entrepreneurs with a flair for photography can sell their pictures online. There are numerous marketplaces, including Shutterstock, Getty Images, and Adobe Stock.
43. Start a YouTube Channel
To run a successful YouTube channel, your videos must be useful to people, and you'll need to promote your content on social media. Share your talent for playing guitar, baking pies, or household repairs – if your audience loves your content, you can make money with ads on YouTube.
44. Sell Handmade Items
Online marketplaces like Etsy offer a great option for jewelry makers, artists, knitters, woodworkers, and any creative person to sell what they make. An even better option is to create an online store and attract customers using social media.
45. Video Production
Having video content on their website is a requirement for many small business websites, but few entrepreneurs possess video production skills. They look to the freelance market to find remote video production talent.
46. Sell Resin Art
The colourful and useful items people make with art resin sell like hotcakes online. You can produce jewelry, wall art, coasters, buttons, tabletops, or something no one else is making. By promoting your online store and maintaining a strong social media presence.
47. Start a Press-On Nails Business
Press-on nails are hot. You see them everywhere, including on the fingers of celebrities. If you're social media savvy, have an artistic flair, and want to run your own business, you can sell custom press-on nails. Your marketing strategy should involve an active social media presence, promoting your online store, and engaging customers with blog posts.
48. Digital Animation
Put your animation skills to profitable use by creating content for advertisements, videos, and websites. You'll find remote animator jobs at Jooble.
49. Sell Your Recipes
With a compelling food blog and an engaging presence on social media, you can sell your recipes online. Pick a niche and carefully target your audience – once you have a loyal following, you can sell your recipes one at a time, on a subscription model, or in a cookbook.
50. Run a Team of Design Pros
If you are equally awesome at project management and graphic design, you can team up with artists and writers and take on more involved projects or lead a group of less experienced designers while managing more projects than you could handle alone.
Online Business Ideas for Marketing Pros
Many small business owners are clueless about marketing and need your help. Here are ten online business ideas for people with marketing experience.
51. SEO Consulting
Search engine optimization is on every business owner's mind, and they'll pay generously for an SEO expert that can get their site to the top of search rankings. Look for site owners seeking a remote SEO consultant on websites like WeWorkRemotely and UpWork.
52. Be a Social Media Marketing Strategist
A marketing expert who knows how to leverage social media can make great money as a freelancer. Check out jobs for remote social media marketing consultants on Jooble.
53. Affiliate Marketing
If you have a blog or online store, you can earn referral commissions by presenting links that promote related products or services. You'll make money for every new customer you help the affiliate get. Look to Amazon Associates to find brands that have an affiliate program.
54. Run Facebook Advertising Campaigns
Small businesses often lack the marketing savvy to effectively manage their Facebook ad campaigns. They turn to the freelance market to find skilled pros who will manage their Facebook ads for them.
55. Be a Social Media Manager
A social media manager helps define and execute social media marketing strategies, often posting on behalf of the client. If you know how to write compelling posts and schedule them for maximum impact, look for a job as a freelance social media manager on Upwork.
56. Help Small Businesses with Marketing
Small and medium-sized businesses often operate with minimal staff, and one thing they need help with is marketing. User your skills and experience in marketing to land lucrative projects as a remote freelance marketing consultant.
57. Lead Generation
A marketing pro that can help a client double their customers through lead generation can earn top dollar as a freelancer. Find remote lead generation manager jobs at UpWork and Jooble.
58. Write Press Releases
Public relations requires the steady hand of an experienced marketer. If you can help businesses make the right impression in a press release, look for lucrative PR jobs on sites like UpWork and Jooble.
59. Design Email Newsletters
Email newsletters are a marketing tool that even the smallest businesses use to engage customers. If you can blend marketing savvy, writing skills, and design talent, look for paying projects creating email newsletters.
60. Run a Marketing Team
A small group of junior marketing professionals, writers, and graphic designers, led by you, can generate much revenue through freelance work. Capitalize on your management experience by running your freelance marketing team.
Online Business Ideas for Parents
Home-bound parents need an online gig that works with their schedule. Here are ten remote business ideas to ensure parents get all the job flexibility required.
61. Remote Tutoring
Whether you're a parent who home-schooled their kids or a subject matter expert who loves to share their knowledge, remote tutoring could be for you. You can find online tutoring jobs on sites like Flexjobs and Upwork.
62. Medical Billing & Coding
This is a lucrative field that might be worth looking into. A medical coder translates input from providers into standard classification systems. A medical biller submits claims to insurance companies, Medicare, and other payers. Most medical coders and billers work remotely, so it could be a great way for you to earn extra money working from home.
63. Online Cooking Instruction
Talk about a homey, home-based business! You can shoot cooking instruction videos in your kitchen. Start a YouTube channel and use your food blog to drive visitors there, where you'll generate ad revenue.
64. Answer Survey Questions
There's a business called Appen that develops machine learning and artificial intelligence products, and they need humans to generate the required data. You'll be paid to answer survey questions that call on your social media interest, mobile device knowledge, and life experience. Check Appen out – there are a lot of diverse projects that can earn you some extra cash.
65. Online Customer Service
A team of remote customer service agents has become the normal way businesses handle incoming customer issues. People of all experience levels can find freelance customer service jobs on Upwork and similar sites.
66. Write College Admissions Applications
If you helped your kids through the college admissions process, you could help others do the same thing for a fee. Create a blog and use social media to promote your service.
67. Get Paid to Test Software
Companies that want their applications tested by hundreds of remote freelance QA pros to seek out specialized businesses like Test.io. You can work as a remote tester and take on as many at-home software testing projects as your schedule allows.
68. Be an Online Chat Agent
Online chat is a service that many small business websites include. Some let the visitor seek it out, while others take a more aggressive approach. You could be the person on the other side of that chat window. Look for remote customer service jobs on Upwork.
69. Data Entry
Do you need a way to make money at night and on the weekends? Data entry is often deadline-driven, but you can work whenever you have time. There are countless jobs involving remote data entry on sites like Upwork and Flexjobs.
70. Create a Parenting Blog
When you share your unique perspective on parenting with a carefully targeted audience, you can attract a large following. Combine great content, an active social media presence, and email marketing, and you'll have many options to monetize your blog.
Online Business Ideas for Students
Students can always use the extra cash, and even with heavy course loads, they often have enough surplus time each day to handle a remote side gig. Below are ten online business ideas that can work out great for students.
71. Administrative Assistant
If you see every spare moment as an opportunity to be productive, working as a remote assistant may be for you. Planning appointments and making reservations for several clients at once will keep you busy and provide a steady income stream.
72. Tutor Online
A college student immersed in a particular field of study is in a great position to make money helping others at an earlier learning stage. There are countless online tutoring jobs available, and you may find paying customers on campus among the incoming first-year class. Some popular types of tutoring jobs that college students can pursue include subject-specific tutoring, standardized test prep, and language tutoring. Additionally, college students can offer their expertise in areas such as writing a financial aid appeal letter, public speaking, and study skills to help others succeed academically.
73. Search Engine Evaluation
A search engine evaluator measures the quality of search results. Businesses like Appen that develop artificial intelligence products need human search engine evaluators. Look into the diverse projects at Appen, and you'll find multiple opportunities to make money in search engine evaluation.
74. Social Media Assistant
A social media assistant helps business owners, influencers, and others who prioritize social media marketing. You can make good money as a social media assistant by tracking trends and capturing the messages your client wants to communicate.
75. Party Planner
When your clients are other students, event planning could involve reserving a venue for someone's special night, or you could create your own events. For example, you could purchase a block of concert tickets months in advance and add value to the show with a pre-concert party and car service. In this scenario, your markup on each concert ticket is just one of many potential profit sources.
76. Create a Niche Blog
As a platform for generating revenue, you can't beat a blog. If you publish timely content to the right crowd and engage them on social media, you can gain a following of people who will respond to ads on your website and buy the products you promote.
77. Transcription
Transcription jobs exist across a wide range of categories, like legal, medical, insurance, and education. If you have sharp attention to detail and the necessary background, a remote transcription job may be a great way to earn extra money online.
78. App Tester
Crowd-sourcing quality insurance is the latest thing for businesses of all sizes, and they go to companies like Testlio to get it done. You can work from home and earn money for every minute you're testing, plus more when you find a bug.
79. Buy and Sell Secondhand Books
Campus bookstores aren't the only ones who should profit from the high cost of textbooks. You can predict demand for specific titles and stock up. Then, your online store sells the books at a discount, undercutting brick-and-mortar competition.
80. Learn Something New
Not all apprentice-level jobs require you to leave your house. With a positive attitude, you can find a job in a field in which you have no experience. Check out remote entry-level jobs on sites like WeWorkRemotely and SkipTheDrive.
Online Business Ideas for Coaches
If experience has given you transferable skills and knowledge, remote coaching jobs may be right for you. Here are ten online business ideas for coaches.
81. Be a Life Coach
A life coach works with clients to set goals and define a step-by-step plan to achieve those goals. The coach and client collaborate to identify barriers and find ways to succeed. Look for remote life coaching opportunities on job sites like Upwork.
82. Create and Sell a Diet Plan
People seeking drastic weight loss need more than just healthy eating suggestions – they need a clear-cut weight loss plan. If you have a background as a nutritionist or dietitian, you can market a diet plan on your wellness blog and make money helping people lose weight.
83. Health Coaching
A health coach is part personal trainer and part nutrition expert. They serve as taskmasters and cheerleaders to help clients deal with health issues and meet fitness goals. Coaching sessions can be administered remotely, so look for online health coaching jobs on sites like Upwork.
84. Online Counseling
If you have experience as a counsellor or therapist, look into working for one of the newly popular online therapy businesses like BetterHelp and Calmerry.
85. Meal Planning Service
When people who want to eat healthier follow a strict meal plan, results come easily. Any nutrition-savvy fitness trainer can make money selling mean planning services on their fitness blog.
86. Business Coaching
New business owners often jump in before they're ready and need help. You'll find postings for online business coaching jobs on Upwork.
87. Exercise Coach
Through online coaching sessions, you can help people push through the pain and achieve their fitness goals. You'd be surprised how engaging online fitness coaching sessions can be with a good virtual workout setup. Trainees will return for more, and you'll start a steady income stream.
88. Career Coaching
Helping younger, less experienced people achieve their career goals can be a rewarding and lucrative side gig. Find jobs as an online career coach on Upwork and similar job websites.
89. Write a Fitness Blog
A fantastic way to attract people to your fitness coaching service is to start a fitness blog. Through content marketing, you can attract a group of people who will sign up for your coaching sessions and click on your blog's affiliate links too!
90. Manage a Team of Coaches
When you have more coaching clients than you can handle, it's time to find some junior coaches to mentor. If you have the management skills required, you can run a team of online coaches and take on far more projects than you could manage alone.
Online Business Ideas for the Highly Experienced
Whether you're in the middle of a successful career or retired, the knowledge you gained can earn you money through remote work. Check out ten online business options for people with a lot of experience.
91. Start-up Consultant
Business plan creation, acquiring the initial capital investment, budgeting, and risk assessment – things a startup expert knows inside and out. If you have incubated a small business, do it again for a freelance client. Companies seeking startup help can be found at job websites like UpWork and WeWorkRemotely.
92. Recruiting
An HR executive or business owner who knows staffing can help companies fill vacant positions for a fee. Look for remote recruiter jobs on Upwork and other job listing websites.
93. Career Counseling
You can draw on the knowledge gained over a long career to help less experienced people in your field meet their goals. Career counselling is a rewarding job, and you can find opportunities as an online career counsellor on Upwork.
94. Business Growth Advisor
If you've grown a business successfully, you might have gotten lucky, but if you've done it twice or more, you're a bone-fide business growth wizard. For a fee, you can consult with fledgeling businesses to help them reach the next level.
95. Market an Online Course
Your career's worth of knowledge can be communicated to less experienced people in your field through online courses. Use your experience to make money – as a subject matter expert, you can sell courses on your website or through platforms like Udemy and Teachable.
96. Write Business Plans
Budding entrepreneurs often get stuck on square one – the task of creating a business plan can be confusing. If you've done it before, you can teach clients how to create a business plan for a fee, or you can simply charge to write a business plan for them.
97. Fundraising
Convincing organization members or the general public to part with money takes a special talent. If you have a background working with nonprofit groups or any business that requires fundraising, you can help others navigate what can be a challenging task. Look for remote fundraising jobs at sites like Upwork.
98. Remote Team Management
Years of experience managing in-office teams translates beautifully to remote team management. Find jobs for remote managers at Upwork and similar job websites.
99. Stock or Currency Trading
Trading equities, currencies, or commodities to generate income is not something the average investor should tackle. Still, online trading can be pretty lucrative if you have a finance background and the time to ensure you're making smart moves.
100. Sell Guest Blog Posts
You can make money as a blogger without running your own blog. Look for a blog about the subject or industry you have experience in, then reach out and suggest a guest post that would align with the blog's content. If blog owners need fresh content, they'll happily pay for your post.
A Final Online Business Ideas for Everyone
Here's one last thought about online business opportunities that applies to all of us.
101. To Maximize Income, Seek Multiple Opportunities
Many remote freelance gigs require less time than a typical part-time job but don't pay anything close to a living wage. However, enterprising remote workers could match the income they'd get from a traditional job if they pursue multiple income sources simultaneously.