If you're using WordPress to run your website, you know just how complicated things can get.
You need to install a plugin for literally everything. Whether it's making backups, setting up a virus scanner or even writing on a decent Word editor – you can only get those things if you install plugins.
And here's the problem:
With each new plugin you install, you get a different set of options and tools you need to use. And that's why, the more plugins you install, the more time it takes maintaining and running your website. Also, don't forget the fact that you'll need to update each and every plugin yourself as well.
Unless you have Jetpack installed.
Jetpack – as we've said in this article's title – is the ultimate WordPress plugin. But to call Jetpack a 'plugin' is a massive understatement. It's rather a collection of plugins all rolled into one.
In this article, we'll show you the many awesome tools this plugin has, why you need it for your WordPress website and the top reasons it's worth the investment (the core features are free, but it has paid plans also).
Jetpack: A Brief Introduction
So why is Jetpack is the ultimate WordPress plugin?
Because if you install it, you will eliminate your need for half of the plugins on your WordPress dashboard. The reason is that Jetpack has nearly all the essential tools you need to run your website properly.
The company itself has divided the tools in Jetpack into three main categories:
Design Tools:

These tools will help you change the appearance of your website and add new functionality to it. Plus, they will also help you improve your website's performance and loading speed.

Marketing Tools:

These tools will show you basic stats related to your website's traffic, the ability to integrate with Google Analytics, automate your posts and improve your SEO.

Security:

These tools will help you protect your website from malware, phishing attacks and will create backups of your website.
You get 100+ themes, 8 awesome customization tools and all 5 core security services right off the bat in the free plan. You can subscribe to one of the paid plans, and unlock premium themes, free video hosting, SEO tools and much more. However, with HostPapa Optimized WordPress Business and Business Pro plans, you can get these features at no extra cost.  
And the best part? All these amazing services are under one roof, inside one plugin, in a single subscription.
Now, let's take a deeper look inside each category and see exactly what tools Jetpack has to offer.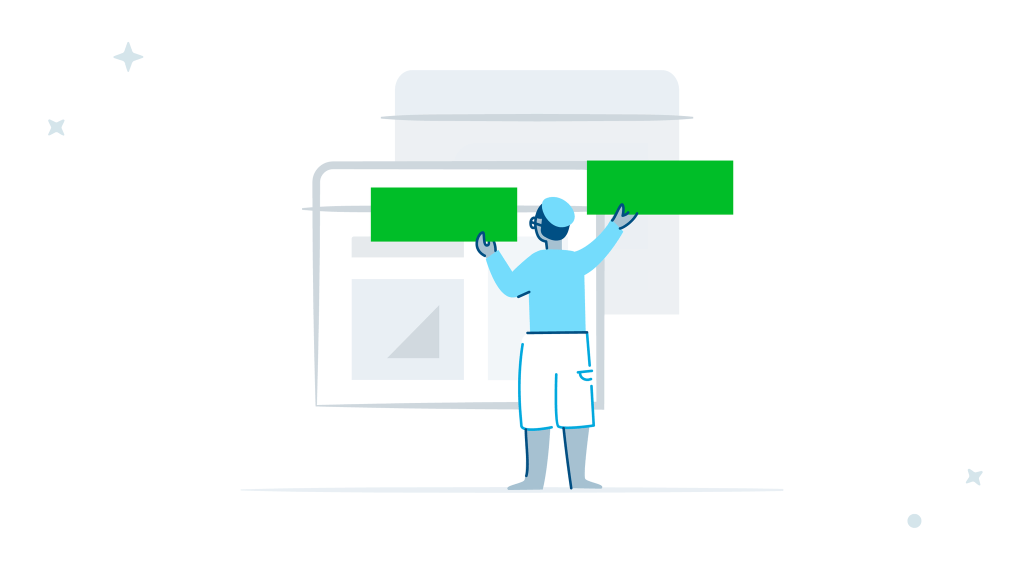 Jetpack Design Tools Overview
Jetpack's design tools will help you accomplish three main tasks:
Change the appearance of your website

Get additional functionality

Improve performance of your website
For that, here are a few of the things Jetpack offers:
Themes
To get started on WordPress, you need to install a theme.
If you didn't have Jetpack, you would probably go to another online store to purchase premium themes, each costing anywhere from $10-$100+ to build your website.
But with Jetpack, you'll get 100+ free WordPress themes to get you started.
You can change the theme of your website as many times as you want – and customize its appearance until it looks just like you wanted. In addition, you can also upload your own themes as well.
Customization Tools & Services
Jetpack offers 8 awesome tools and services you can use to instantly give your website a boost. They'll improve your website's functionality and make it better for your visitors.
Let's take a brief look at each one:
Subscriptions: This simple little tool lets people subscribe to your website so they get an email every time you publish a new post. It's the easiest way to build an email list you can later use for marketing purposes.
Gallery & Slideshow Tools:

If your website has a lot of images, you can add this widget to display a gallery or a carousel on your website.

Custom Sidebars:

The sidebar that's already on WordPress is boring. It simply shows you an archive list and newly added posts. But with custom sidebars, you can display more relevant posts, Like buttons, hide widgets and even display social media buttons.

Special Content Embeds:

If you need to embed Youtube videos, tweets, gifs, Facebook posts, and other special content, this tools lets you do that.

Infinite Scroll:

With infinite scroll, new articles will automatically load on your website as soon as your visitors finish reading one.

Write Posts by Email:

This is an awesome tool that lets you submit posts by email. All you have to do is write what you want to publish in your email app, put the post title in the email subject line and send it to your special email address which Jetpack will give you. And voila! Without having to open WordPress, you've published your content.

Custom Comments:

Custom comments beef up your comments section by allowing visitors to post quickly by signing up through their social media accounts.

Easy Contact Forms: If you're taking a survey or want your visitors to submit some information, this tool will let you quickly create forms on your website.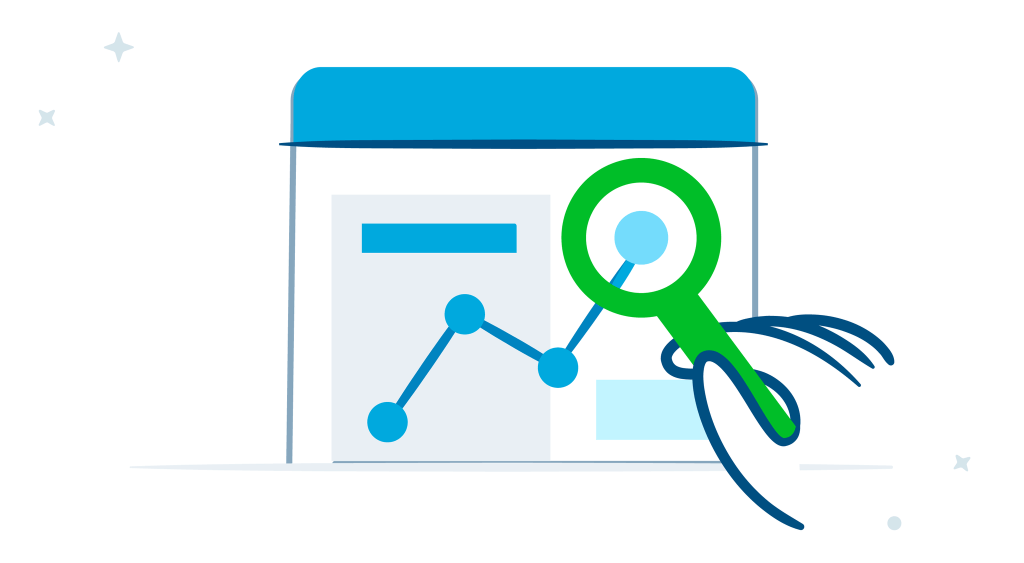 Performance Optimization Tools
These tools will optimize your website for speed. They'll make sure your website loads really fast so your bounce rate is as low as possible.
For this purpose, Jetpack offers three great tools.
1. Free Video and Image Content Delivery Network (CDN)
A CDN makes the media files on your website load faster. It does this by making sure the visitor receives the media files from the data center that's nearest to them, thus decreasing any delays in loading speed.
The CDN Jetpack comes with is called Photon – and it lets you host video and images files on its servers for free (with Jetpack premium plan).
2. Lazy Loading Images
If your website is rich with content, it can take a lot of time to load. This tool delays loading those images and graphics that aren't visible on the visitors screen. This makes your website load quickly – and as your visitors scroll down your website, the images will load accordingly.
3. Enhanced Search
This tool will make sure more relevant results are delivered more quickly any time a visitor searches your website.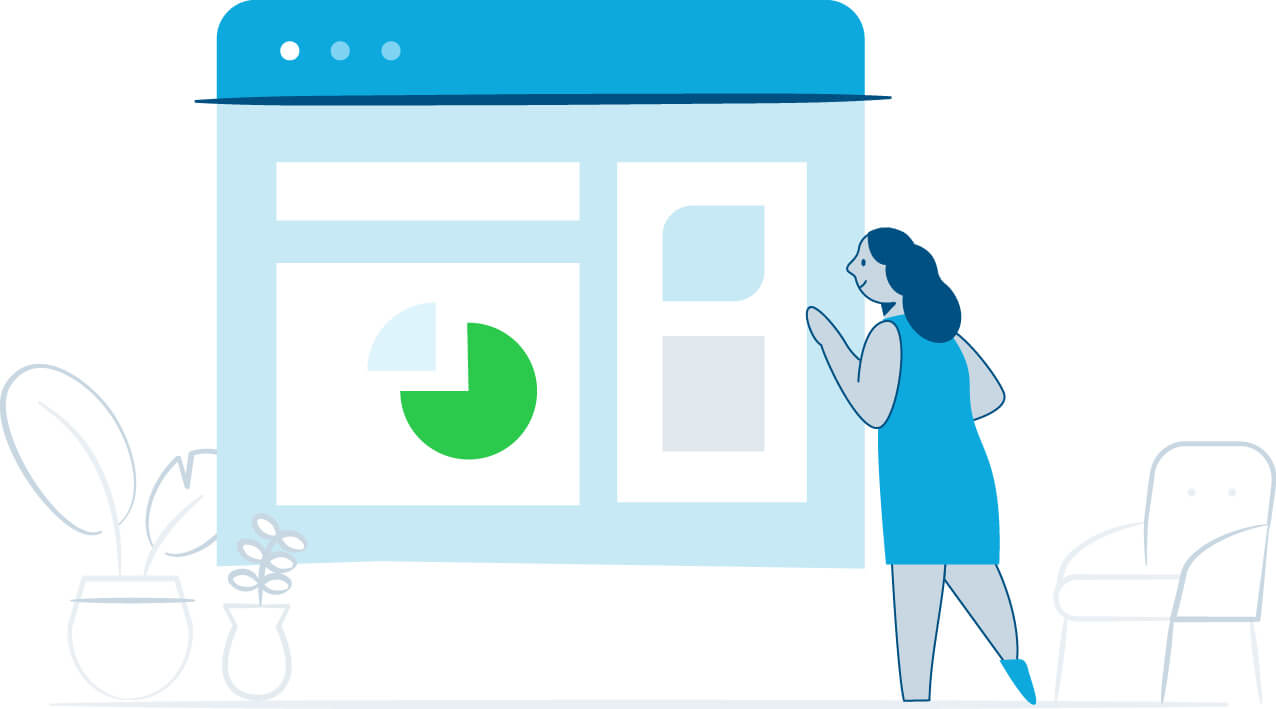 Jetpack Marketing Tools Overview
You built your website for a purpose. Whether it's to make money, build an audience or something else, you need data to know how your website is performing. So, keeping this in mind, here are some of the marketing tools Jetpack offers.
Traffic and Insights Tools
The first thing you need to measure is how much traffic you're getting, from where you're getting it and how you got it. For that, Jetpack offers four tools:
Site Stats
Advertising Stats
Post Sharing History
Google Analytics Integration
You get a dashboard where you can see information about your website's traffic. In addition, if you have taken part in Jetpack's ad program, you'll be able to see how many people have clicked on your ads and how much money you've made.
And also, you will get the ability to integrate the full Google Analytics service with your Jetpack account.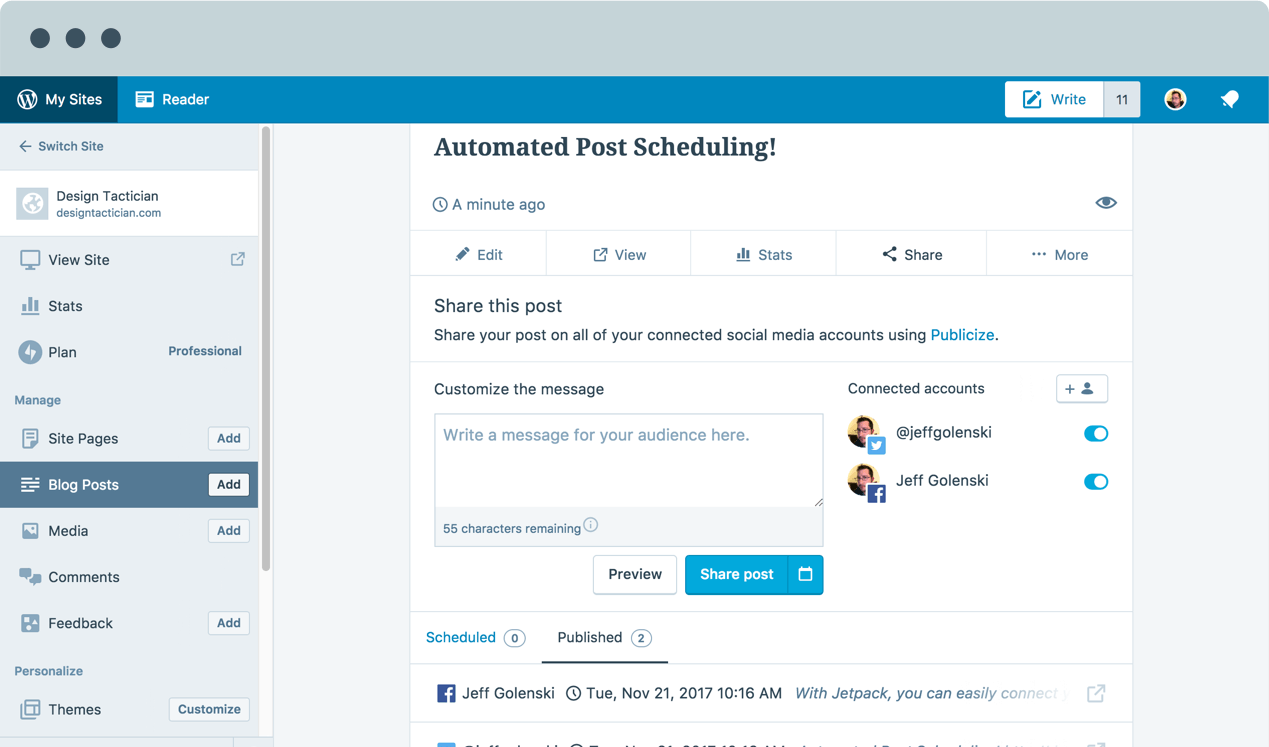 Automation Tools
Sharing new content manually can take a lot of time. That's why Jetpack offers three great tools that make it easy for you (and your audience) to share new content, thereby engaging current followers and attracting new ones.
For this purpose, Jetpack offers these three tools:
Related Posts:

Rather than you having to manually link posts underneath your articles, this tool intelligently suggests relevant articles to your readers instead. This means you won't have to go back to link newer content. This tool will do it for you.

Social Sharing Tool:

This tool will let you put up sharing buttons for sites like Facebook, Twitter, LinkedIn etc. This way, with a single click, your readers can share your content easily on their favorite social media networks.

Auto Social Sharing:

No need to manually share posts on your social media profiles. This tool will do it automatically for you every time you publish a new post.
SEO Tools
Jetpack's SEO tool makes it easy for you to optimize your website and the content you create for search engines like Google, Bing and Yahoo!.
Using this tool you can:
Verify your website with search engines, so they display it properly in the search results.

Create an XML map of your website, so that search engines can easily crawl your website.

Edit your site name, title, along with titles of your posts.

Create meta descriptions of your articles and preview how it will look on Google, Facebook and Twitter.
… and much more.
This by no means is an advanced SEO tool, but if you need something simple to optimize your content, Jetpack's SEO tool is more than good enough for the job!
Another thing worth noting is that if you're looking to monetize your website (and the content within it), you can become a part of WordPress ad program. Jetpack offers this and will place ads on your website, so you can make money when your visitors click on ads on your website.
Security Tools Overview
This is probably the most important set of tools Jetpack offers. Once these are active, you won't ever have to worry about someone hacking your website and getting access to your data.
Jetpack Core Security Features
Jetpack offers five core security features which are included in all of its plans (including the free plan). Let's start by taking a look at them.
Brute-force Attack Protection:

The most common way hackers gain access to a website is by 'brute-force attacks'. These attacks are done by bots who keep trying different username/password combinations to gain access to your website. Jetpack will protect your website from these bots, allow you to whitelist IPs that are safe and even let you view how many attacks were stopped on your dashboard.

Site Monitoring:

Your website can go offline for many reasons. It can be because you received a sudden increase in traffic, got hacked or some other hosting related issue. Jetpack will check your website every five minutes and will email you if your website goes down so you can take necessary actions immediately.

Secure Authentication:

If you have additional authors or owners who access your WordPress website, chances are they might get hacked. To prevent this, you can use Jetpack to make two-step authentication a requirement to all those who sign in to your WordPress, so your website is never compromised by someone with a stolen password.

Easy Plugin Management & Plugin Auto-updates:

Individually managing plugins is an extremely difficult and time-consuming task. Jetpack puts all your plugins in one place so you can easily update, activate or delete them.
With these features, you can rest easy knowing no one will be able to break into your website.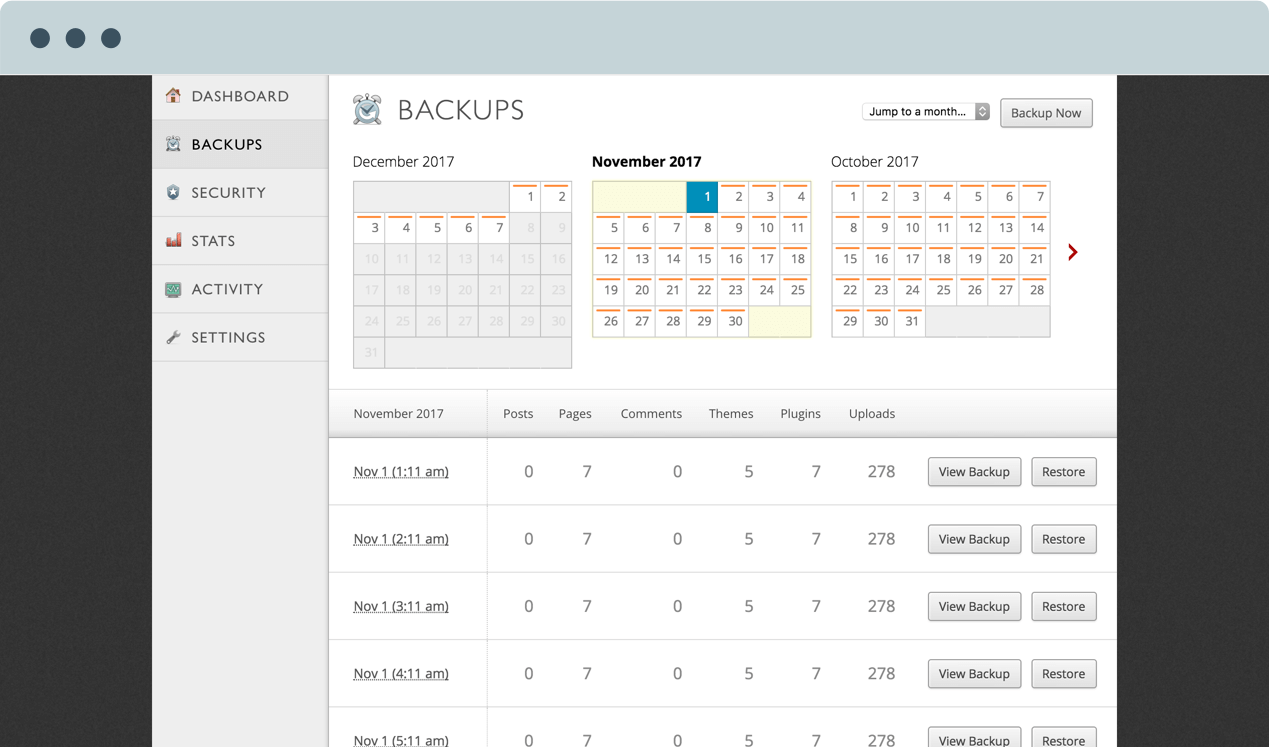 Site Backup and Restore Tools
If you subscribe to one of Jetpack's paid plans, you'll get an excellent service that will automatically backup your site every day, or in real-time (depending on your plan). Jetpack will also store a 30-day archive of your website.
This will make it easy for you to restore the exact version of your website you want. You can even choose to restore only the themes, plugins or the data. And you can migrate it to a new site or a new host. Lots and lots of possibilities!
Security Scanning Tools
Jetpack religiously scans your website for two main things:
1. Spam
When you open up your comments section, you'll inevitably get spam comments posted that will divert your traffic to other less-desirable places. Jetpack will filter spam comments and ask you to review flagged comments so there is zero spam on your website.
2. Malware
If, unfortunately, someone breaks into your website, they can add their own suspicious code or malware without you knowing a thing. This is so they can get sensitive information out of your visitors (and even yourself). Jetpack will scan your website everyday and alert you if something like this happens.
That's not all.
If you get the professional plan, you'll get a dedicated team which will help you fix any problems you have in case your website gets infected.
Is Jetpack Worth The Investment?
Below is the breakdown of all plans offered by Jetpack. Note that with HostPapa Optimized WordPress Business and Business Pro plans, you can get the Premium Jetpack plan at no extra cost.
The Free Plan ($0)
Jetpack's free plan won't give you access to their premium themes. But you'll get all the customization tools, the images CDN and the 'lazy loading images' feature.
On the marketing side, you'll be able to see your site stats, automate your posts, add social sharing buttons and get basic social post scheduling functionality. You'll also get to verify your site and create an XML map, but won't get additional SEO features.
You'll get all the 5 core security features, but that's it. No backup and restore. Also, no malware scanning – only spam filtering is available.
The Personal Plan ($3.50/Month)
This plan will give you the above features, but will add backup and restore functionality and spam filtering. You won't get malware scanning, which is a drawback of this plan.
The Premium Plan ($9/Month)
You'll get the video CDN in addition to the image CDN. You'll also unlock the ad program and will see how your ads are performing in addition to the traffic stats. And what's more? You'll also gain the functionality to integrate Google Analytics.
In addition, you'll also unlock all the SEO tools and get malware scanning plus all security features, making this is the best plan of all four in terms of value.
The Professional Plan ($29/Month)
If you want to get access to all the features – meaning if you want:
200+ premium themes

Enhanced search functionality on your website

Real-time backups and unlimited archives

On-demand malware scanning

A team which will fix your website for you
… then this is the plan for you.
So, to wrap it up, here's what Jetpack is all about:
Offers 30+ tools for customization, security and marketing under one subscription.
Is built and developed by Automattic, the company behind WordPress itself, ensuring this stays the most reliable and secure plugin ever.
Gives all the core features for free.
It's definitely what's missing on your WordPress dashboard and is worth every bit the investment you make.
All images are from www.jetpack.com