You know you're a cool personal trainer when words like bench, superset, and reps are genuinely familiar and consume more than half of your daily vocabulary. Do you know what's cooler, though, than the energy drink you have by your side? Having a neat website to show off your fitness project to everyone!
A day in a personal trainer's life might surprise many people. They're professionals with the skillset to help people achieve specific fitness goals. Whether it's just simple weight loss or muscle building, a personal trainer is there to help you lift your spirits – and some weights, too!
Puns aside, keeping your body in shape is healthy. Personal trainers are on the rise, and as a result, many people decide to work out to help them live a healthier lifestyle. Although you can hit the gym and enjoy the machines, having someone who knows your body is essential, as they can offer you better advice on where to focus your training.
However, being a personal trainer without a website is like skipping a leg day. And we all know what happens when you do such an atrocity! So, in this blog post, we'll look at how you can build a personal trainer website, covering the tools you'll need and the essential pages it must contain.
Do You Need a Website as a Personal Trainer?
Most personal trainers are active on social media like Instagram and TikTok, but nowadays, having a website adds points to your professionalism.
While you might think it's too much effort at first, creating a website for this type of small business will yield many positive results in building a solid clientele.
It can cement your place among other personal trainers that operate solely on social media.
How Do I Create a Personal Trainer Website?
This is a fundamental question that arises in the minds of personal trainers. Many platforms are available, the most notable being WordPress, currently lifting the majority of CMS-based websites (excuse our pun)!
If we didn't get you pumped up already, continue reading – we're going to break down what steps are needed to create your personal trainer's website.
Pick a Website Building Platform
Before you run, you need to warm up. When it comes to websites, this means picking a website-building platform!
Selecting the platform you'll work on is crucial and the basis of everything you'll lay on top. Currently, there are two major options.
Use WordPress, which is free to use and easy to start with, or
Use a website builder to create your site, albeit with some limitations.
Find a Web Hosting Provider
If you picked the path of WordPress, then the next logical step is to buy a web hosting plan.
Consider choosing a trusted hosting provider with everything you need in one simple package. Our standard web hosting plan is the simplest and the most affordable. This plan includes the starter website builder, which can help you create up to two web pages of content. If you need more, continue reading, as the features don't stop here.
The standard web hosting plan also allows you to host your own website files. In the case of WordPress, you only need to upload its files, set it up correctly, customize it to your liking, and start working on your new website. A simple guide and tips can be found on our other blog, how to start a WordPress blog.
The simple plan has more than adequate features if you're doing this by yourself. For $3.95 per month, you'll get 100GB of web space on SSD drives, which are blazing fast and have tons of storage.
For people not familiar with WordPress but who want to have an optimized and SEO-friendly website, HostPapa's Managed WordPress plan is the way to go.
Not only can you install WordPress with a few clicks, but you also get all the security, maintenance, and real-time malware scans to give you peace of mind and focus on being the best personal trainer!
Pick a Domain Name
Many HostPapa plans come with free domain registration, and you can take advantage of that by finding a catchy and cool name for your personal trainer's website. It could be your name if people are more familiar with it or the nickname you use on your social media.
Either way, remember that you're building a personal trainer's website; using your name rather than a business name will convey a friendlier stance while also appealing to newcomers.
Must-Have Pages Every Personal Trainer's Website Should Have
Picking a plan and setting up your WordPress installation is one thing, but creating all the essential pages is another. You need to have a well-thought structure before you start creating content.
A personal trainer website has simple needs, like a homepage, an about page, a blog page, and a bookings page so customers can schedule an appointment with you. Below, we discuss what pages you should have on your website.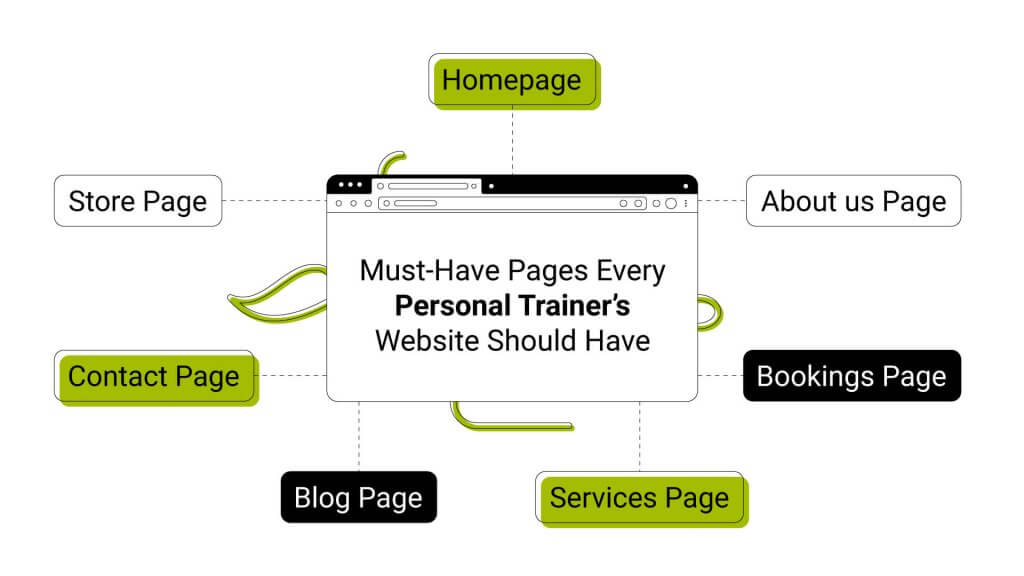 Homepage
A homepage is going to be the landing page of your personal trainer's website. It's almost certain that visitors will go through the homepage to check more about you and see the services you're offering, no matter what page they first landed on.
It acts as the website's hub bringing everything together, and it's essential to have a well-designed first page to get people to stick. A simple list of achievements, some social media posts, and a brief introduction about yourself and colleagues is plenty of information to start.
About us Page
Whether you're doing it yourself or have people working for you, an about page is a must for a personal trainer. It's the starting point for the visitor to get up close and, you know, personal, with what you can provide for them!
It's also vital to give people a mini-biography of yourself, your background, and your training methods.
If there's a group of people behind your efforts, consider naming the page appropriately – for example, Our Team – to reflect better that you're not working alone. In that case, you can list each member's strong points and present them with multiple columns, which is helpful and easy to read.
Remember, someone that searches through the about page is potentially looking to book a service from you, so the information presented here must be accurate and correct.
Bookings Page
This brings us to the bookings page. Right from the website, it makes tons of sense to have a system where visitors can book an appointment with you. A booking plugin can offer automation so that you don't have to keep track of them by hand.
WordPress has some amazing plugins for that purpose and can save time keeping track of your appointments. Two excellent plugins for that would be Amelia and WooCommerce Bookings.
Both support appointment bookings and allow your customers to pay with their credit cards. While these are paid options, Amelia has a free version for you to try. Then you're left with the whole WordPress plugin repository, which has multiple free solutions from trustworthy developers.
Services Page
Services point to the programmes and sessions you offer every visitor. Having a complete set of services, and marketing them well through social media, will generate lots of conversions, and simple visitors become customers.
You can name each service to give people context before getting to the details. Pilates, yoga, TRX, full-body workouts, abs workouts, and mass building programmes are some examples you can use. Be creative and describe them by adding your flair to their names.
Driving traffic from the services page to your bookings page is crucial, and featuring some photos and videos from your sessions, can help you build your trust as a professional.
Blog Page
Talking about your business is as important as selling your services. Consider blogging about a new service you offer to your customers that can act as a diode to gain more sales, not only muscles! The fitness community is enormous, and some people want to learn about every new trend when it happens.
Consider linking products you sell if you intend to have a store page. Talking about the positives of dietary supplements or gym accessories can further pump your sales. You can even pick other interesting topics to write about and catch the eyes of fitness enthusiasts.
Contact Page
If people have questions about something, they'll need to be able to contact you. Sporting a contact form with simple questions will help people provide you with all the information you need to respond efficiently.
Many people also search for nearby personal trainers. Providing a location through Google Maps, for instance, can help with your SEO ranking, and we all know the power of today's search engines.
Store Page
Supporting your trainer's website with more content is always a challenge, but think of selling some simple yet exciting products on your fitness project.
Everyday accessories your clients can use in your training sessions, personalized t-shirts, and drink bottles with your logo are some good examples of passive income, and that's possible with your own store.
Which Website Builder Is Best for Personal Trainers?
Looking at the current website building landscape, we find solutions like Wix, Squarespace and a relatively considerable number of smaller services that want to bring you online quickly.
Squarespace is known for its ease of use and setup, while Wix has a free option to try before you buy. These are great tools to bring you online in less than a week, but remember that these solutions fall behind in customization and scalability.
WordPress, however, fills the bill and meets these requirements by having a massive list of available plugins and themes that add valuable functionality to your website.
You can also find relevant information on our WordPress versus website builders blog post.
Train Your WordPress Website Perfectly!
We think we got you with that pun, but if not, let us talk a little bit about website optimization to make it up to you.
Unlike website builders that do all the maintenance and optimization for you, WordPress will need you to install some extra plugins like Yoast SEO and WP Super Cache. These tools optimize the site's SEO performance and loading speeds with just a few clicks.
While this is relatively easy to do on your own, HostPapa's Managed WordPress plan offers all of that in a straightforward, ready-to-go package. We call it WordPress on steroids.
Summing It All Up
Being a personal trainer means you have a strict and lengthy daily routine, but having a website will undoubtedly help you accomplish more by the end of the day.
Siding with WordPress turns out to be the best solution in the long term. It's easy to use, you can add content with a few clicks, and it supports some of the most popular page builders that bring the flexibility of website builders like Wix, Squarespace, Duda, and Google Sites.
Suppose you find a drag and drop interface a more natural way of creating. In that case, Elementor, and Visual Composer, among many others, are just a few page-building plugins that open a creative path on WordPress.
Gain sometimes comes without pain! In this blog post, we didn't discuss working out (that's your area of expertise, remember?), but how you can create a website that works for you.
And don't forget that when you embark on creating your website, HostPapa's blog is here to help, along with a skilled team of professionals ready to help make the best website you've ever dreamed of.