The selling of digital content has increased exponentially in recent years. Today, there is a market for almost anything digital: from models selling photos to teachers selling courses.
Making money via websites is now a normalized business model across virtually any industry. To sell your products, you need a website, and your website, like a shop combined with a members-only club, needs to have its policies and structure.
Here we'll take a quick look at ten of the best WordPress membership plugins for monetizing your website via subscriptions.
1. MemberPress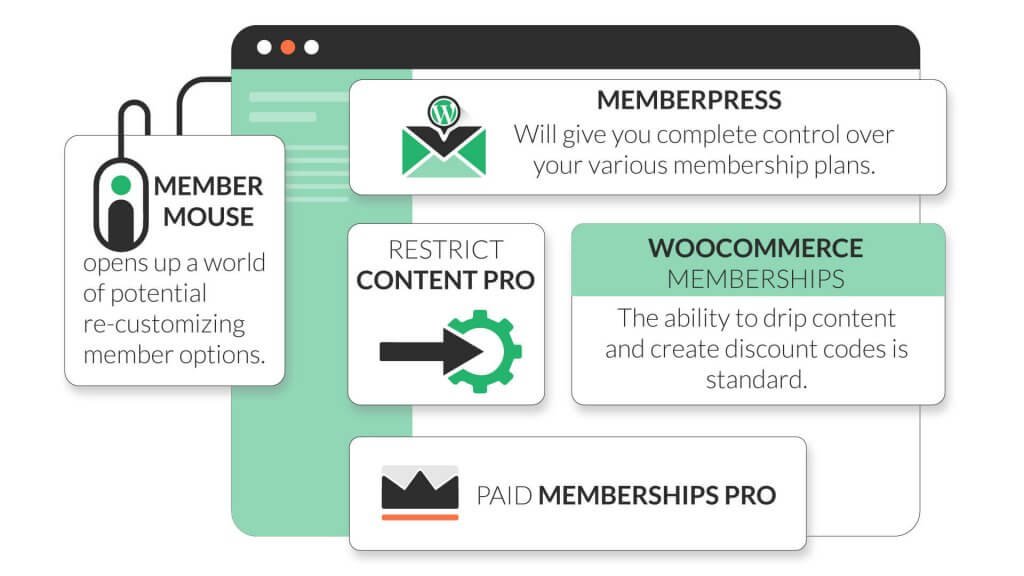 One of the most familiar names when it comes to WordPress plugins. Even if you have never used it, it's more than likely that you have heard of it – which, of course, there are plenty of reasons for. MemberPress has risen to prominence and become a WordPress plugin chart-topper due to its abundance of functional power. 
MembersPress will give you complete control over your various membership plans. From installation, you will be able to restrict access to your website right across the board. From there, you can take full command over who can and cannot access subscription-dependent areas. The management of subscribers is made – and kept – easy. It comes with an excellent content dripping feature enabling you to schedule the availability of new content across every subscription tier. It will also supply you with various reports to monitor site performance. The pricing podium is three-tiered, with the cheapest one-site package starting at $149 for a year. There is no free version or trial.
Key features:
Multiple integration possibilities
Customizable, unlimited coupon codes
Unlimited members
Unlimited sale of digital items
Access automatically revoked when unsubscribed
2. Restrict Content Pro
Restrict Content Pro is another big-name membership plugin. It's easy to use for the inexperienced – it comes with simple-to-follow guides for anyone apprehensive about setting up a rookie subscription website. It's intuitive and with a neat UI that fits in seamlessly with WordPress's aesthetics. Subscription levels are unlimited, and Restriction Content Pro will enable you to vet every subscriber upon registration. Only the people you approve will have content accessibility, so whatever level anyone is subscribed to, it is ensured that you are lord and master of your domain. Flexibility for pricing plans is huge, with virtually any configuration you can think of being possible. Restrict Content Pro will also allow integration with other sales plugins such as WooCommerce. The downside – compared to some other membership plugins, the price tag is a little heavier.
Key Features:
No limit on membership numbers
Huge versatility
Content dripping (includes expiration and available-to-all timers)
3. Membermouse
A treasure trove of functionality and varying features could give the impression that Member Mouse is hard to handle – it's not. Despite its ton of capabilities, it is simple enough to get to grips with, and when you have – you'll have doors opening to all manner of membership handling features. A standout feature is that away from actual membership, content can be made available on a one-off basis (as a bundle). So, a single post, page, image, or collection of images, posts – anything you want – can be sold as a one-off to anyone without the need for a sign-up. If you wish, you will also be able to develop 'trials' so that anyone can try-before-they-buy. Member Mouse opens up a world of potential re-customizing member options. This flexibility plus standard features you would expect (and will be supplied with) make MemberMouse an excellent membership plugin.
Key Features:
Custom management
Login attempt limits
Prorated upgrades
It can be integrated with social media
4. WooCommerce Memberships
If you already have a WooCommerce store but wish to sell anything on a subscriber-only basis, WooCommerce Memberships is the plugin you need. With this plugin, you can secure any content you choose behind a figurative wall, keeping it safe from being plucked and put into the pockets of non-subscribers. The ability to drip content and create discount codes is standard. Although very beneficial if you already have a WooCommerce store, it's not so much to anyone who doesn't. Though ideal for specific niche markets, it won't be the best option for general use. On top of that, you will also need WooCommerce subscriptions if you intend to bill anyone with any regularity – and that plugin will cost you another two hundred dollars. So, not the best membership plugin for everyone and everything then, but for established WooCommerce users, it can be of enormous benefit.
Key features:
Full eCommerce functionality;
Unlimited membership tiers;
Membership through product purchase options.
5. Paid Memberships Pro
An immediate plus-point is that Paid Memberships Pro won't cost you a penny at the start. You can get to restricting your content right off the bat once you have installed it. Premium plans are available with further add-ons, and these come with price-tags (as you would expect) but Paid Memberships Pro gets you off to an excellent start with its freebies. Options are aplenty for customizing your membership structures. It also comes with one especially ideal component – the 'teaser.' This little benefit lets non-members see a glimpse of content you have restricted. Not only does this push individual intrigue levels up, but it also still gives you a chance for SERP ranking. Paid Memberships Pro brings a dedicated WordPress theme that works well for slick integration of the plugin. But be aware that Paid Memberships Pro will not be the most straightforward plugin to navigate for some people and could do with a few tweaks regarding its UI for a better all-around user experience.
Key features:
Restricted content capabilities;
Custom access to specific individual content;
Drip scheduling;
Special discounts/deals for members.
6. Paid Membership Subscriptions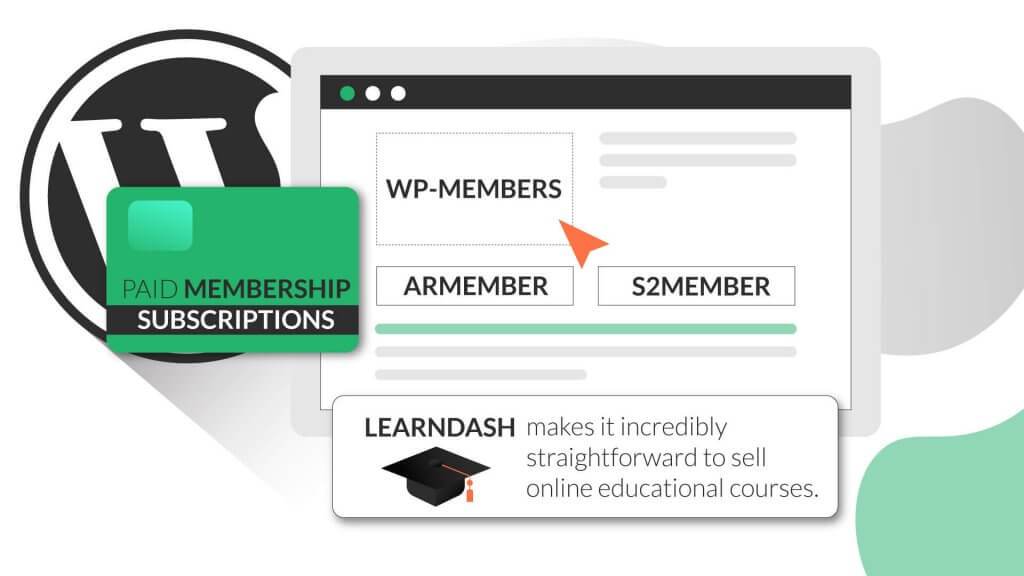 Another popular choice for subscriptions and restrictions sites, says Tudor Armand Ciuleanu, the Founder & CEO of RebelDot. Subs and content allowances are easily manageable, from granting permissions to revoking them. All the bells and whistles you would come to expect from a membership plugin are here, but something especially worth noting is that before you shell out for any of the price-tagged plugins, you can use the free trial version. That may not seem overly exciting on paper until you see what the free trial includes. For absolutely nothing, you will have the ability to:
Restrict content and set permissions;
Arrange subscription tier plans;
Tailor free and paid membership plans;
Customize email;
Integrate with WooCommerce and PayPal.
…and that's just the tip of the freebie iceberg. This gives you a decent enough idea of just how and why Paid Membership Subscriptions are such a popular option for a WordPress membership plugin.
Key Features:
Analytic reports;
Variety of payment options;
User/order tracking.
7. WP-Members
Straightforward but well-equipped, WP-Members will restrict content and generate teasers for newly-released and upcoming content. Registration to your site can be tailored to fit any specific you want and give you the power to screen and approve all of your subscribers personally. Developers with experience will play around even more with certain WP-Members functionality. It may be frustrating for those not knowledgeable on the subject, and there are better UI for membership plugins elsewhere, but that doesn't mean you should write WP-Members off or think of it as intimidating – it's not. It has decent enough muscle to perform a host of features, but the free version does have some early shut-off points.
Key features:
Custom registration creation;
Teaser content capable;
Menu item restriction;
Spam registration prevention – for free.
8. ARMember
This has fast become a top-level membership plugin, and its popularity is still on the rise. Part of the reason for ARMember's surge in membership plugin rankings is that it's not a prerequisite to be savvy with tech-related know-how to create a members-only site with it from scratch. It's easy to set up a calendar for automatic-payment collection from members every month and equally easy to drip-feed teasers to keep your customers at the door.
Key features:
Robust website security;
Payment method variety;
Downgradeable membership;
Teaser and drip release.
9. S2Member
A free plugin for website membership, S2Member is not the friendliest of plugins for rookie users. However, once you are acclimatized to it, you'll discover a surprisingly abundant array of features laid out before you for a freebie. Some of these include the ability to impose restrictions upon downloading files and media streaming. The free version also allows the creation of a four-tier subscription structure and flexible registration options.
Key Features:
Email marketing (integrational with MailChimp);
Registration versatility.
10. LearnDash
LearnDash is now as well known as MemberPress and WordPress. LearnDash has cemented its position as the best learning management plugin out there. LearnDash makes it incredibly straightforward to sell online educational courses. This has made it the go-to portal for learning and personal, educational advancement. Simple drag-and-drop provides the capability to build courses on any subject you like. With LearnDash, you can become an 'online teacher' by not just assigning work but also grading it. If you want to sell educational courses and become an educational resource, then there is no better plugin on the market to enable you to do just that.
Key features:
Drip educational content;
Can be integrated with WooCommerce, PayPal, and Zapier;
Course-orientated forums for student community building.
These are some of the best WordPress membership plugins on the market. There are, of course, a multitude of other eCommerce subscription options. Whichever you opt for, the decision will most likely be decided by the combination of budget and specific requirements, especially if your member website caters to a niche audience. Whichever works best for your needs, there are now some excellent tools available to maximize the interest in your website and the sale of your digital content.
Author bio:
Jean Wilson Murray
Jean Wilson Murray is a legal expert who is a co-founder of Best LLC Services and has been helping aspiring entrepreneurs start their own companies for seven years already. During this time, he has investigated all the pitfalls in choosing the financial and management structure of a business, the establishment of companies, as well as the legal structures of enterprises and has become a highly skilled professional in this field.1.