Are you starting a photography business in 2021? Are you planning to revamp the online presence of your existing photography practice? If so, then this post is for you!
Creating a professional website can seem like a challenge – too expensive, too time-consuming, and too technically complex to handle by yourself. But you don't have to hire a web development team to get your photography portfolio up and running. With tools like WordPress, you can create a website with little to no coding experience and without a big budget, while maintaining full control of both your work and your platform.
In this post, we'll share:
The benefits of WordPress for photographers.
How to find the right WordPress theme.
5 of the best free WordPress themes for photographers.
5 of the best premium WordPress themes for photographers.
The Benefits of WordPress for Photographers
WordPress is the world's most used Content Management System (CMS). According to WhoIsHostingThis?, over 455 million websites are currently run on WordPress.
Before we dive into the benefits of this CMS, it's necessary to clarify that there are two types of WordPress websites:
WordPress.com websites hosted by Automattic, the company behind WordPress. These websites are less flexible and more expensive than their counterparts.
Self-hosted WordPress websites that run on a WordPress installation in a third-party server.
Self-hosted WordPress offers virtually endless possibilities without breaking the bank. You can set up an online store, an e-learning platform, or a photography portfolio with a small budget.
Both WordPress.com and self-hosted WordPress websites have extremely intuitive dashboards, making WordPress the ideal CMS for non-developers.
Since it's so widely used, WordPress is also extremely well-documented. There are hundreds of tutorials, guides, and courses available for free. So, if any problem arises, you're a Google search away from countless solutions.
If you're using WordPress, themes are the bedrock of your website's appearance. To help you set up (or transform) your website, we've compiled the best WordPress themes for photographers.
But themes aren't just about looks. Choosing the wrong theme can affect your website's speed, potential, and even security. Before we get started, it's worth asking: how should you evaluate your options?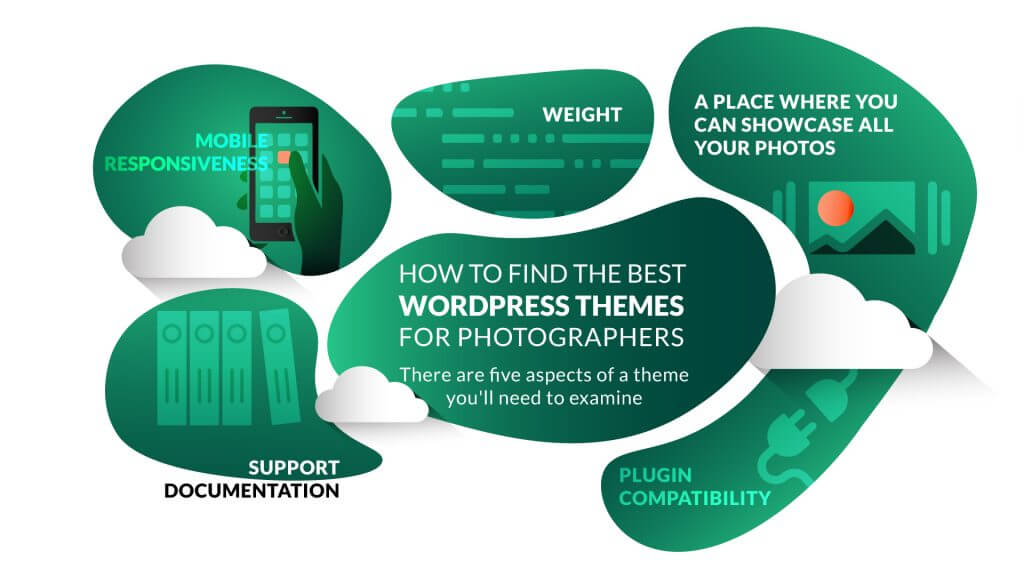 How to Find the Best WordPress Themes for Photographers
There are five aspects to themes that you'll need to examine:
Weight. You don't want your theme to add a lot of unused code to your website. While there are means to minimize unused code and deliver assets effectively, if you can avoid heavy themes, do it.
Mobile responsiveness. Your portfolio should look stunning across devices. As of 2020, almost all WordPress themes you'll find will be responsive. So mobile-readiness will depend more on a theme's weight than on its design.
Support documentation. Go for a theme that has plenty of available documentation. This will facilitate customization and problem-solving. A support forum is also something to look for.
A place where you can showcase all your photos. Since you're building a portfolio, you'll want a theme that puts visual material at the forefront.
Plugin compatibility. Plugins add functionalities to websites, from beautifully animated galleries to online stores. Make sure your theme has wide plugin compatibility.
Other aspects of your theme will depend on your specific situation and preferences. For instance, if you're a multilingual photographer working in a multilingual area, you'll also want to ensure your theme is translation-ready.
The Best Free WordPress Themes for Photographers
You can find incredible themes for free. Here's a small, hand-picked selection of high-quality, free WordPress themes for photographers:
Photo Perfect
Photo Perfect by Wenthemes is a good option if you've never created a website before. It's well-documented, and it doesn't overwhelm the user with too many functionalities. Note that what makes it beginner-friendly may eventually become limiting.
There's also a premium version of this theme, which supports WooCommerce and starts at $59.
Electa
Kaira's Electa theme is a great free option, with an extremely affordable premium version. Its homepage features a beautiful photo grid, perfect for displaying your best work. The theme's header and sidebar are one, fixed on the left side of the page. This allows for a very immersive reading and photo-viewing experience.
Electa is lightweight, fast, and plugin-ready.
Kai
Kai by Afrothemes is elegant and minimalistic. Having no unnecessary design elements, Kai highlights your best work and is extremely versatile. This theme serves as a neutral foundation for any type of portfolio, whether you're a travel photographer or an illustrator.
Shapely
Shapely by ColorLib is a top-tier WordPress theme, and it's available for free.
Shapely is SEO friendly, so Google will love your site. It's also retina-ready, so your photos will look amazing regardless of screen size. With ample plugin support, it allows for a complete customization experience. And, among other features, it's also translation-ready. Made by a renowned WordPress development company, Shapely also has plenty of available documentation.
Bold Photography
The free version of CatchTheme's Bold Photography is responsive, eye-catching, and translation-ready. With its black background and contrasting white typography, Bold does justice to its name. The theme also includes a very modern slider. Bold Photography's free version has all the design subtleties of a premium WordPress theme for free.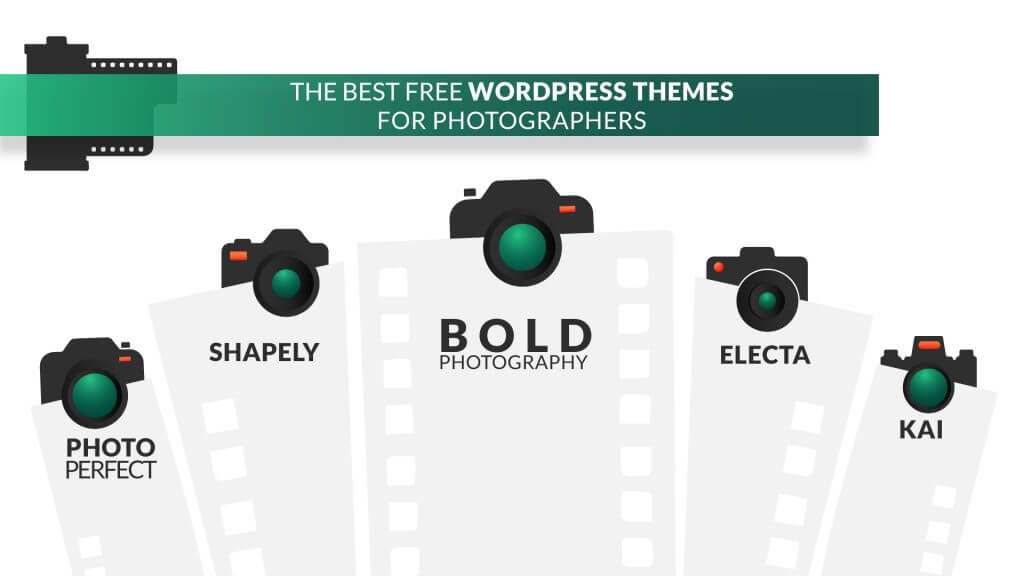 The Best Premium WordPress Themes for Photographers
Sometimes, not even the best free WordPress themes can help you craft the website you want. If you want custom animations and wide font availability, you should start looking for a premium theme.
In this section, we'll take a look at the best premium WordPress themes for photographers. Every option is at a different price point, so you have enough context to make an informed decision.
Snapster
With broad plugin compatibility and almost endless customization options, Snapster is an amazing WordPress theme. The theme's numerous presets, templates, and pre-designed elements make it possible to achieve great results, even with no coding background. It starts at $29 on ThemeForest.
Kathy
Kathy is a lightweight and minimalist theme with beautiful but subtle animations. Much like Kai, it makes for a neutral base on which to display your best material. It's fit for architects, illustrators, and photographers alike.
Pearce
Pearce is ideal for ground-breaking creatives looking for a youthful and bold design. Its animations, layout, and use of typography make it the ideal starting point for an impactful site. Developed by a reputable studio, Pearce complies with coding best practices and is widely documented. The theme sells for $75.
Divi
According to its website, Divi is "the most popular WordPress theme in the world and the ultimate page builder." And it does live up to the hype. Divi adds visual builder technology to WordPress' existing post and page editors. It's fully drag-and-drop, it offers considerable plugin compatibility, and it's extensively documented.
Divi is available as a subscription product, with licenses starting at $89. Divi is often recommended for graphic designers who are starting to work on web development projects and have little to no coding experience. The license allows users to implement Divi across several websites without having to pay extra. This is very convenient for designers, but it may not be worth it if you'll be using the template on a single website with few functionalities.
Semplice
Similar to Divi, Semplice is more than a WordPress theme. Semplice is a portfolio design framework built on WordPress. Originally crafted by Spotify's lead product designer Tobias van Schneider, Semplice adds content management functionalities to WordPress. Everything is editable, all page elements are drag-and-drop, and all elements can be animated. A look at Semplice's website is enough to understand its two greatest advantages: it's extremely versatile, and it's designed for portfolios.
Semplice is not without its downsides. Just like in the case of Divi, too many options can be overwhelming, especially if you don't have a background in web development. This may result in a website that's visually interesting, but hard to navigate.
Pricing is another downside that Divi and Semplice share. The latter framework has three pricing tiers, starting at $99.
Key Takeaways
In this post, we briefly examined the advantages of WordPress for photographers. The CMS is easy to use and extendable through plugins, which makes it a great option for non-developers.
We also shared 10 of the best WordPress themes for photographers and the factors we considered when making our selections.
If you're planning to take your photography career to the next level in 2021, check out HostPapa's WordPress hosting plans.
Please note that the pricing in this blog post is current as of the date of publication and is subject to change at any time.