Research and careful examination are vital to get your point across to a particular audience. Listening to what your target audience wants and interacting with your followers is a common tactic crucial for a company's growth.
Social listening is all about the big picture, looking both inside and outside social media, but of course, within reasonable boundaries, so you don't get lost in translation. If you have plenty of interactions with your audience on social media, you have much information to work on – from the conversations people have under your posts to the mentions you receive on public posts or reading through the comments on a competitor page. For a small business, these social interactions are a goldmine of information ready to be explored or listened to!
In this blog post, we check out what social listening is, why it's essential to include it in your marketing strategy and mention a couple of examples to explain the subject better.
What Is Social Listening?
Caring for what your target audience thinks and looking for opportunities to grow your business are things that define social listening.
With social listening, you can get an excellent insight into what people have to say about your company regarding your services or products. Put more clearly; it's searching for the interactions on your social media and anywhere else, to find out why something is good or bad.
Social listening is also a great source of information for your customer service department, as it can help solve issues at their root.
Social Listening vs Social Monitoring: What's the Difference?
Tackling this is going to clear the air on the subject massively. People think social listening and social monitoring are synonymous, but they differ significantly.
Social monitoring is observing or collecting data, and it's the first step in the process.
Social listening goes the extra mile by examining the details obtained through social media monitoring and engaging with the content.
Why Is Social Listening Important?
If your company lacks a social listening strategy, it's like putting blinders on its growth. Caring about your customers and your target audience is as important as caring about your business.
Through valuable data, a company can analyze all the audience interactions to weigh its brand awareness and ultimately improve the products and services they provide. It's a great way to track your customers' sentiment, and monitoring it is easy and adds tremendous value to your work.
Social Listening Example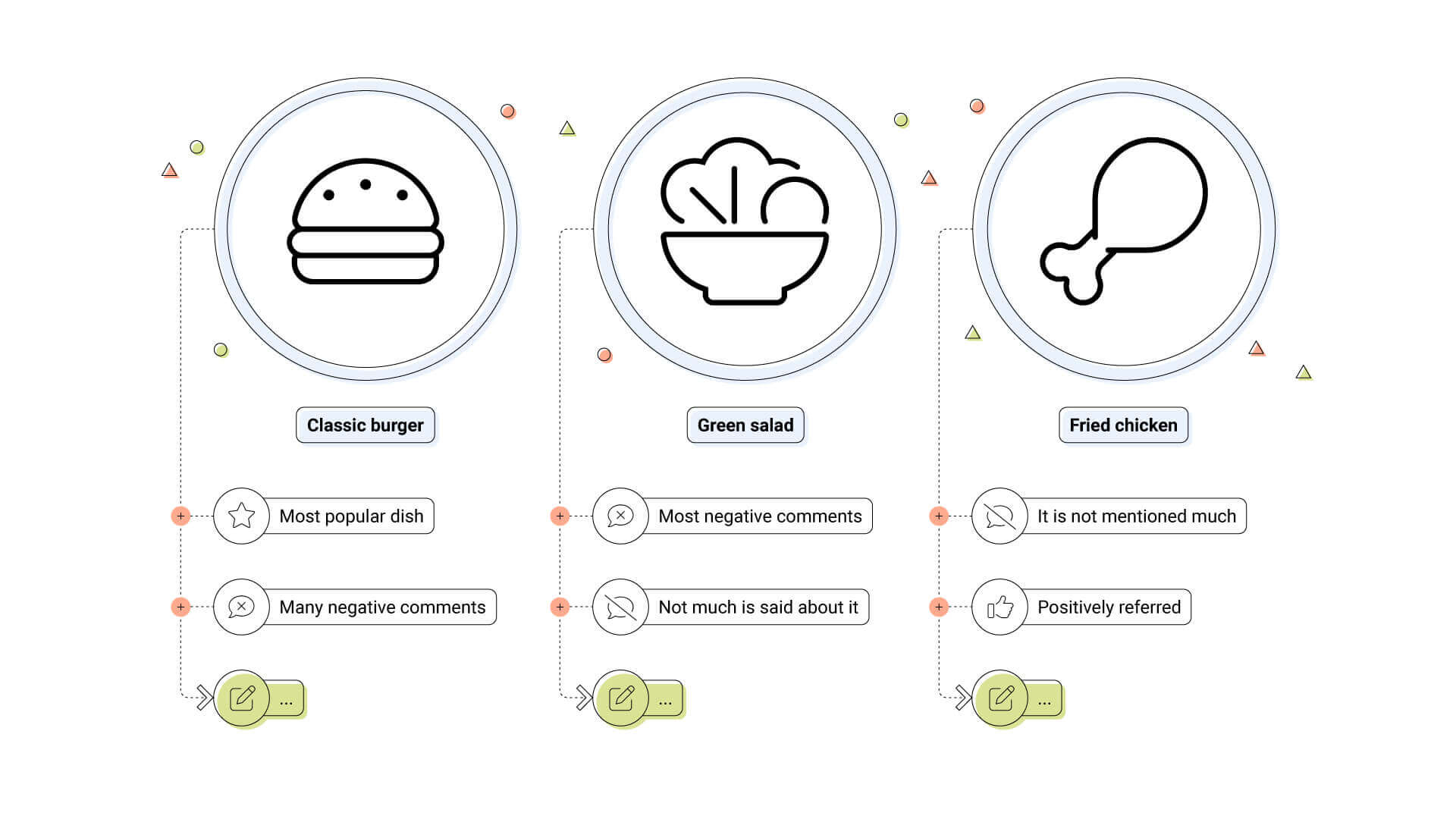 Let's take a fast food restaurant as an example. They want to understand the food that people love so they can improve their food and market themselves better. Let's say the menu has three dishes.
Classic burger
Green salad
Fried chicken
The classic burger is the most popular dish but attracts many negative comments on social media. That means we could focus our marketing on the classic burger to find out what people like and what they don't about that particular dish.
The green salad receives the most negative comments, and it isn't something that people talk about much on social media. This means the restaurant should re-evaluate the green salad's recipe or replace it with another dish.
On the other hand, fried chicken isn't mentioned much, but most people refer to this dish positively. This means that fried chicken might be the golden crown of our fast food restaurant, and we should attract more customers by using it in our next campaign.
The above is a simple and easy-to-understand social monitoring and listening example where the marketer looks for clues on a restaurant's social media handles and proposes some actions.
You might have noticed that the first sentence of each paragraph above states exactly what social monitoring is, while the second sentence is the suggested action you can make. That's social listening.
Social Listening Strategies for Small Businesses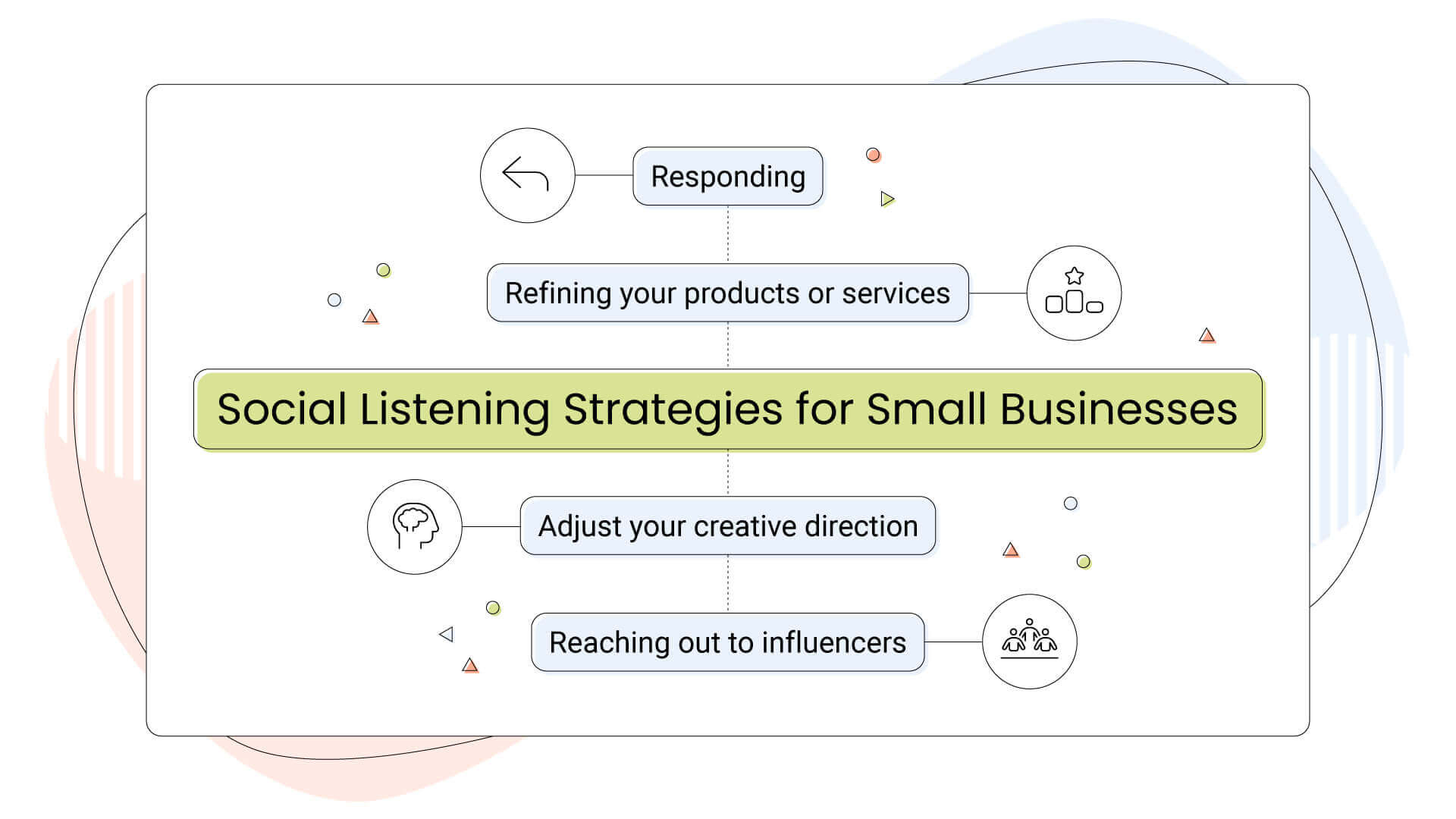 Responding to a funny tweet or comment can create excitement out of nowhere. People always love it when a brand takes its time to respond on a personal level. Understanding what your customers want and engaging with them, particularly on social media, which billions of people use, is crucial, and it can help build a strong relationship in the long term.
Refining your products or services based on user feedback is acting on data gathered from social listening tools or social media insight tools, which are free. If your company has just launched, search for relevant products or keywords industry-wide to check what people are talking about similar companies to yours. Note their strengths and weaknesses and capitalize on them by refocusing your marketing.
Adjust your creative direction. Post an article or product on your Instagram page a few weeks later with a twist – a changed title, a different image and a punchline. Compare what got the best hits, note what got people's attention and move forward to the next post.
Reaching out to influencers can boost your brand's awareness and give you that significant exposure. Building solid relationships with some influencers and following market trends can help you stay relevant. Remember to reach out to influencers that suit your business style and notion.
How to Get Started With Social Listening
We prepared a couple of exciting pointers for you to start with social listening.
Visit your social media pages and look for people's interactions about your business and the products you sell. You can then follow up by asking your users to answer quick questions that can help you improve your services or respond to your comments, negative or positive.
The reactions and comments they get might revolve around viral keywords, so stay on top of your game with all the latest buzzwords. A buzzword is a common word or phrase that people adapt to their everyday and fashionable vocabulary. Many brands hop onto a trend and focus their marketing efforts on that while it lasts.
Limit your search. Use the advanced search option in your social media or the tool to narrow your search to a specific demographic group if, for example, your business is about technology.
Social Listening Tools
There are some great options out there, but remember: the most popular ones are free! Facebook, Twitter, Instagram, and Pinterest are great tools to start if you're a small business, and they have plenty of insight tools for you to do proper social monitoring and listening.
For users that want that extra bit, there are more than enough paid solutions that opt not only to listen but also to increase your following. These tools include Hootsuite and Brandwatch, offering a complete management solution for people who want everything in one place. 
Common features many paid social listening tools offer are:
Audience tools for deeper insights
Social media platform integration
Get in contact with influencers
Campaign management
What Are the Main Limitations of Social Listening?
Whether researching on your own or using a specific tool, social listening is a great tool to gather information about your audience. The data produced is unstructured and unfiltered, so relying heavily on what you log from can lead you to arbitrary results.
With that said, social listening comes with a few limitations that you must keep in mind.
Overwhelming Amounts of Data
At first, when talking about social media, the data sample can be overwhelming and need cleanup before going through to the next phase. That particular aspect can limit the data quality, require more time to clear and get even heavier when using multiple social media sources.
Social Listening Tools Lack Human Sentiment
Most social listening tools don't take into account human sentiment, so in that case, you'll need to seek outside help. For example, social listening tools struggle with comments containing sarcasm or humour, so user input is required to distinguish people's reactions when they're telling the truth or joking about something.
Want to read more? Stay up to date with our latest HostPapa blogs.