Social media is a massive platform that entertains, informs, and helps us pass the time. It provides companionship in times of loneliness.
Beyond that, social media is a great tool (if used wisely) that enables us to live our lives more efficiently. It provides us with inspiration, ideas, creativity, and valuable tips. It helps us foster old relationships, form new ones, and stay on top of industry trends and popular movements.
Social media is the need of the hour for today's entrepreneurs and business owners. A social presence on different social media platforms boosts your brand identity, grows your client base, and promotes your products. Moreover, it gives you an avenue to observe the industry practices of other professionals.
Twitter is one such platform that provides a highly interactive user experience. Twitter accounts of professional experts are rich storehouses of business ideas, techniques, tips, and strategies.
If you're an entrepreneur or a small start-up, you must have a dynamic social media marketing strategy for your business's promotion and credibility. How to design such a strategy? That's a question that stresses out many professionals. Luckily, social media itself comes to the rescue.
Follow These 11 Twitter Accounts for the Best Social Media Marketing Tips
There are many fantastic Twitter profiles of social media marketing experts that you can follow to stay on top of your online marketing game and get a pool of social media marketing tips, resources, and recommendations at your fingertips.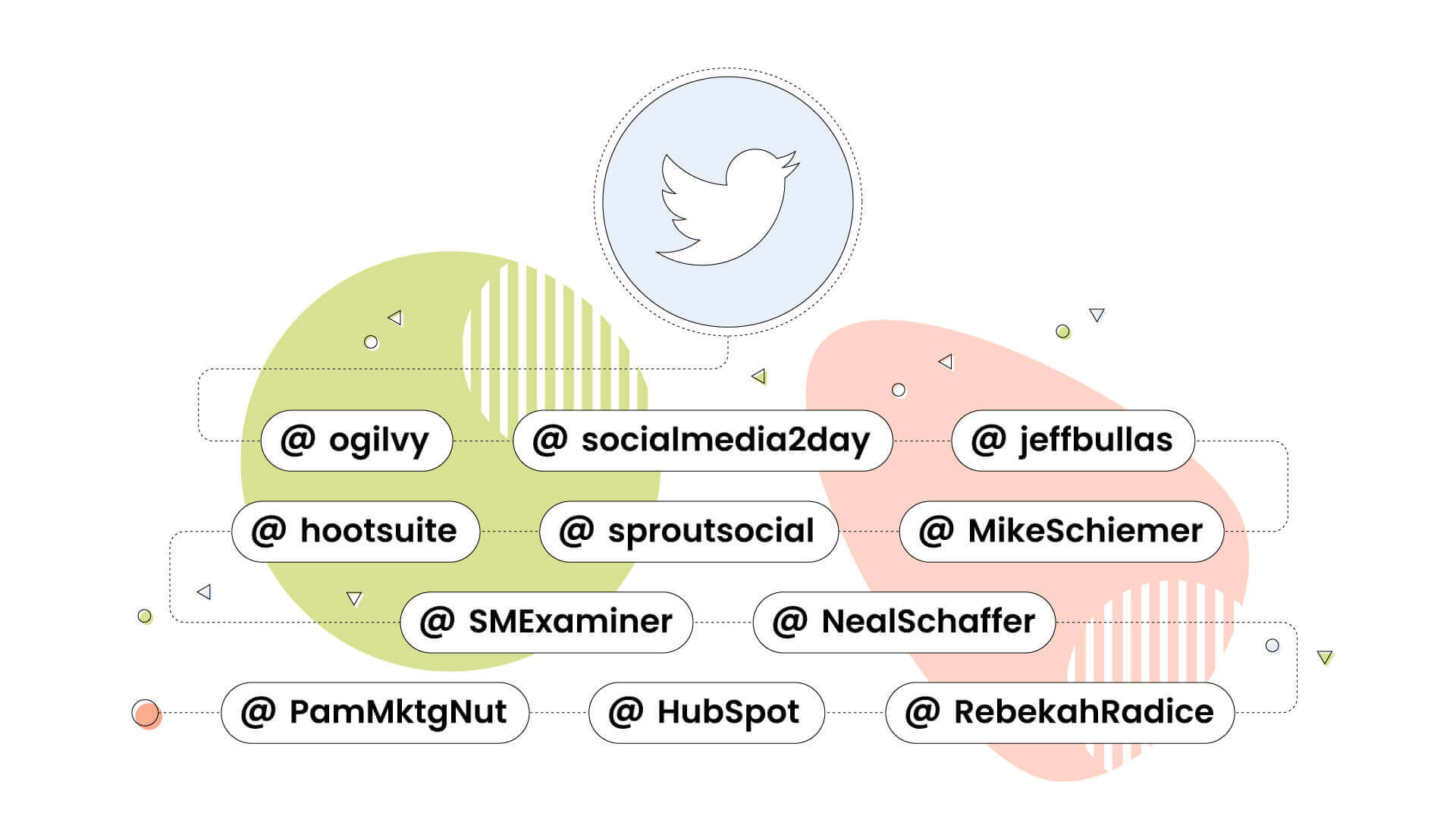 Ogilvy is an advertising guru that every marketing professional and enthusiast follows religiously. Ogilvy dictates and delivers whatever is prime news in the world of digital marketing.
Beyond executing advertising campaigns, the company conducts industry research and provides insights that are a vital reference tool for all other industry professionals.
Ogilvy's Twitter account will keep you abreast of everything trending and groundbreaking in digital and social media marketing and will provide you with creative tips and ideas.
Social Media Today uploads daily tips and insights concerning social media marketing. They specialize in Influencer and Content Marketing and provide their followers with the latest in these fields.
The platform churns out an average of 30 to 40 tweets a day. Imagine the amount of information you'll be exposed to. It's sometimes mind-boggling to internalize so much industry knowledge and strategies. By the end of it, your head is sure to be brimming over with marketing ideas and creative concepts.
Spanning an extensive career in content and digital marketing, Jeff Bullas is your man for your next social media campaign. Considered a thought leader in the field, Bullas's Twitter account has all the latest news and tips that will help you shape your marketing strategy.
Not only a channel that informs but also provides some serious industry advice; HootSuite is the OG of social media marketing. Theirs is the initial channel that brought the concept of social media management and scheduling of posts to the world.
HootSuite provides not only a massive amount of regular content filled with valuable tips, insights, and strategies but also a social media management tool.
Sprout Social's social media software is an excellent tool for marketers and business owners to promote their brands efficiently. A valuable resource for social media managers and marketers alike, Sprout Social educates its users on harnessing the potential of content marketing through social media the right way.
Mike Schiemer is an SEO and digital marketing specialist focusing on blogger outreach and backlink building. He is one of the field's pioneers and has an account you'll want to stay on top of the latest in marketing, business, and finance.
Social Media Examiner is the go-to Twitter account for beginners, expert marketers, and social media managers. Theirs is one of the top b2b accounts to follow if you're an aspiring or experienced social media professional.
With regular content, user-friendly tips and ideas, and everything related to social media, Social Media Examiner will be your best guide in navigating the digital world and strategizing your marketing campaigns.
For newbies to the social media jungle, it can be an overwhelming place to find oneself in. Luckily Neal Schaffer is your best friend in this case, who'll guide you each step of the way and help you learn the basics of social media marketing.
Pamela Moore is a consultant passionate about social media marketing. Her Twitter account is a great platform to tap into social media-related content and influencer marketing. She also provides insights into the best strategies for different social platforms like Facebook and Instagram.
HubSpot is the 'hub' for all things media, marketing, and sales. Like their highly informative blog, which has over 400,000 subscribers and monthly traffic in millions, their Twitter account is an excellent resource of industry insights, research, recommendations, and world-class marketing strategies.
The agency specializes in marketing and thus covers all aspects of social media marketing. HubSpot is one Twitter account to follow if you're even vaguely interested in learning how to design an effective digital marketing campaign.
Yet another fantastic and dynamic account to follow if you want to stay ahead of the curve in social media trends and insights. This account lays special focus on performance and cause-based marketing.
Rebekah is an award-winning social media strategist and consultant and shares some valuable tips and marketing strategies on her Twitter account, which we're sure you wouldn't want to miss.
Get Inspired by the Experts and Ace Your Social Media Strategy Today
Among all the wonderful things the internet has given us, social media has to be the most spectacular offering. It pushes even the laziest of us to become proactive, interact, and engage with our community members and the world beyond.
Our professional lives and businesses benefit greatly from an active social media presence. Platforms like Twitter enable us to engage with industry experts and educate ourselves on how to perform better at our workplace.
Are you experiencing a creative block or feel you don't have the knowledge base to execute a successful social media campaign?
Lean onto social media and follow these Twitter accounts, which will surely get you out of your creative rut and kickstart your digital advertising game.