Have you ever visited a business' website and clicked on a link…only to find that it didn't take you anywhere? Broken links are incredibly frustrating to deal with as customers, especially when you're looking for more information about a product or service you're interested in. Did you know broken links not only annoy your customers but adversely affect your SEO too? If you're using a WordPress hosting service, you already have access to tools to improve your SEO. However, you'll need to pay special attention to broken links, so you don't frustrate users and negatively affect your search ranking. Find out the best way to find broken links on your WordPress business website – and fix them for good.
Broken link 101
First thing's first: what exactly is a broken link? Essentially, it's like an elevator that doesn't go anywhere. You get in all excited to get to your floor, but it just doesn't budge. A broken link is one that doesn't get you to the page it says it will go to, but sends you a 404 error page message instead.
There are two main types of broken links:
Internal links: These are links from your WordPress website to another page on your WordPress website. For example, a link from your Home page to your Services page is an internal link.
External links: These are links from your WordPress website to another website. For example, a link from your Products page to an Amazon page is an external link.
Why you need to find those broken links
Finding broken links on your site seems like a daunting task, but there are three key reasons you want to make sure you fix them:
Broken links annoy your prospects and customers: If customers are looking for information or trying to make a purchase and they keep getting a broken link, they likely won't come back to your site. They'll head to a competitor where they can make a purchase quickly.
Broken links affect your SEO ranking with Google: When customers reach a dead end, they leave your site. This increases your bounce rate, which is one of the metrics Google tracks for your search ranking. Google will assume people are leaving your site because they didn't find the information they were looking for, so they'll move your website down in their search results. Broken links also affect your page's ability to get indexed. The Google Spider will not index a broken link page, which impedes your search results.
Broken links make you lose money: It's the cold, hard truth. If customers can't get what they need on your site, they won't buy from you. And if Google thinks your website isn't useful, it won't list it as a top search result to prospects. It's a lose-lose situation – unless you get those broken links fixed!
Different ways to remove your broken links
If you have a small WordPress website with only a few pages and not many external links, you can manually check them. This will involve clicking on all of your links to make sure they work. (Check out How to Remove Broken Links for more details on that.)
However, checking things manually takes a lot of time, especially since you should ideally monitor your broken links every time you make a site update. This way, you can be sure everything works as it should. If you don't have hours to spend checking your broken links, there are several plugins and web-based options you can try, which do the bulk of the work for you.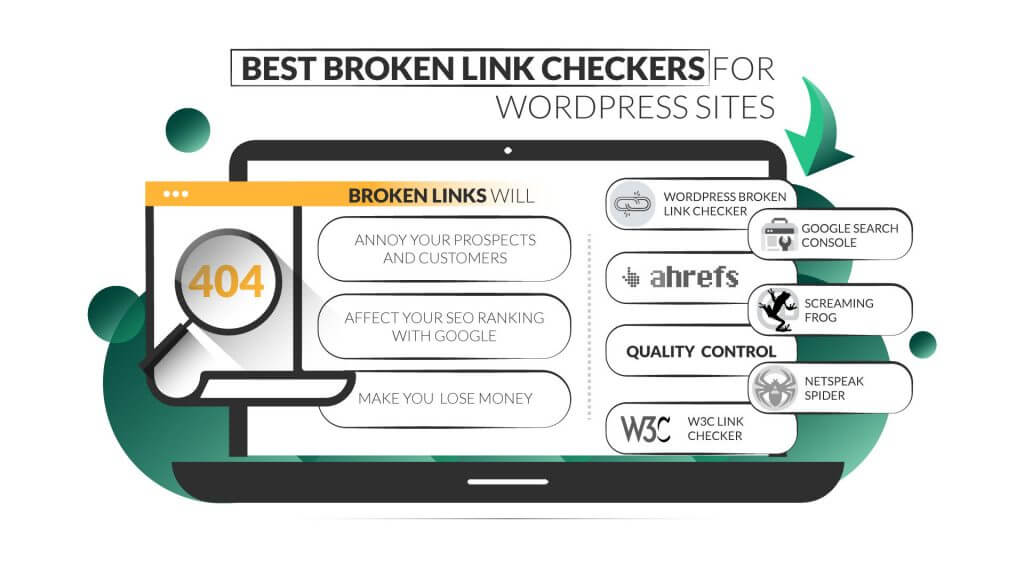 Here are our picks for best broken link checkers for WordPress sites:
WordPress Broken Link Checker
This WordPress Broken Link Checker plugin monitors and tests all of your internal and external links. It goes through all of your pages, posts, comments, blogs, and custom fields, so nothing is left unchecked. If it finds any broken links, it sends you a notification. You then edit the broken link from the plugin, so you don't have to update each page manually. It's easy to use and highly configurable.
Google Search Console
Google Search Console's goal is to help you improve your website's performance on Google search. To do that, it enables you to find and troubleshoot broken links. Google Search Console includes many different features, of which one is the broken link checker. It crawls your WordPress site and then provides you with a report with all of your 404 error pages. You then correct those broken links and help your website rise through the search ranks again.
Ahrefs Audit Tool
If you're interested in a web-based tool rather than a plugin, one of your best options is Ahrefs. It automatically scans your WordPress site in search of errors. The Site Audit tool is super easy to use. You just have to set up an account, and then you type in your website's URL. Ahrefs scans through your site in detail, which sometimes takes around 20 minutes, depending on your site. You'll receive a report of all of your 404 errors, so you can go in and make the changes you need.
Screaming Frog
If you're interested in desktop software, then Screaming Frog is a good option. This software is an SEO tool designed to find broken links. Once installed on your computer, you add in your WordPress site's URL. Filter out the 404 pages to see which broken links you have. Screaming Frog works with Windows, macOS, and Ubuntu. Bonus: there's a free option.
QualityControl
If you want a complete solution to fix a number of different errors, in addition to broken links, on your WordPress site, QualityControl is a good choice. It scans your site and find broken internal and external links. It also helps you detect missing alt text for your images, which is another way to boost SEO. Not only that, but it also finds hard-to-read content on your site so you can make it more accessible to a wider audience.
NetSpeak Spider
NetSpeak Spider is another excellent desktop option to quickly check several issues and doing a systematic analysis of your WordPress site. It enables you to find broken links, broken redirects, and many other issues. For example, you can use it to find broken images and duplicate content. If you don't want it to crawl your entire website, you can customize it.
W3C Link Checker
If you want a speedy and free solution for finding broken links, check out W3C Checker. A cloud-based solution, W3C Checker incredibly easy to use. All you have to do is enter your URL –  it then scans your website and let you know if you have any broken links. You'll get a list of broken links and any other errors in just a few minutes, with details on where to find them. You'll then have to go to WordPress and make the corrections manually. 
Linkchecker Pro
LinkChecker Pro is an excellent choice for anyone seeking a professional and multifunctional solution. It's a backlink management tool that provides plenty of valuable features for supervising and tracking all the links for your website. Apart from that, it allows for monitoring link-building team performance. It's a beneficial function as it helps you manage their workflow and ensure all strategy points are executed correctly.
Improve your SEO by fixing your broken links
Remember, broken links don't do anybody any good. Not only do they annoy and frustrate your human website visitors, but they're also not liked by your Google visitors. Make sure your business website's search engine ranking doesn't suffer from broken links.
Anytime you make a site update, use a broken link checker tool to scan your website. Even if you haven't changed the links or added new ones, some may have been edited by accident. This could lead to a broken link you just weren't aware of. Set aside a few minutes after every site update and let the broken link checkers do the heavy lifting for you.
After all, a few minutes spent checking and fixing your broken links means that both your website visitors and Google will be happy – which will affect your revenue in the long run.