A common assumption of many personal trainers is that their superior fitness certifications and credentials alone will land them clients. This can not be further from reality. And the fact is that your personal trainer brand is just like any other business. What do all businesses need to kick start their revenue flow? That's right, they need sales brought in through the right marketing strategies.
Motivational videos and intense-looking rigorous workout routines alone won't bring you your first few clients. To get the wheel rolling, you'll have to constantly and intelligently market yourself. Throw in your efforts in all the right directions.
First-time personal trainers may focus more on acquiring new leads than customer satisfaction and results. That's detrimental to the trainer's own long-term career profile and credibility. Thus a mix of intelligent marketing and honest commitment to your client is the right approach to advertising yourself and strengthening your client base in the long run.
The last few years have seen massive growth and popularity of the fitness and health industry, translating into a high demand for personal trainers. Despite the demand, gaining new leads and sustaining your practice in the competitive market can be challenging. While your fancy certification will look good on your resume, you need a great marketing plan to live your dream life.
We'll share some special tips in this post to help you get more clients and advertise yourself correctly.
Identify Your Niche and Establish Your Brand Identity
Fitness training is a massive industry with a whole range of different types of exercises, fitness models, and workout routines. While entering the business, you can't sell yourself as a general weight-loss coach. That's too generic for your brand to catch people's attention.
With a market flooded with an ocean of fitness trainers and coaches of various levels of expertise and specializations, you have to find your own unique niche. Choose a specific exercise type or style in which you want to specialize. Build your own unique workout with its particular style and goals. Give it a catchy name, and brand it as your unique selling point. That's how you'll add value to the fitness industry – offering people something different and inspiring.
Being an expert in a specific field will help you get more clients than compared with many other renowned names under a generic title of a fitness coach or trainer in a saturated market.
You could introduce your own 42-day challenges or 3 or 6-month programs, be a Tabata specialist, a hip-hop dance fitness instructor, or a Vinyasa Yoga trainer. Whatever you do, specify your niche, and if possible, select a sub-niche within a niche.
If you're having trouble picking your preferred zone of expertise, consider market research to find out which exercise is more in trend and what types of workouts most people are interested in. Also, analyze your skills and abilities to define what you can easily manage. Create your target audience profile regarding age, gender, and lifestyle. With this information in hand, your marketing campaign will be geared to match your target audience.
Develop a Professional Business Website
An efficient business website is your most effective marketing tool. It's your virtual storefront, a home ground for your business where clients can learn more about you, your brand's ideology and goals, and your services. It's where you have the chance to convert your site visitors to potential customers.
Your website's content, layout, and functionality are of utmost importance. A perfect user experience translates into higher conversions, whereas a site that loads too slow or has missing information will only result in a high bounce rate.
Your website is usually your brand's first contact with new customers and your chance to make a great first impression. To this end, people should feel they can relate to whatever you're offering them and that you'll help them achieve their goals holistically. Instead of trying too hard to sell yourself and using a lot of technical fitness jargon, make your website customer-centric. It should be about them and how you can assist them in their journey.
To enable this, ensure your website is professional looking yet user-friendly and easy to navigate. It should have engaging information and adequate CTAs placed in the right places for the customers to easily do the desired action, such as get your contact info, subscribe to your email, or request a consultation.
Additionally, your business should include a blog that will act as your content marketing tool next to your newsletter. Follow a regular publishing schedule for your blog to ensure customer retention and interest. It should also feature user testimonials and success stories to add to the site's social proof factor.
Too much to process? Don't stress, and let HostPapa handle everything website-related for you. From web space and maximum storage to site security, backups, and site functionality, HostPapa's web hosting plan caters to everything your business requires to consolidate its online presence. With your hosting plan, get your personal domain, business email, and easy installation of WordPress and website building tools.
Create an Email List and Send Out Regular Newsletters
Email marketing is hands down the king of all marketing strategies. Maintaining constant contact with your clients and accessing them through your email list data is a medium.
Consider building your email list as the most essential of your marketing and lead-gaining tools. To start building one, especially when new to the business, place CTAs in subscription buttons, check boxes or opt-in forms on your main landing pages. You can entice site visitors to freebies and discounts in exchange for their email.
Pay extra focus to the contents of your email/newsletter. It should be highly engaging and entertaining yet full of useful information for your customers. The newsletter must contain rich insights, tips, nutritious recipes, corrective workout techniques and postures, and much more. Make it a visual treat for your customers by incorporating high-quality images, illustrations, attractive colour-palette, and fonts. You can also include discount coupons and deals now and then to build your readers' excitement. People should enjoy reading your newsletter each time and eagerly wait for the next issue rather than thinking of unsubscribing. Generic, hastily put-together content designed to sell more than engage with your clients is a definite no.
Use email marketing software like MailChimp and ActiveCampaign to schedule your complete email marketing campaign and track emails through automation.
Write Guest Blogs for Industry-Specific Media Outlets
Pitch your blogs to established and popular media publications like websites, magazines, and journals as a strategy to advertise your own profile. Writing guest blogs is a remarkable way to reach a wider audience and establish your expertise and authority in your niche.
Plan to write informative and engaging blog posts on trending topics within the fitness industry to captivate your readers with your prowess and experience. This will increase your popularity as a fitness expert and bring awareness to your brand.
Guest blogging can help you grow your online audience by diverting them to your website, resulting in more leads.
Create Interesting Content on Social Media
Social media is a fantastic tool to increase your website traffic, leads, and potential customers. It's a potent marketing medium that allows you to interact actively and engage with your audience. So you must learn to utilize the potential of social media for your business marketing objectives.
As a starting point, figure out which platforms you'd want to join for your business. To get a clearer idea of this, go back to your target audience persona. Research which social platforms they're most likely using. Instagram is more popular with young people, whereas middle-aged users prefer Facebook. Pinterest has more female subscribers than males. Then there's TikTok, LinkedIn, and Twitter. The demographics and user profiles for each social platform vary. Create your business profiles on the ones where you're most likely to interact with your target customers.
Once you're done creating your profiles, keep them updated and relevant to the current industry trends and news. Actively engage with your audience through appealing content posts. These can be in small video clips, snippets, nuggets of information, or high-quality visuals. Additionally, you can live stream every once in a while and conduct contests and giveaways on your channels. These efforts will help establish your online brand identity and bring you more followers and leads. People will be excited and talk about your brand, which is what you want in the first place. 
Social media platforms like Facebook and Instagram offer the added advantage of paid advertising. Through this, they push your brand's ads toward your targeted audience, bringing them closer to your profile and enabling you to reach your desired customers faster.
Focus on Your Website's SEO
You may already be familiar with all the buzz around the term SEO and how businesses invest their resources and time into ensuring top positions for their web pages in search engine results.
SEO is crucial in today's online world for businesses to thrive. It's a step you'll also need to take to meet your business goals and acquire many leads.
How does SEO make this possible? Through proper search engine optimization techniques, you strive for your website to rank in the top positions in search results for industry-specific queries. Whenever someone searches for a fitness or personal trainer in their area, your page pops up in the top tier. Thus you increase your site's visibility, resulting in higher traffic, revenue, and leads.
Some of the common SEO strategies that you can adopt are the use of popular keywords on your website. Further, optimize your page images to ensure high load speed and better search engine ranking. Optimized pages are easily indexed by major search engines like Google and Firefox, giving them higher positions in search results.
As an added step, something that will greatly benefit your profile as a personal trainer is to register your business with Google MyBusiness. This will guarantee your business appears in top search results and thus increase your chances of finding clients.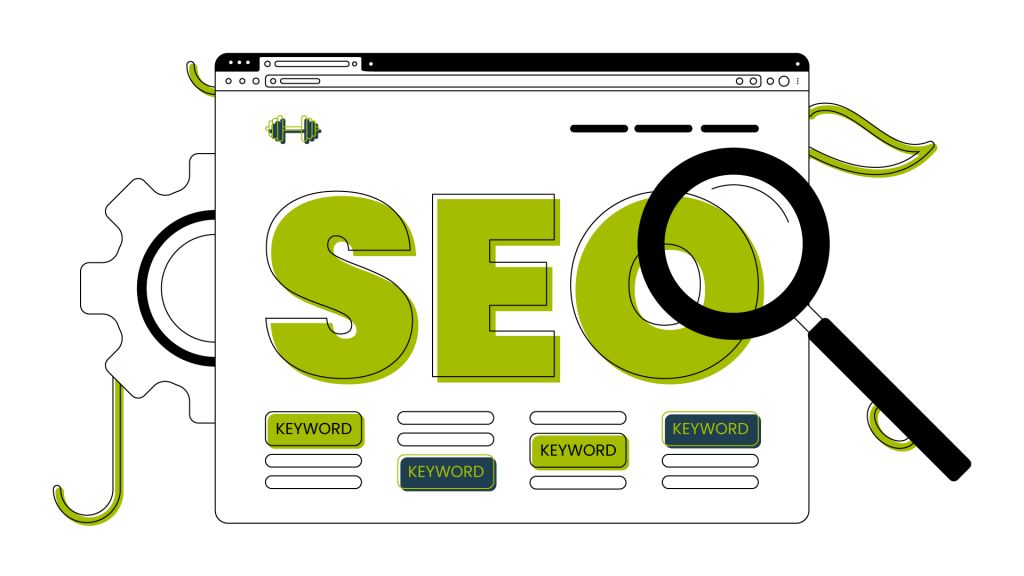 Request for Testimonials and Referrals
Social proof in the form of user reviews and testimonials builds a brand's credibility and reputation in the eyes of its audience. It's not only a feel-good factor but an important marketing tool for your business.
Statistics and surveys have indicated over time that more than 50% of consumers read users' product or service feedback before making a purchase decision. The higher the number of positive reviews a brand gets, the higher its chances of getting more customers.
Despite putting up great content about your credentials and expertise on your channels and selling yourself like a hero, the real leads will come through feedback and reviews. To maintain your credibility and image, it's best to add as much social proof as possible on your website and all your social media channels in user feedback, testimonials, and reviews.
Referrals are a handy tool to spread the news about your business through word of mouth. You can request your existing customers for referrals so that people in their network can become your potential clients. Referrals can work online and in-person and are a great way to get new clients.
Offer Free or Discounted Mini Sessions
Who doesn't love free things? Even services that come with a discount tag automatically draw people towards them. Common consumer psyche indicates that even people make impulsive buying decisions when they see a product at 10% or even 5% off. There's a sense of urgency to avail of the discount, however tiny it may be before the deal ends.
You can use this strategy to your advantage by offering discounted or even free mini-training sessions or demos to a small group. You must plan for introductory sessions that display your skills and expertise. These sessions reflect a glimpse of what's in store in the complete training package.
Offering such small classes is a fantastic way to grow your popularity and acquire new leads and consultations. To keep the flow of new clients coming in, you should always aim to have some promotion or discount deal running at most times. Use various seasonal sales and holidays as excuses to run your promotional offers. Selling your services at reduced prices will prove fruitful in the long run by bringing in more leads than operating at a total price.
Offer Group Sessions to Reach a Wider Audience
Teaching small to large corporate-sized groups is a superb strategy to make your training profile viral. The magic of groups always works faster than one-to-one or smaller interactions. Research has indicated that people work out more religiously in a group than alone.
Through group training, you can display your expertise to a large audience, many of whom then convert to new customers. Additionally, they'll refer you to their friends. So it's like a double-benefit approach to marketing yourself.
There are many ways of approaching this strategy. As a first step, you can offer your existing clients to bring in their friends or colleagues for a complimentary session. Or you can offer a discounted deal per head. You can charge $30 instead of your regular $50 if your clients bring in a set number of friends for a group training class. The amount you'd make per hour through these sessions would be much more than training a single client at full price.
Another way is to approach corporate setups and businesses and offer your services as a corporate wellness coach. You can plan a special training class for that specific company's employees. You can also offer to teach group sessions at the gyms in your area.
Conduct Healthy Living and Fitness Challenges in Your Area
Nothing drives people to work out harder than good 'ol competition. It's an old approach to get people to do things, but it works. Contests and challenges are a kickstarter method to have people gather, interact, and compete and the best part for you; purchase personal training packages.
Challenges like jog-a-thons or "who can lose X kgs in 30 days" are fantastic ways to motivate people. You can charge a small entry fee per head for the competitions, say about $5 or $10. If the pool gets larger, it'll attract even more participants. From the amount you collect through the challenge, you can give prizes to the winners or donate to charity. The general idea is to create events that work on multiple levels to your advantage. You get to connect and market yourself to your community, motivate people to work out, have fun and socialize, and acquire new leads for your training business.
Enlist in Personal Training Directories
Personal training directories are a good source of information and can help people find you where you can't reach them personally. For this purpose, aim to register yourself in at least 40 to 50 industry-specific directories.
Though directory listings may not bring traffic to your site directly, they provide free inbound links that will improve your site's credibility and SEO. This will help your brand get more exposure and visibility.
Circulate Your Business Cards and Brochures
In the digital age of the "e" versions of everything, nothing beats the impact of conventional and old-school advertising tools like business cards, flyers, and brochures. Do not ignore the benefits business cards can bring you about professionalism and first impressions.
Thus you must make full use of these tools and design cards and brochures that are creative yet professional-looking, easy to read and informative. These should give a good idea of your services, contact information, and other necessary details.
A wise idea would be to circulate your cards and other material to local businesses like coffee shops, supermarkets, fitness community centres, schools, and gyms. That's how you'll ensure a maximum number of people across all segments of the community access your profile and contact information.
Advertise Yourself Through Affiliates
Through affiliate marketing, other people advertise and sell your products to their audience from their platforms. You create banners or strips of your brand on your affiliate partner's page.
Affiliate marketing is a mutual benefit partnership. Each time a visitor clicks your banner and makes a desirable action, your affiliate gets a commission, and you get a new client.
Affiliate partnerships help consolidate your online presence across different online platforms and are a resourceful client acquisition asset.
Offer Package Pricing Options
Package pricing and bundle offers work wonders with the consumer psyche and help businesses retain their existing clients for longer. Individuals feel they get more value from money spent on package offers than from paying separately for every session.
You can plan packages like "5 sessions for the price of 4" or "pay for 4 sessions and get the 5th free". This way, your clients train with you for longer with the prospects of returning. It's always easier to retain clients who've already worked with you than new clients who aren't sure about availing of your services.
You can also motivate your existing clients to return by offering incentives like a free session on completing an X number of sessions in a set time. This surprisingly encourages your clients to purchase larger training packages to complete them fasters to obtain the free session.
Partner With Other Health and Fitness Businesses
Cross-promotions and cross-referrals are excellent ways of advertising your services in conjunction with other relevant businesses. Through such strategic partnerships, a segment of your product/service integrates with your partner's services, promoting your brand each time they acquire a new client.
Such partnerships provide mutual benefits to both parties. You can offer a discounted or free service to new clients of your partner and vice versa. Through this approach, you target not only your own customers but also your partner's clients.
For instance, by partnering with your local nutritionist, you can provide free meal plans to your clients, enabling the nutritionist to build their brand identity. Similarly, each new client that purchases a meal plan from the nutritionist gets a free/discounted mini-training session or consultation with you.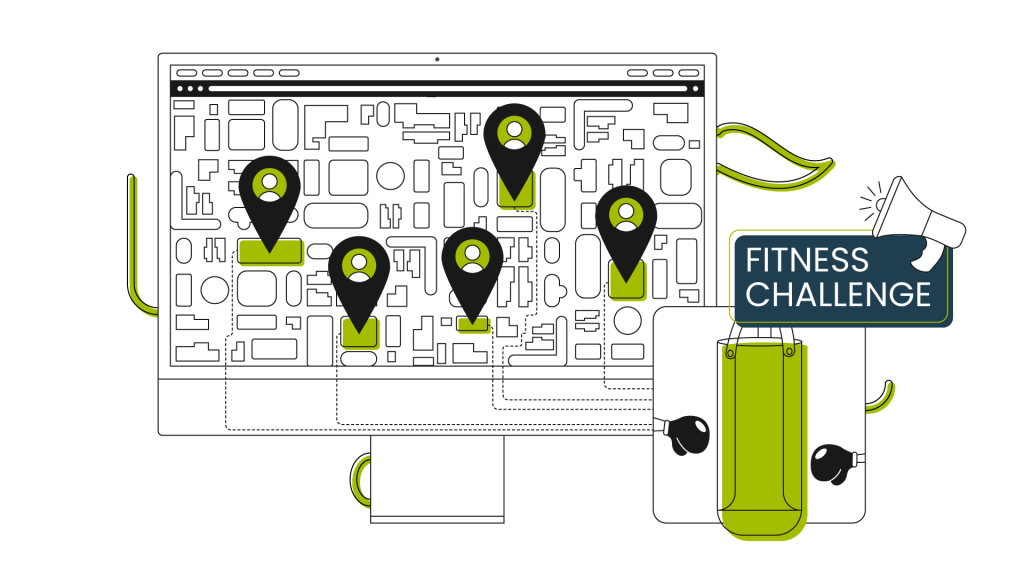 Volunteer at Local Fitness Organizations and Events
Another great way to interact with your local community and showcase your expertise is by actively participating in all fitness and health events. Just show up everywhere and stay abreast of all the latest industry updates and happenings.
You can volunteer at these events and places, like your local schools, clubs, and gyms, to provide free demos or group sessions. This helps you actively engage with your local crowd, converting them to potential long-term clients and also does wonders for your brand's identity.
Through these events and sessions, people remember you as an effective trainer. Not only do they become your paid clients, but they also provide you referrals of friends looking for a trainer in the area.
Introduce Your Fitness Merchandise and Gear
Developing your personal merchandise is a clever marketing technique and is highly effective in your company's branding. Personal branding brings a personal touch to things and gives people a feel of engaging somebody real and humane instead of a faceless fitness corporation.
Personal branding on your merchandise builds your brand image professionally and is also a source of extra revenue. People love to have personalized workout gear and equipment. So think about designing stuff like workout wear, towels, mugs, yoga mats and water bottles that your clients can carry around with them. It will speak volumes of your business wherever they go.
Offer Nutrition Plans to Your Clients
These days, consumers prefer a combination of workout routines and tailored meal plans. They choose packages that offer both as they feel they get more value from such programs.
You don't want to lose out on prospective clients to your competition. So partnering up with a nutritionist who can provide you with tailored meal plans at a reasonable cost will be wise. Alternatively, you can research and craft these plans yourself.
Market Yourself Right: Increase Your Client Base
After years of hard work mastering your techniques and acquiring fitness instructor certifications, the thought of going the extra mile marketing yourself can be exhausting. But the marketing of your expertise and brand will give you the fruit of your hard work and effort. When people discover you and like what they see, they will buy your services and start the revenue flow.
Advertising yourself as a personal trainer is not rocket science, though. The trick is to think and plan intelligently and drive your efforts in the right direction. Take one step at a time, and be consistent. Slowly and gradually, with the proper branding, referrals, and marketing content, you can build the client base of your dreams.