Email marketing is the most effective way to engage customers and prospects. There are over 5.6 billion active email accounts, of which 3.9 billion are checked by their owner every day. Today, we'll look at the most important email marketing stats for 2020.
Marketers and small business owners can't ignore a communications channel used by so many people, especially when this customer outreach channel is so cost-effective.
Email marketing generates $38 for every $1 spent. Small businesses must carefully allocate marketing dollars. The fact that US businesses spent over $350 million on email advertising in 2019 is evidence that it's a popular and highly effective marketing channel.
Stats like that are a clear indication you should be using email as your primary method to reach out to your customers. If you're a small business owner, there's a good chance you're already involved in email marketing, but are you taking full advantage of it?
In this article, we'll look at some industry-specific email marketing stats that may strike a chord, and then explore more data about using email as a marketing channel. All this to get actionable insights on how you can improve your email marketing strategy.
Email Marketing Stats Across industries
Mailchimp, a leading provider of email marketing services, has compiled a lot of data about the effectiveness of email outreach in the various industries it services.
Whether your niche is part of the list below or not, noting the average open rates and average click rates for different industries can be an eye-opening experience.
| | | |
| --- | --- | --- |
| Industry | Average open rate | Average click rate |
| Beauty and personal care | 16.65% | 1.92% |
| Restaurant | 19.77% | 1.34% |
| Social networks & online communities | 21.06% | 3.32% |
| Computers and electronics | 19.29% | 2.08% |
| Arts and artists | 26.27% | 2.95% |
| Health and fitness | 21.48% | 2.69% |
| Construction | 21.77% | 2.26% |
| Restaurant | 19.77% | 1.34% |
| Non-profit | 25.17% | 2.79% |
| Real estate | 19.17% | 1.77% |
If a 19% open rate and a 1.3% click rate seem low, think of it like this—sending 1000 emails to qualified recipients costs very little. Still, it can earn a business 190 new prospects, with 13 of those poised to become customers.
Email marketing can be used to achieve so many marketing goals: from creating awareness, welcoming new customers, and executing promotional campaigns, to creating a sense of community and fostering loyalty. It's a volume tactic that never sleeps—when a business gets 13 conversions for every 1000 emails and does that repeatedly, the impact on revenue is significant.
Regardless of your business niche, you should be taking advantage of email as the premier marketing channel it is.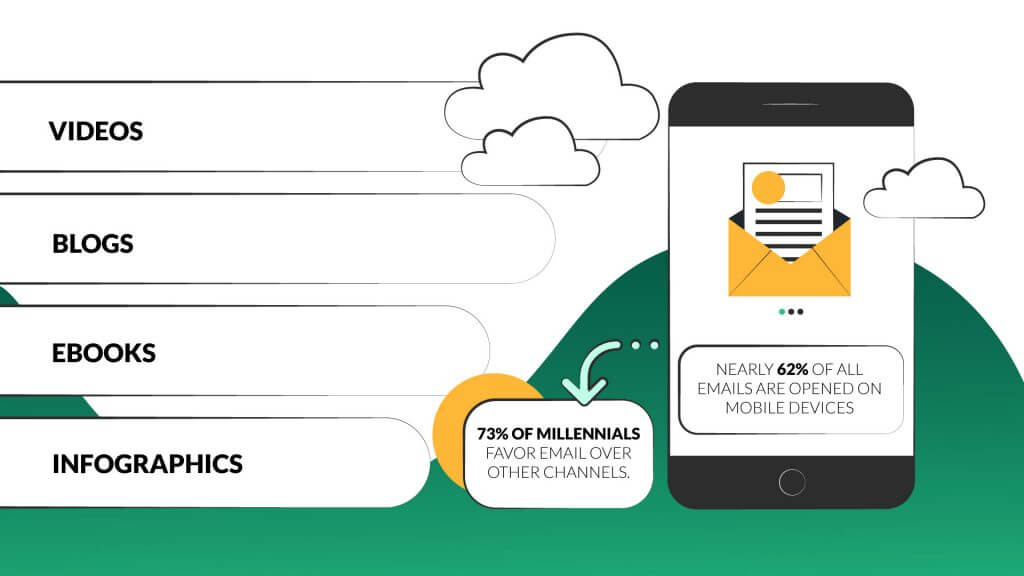 How CTAs affect your Email marketing strategy
Statistics are good at convincing skeptical business owners how important email marketing is, but they're even more instrumental when marketers use them to refine their approach to email marketing.
Some things about email marketing can be plainly understood without the help of statistics. Basic marketing principles will tell you to make your CTA stand out and address the importance of audience segmentation.
In this section, we'll look at areas of email optimization in which statistics play a bigger role.
Carefully crafted subject lines increase conversions
Data indicates that 35% of email recipients open messages based on the subject line alone. Crafting the perfect email subject line will take some creativity and a keen awareness of what your audience finds engaging.
Let's look at some email marketing stats about which words work best in subject lines. For example, beginning your subject line with "News" or "Special" will not get as much attention as opening with the word "Introducing" or "Invitation."
Nothing increases your open rate like including the recipient's name in the subject line. Statistics support the idea that personalization increases conversions. It can boost email open rates by 50% and result in 58% higher click-through rates. According to HubSpot Research, message personalization is the primary tactic used by email marketers to improve campaign performance.
16% of all emails never make it into the inbox, and a bad subject line is often the reason. To keep your email out of recipients' spam folders, there are words you should avoid.
Marketing companies make it their business to figure out the kinds of subject lines that work best. A small business owner who's struggling to write a compelling email subject line can gain a lot of inspiration from the broad experimentation that digital marketers have conducted.
In email scheduling, consider the calendar and the clock
It's easy to think of email as a passive communication method, like a spy's "dead drop," in which the sending of the message and the receipt of that message are entirely disconnected.
In marketing, that's not how email communication works.
If you dead drop your promotional email at 3:00 AM on a Sunday, recipients are likely to ignore it. 10:00 AM on a Thursday would get a much better response.
It may seem like a minor detail, but when your email is delivered is something you must factor into your strategy. There's a best time of day and best day of the week, according to countless data sources, but it depends on a few variables, like what you're promoting and who your audience is.
In general, around 10:00 AM on Tuesday, Wednesday, or Thursday is a delivery time that will get your email the most attention. To pinpoint the best email delivery time, start with general statistics like that, consider your audience, then factor in the results of A/B testing, which we'll discuss later in this article.
What about conversion? Visually engaging emails convert best
The most important email stats relate to making your content more visually engaging: your emails should be 80% text and 20% visual. Images should support the text, not become the focus of your email.
Your email's text portion contributes to its overall visual appeal: use concise sentences, short paragraphs, and bullets. The resulting whitespace will make content much more inviting to the recipient.
This 80-20 rule is based on how people consume content, but following it also ensures acceptable email download speeds. An email with too many photos or graphics may have a slow load time, reducing the number of people who see it.
Limit the size of each image to about 1MB, ensuring a minimum resolution of 72 PPI, as that will make the email load fast and look good on any screen size.
Be creative when considering the type of visuals to include in your marketing emails. Ensure they're relevant to your subject matter and use images as a way to connect with your audience. Avoid stock photos; a custom photoshoot can yield content that will represent your brand better than generic images. Custom illustrations can be useful in explaining hard to describe product or service features.
Infographics rank fourth among media forms in content marketing, with videos, blogs, and eBooks being the only formats used more. A well-designed infographic is an efficient way to convey detailed information in a visually inviting way.
When considering the visual impact of your email, before you finalize the design and content, view it in the same way the recipients will. Open it in your email app on your phone and PC. The email should be visually pleasing so that it encourages the reader to consume the content.
The ideal length for the subject, preheader, and body
Nearly 62% of all emails are opened on mobile devices. The usage model and smaller screen size of mobile devices limit the amount of information you can effectively convey in an email's preheader, subject line, and body.
Small screen viewing aside, keeping your email content brief aligns with the limited capacity for content consumption that the average recipient has.
There's no perfect length for email content, but here are some guidelines that have emerged from years of marketing activity: subject lines should be between 28 and 50 characters; your preheader should be 40 to 100 characters; the email body should contain 50 to 125 words.
To dial in the perfect email content length for your marketing outreach, consider your audience and your subject matter, then make the content as short as possible, within the guidelines stated above.
Welcome emails can be a conversion powerhouse
Welcome emails have a 91.43% open rate. That's four times what you'll see from standard email marketing content. The click-through rate of welcome emails is also incredible—it's five times higher than other types of email outreach.
New customers are in a honeymoon phase with your business. They're more receptive to marketing engagement than they'll be later. Capitalize on early enthusiasm by sending an equally enthusiastic welcome email.
A welcome email is a good delivery mechanism for exclusive new-customer discounts, and you can use it as an opportunity to tell recipients about your loyalty program. A welcome email is also the perfect channel to let people know about your customer community on social media.
And what about email newsletters? 83% of B2B marketers send email newsletters as part of their content strategy, to notify their clients about promotions, free downloads, events, and valuable information to regain their attention and get them back into their sales funnel.
Conduct A/B testing to refine your approach
After a campaign or two has been completed, you'll have baseline data about how responsive your email recipients are. How many people opened your email and how many clicked your CTA?
The open rate and click-through rates you're getting should be viewed as a starting point. If you create a different version of the email, does that version result in better results?
A/B testing is all about—comparing the performance of two email versions, noting which one performs better, and then using the better version.
Use A/B testing to optimize subject lines, CTAs, send times, and other aspects of your email content. With each iteration of A/B testing, you'll see your conversions increase.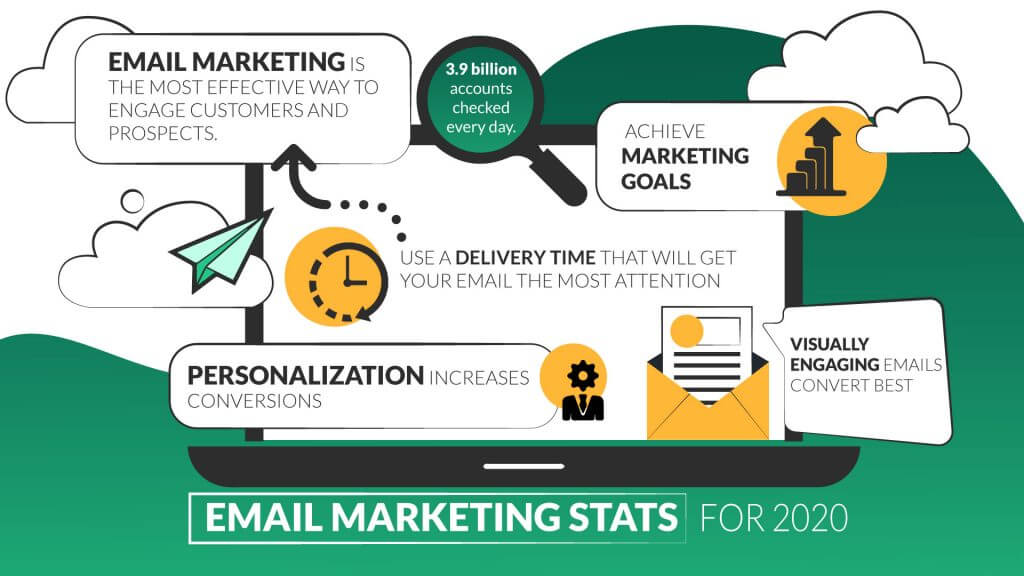 Use data to improve your email marketing strategy
A third of marketers send out 3-5 emails per week to a well-defined audience. That may seem like a lot, but consumers are used to it. For communications from businesses, 73% of millennials favor email over other channels.
Those stats and a lot of similar data strongly support the idea that email is an effective marketing channel and prove that your business should be taking full advantage of it. We hope this look at email marketing statistics will spur you to make improvements in your email marketing and that we've provided some actionable insights to help you do that.