SEO (Search Engine Optimization) is a complex discipline comprising several fields, including link building. To build links to your website, you must get linked back to it from as many relevant, high-authority websites as possible.
There are two ways in which link building benefits your site. In the first instance, a backlink from a highly trafficked site will likely direct views to your website. As a result, your site will be considered authoritative, relevant, and accurate by Google.
Since eCommerce websites sell products, not content, many people don't think their link-building needs to be all-out. For eCommerce brands to rank high in search engine results, they must build backlinks from reputable sites. The following are a few things you can do to ensure your link-building campaign is successful.
SEO's Contribution to eCommerce Link Building
To stop spending money on advertising, an eCommerce store built on good hosting should invest in SEO to bring qualified traffic. A steady flow of organic traffic can be created rather than buying visits forever.
Is that the only problem?
You can't simply publish articles and hope they rank well to capture traffic from organic searches.
Many factors influence Google's ranking, including:
backlinks
reputation
speed of the website
brand awareness
Are you not convinced? In SEO, backlinks are one of the most important ranking factors, and eCommerce brands should acquire as many as possible. Google ranks content based on the following:
One of the factors used to determine (quality content) is whether other prominent websites link to the article. Google and users know your online store is a trusted brand if other websites link to you.
Getting more endorsements is better!
By leveraging the readership and audience of other websites, you can get your shop in front of more buyers. This process is often referred to as digital PR.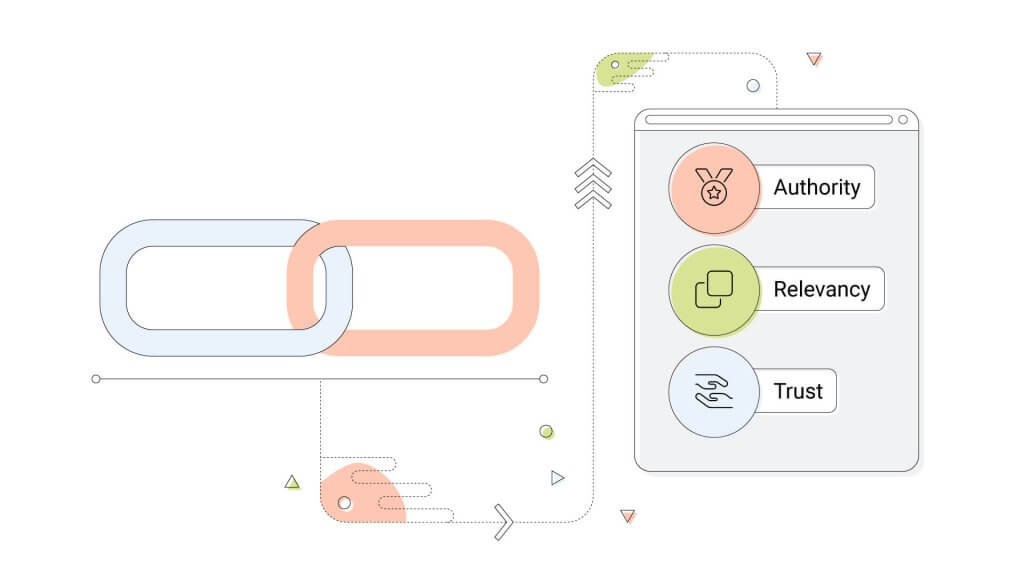 Explaining Link Building
You build links to your website by getting other sites to link to yours. In addition to passing authority, relevance, and trust to your website, all your links are counted as votes.
Authority
SEO relies heavily on authority. Authority can be divided into three types:
Domain Authority is calculated based on all of its links.
Page Authority is determined by only looking at the links on that page.
Link Authority refers to a link's authority passed on from page A to page B.
It is better to have high authority. It would be a dream for every SEO to receive a link from a website like CNN.com.
Relevancy
The relevance of a link can be determined by how closely it is related to the page in question. Getting a link from a blog post about how to watch Netflix on the best television would be great if you sell televisions. As a result, your website's topic relevance is influenced by the significance of the links.
Trust
Your domain's trustworthiness is determined by how much search engines trust it. Getting links from trustworthy websites, adhering to Google's guidelines, and being old earn trust.
Newspapers are good examples of reliable websites.
Build trustworthy links and serve your visitors well by maintaining an ethical approach. As trust grows, it will become more natural.
Creating Powerful Links
Trust, authority, and relevance are transmitted through links. Is there anything else you should keep an eye out for?
Links should have the following:
Target and origin of the link
Anchor text
The no-follow attribute
Origin and target of the link
Link origin is the page on which a link appears. The link origin is your Homepage if you link from your Homepage to your 'About Us page. The 'About Us' is the link target.
Links from the same topic should be targeted to the same issue. Your Homepage's authority can be funneled to other pages on your website if you have links to them. In competitive niches, links to your competitors' pages are crucial if you want to rank with them. A deep link is a link that leads to another page other than the Homepage.
The anchor text
A link's anchor text is typically underlined and blue and can be clicked.
Diversifying and looking natural is essential when it comes to the anchor text. It is good to include your target keywords in the anchor text. However, to avoid looking like you're trying to game the system, it's best not to overdo this.
Attribute nofollow
Using the Nofollow attribute indicates that the URL you are linking to has been paid for. The no-follow attribute limits the amount of authority passed to a no-follow link. There is nothing wrong with having no-follow links on a website, so don't worry about it. Wikipedia links are no-follow, but they still carry some authority, relevance, and trust.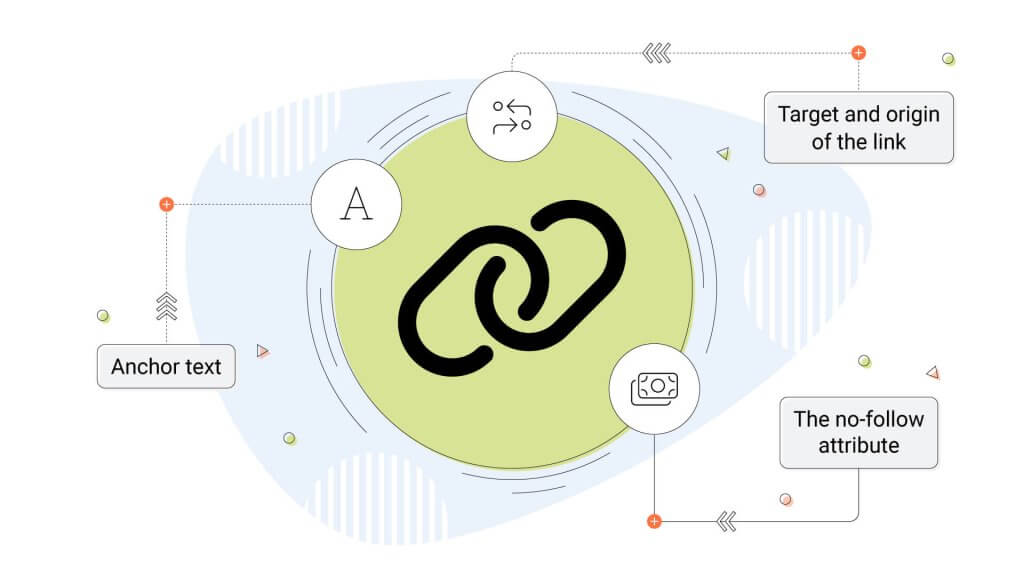 7 Link Building Tactics
At this point, you may be wondering, "How can I get people to link to my site?". These links are coming to you rather than your competitors for several reasons:
Putting yourself out there and asking to be linked isn't a problem for you.
Following a solid strategy is something you do well.
Putting yourself in a position to get links is the key to link building for an eCommerce website. Your category and product pages won't get much traffic unless you sell highly innovative or provocative products. You must find a workaround to increase your category and product pages' authority, relevance, and trust.
An ongoing strategy can be set up and used whenever your brand is mentioned.
When your site is mentioned, it is often not accompanied by a link. The best strategy for reclaiming your links is to employ them as soon as possible. It's simply a matter of finding the mentions, checking if they've linked to you, and if not, requesting that they do.
How do you discover the mentions you've made?
It is first essential to identify any previous mentions that lack links. You will need to search your site on Google to get this information. If your products are unique, you can search for your name, business name, or both.
You can add your domain after the search term using '-inurl:.'
Including your website will exclude any mentions on the results list. Adding any mentions without a link to your list can be done for each search term.
If possible, email the person who can add the link once you have researched each term and compiled a list of websites. At the end of the email, thank them for mentioning the link and discussing something relevant.
In broken link building, you propose alternative sources to websites that link to resources that are no longer available.
The first step is to find websites that link to no longer existing competitors' pages. These can be found quickly with tools such as Ahrefs.
Develop alternative resources to link to on your website based on an overview of these websites. You should now contact the website owner and let them know that you saw their link was broken and that you have an alternative.
In the blogging world, an expert roundup is a post that features contributions from various experts in your niche. Creating an interesting discussion topic or a question and then asking experts for their feedback is your responsibility as the host blogger.
Ideally, your audience should be able to benefit from the contribution of an authority figure.
Experts are more likely to respond effectively to roundups posed with specific questions. People should be interested in finding the answer to the question and getting some useful advice from it.
In summary, a roundup can be created in any niche, including travel, dating, fitness, diets, finance, etc. People love to hear the opinions of experts and bloggers in every niche.
Experts can be approached in two ways to obtain backlinks: First, some have biographical pages on their blogs that highlight their accomplishments.
Additionally, journalists and bloggers can use the roundup conclusions as research for their articles.
Writing product-led content blogs and product descriptions is your only chance of getting noticed when you're starting out. Using expert roundups is a great way to get your name out there and build excellent relationships. You may create interviews and keep in touch with the experts now that you have introduced yourself.
You can build backlinks through guest blogging by focusing on quality over quantity. Brands that produce valuable, actionable content and place that content on high-authority sites can take advantage of Google's value-first approach regarding page-ranking factors.
You must find suitable sites in your niche if you want to write a guest post. You can search for relevant websites through Google or a keyword database if you have specific keywords.
To find out more about the backlinks of an authority site in your niche, examine its backlink profile. Guest posting sites can be identified by analyzing your backlink profile.
Moreover, you can also use email sequence software for your guest post outreach as it helps you personalize each email, schedule your campaigns, and track every detail with bulk emails at the moment.
The content manager of each suitable site can be contacted after you've created a list. The most effective method of reaching out is by emailing the person in charge of content instead of using the "Contact Us" form on many sites.
Send a guest post pitch to the editor. Guest posting guidelines will usually be provided by the editor, which will include the tone, topics, and how many backlinks a guest post can have. If this process seems too complicated for you, you can always consider affordable SEO for small businesses that can take care of your guest posting needs.
Look for Sponsorship Opportunities
Sponsorship opportunities in your industry can be found by looking for events and organizations. Your investment will pay off in mentions of your eCommerce brand in any materials associated with the event or organization. In addition to a link back to your website, sponsorships pay off in goodwill from the community that appreciates these events or organizations.
A traditional PR campaign builds brand awareness and can be challenging to measure. In digital PR, links are built on many relevant websites, increasing your site's authority and brand recognition.
Your brand is exposed to a wide range of audiences using a variety of digital PR tactics and content types.
As most digital PR campaigns unveil new research with multiple hooks, they can be featured on various websites as they are versatile. Due to the shorter lead time, a new product launch can also be covered more quickly online than through traditional PR.
Connect with Journalists (Use HARO or Terkel)
The difficulty of obtaining good links is due to the overwhelming number of website requests for links. Journalistic outreach is still one of the most effective in terms of link-building.
Pitches and article ideas are usually well-received by journalists. To make your point compelling, you need to suggest a topic that is worthwhile to discuss. Expert analysis of a trending topic and original research are examples. It is also possible to get results by targeting local journalists.
You can still get coverage and citations without pitching journalists in your niche.
Tools for reaching journalists:
HARO, or Help A Reporter Out, is a great platform to acquire links for your store.
It helps journalists tell great stories by giving quotes, sources, and data from entrepreneurs.
You must use the platform diligently and respond to requests quickly.
If your contribution is valuable and on-topic, you will likely be featured or quoted if you respond within five minutes.
Terkel is a great platform to get links for your store. It helps journalists tell great stories by giving quotes, sources, and data from entrepreneurs. You must use the platform diligently and respond to requests as quickly as possible. If your contribution is valuable and only on-topic, you will likely be featured or quoted if you respond within five minutes.
Conclusion
SEO for eCommerce brands relies heavily on link building. Your search ranking and organic traffic can be improved by securing high-quality backlinks.
You can build backlinks to your website for free through various methods. Guest posting on high-authority sites in your niche can help you get quality backlinks. A competitor analysis or leveraging your professional network can also be used to find backlink opportunities. Lastly, don't overlook affiliate marketing, competitions, and promotions.
Make sure your organic online presence grows by combining the best approaches with minimal expenditure.
Author Bio
Dipen Visavadiya is a result-driven SEO Specialist with 7+ years of experience. He has experienced increasing organic traffic from 10K to 100K in just six months. Besides SEO, Dipen is passionate about the use of technology to build professional relationships with people.